This post contains affiliate links. See my disclosure for more information.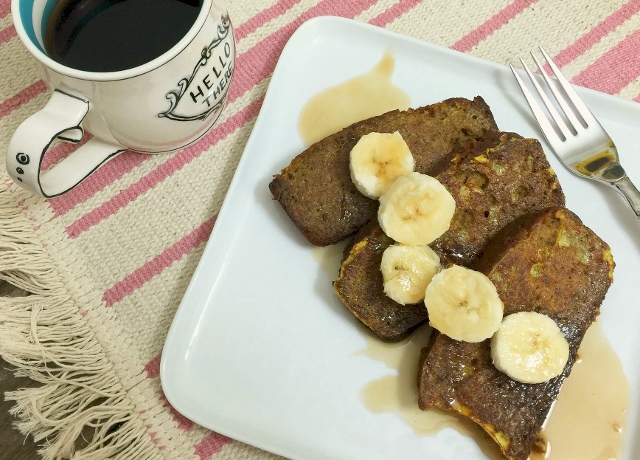 Yesterday I shared my version of Blue Heaven's Banana Bread. Today I'm sharing with you my recipe for Banana Bread French Toast, made with that very same banana bread. I hope you baked a double batch!
When I made this and served it for breakfast, my favorite fella asked if I remembered where he had eaten Banana Bread French Toast. Somewhere in our travels, he had indulged in this before. We still haven't figured it out. I've made two batches of this French toast just to make sure the recipe was solid. We've discussed this each time we are indulging in this, yet neither of us can remember where he ate this. It wasn't at Blue Heaven, the funky spot in Key West that inspired the banana bread. Then we thought maybe it was at the Sea Porch at the Don Cesar in Florida. This seems like something they would offer, but alas it wasn't there. I spent far too much time searching the interwebs trying to figure out what restaurant we have visited that actually serves this. The only one I could find was Watercourse in Denver, but we've never been there for breakfast. It will continue to be a great mystery. Don't lose any sleep over this, okay? I'll figure it out one of these days.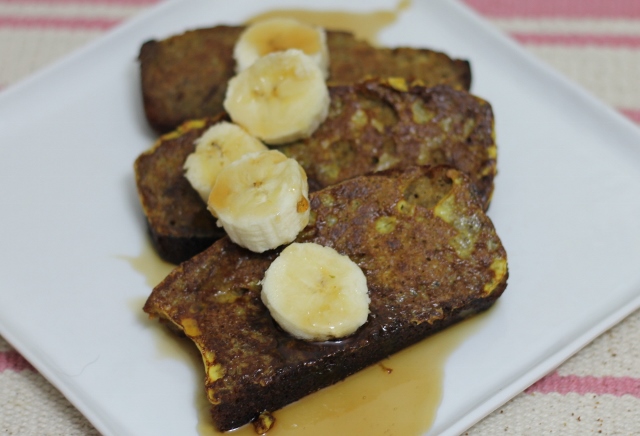 Can I tell you real quick about my secret weapon in making French toast and grilled cheese? It's this griddle pan from Calphalon. I believe mine is approaching ten years old now and it's just as good as the day I bought it. While my plan was to use this for pancakes, it's my favorite for French toast and any grilled sandwich. If you are looking into buying pans, I give this one my recommendation. (I have this pan from Calphalon, too. It's what I use for making socca pizza crusts and frittatas.)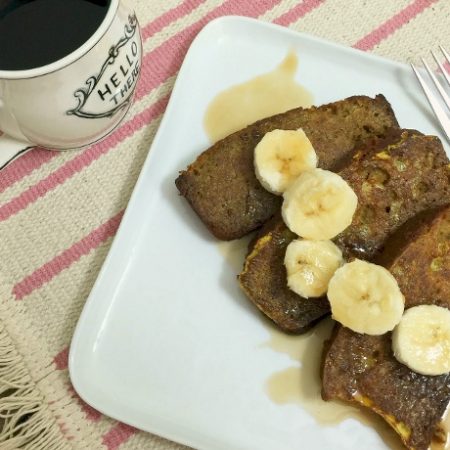 Banana Bread French Toast (gluten-free, dairy-free)
Ingredients
1

loaf Johnna's version of Blue Heaven's Banana Bread

3

large eggs from happy hens

1

cup

dairy-free milk of your choice

(I use unsweetened almond)

1 1/2

teaspoons

vanilla bean paste or vanilla extract

Sliced bananas

(optional)

Maple Syrup

, grade B (optional)
Instructions
Bake bread one day in advance, allowing to cool completely. Slice into eight slices.

In a medium mixing bowl, whisk together eggs, milk and vanilla.

Heat griddle over medium heat until warm enough that a drop of water will skittle across the surface. Add just a touch of oil of your choice. I use coconut oil spray.

Gently dip a slice of the banana bread into the custard mixture, flipping to fully coat both sides. Place on griddle. Cook for 1 1/2 to 2 minutes, until lightly browned and the custard is set. Then flip and cook on other side.

Repeat for the entire loaf.

Serve with sliced bananas and maple syrup.
I am linking this post up with Gluten-Free Wednesdays and Allergy Free Wednesdays. Click over for many more recipes sure to make your mouth and tummy happy!
Disclosure: This post contains affiliate links. Should you click on and purchase a product I recommend and use in my own kitchen, I may make a small commission. I use affiliate links to offset the cost of maintaining this website and developing original recipes at no charge to you. I am ever so grateful for your support. My full Disclosure Policy is available here.