This post contains affiliate links. See my disclosure for more information.


These cookies, OH MY GOODNESS!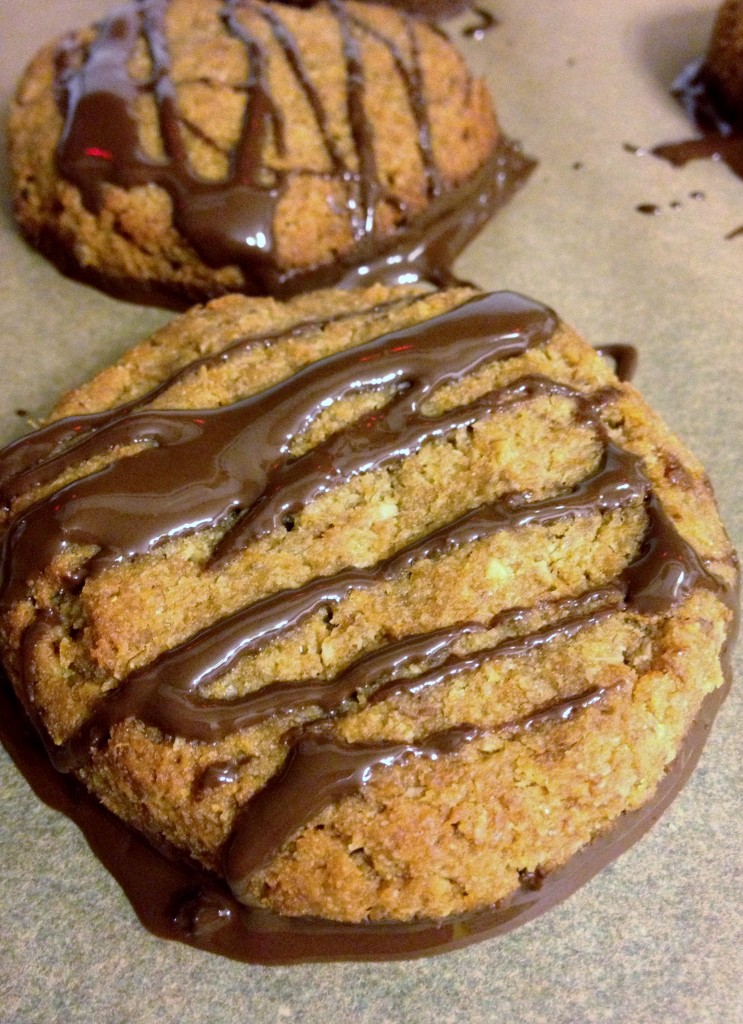 I am over-the-moon crazy about these cookies and I'm pretty darned sure you will be, too. I should mention all of the good stuff about them, like they are almost free of refined sugar, gluten-free, dairy-free, egg-free, grain-free, packed with superfoods (at least five by my count), vegan with a simple swap…
A few items that will help make these cookies:
But what I really want to tell you is that these cookies are SO very good. Like favorite-cookie-ever kind of good. Not kidding! And they are pretty close to the famous Scout cookie sold by Watercourse in Denver. I've mentioned those divine Scout cookies a few times here on my blog.
I've named these cookies Recon Cookies because I feel like I've been on a few reconnaissance trips to the bakery, always asking, "What's in these?" I was convinced there was some super secret ingredient and perhaps there is in the original. I'm still convinced there's something exceptional about the original version that mine will never completely embrace, perhaps it's the altitude in Denver. Every time I go to/thru/near Denver, I buy those cookies. I've begged friends in Colorado to ship them to me. I've bought them myself at least five times in hopes of getting them home and having a good look at them to try to figure them out on my own, but I never quite make it home with them. I've told myself repeatedly it is a good thing they are only available 600 miles away from home.
Until now. I've come up with a pretty good fill-in for the 363 days of the year when I'm not in Denver to buy my favorite cookies from one of my very favorite restaurants. The texture isn't quite as coarse as the originals but they are still a very soft, almost cake-like, cookie in the center, slightly crunchy on the edges. I've got the key ingredients covered (sweet potato, walnut and coconut) but really have no idea what other ingredients are used in the original. I was going for flavor here and nailed it. I think I did pretty good on the appearance, too. The original from Watercourse is on the left, my version on the right: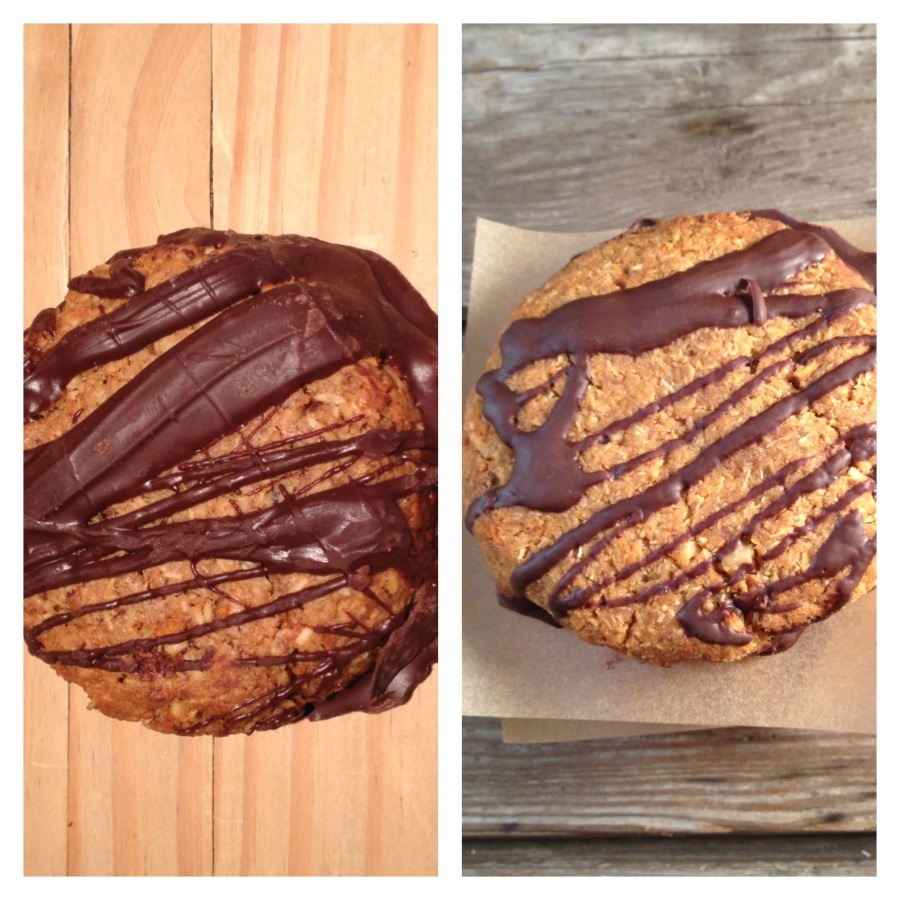 Have I sold you on these yet? I hope so! They remind me a bit of a Girl Scout cookie, but yet aren't anything like those cookies in a box. These are the size of my palm, chocolate-y, a hint of caramel, cake-y but still crunchy. There's really nothing like them unless you visit Watercourse. Make these and then swoon, would ya? 😉
Big thanks to Peace by Pastries for her version of the Scout cookie. It gave me a really terrific starting point for my version!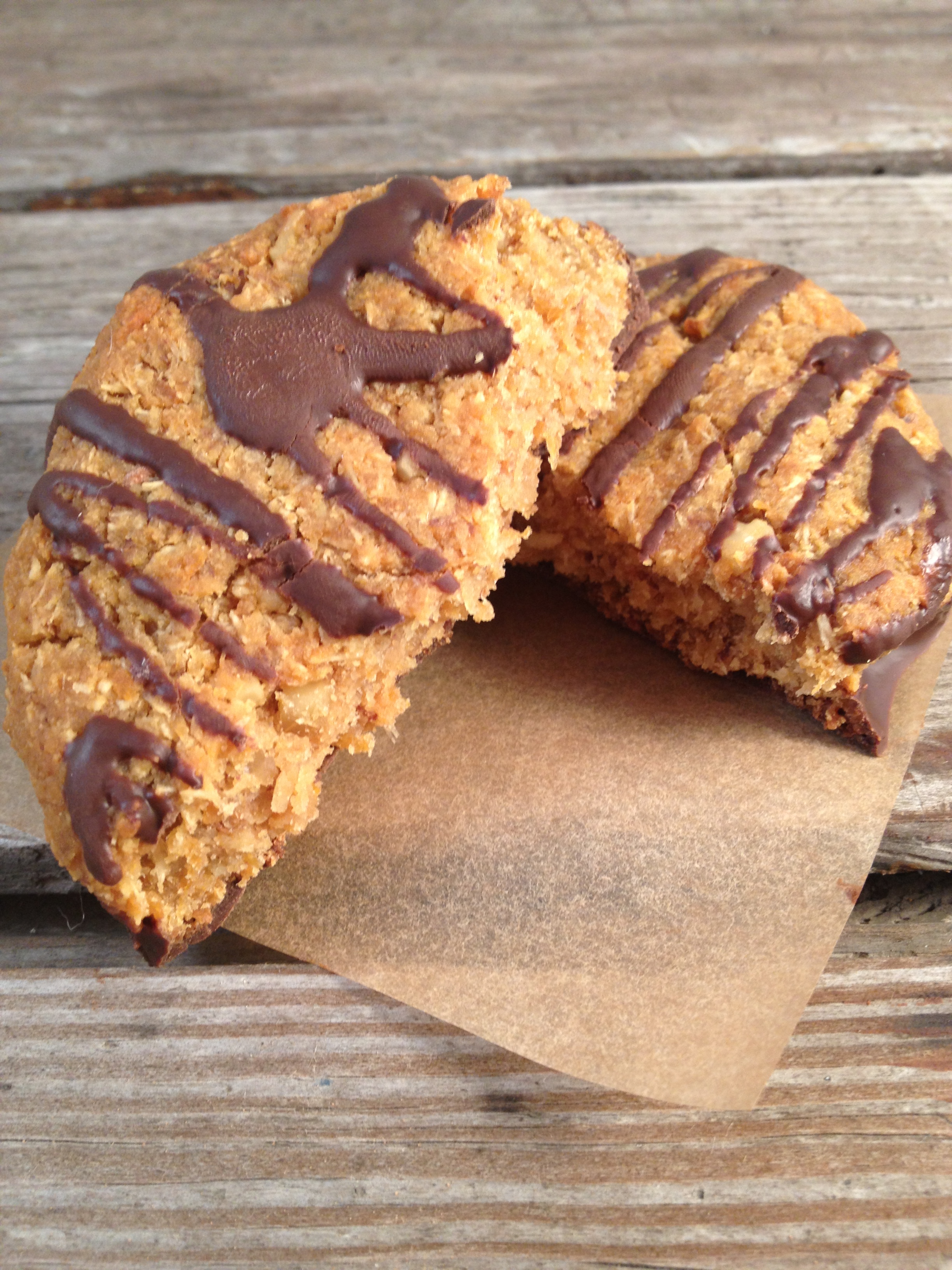 Recon Cookies (or Almost-Scout Cookies)
Servings
9
to 10 large cookies
Ingredients
1 1/2

cups

shredded sweet potato

(uncooked, unpeeled if organic is fine)

1 1/2

cups

finely shredded unsweetened coconut

(I use Let's Do Organic)

1 1/4

cups

almond flour

(I use Honeyville)

1/4

cup

coconut flour

1/2

cup

finely chopped walnuts

1/2

cup

coconut sugar

1

t

. sea salt

1/2

cup

coconut oil

, solid or liquified is fine

1/2

cup

honey

(substitute with agave nectar to make vegan)

1/2

cup

warm water

1

T

. flax meal in 3 T. hot water

(Flax slurry, egg replacement)

1

T

. vanilla bean paste or vanilla extract

6

oz

. dark chocolate

(non-dairy and you can use chocolate that is dark enough to have no refined sugar added)

1

t

. coconut oil

(to be added to chocolate)
Instructions
Preheat oven to 350 degrees.

Grate the sweet potato using either a box grater or food processor. I grated mine using the larger of the narrow sides on a box grater. This is the second smallest option. Place in large mixing bowl.

Add remaining dry ingredients.

Mix in remaining ingredients (except for chocolate and remaining 1 t. coconut oil) either by hand or with a wooden spoon. I prefer to get my hands in it to incorporate all of the ingredients completely. The warmth of your hands will also melt the coconut oil if you used it in its solid form.

Once well combined, use a biscuit or round cutter to shape into 3" patties, well compacted. Turn out onto a parchment or Silpat lined baking sheet. You will have 9 or 10 patties.

Pat down just a bit with your hand to make a rounded top.

Bake for 27-30 minutes. Top and edges will be slightly browned when done. Center will still be moist but not doughy.

Move to cooling rack.

While cooling, melt chocolate and 1 t, of coconut oil either in the microwave or in a double boiler.

Once cookies are cool to the touch, place a sheet of parchment paper on countertop. Dip the flat bottom of each cookie in chocolate and place on the parchment. Once the bottoms are all dipped, drizzle remaining chocolate over the tops of the cookies. Allow the chocolate to harden before serving.

These freeze very well. I would like to tell you they store well in an airtight container, but we eat them all if we don't freeze them so I don't know how well they store if not frozen. Enjoy!
I am sharing these in Linda's Gluten-Free Wednesdays. Click over there and check out all of the goodness, so many terrific recipes!