This post contains affiliate links. See my disclosure for more information.


TodayI'd like to share with you a quick and easy snack I eat often. Actually I eat this almost every day.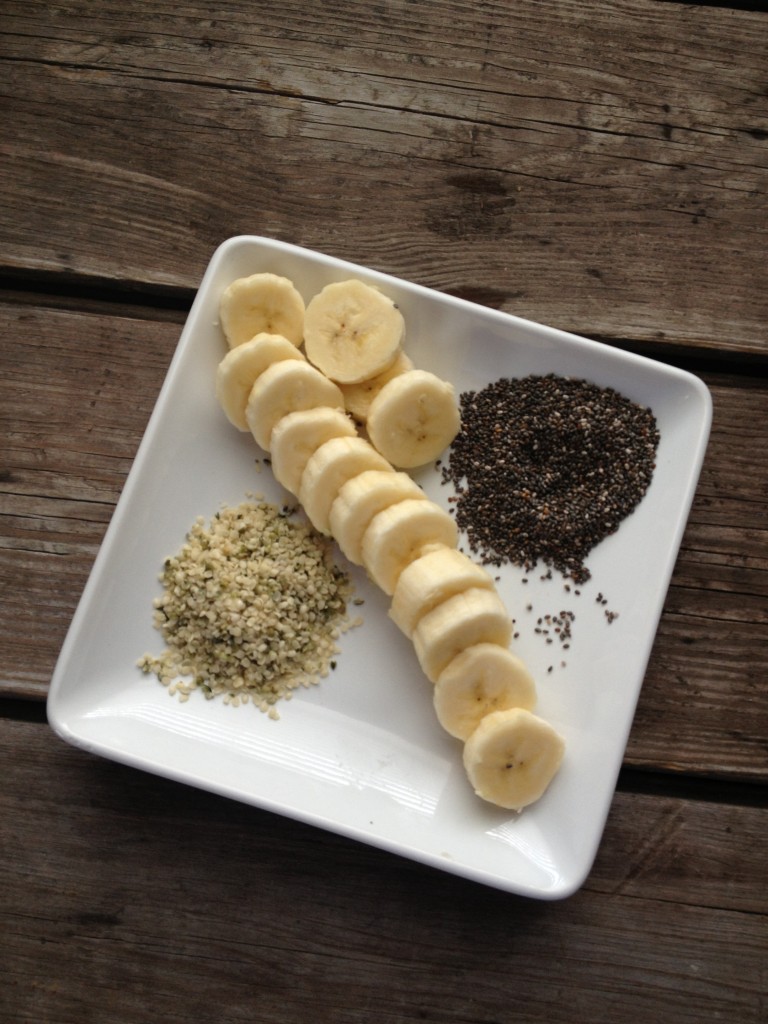 This isn't my usual recipe-sharing kind of post, it's more of an un-recipe at best. While I cook a lot, I also travel and work a lot so having nutritious options in a hurry is important to me. And getting superfood nutrients into my body is imperative for folks like me with nutrient absorption challenges. Well, really any of us could probably use a little help getting more goodness into our bodies, right?
This un-recipe includes a banana, one of my very favorite fruits. Bananas are technically a berry and are loaded with fructooligosaccharide, which is a prebiotic. Think of this as a fertilizer for probiotics and one which will help your body absorb calcium!
It also includes two of my favorite seeds, chia and hemp.
If you've been in one of my cooking classes, you've heard me cheer for the tiny chia seed. I love it for making pudding and add it to granola bars, fruit and nut bars, smoothies and so many other things I eat. I incorporate chia into my diet because it is rich in Omega-3s. I eat a plant-based diet, I'm careful to add plenty of Omegas. Really, we should all be concerned about Omegas, but particularly those of us who don't get it from animal sources. I like the fiber chia provides, it keeps me full longer. Chia is also rich in antioxidants, which means I can store them for longer than other seeds, which go rancid quickly. Chia is a win-win-win seed for me!
Hemp seeds…this one always gets a giggle when I share it in cooking classes. Nope, I don't put it in brownies and the edible variety doesn't contain any THC, so it's not the stoner seed. But there's still plenty of good reason to eat it! Hemp seeds are high in Omega-3s and -6s and also pretty high in protein, 5 grams per 80 calories of seeds or so. All ten of the essential amino acids are in hemp seeds. The big highlight of hemp for me is the Omega-6 fat gamma linolenic acid (GLA). Reportedly the only edible source of GLA, hemp seeds help my body produce good anti-inflammatory hormones. For someone with an autoimmune challenge, this is important!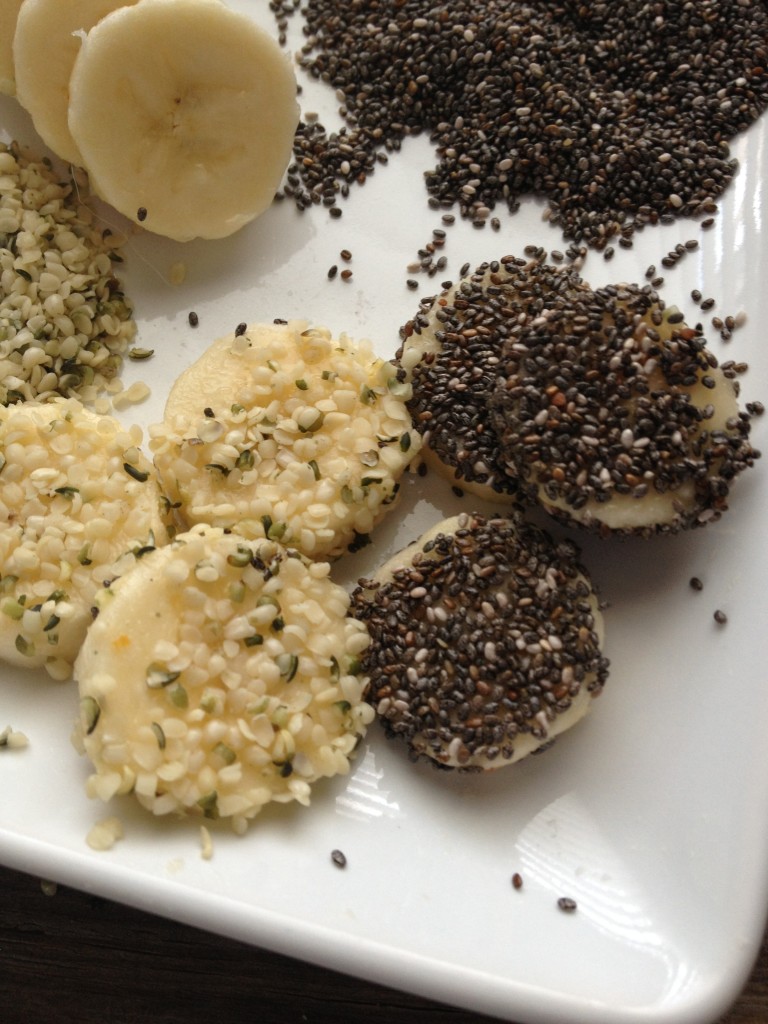 So here's the scoop on this un-recipe:
1. Slice one banana
2. Dip the banana slices in chia seed and hemp seed.
3. Do a little victory dance because you're eating like a superfood rockstar!
When buying seeds, look for raw varieties, not roasted. I also buy organic when possible.
I buy my chia and hemp seeds from Navitas. Please read labels carefully when buying seeds. I noticed recently the hulled hemp seeds from Bob's Red Mill are no longer processed gluten-free. Products change often, so I try to remember to read labels every time I shop. It's ok to take up space in the grocery aisle for label reading, your body will thank you for it!
Have a terrific weekend. I'll see you on Monday with a cookie recipe that you will most definitely want to try!