This post contains affiliate links. See my disclosure for more information.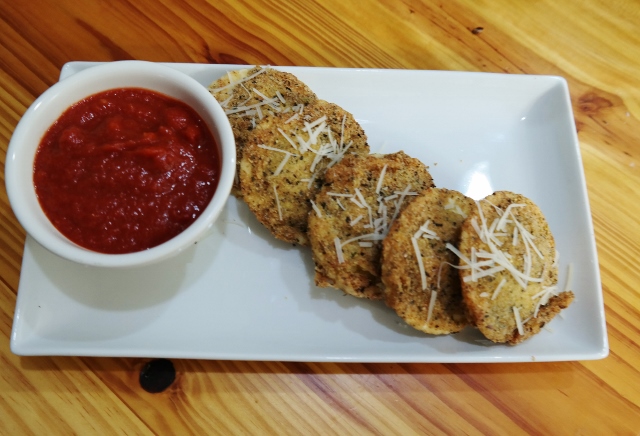 Gluten-Free Fried Ravioli. There's something I never thought I would eat again, St. Louis-style fried ravioli. But I did. It was everything I remembered, sans gluten.
I live across the state of Missouri from St. Louis, where toasted ravioli was reportedly created in the predominantly Italian neighborhood The Hill. When I was still eating gluten, trips to St. Louis always included toasted or fried ravioli. (Same thing, just a different name.) A few of the Italian restaurants in Kansas City also offered fried ravioli. I would eat it anytime it was on the menu.
For whatever reason, I had never considered making my own at home. Not until I bought these at ALDI: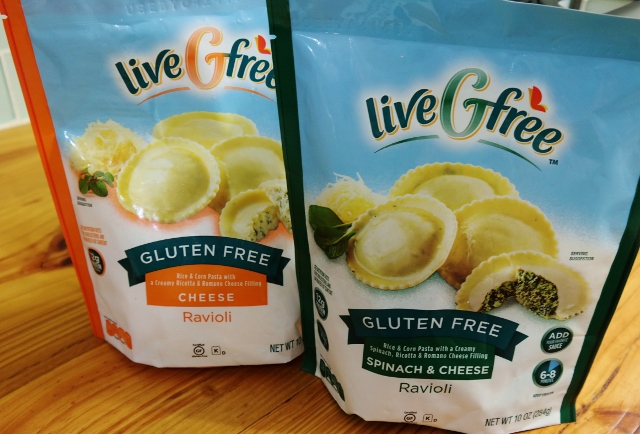 Then my sweet friend Mary who now lives in Florida but is originally from the same area as I am shared a photo on Facebook of the ALDI ravioli fried in the same way it was reportedly invented, no breading, just straight up ravioli dropped in hot oil. The story in St. Louis goes like this: a cook accidentally dropped a ravioli into the fryer and discovered it was delicious with a side of marinara. Mary cooked hers exactly that way. She inspired me to give the breaded version a try!

I bought a cute little deep fryer for the occasion and splurged on a jar of chunky marinara loaded with roasted garlic at the fancy pants gourmet market across town. It was a big splurge for dinner and it was every bit as good as I remember it being. Crunchy breading on the outside, creamy cheese on the inside, all dunked in marinara. So good, yet the kind of meal that somehow left me feeling like I had done something kinda naughty. I have that kind of relationship with fried food.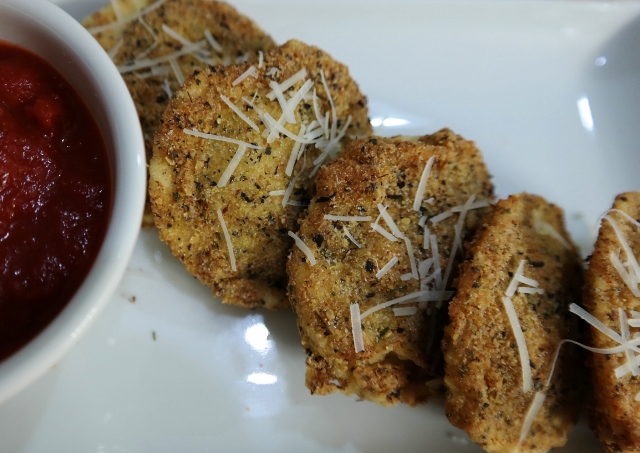 You want the recipe, right? Well, here ya go! Enjoy.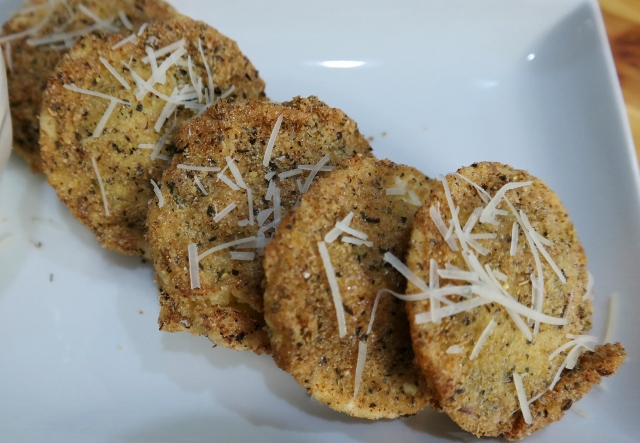 Gluten-Free Fried Ravioli
Ingredients
Two small pouches frozen gluten-free ravioli

(I used ALDI's LiveGfree)

3

large eggs

, whisked

2

cups

gluten-free bread crumbs

(I used Namaste's Italian Breading Mix)

oil for frying

(I like grapeseed)

shredded parmesan

marinara sauce
Instructions
Heat oil in fryer to 375 degrees.

Heat oven to 225 degrees and have a cookie sheet handy.

Place flour in one bowl, whisked eggs in a second and bread crumbs in a third.

Once oil is hot, remove ravioli from freezer. You want them frozen.

Dip ravioli first in egg, then in flour. Then back into the egg and finally into breadcrumbs. (Egg, flour, egg, breadcrumbs.)

You can do this with an entire pouch of the raviolis. My fryer holds about 5 at a time. Fry for 1 1/2 to 2 minutes, flipping halfway through so they are evenly cooked.

Remove from fryer and place on a paper towel-lined plate. Add second batch of 5 to fryer.

While the second batch fries, put the first batch onto the cookie sheet in the oven. This will keep them warm and crunchy while you fry the others.

Repeat until all are fried.

To serve sprinkle with parmesan. Serve with a side of hot marinara sauce.
I am linking up this post with Gluten-Free Wednesdays. Click over for many more wonderful recipes!
Disclosure: This post contains affiliate links. Should you click on and purchase a product I recommend and use in my own kitchen, I may make a small commission. I use affiliate links to offset the cost of maintaining this website and developing original recipes at no charge to you. I am ever so grateful for your support. My full Disclosure Policy is available here.