This post contains affiliate links. See my disclosure for more information.


I have this habit of booking the earliest flight of the day when we travel. At the time, my thinking is that we will have the entire day to explore once we reach our destination, instead of wasting daylight flying.
But I'm not a morning person. I was asleep before the wheels of the plane left the ground on this trip to Cleveland. My fella nudged me to wake up on our final descent. And I'm so glad he did–look at this gorgeous view of the city and Lake Erie at sunrise!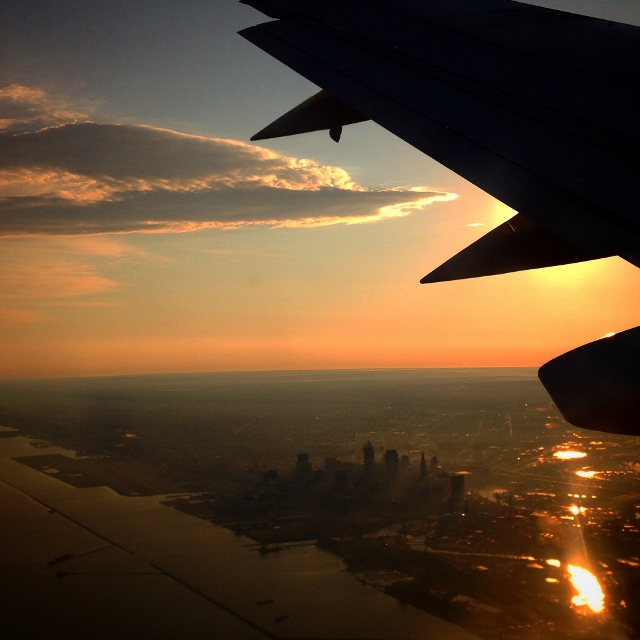 Since we arrived so early, breakfast was first on our list. Several fellow wanderers recommended Tommy's in Coventry Village. Doing my research ahead of time, I checked out the website and was greeted with this: "Whether you're a vegetarian, a meat-eater, vegan or just plain hungry, Tommy will take care of you!"
Perfect! Sounds like just the kind of place for two vegetarians. But how about gluten-free? Could they handle it. YES! And they handled it well.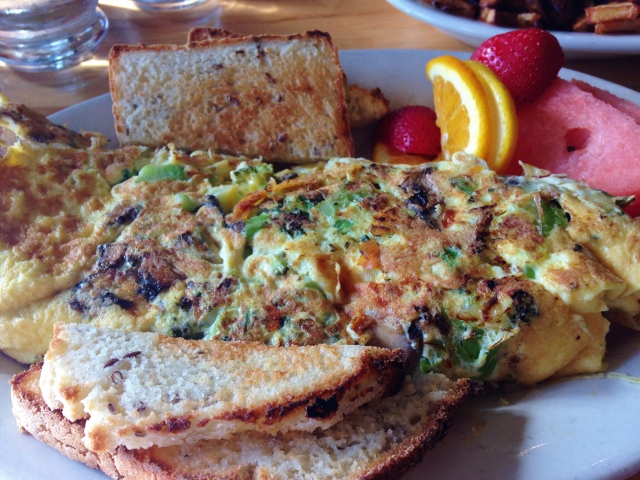 I had the Rachael Ray omelet, minus the ham. I asked if they could put the toast on a separate plate, I would give it to my favorite fella. Our server told me they offered gluten-free toast and it was toasted separately. Yay!
I asked about their peanut butter, made in house, and was told there was potential for cross-contamination in how it is made. Very knowledgeable server!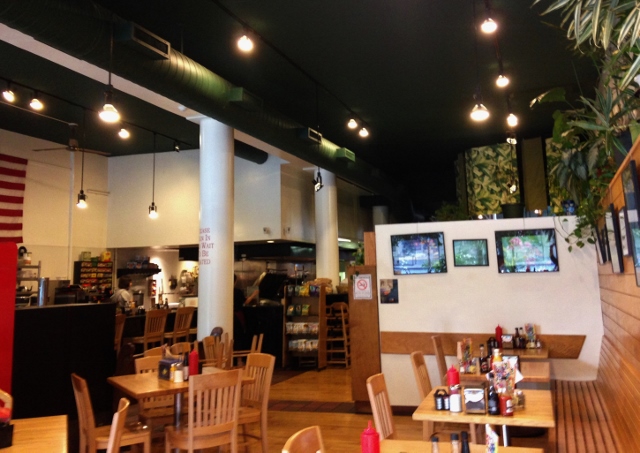 The omelet was HUGE, more than I could eat and came with a nice side of fresh fruit. I'm quick to admit I don't eat enough fruit when traveling unless I can find a juice/smoothie spot. This was a much better option at breakfast than eating a bunch of potatoes with an omelet.
The restaurant, while spacious, is inviting and cozy. The walls are adorned with local artwork, including a series of photographs that caught my eye.
Next door to Tommy's is a wonderful bookstore, Mac's Backs-Books. There's even a little pass-through between the restaurant and the store. Packed with used and new books, you'll find something here. I snagged a couple Donna Hay cookbooks, gently used, for a great price.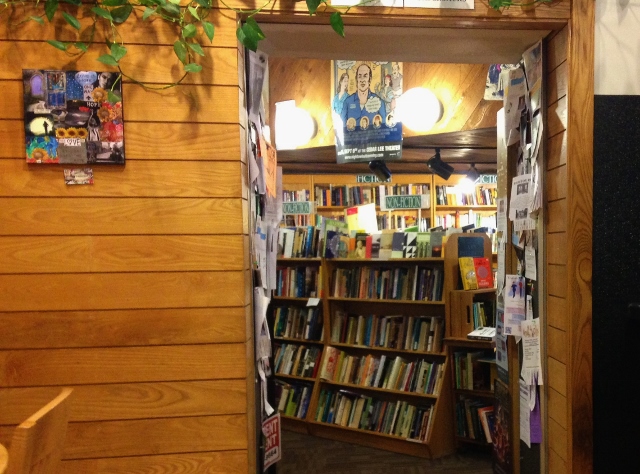 I also spotted this book, opened to Aries 1972. That's me!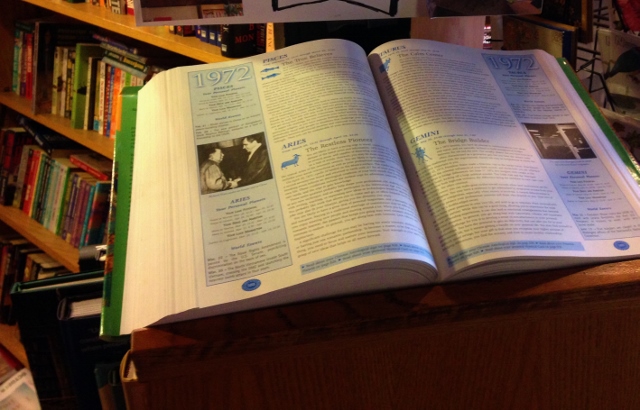 And then I read this, also me. "Strong urge to travel." I'm not a big believer in this kind of thing, but this is me, spot on.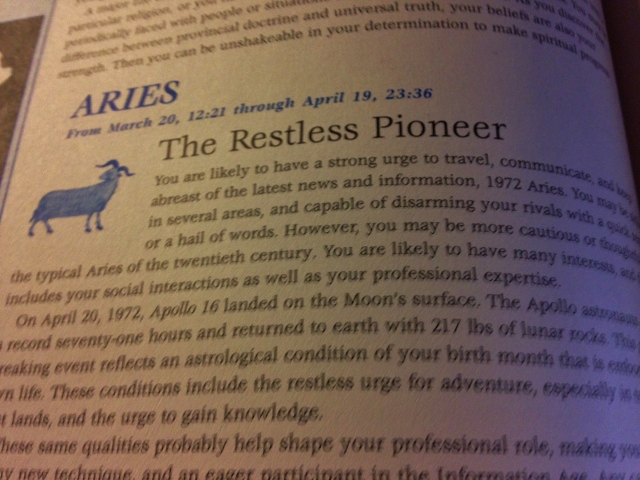 The next time we are in Cleveland, we will absolutely be checking out lunch and dinner at Tommy's. And we will spend more time at Mac's Backs-Books. We'll also spend a bit more time walking through the neighborhood, which is very pedestrian-friendly. Wrought iron sculptures and flower gardens were plentiful, with many brightly colored benches to sit and enjoy ice cream or coffee. Just a lovely area!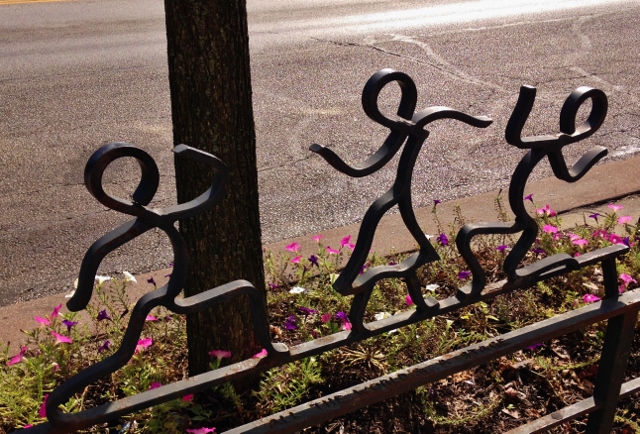 Hey, one last thing. After you eat at Tommy's, you should go visit A Christmas Story house. You know the movie, right? Well, the actual house is in Cleveland. You can go on a tour of the house, visit their gift shop, check out automobiles featured in the movie. It was fascinating to see how many products were featured in the movie (or inspired by the movie) and they are all for sale in the gift shop. Well beyond the Leg Lamp and Red Ryder BB gun, they have Lifebuoy soap, Ovaltine, decoder pins, bunny suit pajamas (even for adults), coon skin caps, just about anything you can imagine from the movie is for sale in the gift shop. It was one of the most fun things we did in Cleveland.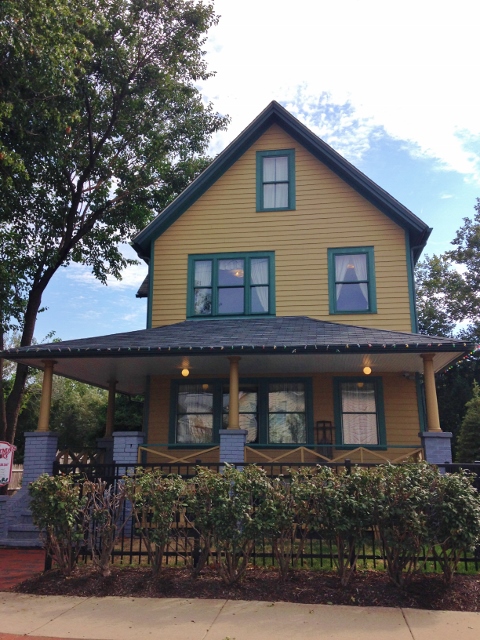 Tommy's is located at 1824 Coventry Road, Cleveland Heights, Ohio 44118. 216.321.7757. Street parking was plentiful during our visit. Check their hours, most days they don't open until 9 for breakfast.


The I Ate Here series is not intended as a restaurant review, rather a summary of my experience dining out.* Menu prices, items and ingredients featured were current at the time of writing. Please read the menu carefully and ask for assistance in ordering if you have dietary restrictions. It's a good idea to call ahead and let the restaurant know of your food needs.
*Writing bad reviews doesn't feel good. Only in extreme cases (a total of two in five years) where gluten has been apparent in my food or the handling of my food restrictions was of great concern do I share anything less than a recommendation. I'd rather share a good recommendation with you. I hope that's what you are looking for anyway, recommendations on where to dine and fun places to visits in your travels. Thanks for understanding.