This post contains affiliate links. See my disclosure for more information.


This music festival is NOT for you!
I've been writing quite a bit this past week about attending Hangout Music Fest, a three-day music festival held on the beach in Alabama. It was terrific, a truly great time with more good eats and bands than I could fully experience in one long weekend. But I sure did give it a go. I can't remember the last time I smiled so much in one weekend, when I so often said, "This is AWESOME" and "I'm having the BEST day." I really did have a blast.
Even before leaving for the music festival, I had noticed on music festival websites (not specific to Hangout) and social media that most photos show college-age attendees. Large groups of young friends, girls in bikinis, guys flaunting well-defined six pack abs. If you are over 25, prefer a more modest swimsuit, don't live in the gym, this marketing might scream to you, "This Festival is NOT for YOU!" I thought I would show you what a music festival really looks like. Guess what? Hangout IS for you. Music festivals are for everyone. There's no age limit and certainly no cap on how much fun you are permitted to have.
These are my festival friends. They are all in their 40s and 50s. I'm the youngin' in our group of friends.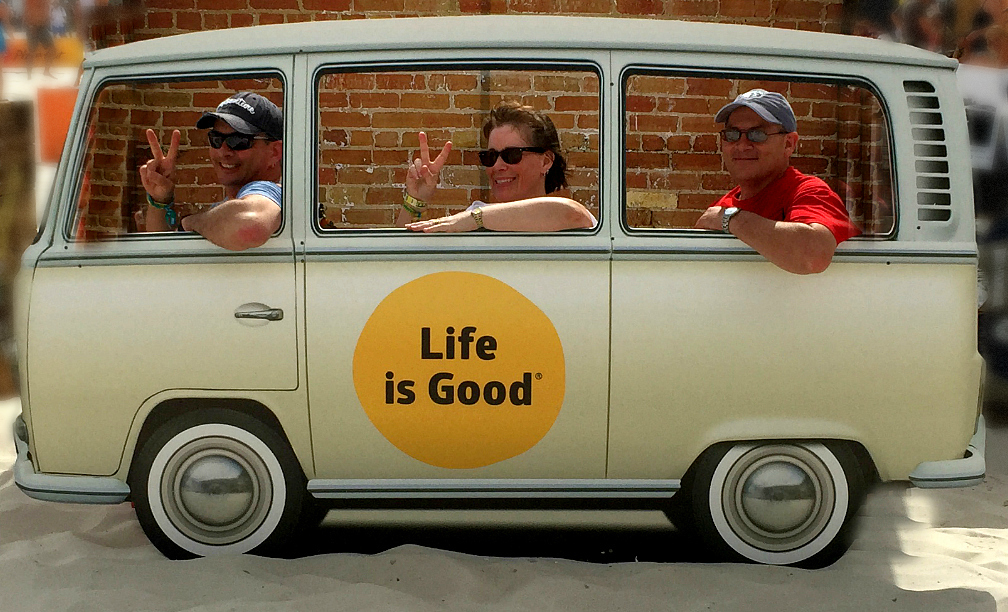 This group of friends, from Dallas and Savannah, were in their mid 20's to mid 30's. And wouldn't you know it, the oldest in their group commented on being too old to be at a music festival. So not true. Regardless of age, we all had a great time in the sand listening to the Mowgli's. Isn't it funny how we are okay with going to see bands with members who are older than us but the expectation is often that the fans must be younger?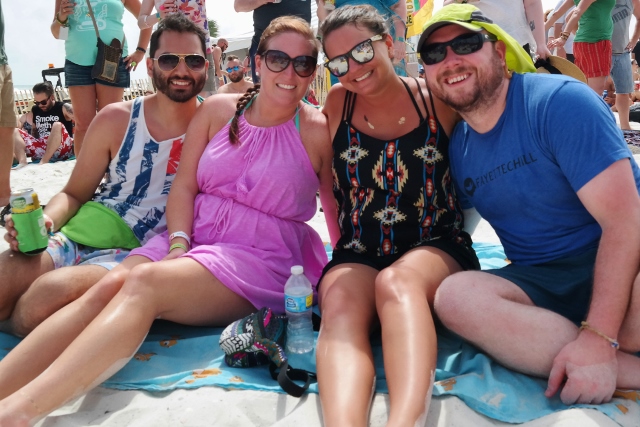 I met this couple dancing in the sand while Damian Marley played. They are in their late 50's and came over from Dallas. Seeing Damian Marley was a highlight of the festival for me. It made my smile even bigger when he brought a Little Marley onto the stage for one song. The legacy lives on… and so do the dancing feet at any age.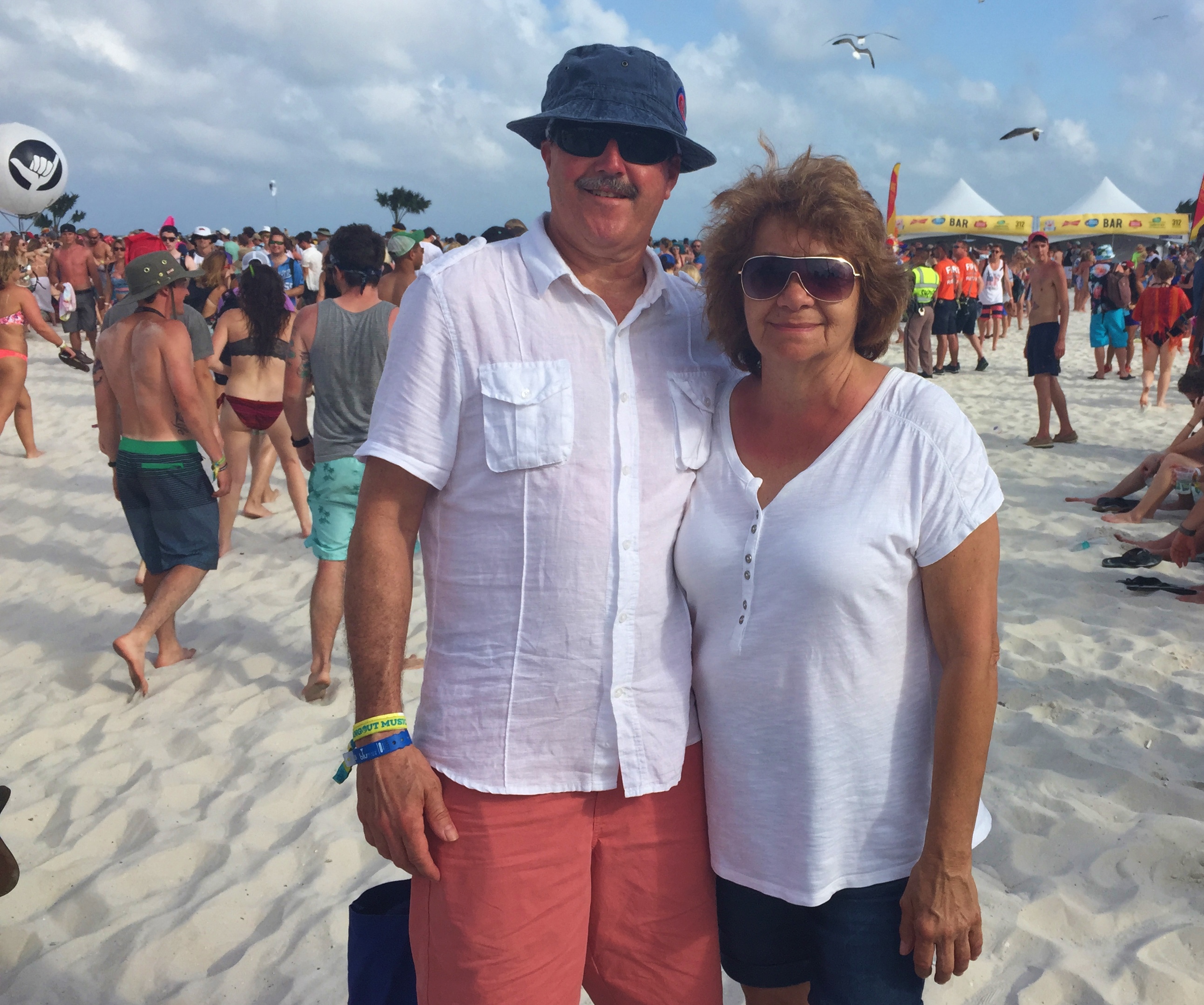 This is Chris from Family Industries. He screenprinted my new Life Is Good tote bag while I waited. He also teased me about my use of the word basic, which isn't the slang use. I'll use simple instead now. No, wait, that also has a negative connotation. Maybe uncomplicated? Anyway, good stuff going on here, with donations being accepted for Life Is Good's Playmakers and also a collaboration with Zac Brown's Camp Southern Ground.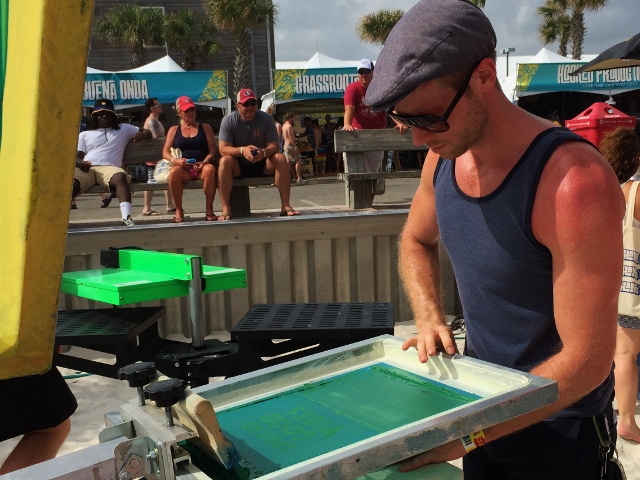 Speaking of Zac Brown… During Zac Brown's performance, we met this group of fun folks from relatively close to home: Springfield, Missouri. Hi Patrick, Brooke and friends! All recent college grads, all repeat attendees of Hangout. They entertained us with stories of debauchery at the Florabama. That same evening we met a guy in his 20's from Nashville who had seen Zac Brown many, many times, a hardcore fan. Some folks come to music festivals for the whole experience, others come to see their favorite band and are a little more laid back about the rest. You get to do whatever works for you at a music fest.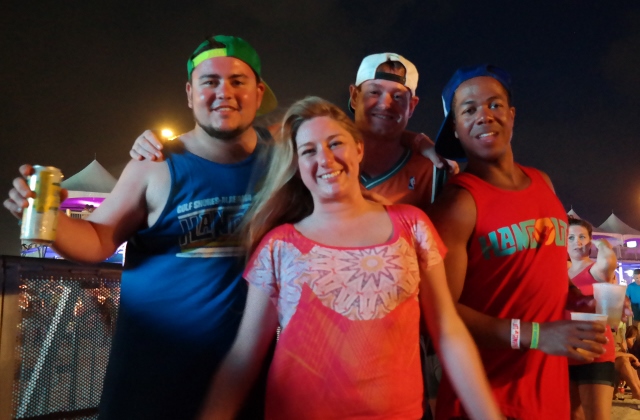 I met this family from Nashville during Foster The People's performance. I love, love, love that folks are exposing their kiddos to live music at a young age. Going to see live music at an early age has certainly had an impact on who I am today. Hangout makes bringing the littles along affordable, too, with kids under ten getting in for free with an adult. If my summer music festival plans are any indication, plenty of festivals are doing something similar. Good stuff!
Speaking of kids, check out these two I met during Beck's performance. It's not the best photo; it's a blur of motion. It's also a great memory for me, seeing these two kiddos so over-the-moon excited to see Beck. They knew every word. Beck's show was one of the best I've seen in a long time. I can't believe I had never seen him live before. Now that Jack White is on a touring sabbatical, I may start following Beck around the country. Greatest dance party I've been to in awhile.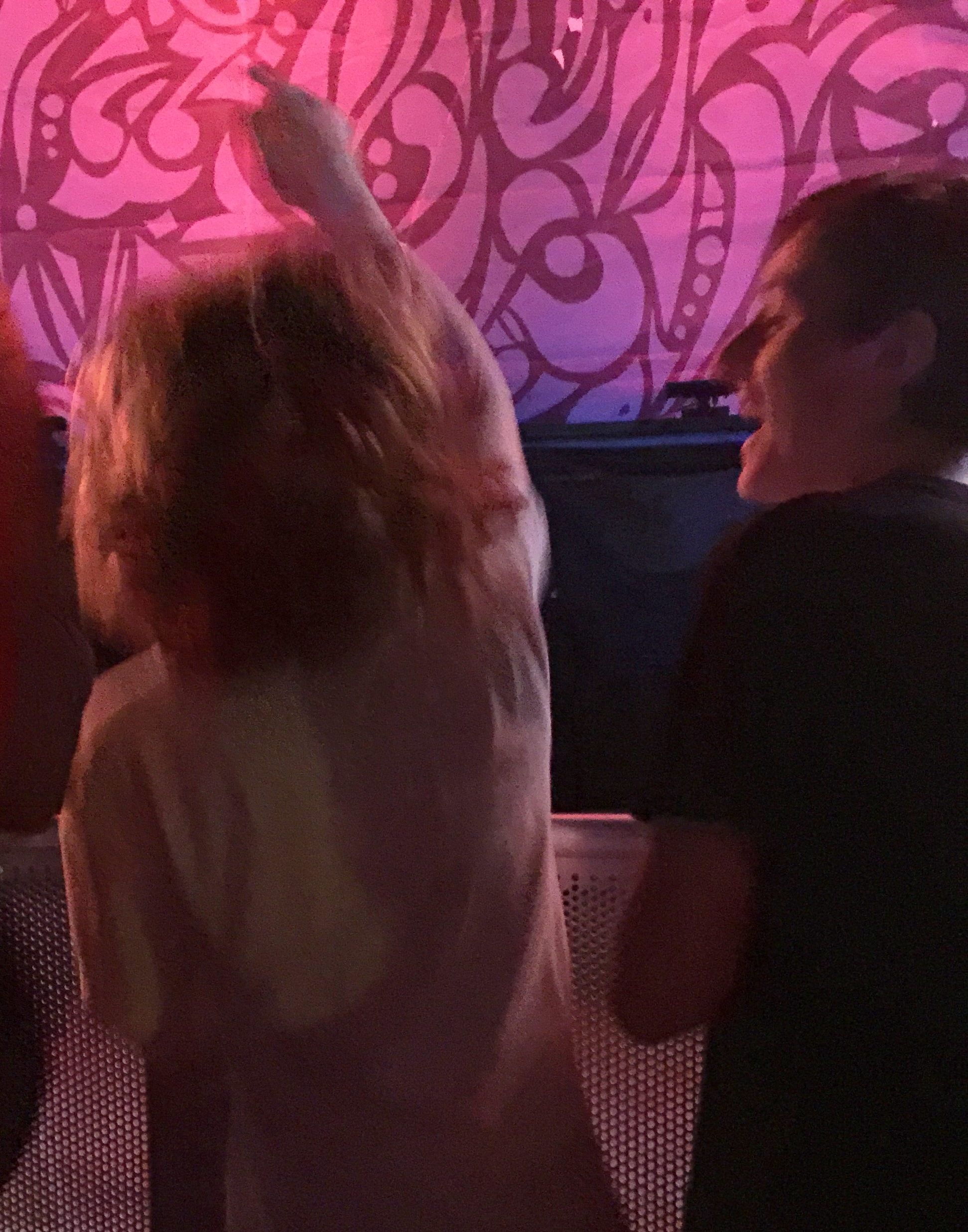 One afternoon I sought out a bit of shade (salt water in my veins, pale Midwestern skin…) while listening to Preservation Hall Jazz Band. In a little slice of shade, I met this couple from Tallahassee. We had a good laugh about middle aged folks seeking shelter from the sun. We were both seeking out frozen drinks, too.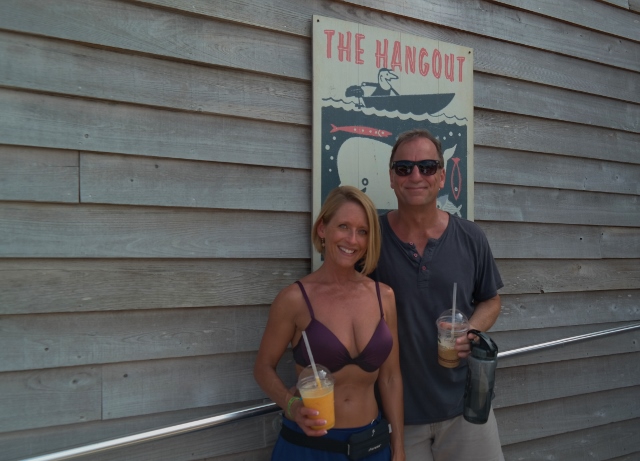 I don't want you to think I didn't see some of the stereotypical music festival folks. I met these guys during the hottest part of the afternoon. I kinda love that the guy dressed as Randy "Macho Man" Savage her a beer and flip flops in his hand.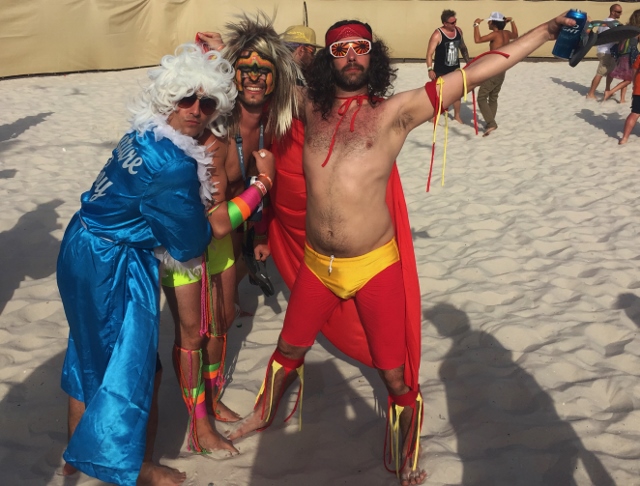 And then I saw a bikini-clad unicorn dancing on a bench. Seriously admire her. I've never had this level of self-confidence but I am secretly a unicorn. If I had a bucket full of glitter, I would have tossed much of it her way. (Not to worry, there was a vendor selling all.the.glitter at the festival.)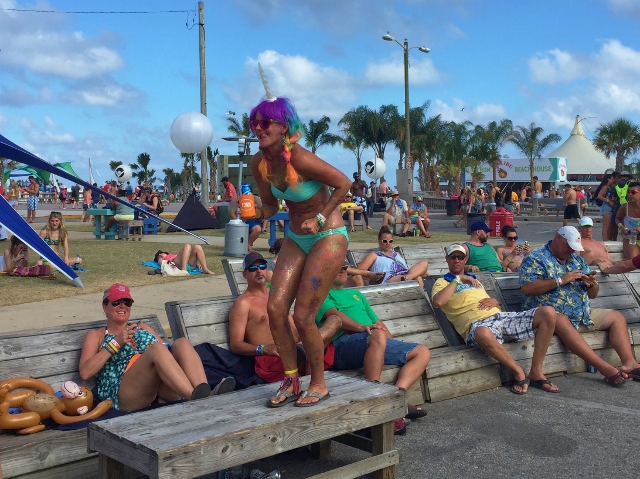 And there were, of course, a few hula hooping festival goers. I met this couple from Auburn, Alabama at the Boom Boom Tent when we went to hear GriZ. One of my friends shared sunscreen with them. That was definitely the vibe at Hangout: everyone in this together for a good time. Be nice or go home.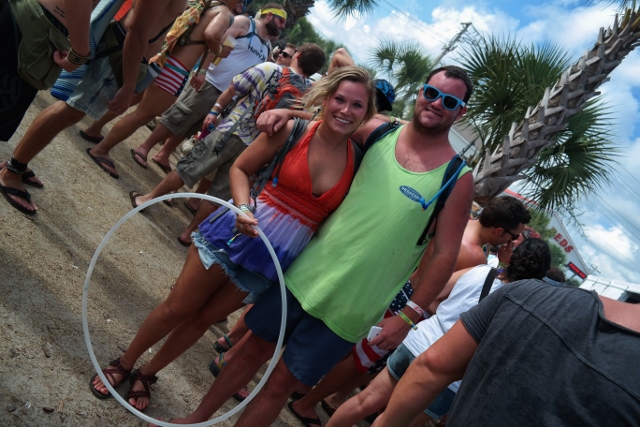 Amongst the festival goers, there were super smart people who dug out beach recliners in the sand.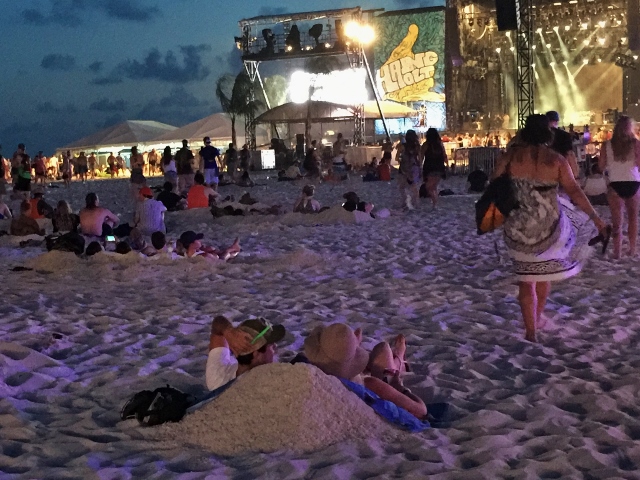 And then there were handsome fellas like this guy, comfortable just plopping down wherever. Did I mention there was a wedding chapel at this music fest? If I had met this guy earlier in the weekend, I just might have married him. I dig his laid back vibe. 😉 (In case you don't recognize him, that's my favorite fella.)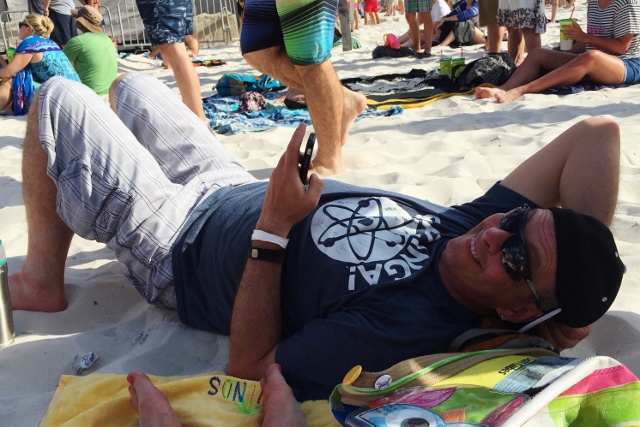 So what I said about this music festival NOT being for you, it was in jest. I hope I made my point. This music festival and all of the other music festivals? They are for you. You go dance or not dance, whether you are 25 or 75. There's no age limit, no demographic limitations; no entrance exam, dancing auditions or wardrobe inspections. I focus often on dietary intolerances and restrictions not being a reason to stay home. Don't let any other excuse keep you home either. The world is your oyster…or music festival.
Disclosure: All opinions are my own. I attended Hangout Fest as a member of the media. However, prior to being approved for a media pass, I purchased a festival pass at full price. I paid for my own lodging, transportation, festival shuttle pass and food/beverages. When I say "all opinions are my own," I mean it. No soulless schilling, not even on a trip to the beach. My full disclosure policy is available here.