This post contains affiliate links. See my disclosure for more information.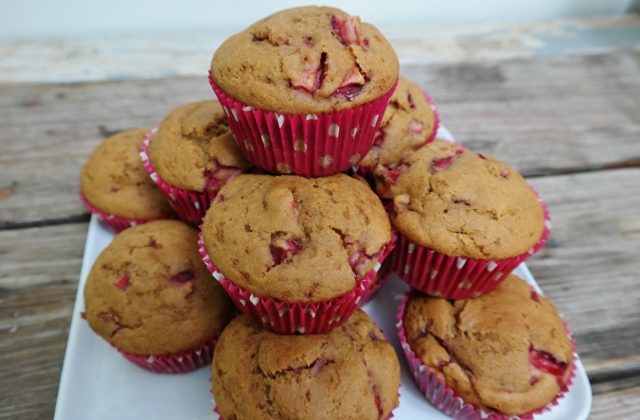 Remember last week when I went strawberry picking? Well, it's been all about strawberries in my kitchen since then. There is nothing like the sweet and tart combination of a fresh strawberry, especially one grown locally and picked with your own hands. Plus having all of these berries not-so-patiently waiting inspired me to make strawberry muffins.
These muffins were inspired by an Ina Garten recipe. I thoroughly enjoyed hearing her speak a few years back when she came to Kansas City. I truly believe she does take pie to her neighbors. In following her lead, I shared these muffins with our neighbors. And it's a good thing; I could not stop eating them! You've been warned. Make a plan now, whether that be to share with friends and neighbors or put on your stretchy pants.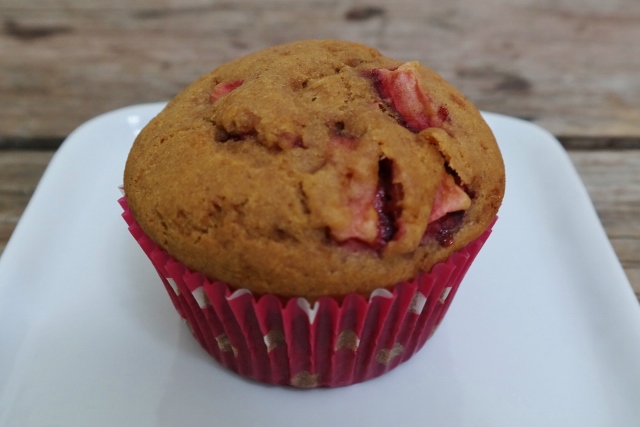 I'm very fond of this recipe and can't wait to test it with a wider variety of fresh fruit. Strawberry muffins are delightful, but later this month my affections will turn toward blackberries. Doesn't a blackberry muffin sound delightful? And then it will be time for peaches and then apples and well, you see where I'm going with this. Let's all have some kitchen dance parties while we see how solid this recipe is! I'll try blackberries first…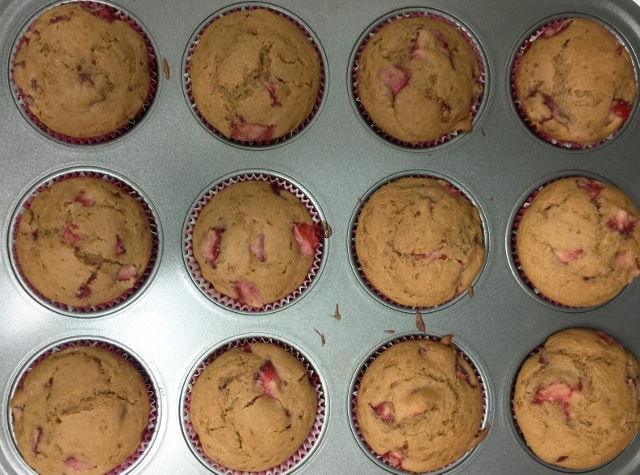 As always, a few quick notes on ingredients: This recipe has only been tested with my gluten-free flour blend. Make a canister of your own to have handy. I created this blend to be inexpensive compared to many pre-made blends and work as a direct cup-for-cup replacement for gluten-full all purpose flour. If you are substituting another flour blend, I do not know if it will work. If the blend you use contains xanthan gum, omit the guar gum in my recipe. I used fresh strawberries and have not tried this recipe with frozen berries. Lastly, if you try this recipe with an egg replacement, please report back. I ran out of berries before I had the chance to try it with flax or chia slurry. I'd also like to try with aquafaba.
Alrighty, here's the recipe. Fire your oven up to 375 right now…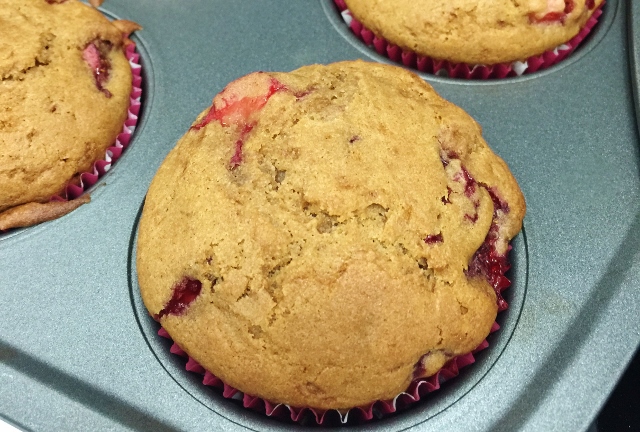 Strawberry Muffins (gluten-free, dairy-free, refined sugar-free)
Ingredients
1

Tablespoon

baking powder

1 1/2

teaspoons

cinnamon

1

teaspoon

baking soda

1

teaspoon

guar gum

1/2

teaspoon

sea salt

2

extra large eggs

, whisked

2

sticks Earth Balance vegan butter replacement

, melted (I use the soy free)

1 1/4

cup

unsweetened non-dairy milk

(I use almond)

1 1/3

cups

to 1 1/2 cups coconut sugar

(adjust to your preference, the muffins in the photos contain 1 1/3 cups sugar)

2

cups

diced fresh strawberries
Instructions
Preheat oven to 375 degrees. Line muffin tins with 22 cupcake papers.

In a large mixing bowl, combine all dry ingredients except sugar. Give a quick stir to incorporate.

In a medium mixing bowl, whisk the eggs then add in milk and melted Earth Balance.

Make a well in the dry ingredients. Add the wet ingredients to the well.

Slowly stir to incorporate the wet and dry ingredients. Only stir until just combined. There will still be lumps in your batter. No need to overstir.

Stir in the coconut sugar, again, just to combine.

Fold in the strawberries. Be gentle and only fold until they are evenly distributed in the batter.

Using a 1/3 cup measuring cup, place batter in each of 22 cavities of muffin tins.

Bake at 375 degrees for 20-22 minutes.

Allow to cool for a few minutes in the muffin tins before turning out onto a cooling rack.

These freeze well. Allow to cool to room temperature before freezing.
Full Disclosure: This post contains affiliate links. Should you make a purchase after clicking on a link, I may make a small commission. I use affiliate links in hopes of making a few pennies to offset the cost of maintaining this website and continuing to provide recipes, dining suggestions and travel tips at no charge to you. I'm grateful for your support! You can read my full disclosure policy here.