This post contains affiliate links. See my disclosure for more information.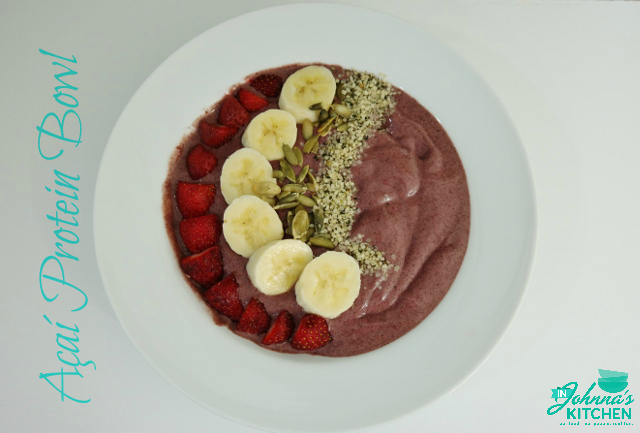 Everywhere I look right now, there are photos of Açaí bowls and smoothie bowls. I read recently that if three of your friends share photos on social media of something similar, it's considered a trend. Well if that's the case, the trend is here. Jump on board with us and enjoy this Açaí Protein Bowl!
Are you wondering why folks are putting their morning smoothies in a bowl? Well, it's nice to have something to chew. If you are like me, it's hard to feel satisfied with a liquid meal. Breakfast-by-straw doesn't always cut it; I need something to chew. Beyond that, chewing helps with digestion. Digestive enzymes are in saliva, so having food in your mouth and chewing is actually a good thing. Chewing also alerts your tummy to wake up, time to get to work.
Maybe you are asking what the heck Açaí is? How do you say it? Why should you eat it? Açaí is a berry from the Açaí palm tree. It's reddish-purple or maybe purplish-red. The pulp is reported to have more antioxidants than cranberries or blueberries, which in theory would mean there is an anti-aging benefit. I haven't seen it yet, but it's worthy risk when it tastes so good. Plus there's fiber, it's a low glycemic berry and there is a bit of Omega 3. Oh–and how to say it: ah-sigh-ee.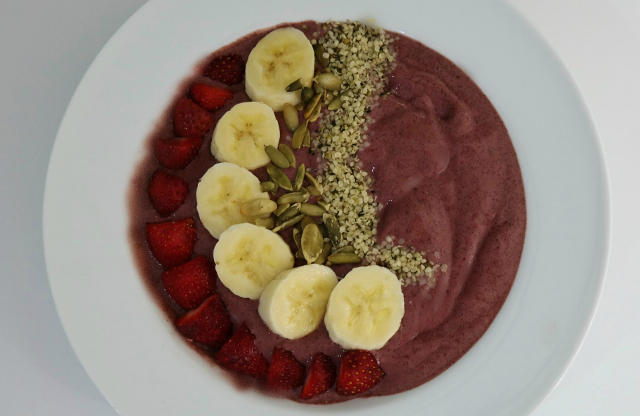 I use powdered Açaí berries. They are freeze dried and then powdered. I buy the Navitas brand. Some folks are using Açaí smoothie packs, which are frozen fruit puree. Both are good, but if you are using the frozen smoothie pack, you won't need to add as much liquid to your smoothie bowl. If you use the powdered, you'll have more room in the freezer for overripe bananas on sale at the local crunchy market. Know what I'm talking about? One of our local organic grocers sells the overripe bananas for about half price. I bring them home and freeze them for smoothies and smoothie bowls.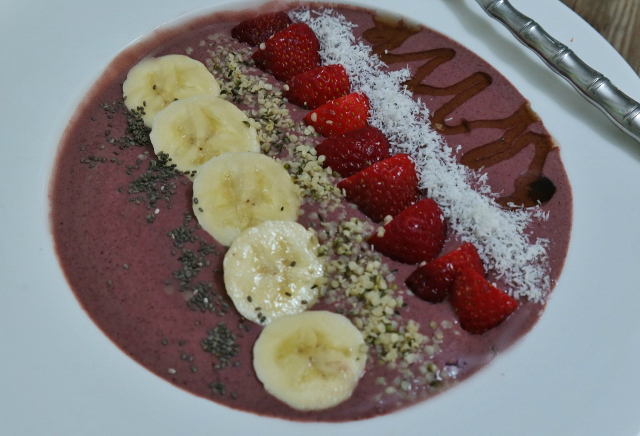 Because I like to add a little protein to my breakfast, I've included my favorite protein powder, Omega Pumpkin Seed Protein Powder. I like that it is a single-ingredient protein powder, an ingredient I eat often anyway. No fancy blend of things I can't pronounce, no artificial flavor or added sweeteners, just pumpkin seeds. Protein, fiber and yep, more Omega 3s. And there's a little bit of nut butter for even more protein. So the next time someone asks you where you get your protein on a plant-based diet…
Alrighty. Ready for the recipe? Get two big bowls ready, this one makes breakfast for two!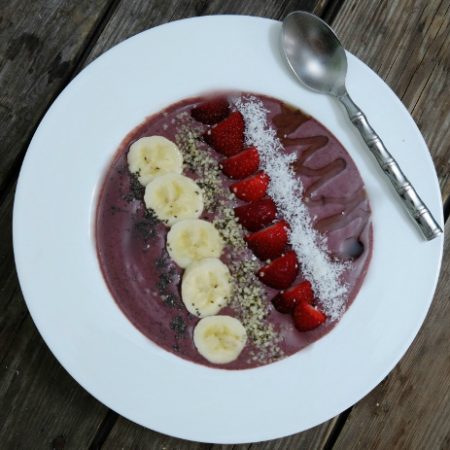 Açaí Protein Bowl (gluten-free, dairy-free, vegan)
Ingredients
2

bananas

, frozen

2

cups

fresh strawberries

, frozen

1

cup

unsweetened non-dairy milk

(I use almond) plus more as needed

1/4

cup

acai powder

3

Tablespoons

almond butter or other nut or not-nut butter

3

Tablespoons

pumpkin seed protein powder

1

Tablespoon

raw local honey

toppings

(berries, banana slices, nuts, hemp, pumpkin or chia seeds, coconut, whatever you will enjoy)
Instructions
Place all ingredients in carafe of high speed blender. Blend at medium until everything "catches" and starts to blend, then bump speed up to high.

Blend until smooth. Add more milk as needed. Keep in mind you want this pretty thick.

Split between two bowls. Top with toppings of your choice and enjoy!
Full Disclosure: This post contains affiliate links. Should you make a purchase after clicking on a link, I may make a small commission. I use affiliate links in hopes of making a few pennies to offset the cost of maintaining this website and continuing to provide recipes, dining suggestions and travel tips at no charge to you. I'm grateful for your support! You can read my full disclosure policy here.