This post contains affiliate links. See my disclosure for more information.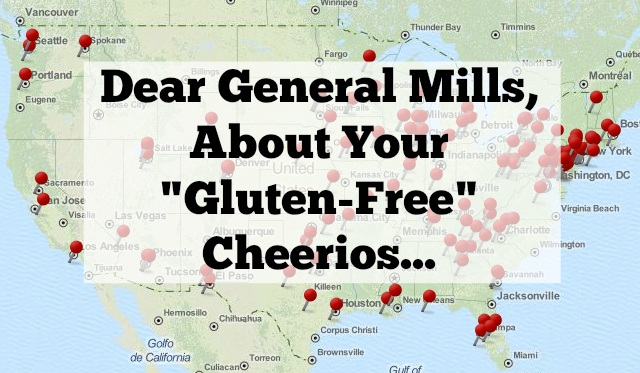 UPDATE 9/29/15: The Petition mentioned in this post now has over 2,100 signatures. 169 of those signatures are reporting illness related to consuming "gluten-free" Cheerios. An updated map is below in the post.
Last week I wrote about my concerns with "gluten-free" Cheerios and urged you to wait a bit before eating them. I'm so worried. I'm sad. I'm tired of seeing more and more reports of people getting sick after eating them.
So I wanted to send this map over to the good folks at General Mills/Cheerios. That's right, I said good folks. Because, you see, I have a major Pollyanna Complex. I want to believe the best is possible, that the people over there care about you and me. I want to believe that somehow they haven't heard people are getting sick. I want to believe when the person handling their Twitter account tells me they are concerned about my health and your health that they mean it. I'm yet to see a single indication that any of this is true, but darn it, I just keep on hoping they will show us it's true.
I made this map for you, General Mills/Cheerios. You know that Change.org petition that has over 1,900 signatures (2,100 as of 9/29/15) on it? I waded through all of the comments over there and compiled only the ones that reported sickness directly attributed to "gluten-free" Cheerios. I made a note of the city and state where each of those people live, then marked it with a pin on the map. See those red dots? Each one of them, 129 (Update: 169 as of 9/29/15) of them, represents a person who lives with Celiac disease or Non-Celiac Gluten Sensitivity who got sick after eating "gluten-free" Cheerios. This is just a small percentage of those who have reported getting sick in many places on the internet. I wish I could say it ends with this map, but it does not. I've seen hundreds more reports of illness across the internet. The map below was created from data gathered from the petition comments on September 21 at 9:00 pm. Comments with reports of illness continue to come in on the petition and elsewhere.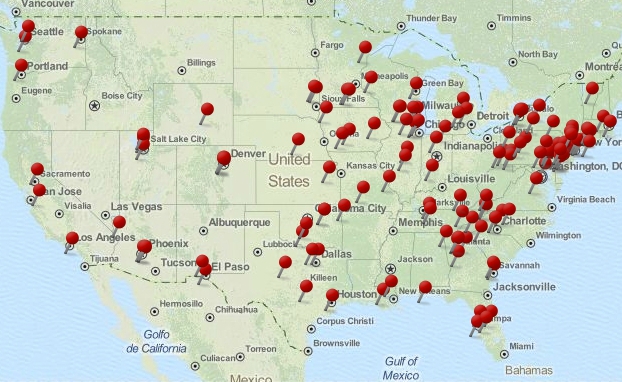 The map below represents an update on 9/29/15. The number of illness reported ONLY ON THE PETITION has grown to 169. The does not include the hundreds of illnesses reported in other locations on the internet or reported directly to the FDA.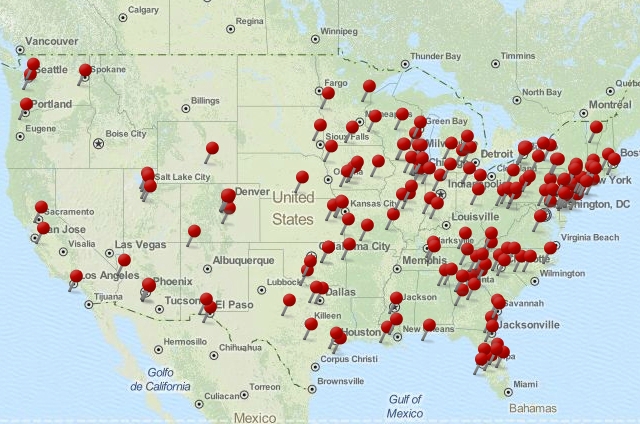 Every red dot represents a person just like you, just like me. I'm talking to you, General Mills/Cheerios. These are real people. They are grown-ups, many with sick kiddos, they are concerned family members who have accompanied a sick loved one to the doctor after having a simple bowl of cereal that they believed was safe for them to eat. That fella Phil in your commercial? He seems nice enough, wanting his daughter-in-law to enjoy breakfast with him. There are people just like him reporting that their family members got sick from "gluten-free" Cheerios. You didn't show that part in your commercial.
I wish I could say it ends with this map, but I've seen hundreds more reports of illness across the internet. The number grows every single day. The only response we seem to hear is, "They are safe. Every batch is below 20ppm." Then what is it in this cereal that is making people so sick? Shouldn't someone be investigating? I'm worried. Aren't you, General Mills?
Here's my original post on why I think waiting before eating "gluten-free" Cheerios is a good idea. Please visit that post; I've included links to many important posts on this matter. And hug your fellow gluten-free friends this week. We are all in this together and have to figure out what we can do or encourage to be done about this.
Have you gotten sick eating "gluten-free" Cheerios? Click here for information on reporting your illness to the FDA. Your voice needs to be heard.