This post contains affiliate links. See my disclosure for more information.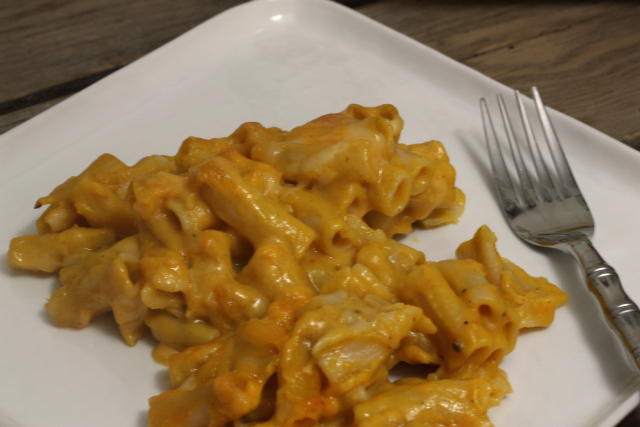 Finally, fall is in the air! It was a crisp 45 degrees here this morning, perfect for early morning baking and making one more batch of this creamy Pumpkin Mac 'n Cheese. It's so simple and has a rich flavor perfect for dinner on a cool evening.
I have made this both with "regular" dairy cheese and also with non-dairy shredded cheese from Daiya. I also have made this with no cheese, which is an easy cooktop version for dinner in a hurry. I'll share how to do all three versions below in the recipe.
If you are looking for another version of Pumpkin Mac 'n Cheese, here's the one I created two years ago. I used Woodchuck's Pumpkin Hard Cider in that version. I've got another recipe to share with you soon using that same hard cider. I get to excited when it returns to the stores in the fall!
Alrighty, on to the recipe. Here ya go, Pumpkin Mac 'n Cheese, gluten-free with a dairy-free option. Enjoy!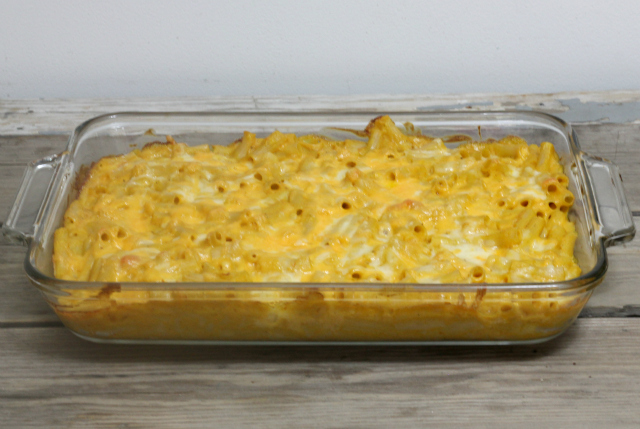 Pumpkin Mac and Cheese (gluten-free, dairy-free option)
Ingredients
1-

Sixteen ounce package gluten-free pasta of your choice

3

Tablespoons

butter

, Earth Balance or coconut oil

1/4

cup

gluten-free all-purpose flour

(Johnna's blend is here)

1/2

teaspoon

ground nutmeg

1/2

teaspoon

black pepper

1/4

teaspoon

sea salt

2 1/2

cups

milk or non-dairy milk

(I use unsweetened almond milk)

1-

Fifteen ounce can pumpkin puree

3

cups

shredded cheese or non-dairy cheese

(optional)
Instructions
Preheat oven to 400 degrees.

Place pasta pot with water on stove and bring to boil; cook noodles according to instructions.

While pasta is cooking, in a large saucepan (

I use this

), melt butter/Earth Balance/coconut oil over medium heat. Once melted, stir in flour. Stir until well combined, creating a quick roux.

Next whisk in milk. Add nutmeg, pepper and salt. Continue cooking over medium until this has thickened to a gravy consistency, just on the thin edge of gravy, not overly thick.

Stir in the pumpkin puree.

At this point, your noodles should be done cooking and drained. Stir them into the cream sauce.

You can stop now and serve this as is OR you can add cheese and bake.

If adding cheese:

Have a 9x13 baking dish ready.

Stir in one cup of the shredded cheese to the pasta and cream sauce combination.

Place 1/2 of this into the 9X13 baking dish.

Top with one cup of shredded cheese.

Add the remaining 1/2 of the pasta and cream sauce combination. Top with remaining shredded cheese.

Bake at 400 degrees for 20 minutes.
Disclosure: This post contains an affiliate link for a pan I use regularly in my kitchen. If you click on the link and make a purchase, I may make a small commission. You will get the same great price. I use affiliate links to offset the costs of maintaining this website and bringing original recipes to you at no cost. I appreciate your support!