This post contains affiliate links. See my disclosure for more information.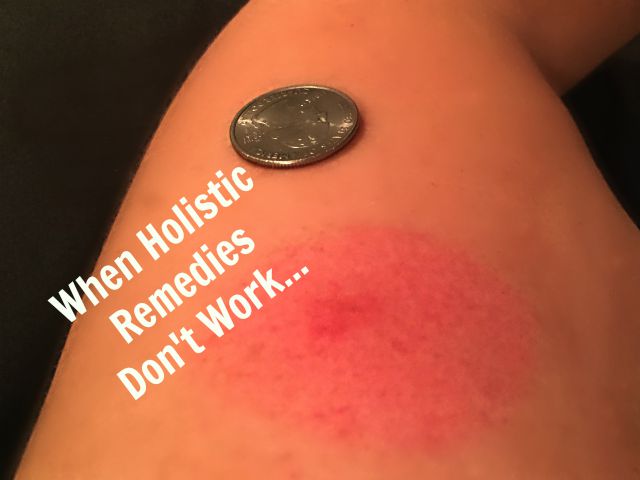 In the Healthy Living Community, it can be looked down upon when you can't cure your ails with a poultice, an essential oil and a shot of garlic juice. But sometimes going to see the doctor is necessary.
Today's Soften Saturday is inspired by my recent medical malady, one that required a trip to a conventional doctor. Twice.
Here's my story: A week ago today, I was bit by a spider. Not just any spider, but surely a spider that had four fangs and was larger than a tennis ball.
Well, I don't know that for sure. You see, I never saw the spider. I saw spiders (plural!) in the bathroom of an adorable house we've rented more than once via AirBnB, but managed to evade them for several days. A week ago, one sunk its teeth into my upper arm. I felt it immediately, even though I never did see the culprit.
I worked that day, went out that evening to hear a band and had a late night dinner. I thought everything was fine, just a bug bite. I worked the next day and battled with nausea, stomach cramps, a fever–the sweaty kind, followed by chills complete with goosebumps all over. I blamed all of this on a coffee from a coffeehouse I don't visit often.
But by Sunday night, I knew it wasn't the coffee…
I had a huge red ring around the bug bite, which had two visible punctures in it. It was hot, itchy, swollen; larger than a quarter. But I don't enjoy going to the doctor and was out of town, so the thought of finding an urgent care clinic late on a Sunday evening seemed like such a hassle. I decide to put an herbal anti-itch salve on it and go about my business. Already friends were telling me I should seek medical attention.
Monday was a travel day for me, a 9 to 10 hour drive. The entire drive home, the red ring around the bite got bigger. I started to become concerned. Feverish, the bite felt like it was on fire, no holistic remedy in my bag of tricks was going to fix this.
But, you know, I don't like the doctor so why not just wait it out? Well, concerned friends and my favorite fella were having none of that. I found myself hustled into the car and escorted into urgent care.
Yep, a spider bite. Streaking leading toward my heart. SCARY. This was not the time to count on a DIY remedy. I needed to see a doctor. I was sent home with two medications. They used a medical marker to draw a ring around the bite, advising me to come back should the atrocious red splotch grow outside of the ring. I swallowed a dose of medicine before I even got home.
That should have fixed it, right? Nope. My body didn't dig one medication. On Tuesday, there wasn't any improvement. By Wednesday, the red ring around the bite had consumed my upper arm. The pain was bad; it hurt to wear a t-shirt. But maybe I could just wait another day, right? No. Again, friends were insistent I pack away my hardheaded attitude about going to the doctor. I trudged back to urgent care and got another medication, more measurements of the ever-growing red splotch. More than 6 inches across. (I'm absolutely not sharing photos. It was U-G-L-Y.)
By Thursday morning, I was on the mend. It was all about getting the right medication. I'm so grateful I could get medication and not just rely on my hippie sensibility, arsenal of herbal tonics and witches brews.
There's a time and place for holistic remedies. I'm a proponent of them when it is appropriate. I am also learning to be a proponent of conventional medicine when it is necessary. It is okay for you to be, too. It's okay to be softer to yourself, to realize you can't fix everything with an essential oil or a poultice made of ground eggshells and stems from your neighbor's herb garden. Sometimes it is best to go to the doctor.