This post contains affiliate links. See my disclosure for more information.


Yesterday was the supposed end of Summer. Mother Nature missed the memo on that where I live, but I'm still cooking with the flavors of fall. Pumpkin, cranberries, apples, cheddar and bacon all come together in my Flavors of Fall Grilled Cheese. Take a peek: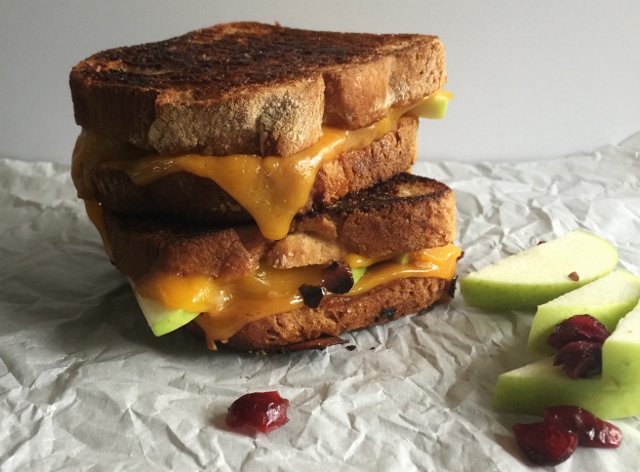 It's embarrassing how quick a loaf of gluten-free bread disappeared while crafting this recipe. You know, I like to get my recipes *just right* before I share them. It's not that I couldn't stop eating the best grilled cheese combination I've ever tasted. Nope. It is not because grilled cheese is hard to photograph, so I was forced to make this several times to experiment with different lighting and locations. And it has nothing to do with my favorite fella asking for this sandwich for several days in a row. Absolutely not. Nor anything to do with me over-browning (read burning…) a few of them.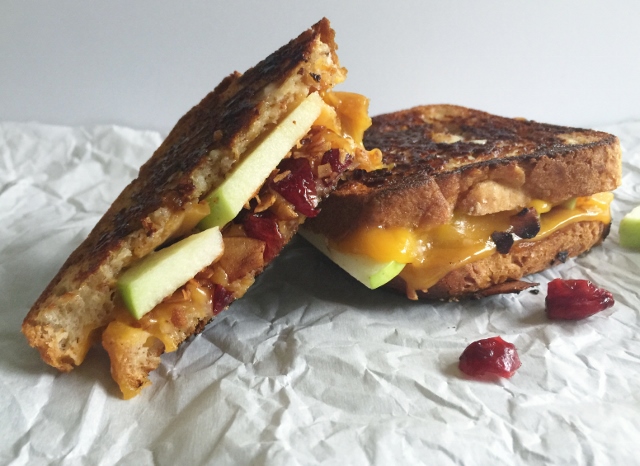 Well, okay, it's all of that. This is one seriously good sandwich. Heat your favorite skillet now, get the ingredients ready. And invite me over. We're out of bread.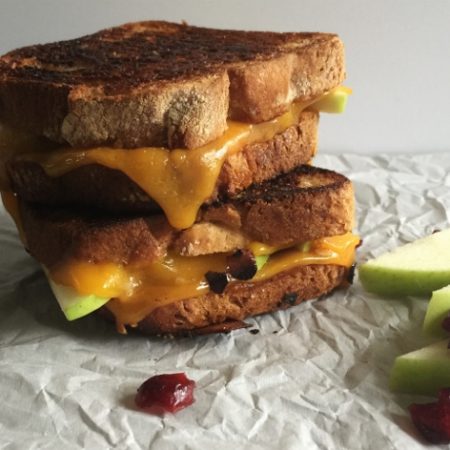 Flavors of Fall Grilled Cheese (gluten-free, vegetarian)
Ingredients
8

slices

of your favorite gluten-free bread

8

slices

of cheddar cheese

1

Granny Smith apple

, thinly sliced

1/3

cup

coconut bacon OR regular bacon

1/3

cup

dried cranberries

2

Tablespoons

or so pumpkin butter

2

Tablespoons

or so mayonnaise or vegan mayonnaise of your choice
Instructions
Thinly slice Granny Smith apple and set aside.

Using mayonnaise, lightly "butter" one side of each slice of bread. I find it takes about a teaspoon and a half per slice of bread, but that will vary with the size of the bread you use. Mayonnaise makes a nicely grilled sandwich, better than butter in my opinion.

Assemble the sandwiches as follows:

Place four slices of bread mayonnaise side down.

Spread about a teaspoon and a half of pumpkin butter on each slice of bread

Put one slice of cheddar cheese atop the bread.

Next add sliced apples.

Then add bacon and cranberries.

Top with another slice of cheddar cheese and a slice of bread, mayonnaise side out.

Heat your favorite skillet or griddle pan (

this is mine

) over medium heat until a drop of water will skitter across the surface.

Grill in your favorite skillet or griddle pan (this is mine) until nicely browned on one side. Gently flip to other side and grill until browned. Slice in your preferred way (mine is diagonally) and serve immediately.
This sandwich was inspired by a grilled cheese at Toasted, a restaurant with a couple of locations in the Orlando area. A gluten-free friend tells me they make incredible sandwiches and fries safe for those of us who can't have gluten. I hope to visit there on my next trip to Central Florida.
The pumpkin butter I used is from Trader Joe's. Surely their plethera of pumpkin products will hit the shelves again soon and we can snag more of this seasonal favorite. You might also find pumpkin butter at your favorite grocery or specialty market. Use it anywhere you would use apple butter. Good stuff!
Now go enjoy your Flavors of Fall Grilled Cheese. I'll be right over to join you…
I'm linking this post up with Gluten-Free Fridays over at Vegetarian Mamma. Go check out all of the other recipes included in the party!
Full Disclosure: This post contains affiliate links. I might make a small commission if you make a purchase after clicking on a link. I use affiliate links to offset the costs associated with maintaining this website. I appreciate your support.