This post contains affiliate links. See my disclosure for more information.


Continuing on my Summer of Music Festivals, I took a short roadtrip with my favorite fella to Des Moines, Iowa for the 80/35 Music Festival. We live just about three hours from Des Moines, yet haven't spent a lot of time there. Every time we are there, we discover great food and friendly people. The music festival was further proof of that!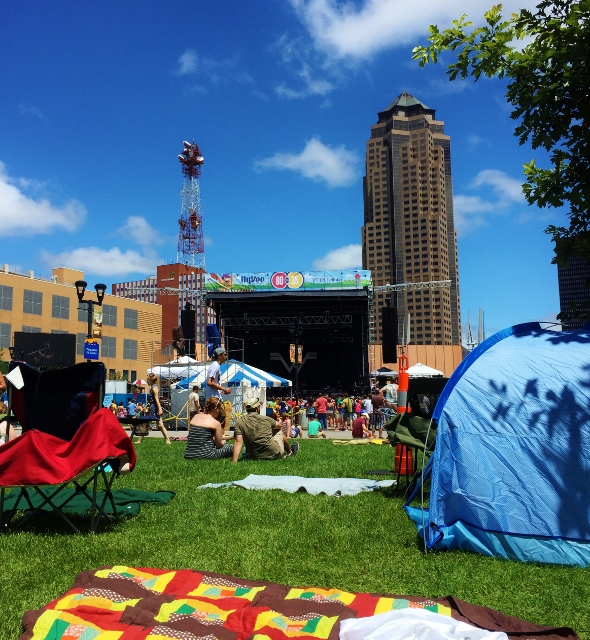 We left early in the morning so we could get there in time to check out the Des Moines Farmers Market, held right in downtown Des Moines. A roadtrip in my little convertible is always a fun start to a weekend away. The weather decided not to cooperate about midway through our trip and I had to make a brisk stop at an exit to put the top up on the car, it was pouring like crazy. But, silver lining or rainbow as it may be. And a little teaser of my favorite band at 80/35…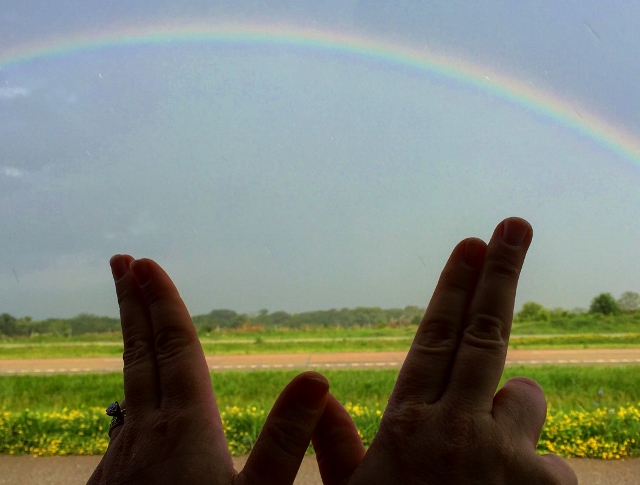 The Des Moines Farmers Market is huge, vendors stretching for several blocks. Because it had been raining, many folks were slow to arrive so even though we weren't early birds, we still had a good selection. I bought a gorgeous bouquet of flowers for $5 (every hotel room needs fresh flowers) and some fresh produce to take home. Interesting that many of the vendors had kohlrabi, not a vegetable that is plentiful at farmers markets just three hours south of Des Moines.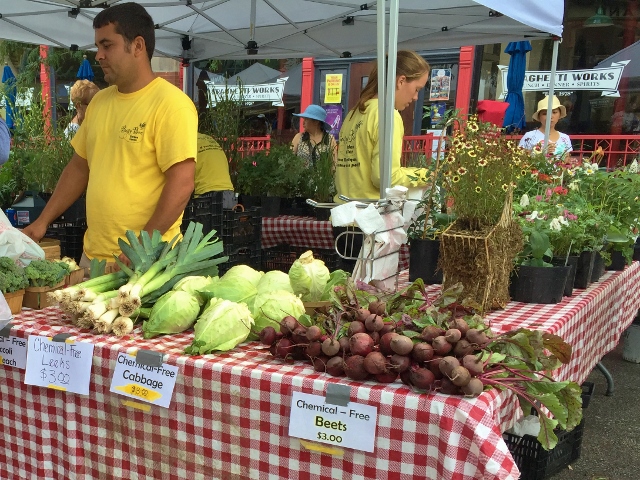 I snagged this carrot ginger juice with a shot of wheatgrass from The Fresh Cafe and Market's stand. My fella had a smoothie of some sort. Nice to get some healthy food at the market before a day of festival food. I know this isn't the prettiest juice (it may have been before the wheatgrass was added) but it was definitely the energy boost I needed to get through the day.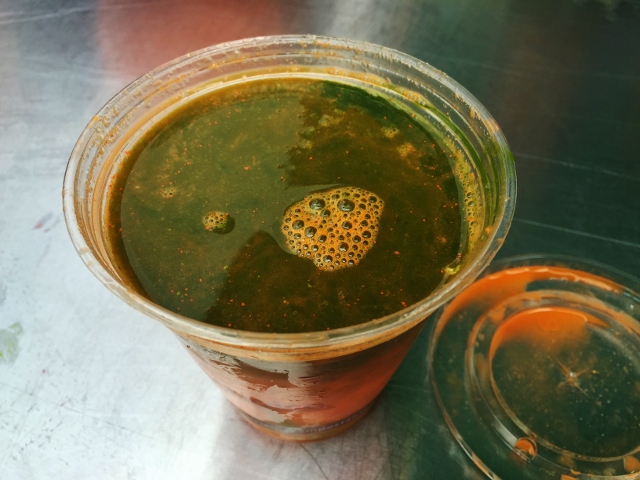 80/35 Music Festival is a pretty good sized fest, with over 37,000 people attending in two days. Held right in the heart of downtown, we were able to park at our hotel and walk an easy three blocks to the festival. What I found most interesting about 80/35 is that it is a non-profit festival and all of the attractions with exception of the main stage are free for anyone to attend. Several stages of music, absolutely free. The food vendors and community booths are also free to roam without paying any festival admission.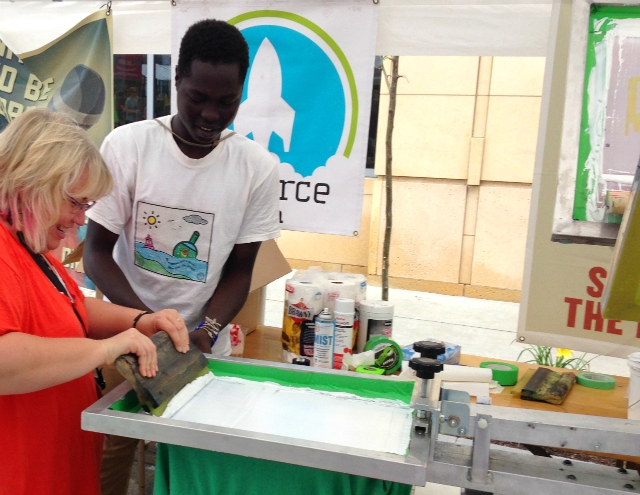 Remember when I was at Hangout Fest and got a tote bag screenprinted for a donation to Zac Brown's Common Ground Foundation? There was on-demand screenprinting at 80/35, too, only it was t-shirts AND I got to print my own shirt with a little help from one of the youth employees of Arts Force Iowa's Screen Print Co-op. The Screen Print Co-op partners youth and professional screen-printers. Printers work with youth and local businesses to consult, design, and print t-shirts, other clothing articles, and artifacts. Youth working in the Co-op gain valuable resume-worthy experience, while earning a wage for their work. It's fun taking home a one-of-a-kind souvenir from a music fest.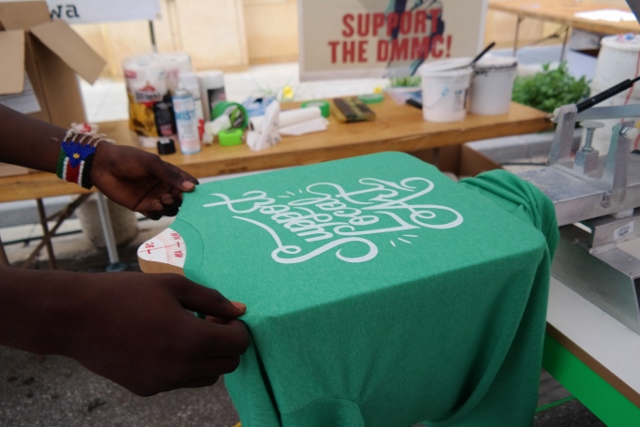 You want to hear about the food though, right? I had French fries. If you are not gluten-free by necessity, this may not seem like such a big deal to you. It's a really BIG deal to me. I rarely get to have French fries because most places fry them in the same fryer as other items, like onion rings or chicken strips, that have gluten. Powered by Fries rocked my world.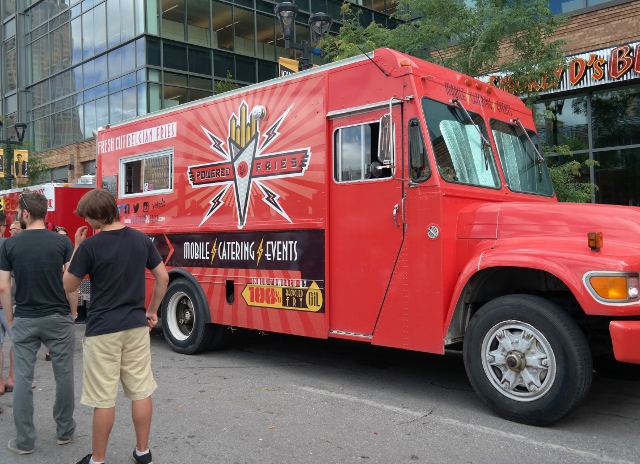 Powered by Fries makes Belgian fries: crunchy on the outside, soft on the inside. Fries are cooked in peanut oil and topped with lots of delectable options, many of which are gluten-free. We started simple, with just curry ketchup. My all-time favorite fry topping is curry ketchup, mayonnaise and onions, a combination I first tried in Belgium. While they didn't offer that exact topping option, the fries were better than any I had while in Belgium.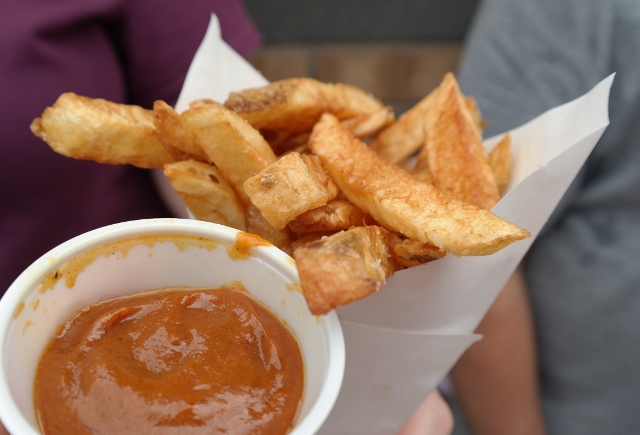 We also tried the Fry de Burgo with truffle oil, chopped herbs, garlic and grated parmesan cheese. Between two hungry eaters, we didn't finish one small and one large order of fries. Generous servings, plenty of sauce and toppings. Definitely in my Top Five of festival food finds this summer.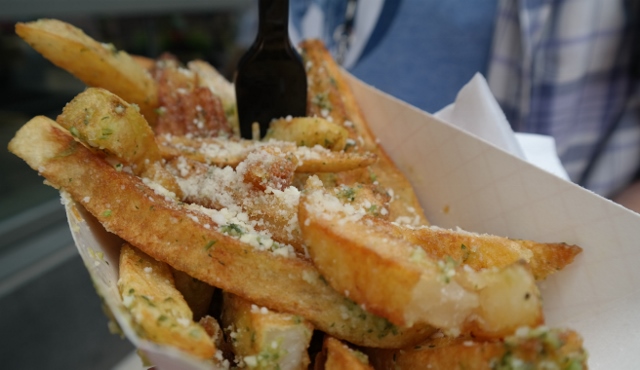 The other really fun thing about Powered By Fries? Their truck really is powered by fries! It runs on recycled oil. I dropped them an e-mail prior to the festival to confirm gluten-free offerings and got a quick response with helpful information. I'm thinking about driving three hours to Des Moines for fries while writing this. Seriously good.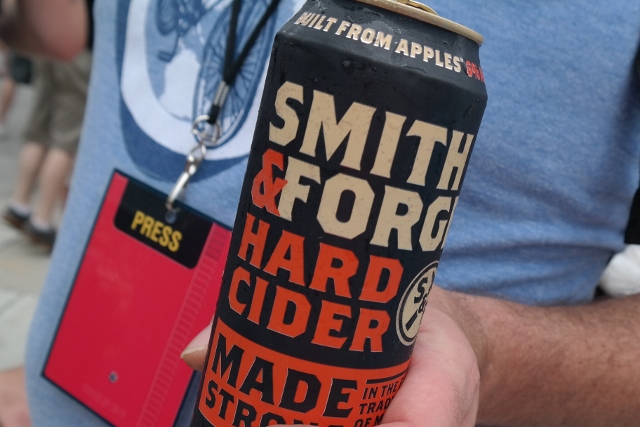 I didn't sample much other food at 80/35 Music Festival. I had an ear of grilled corn and a few hard ciders. I am enjoying the wide availability of hard cider at festivals and gatherings. I hope this trend continues; it's sure handy for us gluten-free folks. Mostly I had water. The day we were there was scorchingly hot, humid with not even a slow breeze in the air. Water was super important. Free water stations with free reusable water bottles imprinted with the 80/35 logo were a great perk at this festival.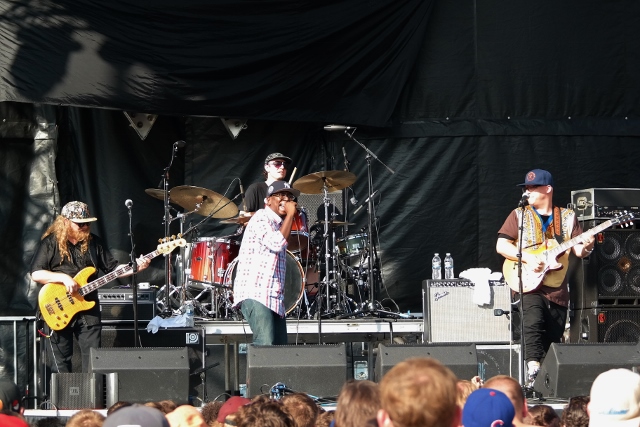 Wanna hear about the music? Early in the day we saw Lettuce. While not opposed to Lettuce, I've never been a big fan until seeing them live. Live they are a party, a funky dance party. A shirtless guy wearing bib overalls and Birkenstocks danced directly in front of me for the entire Lettuce set, unaffected by the heat and sun directly overhead. Soon after kicking off his sandals, he was joined by another guy in brightly-colored board shorts, cowboy boots and a trucker hat. Music festival culture was definitely on full display at 80/35. That is one of the things I enjoy most about music festivals: everyone belongs if just for the weekend. It's okay, perhaps even expected, that you will be your own person.
Another band we took in was Jon Wayne and The Pain. If you dig reggae, you would enjoy this band. Very danceable, plenty of instruments rarely seen in reggae bands used during their performance, including EWI and flute. Good times!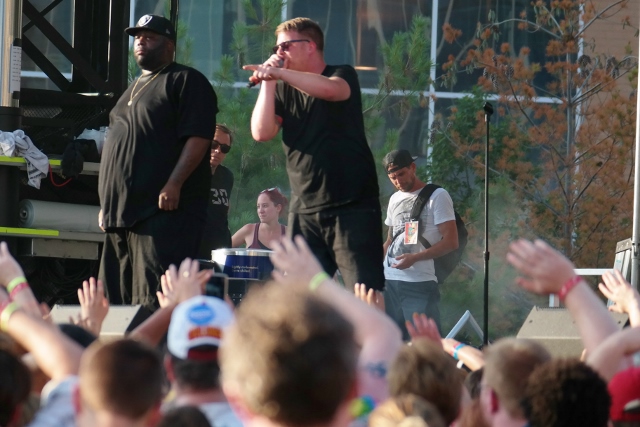 It hasn't been within the last few years that I've caught a rap or hip hop performance. 80/35 was a chance to fix that. In the odd mix of music I enjoy, I like Run the Jewels. Their performance at 80/35 was high energy, even for two guys who complained/remarked/commented often on the heat. It was that kind of hot, the variety where two guys from Atlanta complain about the heat in Iowa. But heat aside, the performance was a good time. The mix of music, of music styles, at 80/35 seemed to have something for everyone. I would guess many left finding they had enjoyed a band not even on their list to see at the festival.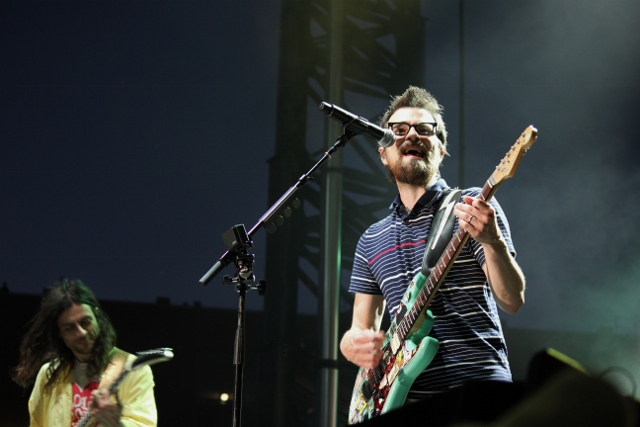 The real star of the festival for me? The second photo in this post might have clued you in. It was Weezer.
Wanna hear a funny story? When we checked into our hotel, the lobby was a busy place, full of bands and festival attendees and a wedding party all checking in. The gentleman in front of us checked in for a large number of rooms, hollered at a guy across the lobby about coffee and then headed toward the elevators. We ended up in the same elevator with this guy, who commented that he didn't expect a hotel in Des Moines to have 35 stories. My fella gave him a hand selecting his floor, as it required a room key to illuminate. We were on a floor three stories below, the guy shouting his thanks behind us as we exited. Turns out he is with Weezer and was checking them into the hotel. That's my brush with almost-celebrity during the Summer of Music Festivals.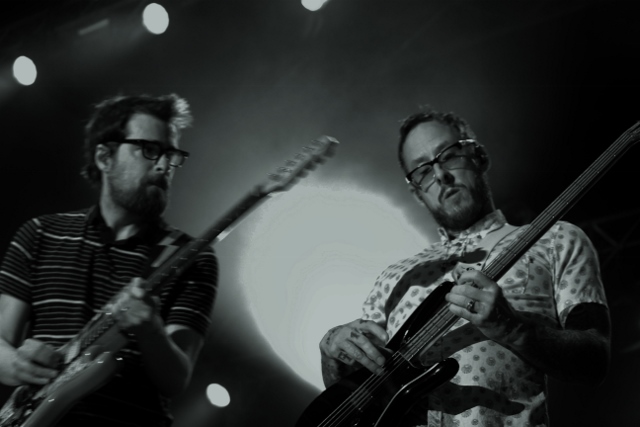 We've seen Weezer quite a few times, three times in three states with the friends we met up with at 80/35. I spent the first three songs in the photo pit against the stage with a constantly-moving tangle of photographers with camera lenses longer than your arm. I retreated back into the mob of fans for the rest of the show, which included an appearance by lead singer Rivers Cuomo's eight-year-old daughter Mia playing keyboards. Those guys are getting older right along with their fan base and not trying to hide it. I like that.
Remember I mentioned walking from our hotel to the festival? At the end of the night, we walked back to our hotel and were seated at the bar of our hotel before many had made it through traffic in their cars. We had a bit of indulgent bourbon, Blanton's; neat, please. The bartender did some magic, making hummus and veggies appear from kitchen whose late night hours had long since passed. It was far from the ending many music festivals nights bring to mind: camping in sweltering heat, bottom-of-the-bag potato chips with beverages that long ago lost their icy companions in the cooler. 80/35 makes it easy to have the music festival experience with creature comforts of a big city all in one spot.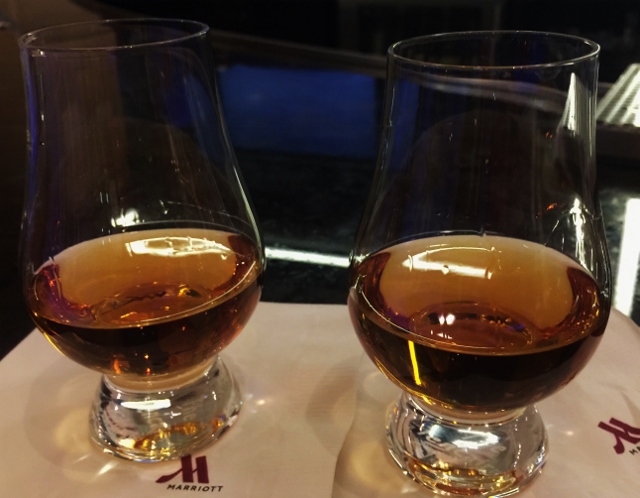 Thanks, 80/35 Music Festival, for a really terrific weekend filled with music, good eats and great people. While this one was close to home for me, I would definitely add this festival to the "worthy of travel" list. Meet me there next summer!
Full Disclosure: I attended 80/35 Music Festival as a member of the press. I did not pay for admission to the festival. I did pay for all food and beverages mentioned in this post, as well as lodging and transportation to the festival.