This post contains affiliate links. See my disclosure for more information.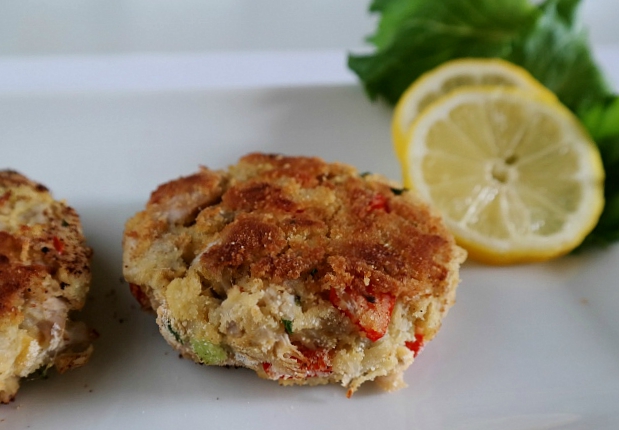 In my mind, I've been vacationing at the seashore. I've been pretending we have dinner outdoors each evening as the full moon rises over the water. With my fantasies always come a vision of food, a dish I need to create. This time around it has been crab cakes, but without the crab. How is that even possible? It IS possible thanks to jackfruit. Take a look at the jackfruit crab cakes I've been making: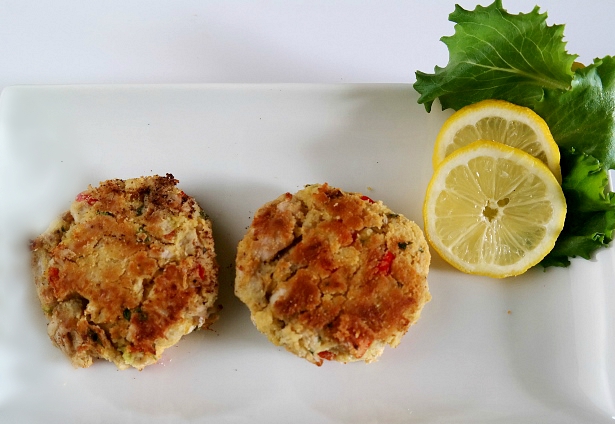 For the last three years, I've been sharing recipes with you that use young green jackfruit. I've shared BBQ "pulled pork" style jackfruit in both KC and Carolina styles, tamale bites, Korean BBQ tacos, tacos with wild rice, Reuben Sandwiches, Reuben dip, a plethera of dishes made with the world's largest tree-borne fruit. I often shred jackfruit, as it looks like and takes on the texture of shredded pork when it has been simmered in sauce. For the crab cakes, I wanted a slightly more flaky texture and succeeded. I can't wait to share how I did this. It's so easy!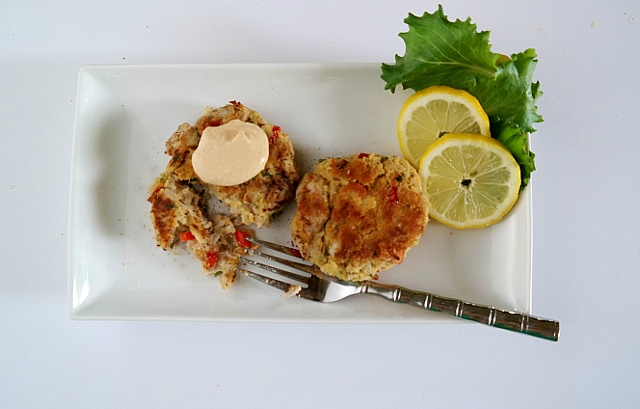 The jackfruit used in this recipe and many of my other original recipes is young green jackfruit. This is available canned at your local Asian market and also at Trader Joe's. You can also buy it on-line, but I find it cost prohibitive. Here is an example on Amazon to give you a starting point.
Please look for jackfruit packed in water, not in brine. Also make certain it is young green jackfruit. Ripe jackfruit is quite sweet and most frequently used in desserts. The flavor of Juicy Fruit gum is based on the flavor of ripe jackfruit. Jackfruit is also available fresh (almost always ripe) as well as frozen in Asian markets. The frozen variety of young green jackfruit will also work in my recipes. Be certain to drain it very well first, as it is usually packed in water and then frozen.
I chose to serve these with a bit of my Cashew Sriracha Cream. I hear traditionally they may come with a bit of remoulade. One friend suggested a bit of wasabi or fresh horseradish. Whatever you choose to eat with these, I know you'll enjoy them. I hope they turn your mind toward the shore as well. We can go on an imaginary vacation together and have Jackfruit Crab Cakes for dinner every single night. I'll cook first…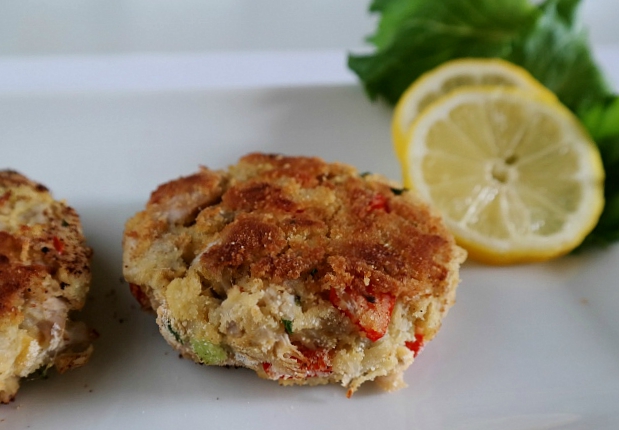 Jackfruit Crab Cakes, You Gotta Try These!
Ingredients
1 20-

ounce

can young green jackfruit

(available here or in your local Asian market for about $1.25 a can)

1

cup

cauliflower florets

, steamed or boiled until tender

3

Tablespoons

vegan mayonnaise OR Cashew Sriracha Cream if you like spice

2

Tablespoons

coconut flour

2

Tablespoons

chopped fresh parsley

2

Tablespoons

small diced red bell pepper

2

green onions

, thinly sliced

1/2

teaspoon

sea salt

1/2

teaspoon

Old Bay seasoning

(Available to order here)

2

Tablespoons

olive or avocado oil

Additional Sriracha Cashew Cream

(optional)

Lemon slices

(optional)
Instructions
Preheat oven to 375 degrees. Line a large baking sheet with parchment paper.

Steam or boil the cauliflower florets until they are tender. Drain and allow to cool.

Drain and rinse jackfruit. Place in a small saucepan, cover with water. Over medium heat, bring to a boil. Cook for 10 minutes at a slow boil, until jackfruit is fork tender. Drain and allow to cool.

While jackfruit is cooling, using a fork gently mash the cauliflower florets. You don't want this to be a smooth puree, leaving a few pieces about the size of a pea or so.

Next chop the jackfruit until it is flaky with just a few bite sized chunks left intact.

In a large mixing bowl, combine all ingredients except coconut flour. Stir to combine.

Last, gently fold in coconut flour. Your mixture will look like this:

In a large skillet, heat the 2 Tablespoons of oil over medium heat. While pan is heating, make the mixture into cakes/patties.

Using a large scoop (I use a #12 scoop which is roughly 1/3 of a cup), scoop out the mixture into your hands, press into a patty about 3" in diameter. You will make 6 crabby patties/crab cakes.

Place the jackfruit crab cakes into the skillet. Over medium heat, cook about 3 minutes on each side until they are nicely browned.

Remove to the parchment lined baking sheet. Bake for 10 minutes at 375 degrees.
Recipe Notes
This recipe was inspired by a recipe found on the Food Network site: http://www.foodnetwork.com/recipes/paula-deen/crab-cakes-with-lemon-dill-sauce-recipe.html and a recipe from Healing Gourmet: http://healinggourmet.com/healthy-cooking/make-paleo-crab-cakes-secret-ingredient/
Modifications included removing the crab, removing eggs, adding ingredients, editing cooking methods after repeated testing. Thank you to those who continue to inspire and amaze me!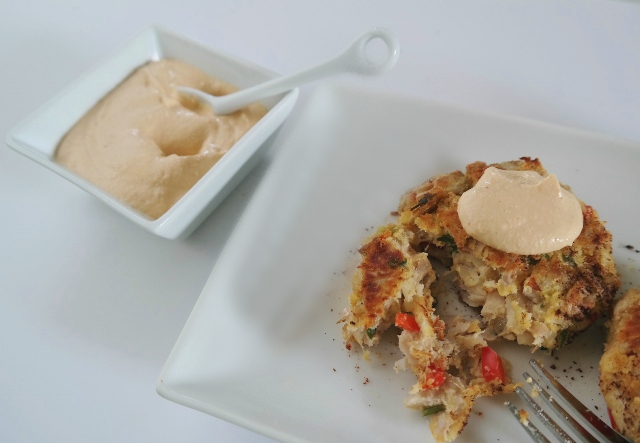 Disclosure: This post contains affiliate links. Should you make a purchase of a product I have recommended, you will still get the same great price. I may make a small commission, which I use to offset the cost of maintaining this website and bringing original content to you for no charge. I appreciate your support!