This post contains affiliate links. See my disclosure for more information.


Tamales are a traditional holiday food in our home. We buy tamales, including dessert tamales, from our favorite Mexican market. This year we even took them out of town on our Christmas vacation!
Last month I signed up for a tamale making class, but I was the only to sign up so the class was postponed. I decided to take on tamale making myself, but needed a bite-size snack to take to a New Year's Eve party. My favorite fella reminded me of these sloppy joe cups I used to make with biscuit dough from a can (way back in the gluten-full days). They were an easy snack to take to parties, so I set out to make bite size tamales with a variation of traditional masa pressed into the cups.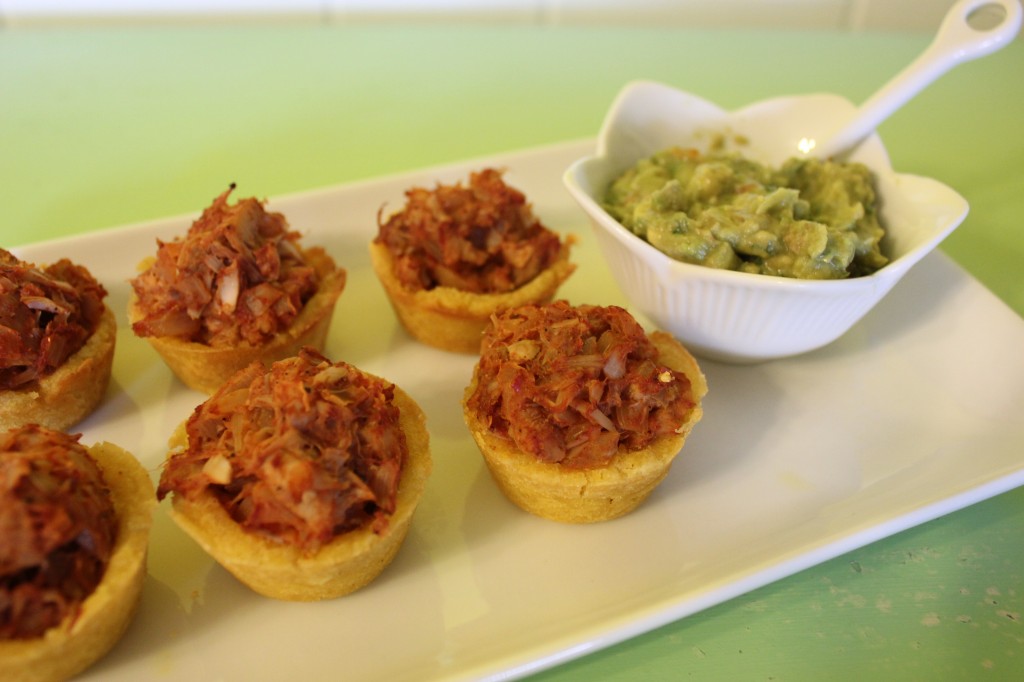 You'll notice in the recipe I do not use traditional masa, but instead basic corn flour. This is for two reasons. I keep basic corn flour in the cupboard, so it is always on hand. The second reason is that I cannot buy gluten-free masa harina locally. I wonder if I can't, if others can't, too.
The filling for these is made with jackfruit, my favorite meat-like substitute. Because it's the new year and many folks are watching what they eat, I'll share that jackfruit is very low in calories and fat free. Not that I'm asserting this dish is a diet food, but it's something. 😉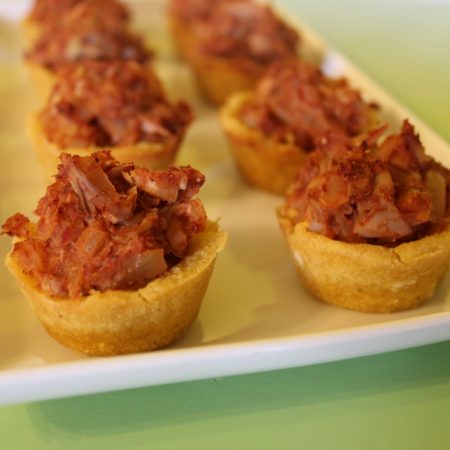 Jackfruit Tamale Bites
Ingredients
Tamale Dough
1 1/4

cups

corn flour

2/3

cup

vegetable stock

1/3

cup

Spectrum organic shortening

, melted

1/2

t

. baking powder

1/4

t

. salt
Jackfruit Filling
1-20

oz

. can young green jackfruit in water

2

T

. tomato paste

1

cup

chopped onion

1

T

. taco seasoning

1

cup

water
Instructions
Preheat oven to 350 degrees. Using cooking spray, oil 24 cavities of a mini muffin pan.
For Dough:
In medium mixing bowl, combine corn flour, vegetable stock, shortening, baking powder and salt. Mix with a large spoon until crumbly.

Add a scant tablespoon of dough to each cavity of mini muffin pan. Using the back of a smaller spoon, press the dough, leaving an indention for the filling.
For the filling:
Drain can of jackfruit and rinse well.

Combine all ingredients in a medium saucepan. Cook over medium heat for approximately 20 minutes. Jackfruit will start to soften and will begin to break into string-like pieces, looking similar to pulled pork or shredded chicken. After most of the water has cooked off, remove from the heat. You may wish to use two forks to further shred the jackfruit and mash up any larger pieces.
To Assemble:
Put a heaping spoonful of the jackfruit filling in each of the cups of dough. Bake at 350 for 18-20 minutes. Remove from oven and let sit for a few minutes. Remove from pan and serve. I like to serve this with a side of guacamole.