This post contains affiliate links. See my disclosure for more information.


Have you cooked with jackfruit yet? If not, this recipe could be the one to convince you to give it a try! Jackfruit is inexpensive, readily available at Asian markets and is the best minimally-processed meat replacement I've tried. It's so meat-like it fools carnivores.
One of my favorite restaurants in the KC area is FuD. I love what they are doing with jackfruit, but can't eat there as often as I would like. When I have a craving for their version of pulled pork created with jackfruit, here's what I make at home.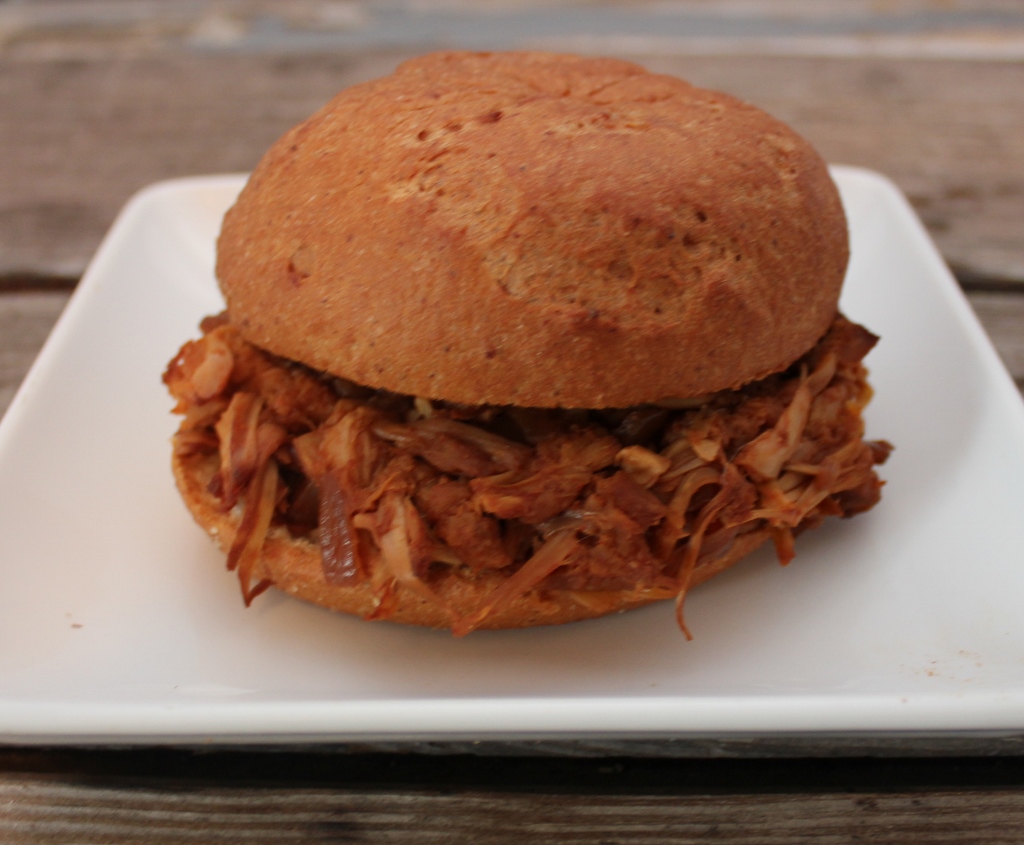 Pulled "Pork" Jackfruit
2-20 ounce cans jackfruit, in water (not brine), look for cans labeled "Young Green Jackfruit" (20 oz. packed in water, 10 oz. after drained)
2 cups of your favorite BBQ sauce (my current favorite is this. Yes, it has coffee in it! This sauce from Organicville also works well and has no refined sugar.)
2 cloves minced garlic
1 small red onion, diced
Place drained jackfruit in crockpot. Do not chop or cut the pieces up, leave it in the wedges. Add garlic and onion. Stir in BBQ sauce. Cook for 3 to 4 hours on high. Using two forks, shred. You will notice some seed-like pieces. You may choose to pick those out, chop them up or simply leave them as they are. I leave them whole.
Jackfruit has a slightly vinegar-y taste. Keep this in mind when choosing your BBQ sauce. A North Carolina style BBQ sauce may not be the best pairing with jackfruit.
I tried this recipe with fresh jackfruit. Fresh jackfruit was expensive ($2 a pound) and there was a lot of waste. I bought a 12 pound jackfruit, which is small, and more than half of it was the outer peel and waste. The fresh did not cook up as well as the canned. I ended up with a very mushy mixture, it did not shred as well as the canned. It was terrific, though, to taste fresh jackfruit. It does taste a bit like Juicy Fruit gum.
I served this on one of the yummy new hamburger buns from Udi's Gluten Free with a side of baked sweet potato fries. I've been using Frontier's Bombay Veggie seasoning on sweet potatoes lately and really like it. I hope you will, too!