This post contains affiliate links. See my disclosure for more information.


Jackfruit is proving to be very versatile in my kitchen. With a very mild flavor on its own, it absorbs the seasoning it is cooked in nicely. It's inexpensive, minimally processed and contains one ingredient , making it much preferable to the meat alternatives I used to cook with often. So far I've created two styles of BBQ, KC and Carolina, a tamale filling for cute little bites and a taco filling with jackfruit. Now add to that a Reuben sandwich!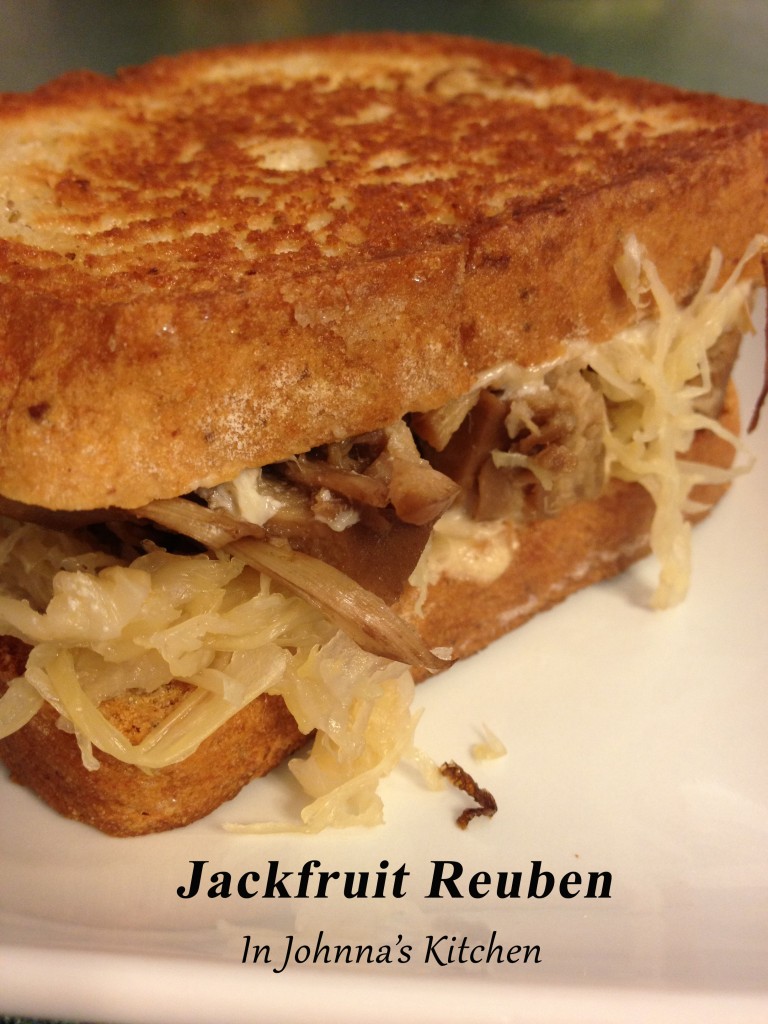 Before I was gluten-free and watching how much dairy I eat, I would order a Reuben when eating out and have them hold the corned beef. Cheese, thousand island dressing and sauerkraut on grilled bread worked for me. I really miss that flavor combination, so I've come up with a solution. This is completely dairy-free, gluten-free and meatless yet packed full of all of the flavors of a traditional Reuben sandwich. You can make all of it vegan with one simple switch, using agave nectar or another sweet substitute of your choice for the honey in the Thousand Island dressing.
Below you'll find three recipes: the corned jackfruit, a Swiss cheese spread and thousand island dressing. All are quick and easy to prepare and versatile! The Swiss cheese spread is great on crackers, the thousand island dressing is equally at home on a salad as it is on the sandwich. I hope you'll think of creating these separately as well as bringing them together for a Reuben sandwich!
Here's how I put the Reuben together. This recipe makes a generous four servings with plenty of cheese spread and dressing leftover. You'll need the following in addition to the recipes to make sandwiches: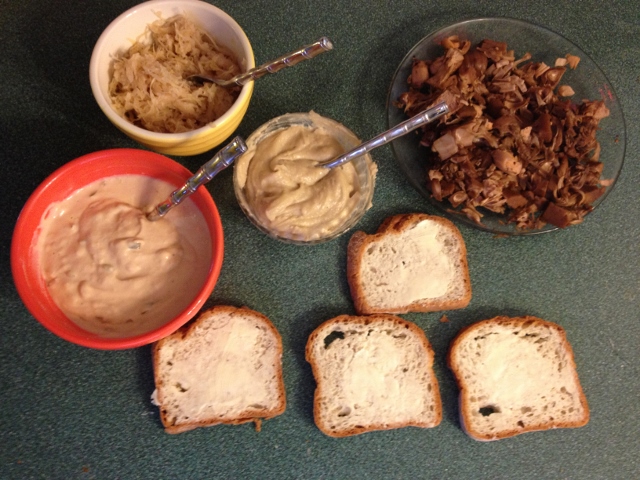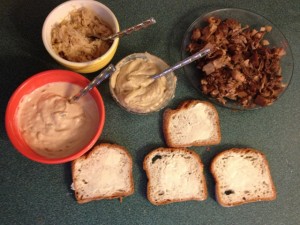 8 slices gluten-free sandwich bread
1 cup sauerkraut
Earth Balance vegan butter substitute to butter the bread
oil for your griddle pan (I use coconut oil)
Butter both sides of the bread. With butter side facing out, top one piece of bread with Swiss cheese spread: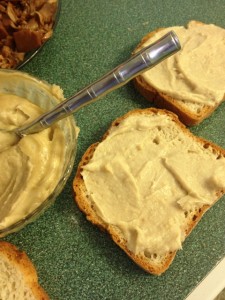 Then top with corned jackfruit: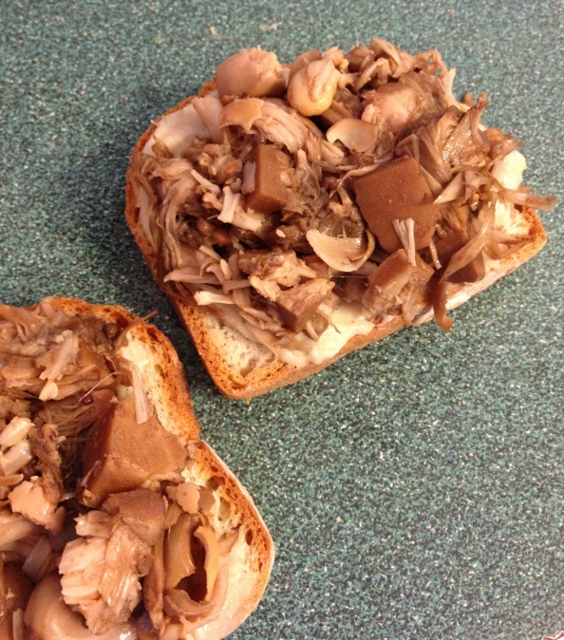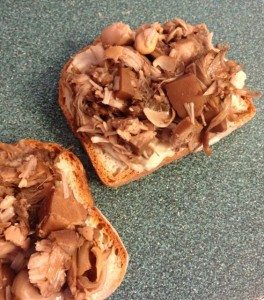 Then 1/4 cup of sauerkraut: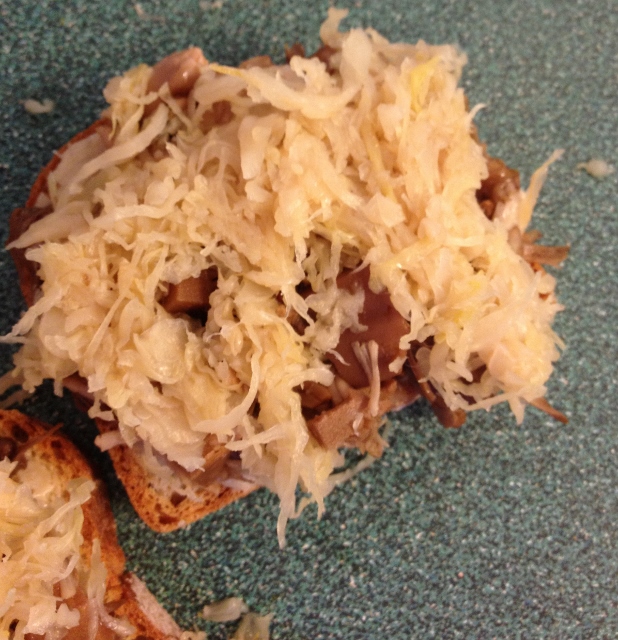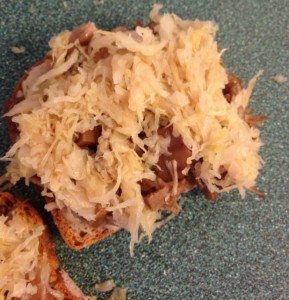 Then a generous topping of thousand island dressing: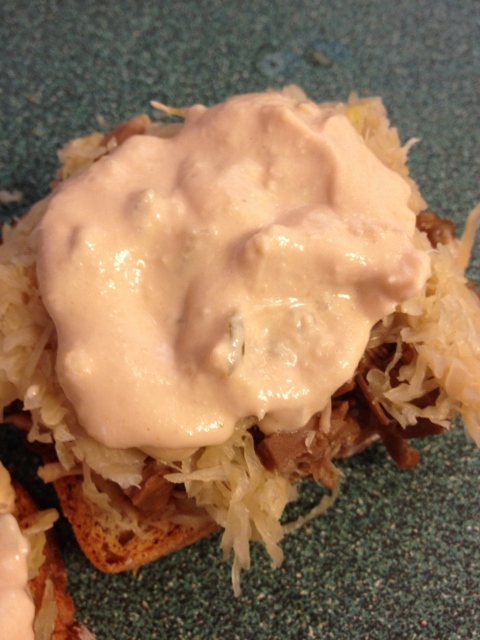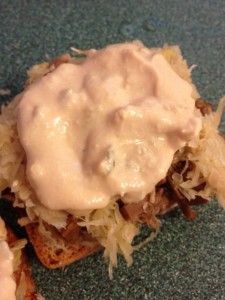 Place second piece of bread on top, buttered side out, and add to griddle pan. I added about 2 teaspoons of coconut oil to the pan and let it get nice and warm before placing the sandwiches in. Cook on one side until nicely browned, flip and repeat.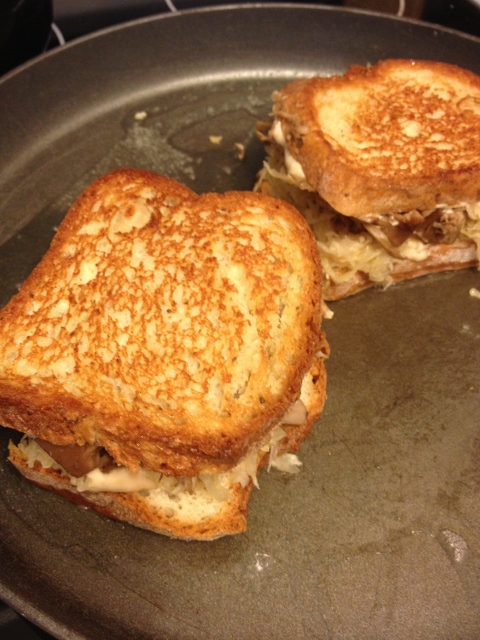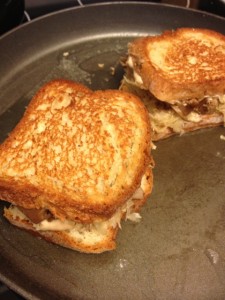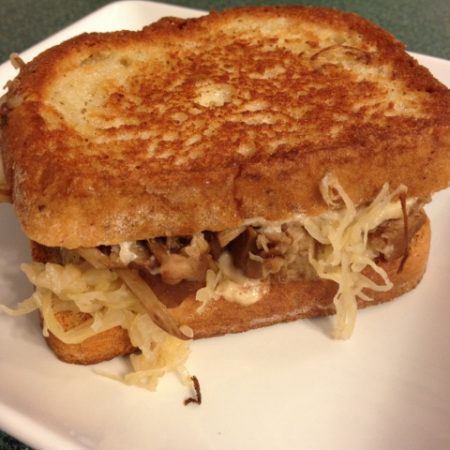 Corned Jackfruit
Servings
4
generous servings
Ingredients
1-20

oz

. can young green jackfruit in water

, drained and rinsed

1

cup

filtered water

1/4

cup

corned beef spice blend or pickling spices

1/4

cup

apple cider vinegar

1

beet

(optional)

cheesecloth and kitchen twine

(optional)
Instructions
Drain and rinse can of jackfruit. Place in crockpot.

Add water, spices and apple cider vinegar. You may wish to place the spices in a piece of cheesecloth and tie up with kitchen twine, creating a spice sachet. Otherwise, you will need to pick the spices out by hand at the end of cooking, which is a pretty simple task.

If you want the jackfruit to have the reddish flavor of corned beef, drop a beet into the crockpot at this point. It will not change the flavor and you will have a wonderful pickled stewed beet after cooking.

Cook on low for 4 hours.

This is what it will look like after 4 hours:

After 4 hours, remove from crockpot and roughly chop the jackfruit.

Add to Reuben sandwich or dip or eat with a fork. Delicious!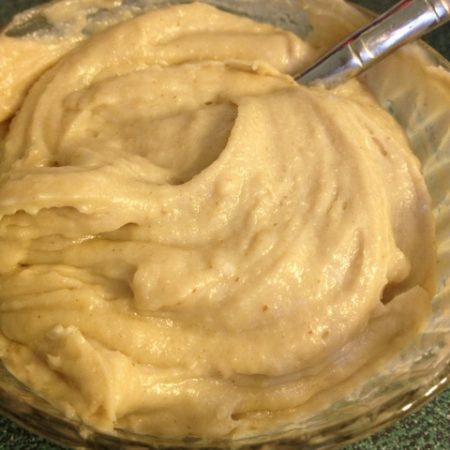 Swiss Cheese Spread, dairy-free, vegan
Ingredients
3/4

cup

raw cashews

, NOT SOAKED

1/4

cup

unsweetened almond milk or other non-dairy milk

1

medjool date

1/4

t

. liquid smoke
Instructions
Blend all ingredients in high speed blender (preferable) or in food processor until smooth. This will have a very thick consistency.
Please note in the Thousand Island recipe below, you will need to substitute agave nectar or other vegan sweetener of your choice to make the recipe truly vegan.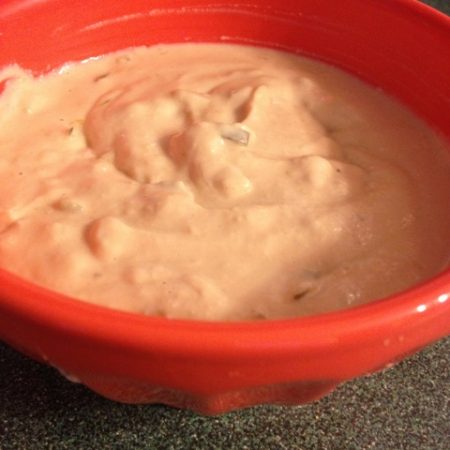 Thousand Island Dressing, dairy-free, vegan
Ingredients
1

cup

cashews

, NOT soaked

3/4

cup

filtered water

2

T

. ketchup

2

T

. pickle relish

1

T

. apple cider vinegar

1

t

. honey or agave

1

t

. yellow or white onion
Instructions
Place all ingredients EXCEPT pickle relish and onion in high speed blender (preferable) or food processor. Process until smooth. Stir in pickle relish and onion by hand.
I've also created Reuben dip with these recipes. You can find it here. Enjoy!