This post contains affiliate links. See my disclosure for more information.


The Summer of Music Festivals continues for me. Yesterday I attended Chipotle Cultivate Festival KC. If eating gluten free or vegan/vegetarian at a festival seems like a challenge to you, you've got to check out Chipotle Cultivate Festival. So easy to eat well, so many options, so much fun.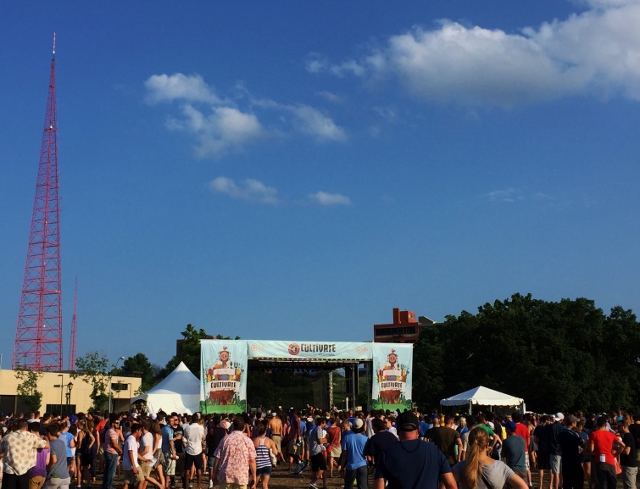 Cultivate Festival, as I mentioned earlier here, is a food, music and ideas festival. There's no admission charge, which means it was well-attended. The day started off with a serious downpour of rain, but the festival organizers are savvy and had two huge tents positioned so the music stage was in view. Later in the day, these tents were provided a nice bit of shade as the heat index rose to over 100 degrees. Picnic tables galore, as well. So nice to have a spot to sit down other than on the soggy ground.
Before I get into the food, I thought I would share the ideas and music components of the festival.
The Ideas:
As we entered, we were each handed a passport. Stamps were collected after attending each of the exhibits. For folks who collected stamps at four of the five exhibits, they got a coupon for a free Chipotle burrito and an IZZE soda, plus a second coupon for a free pizza at Pizzeria Locale. The first exhibit I spotted was a guacamole demonstration station: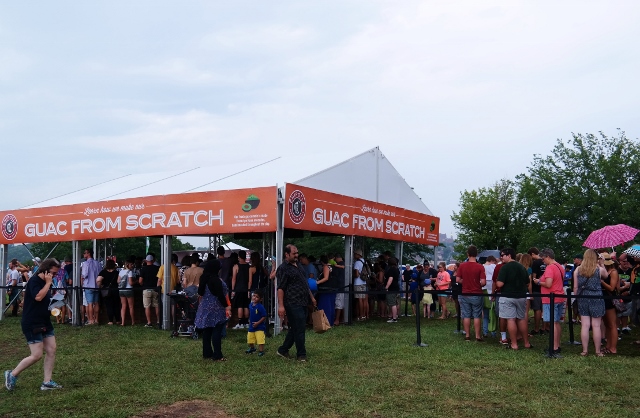 There was a movie theatre with short films on food sourcing and farming. Check out this exhibit showing the difference between ingredients used to make a typical fast food burger and a Chipotle burrito: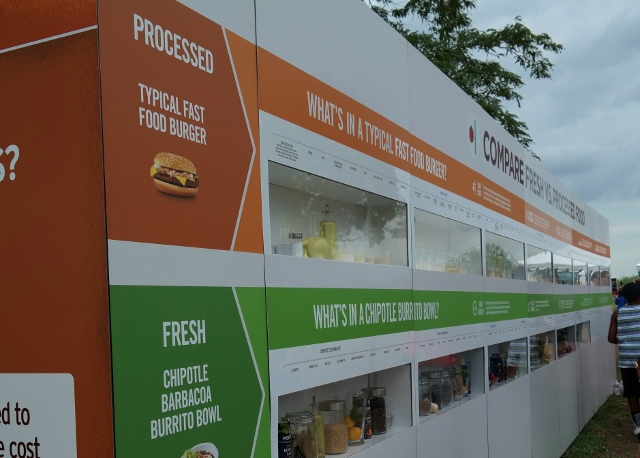 Another exhibit focused on factory farming, specifically of pigs, and yet another exhibit explained why Chipotle doesn't use GMO ingredients. The GMO exhibit included a voting station where you could vote for your position on GMOs.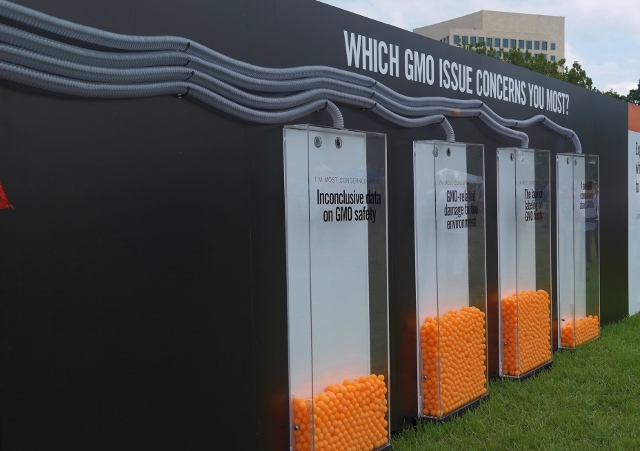 There were chef demonstrations throughout the day on a nice, shaded stage. I caught just a few minutes of Amanda Freitag's appearance, as did many others. The tent was overflowing! I love seeing so many people interested in cooking more healthy meals at home.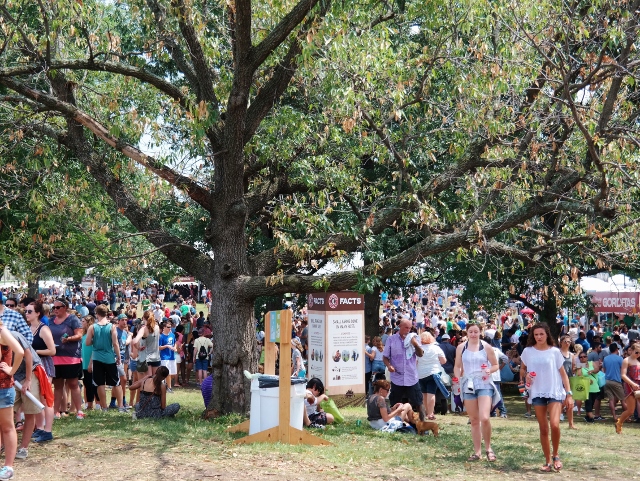 There were many companies handing out samples and providing educational materials on their product. I visited IZZE Sparking Juice, the California Avocado folks, Earthbound Farm, Tabasco and The Naked Grape. So many people came out for the festival, which meant lines were particularly long for Burt's Bees and North Face, so I bypassed those and a few others. The award for most interesting giveaway goes to California Avocados, who handed out reusable bags (made in America–nice!), avocado cutters AND an actual avocado.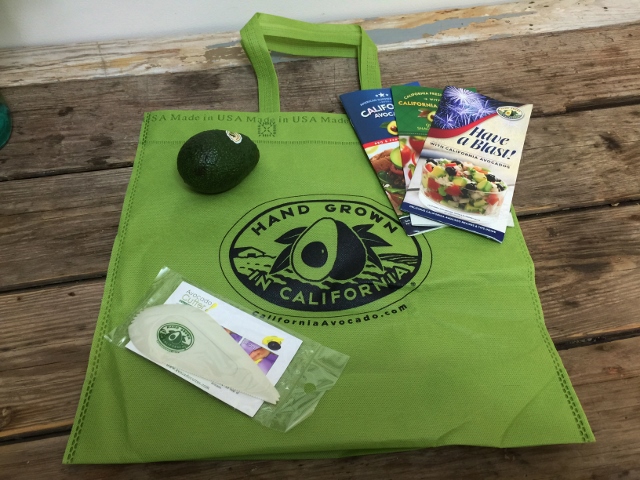 The Music:
Lots of music, all of it for free! Max Frost kicked things off, even in pouring rain. I also caught a bit of Smallpools, St. Lucia and Portugal, The Man. It was crazy hot and there wasn't much shade near the music stage, so I listened to music from a distance in the shade of those huge tents I mentioned before. Even with sunscreen and an umbrella for shade, I got my first music festival sunburn so staying in the shade was a good plan.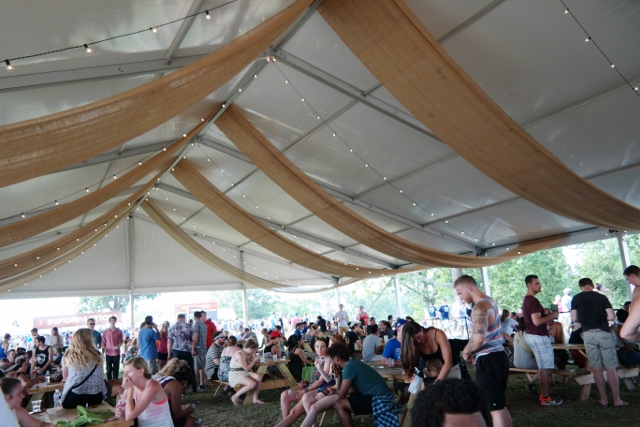 The Food:
You knew I would be telling you about the food, right? When I decided I would go to as many music festivals as possible this summer to prove folks like me can eat safely at festivals, I had no idea I would be at a festival that made it so easy.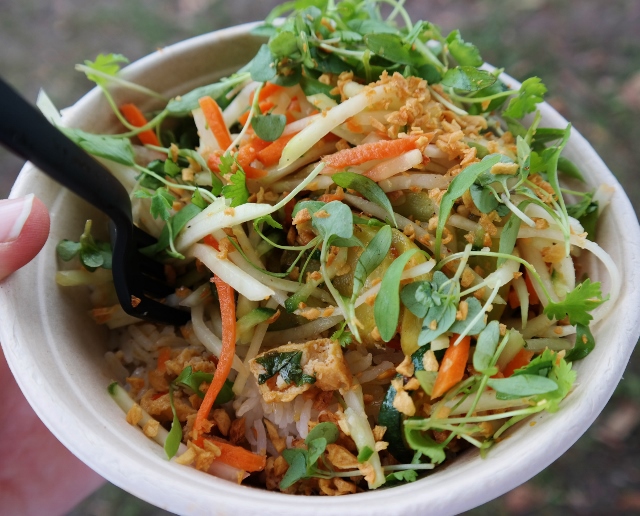 I started my food sampling off with a tofu bowl from Shophouse. Shophouse Southeast Asian Kitchen is owned by Chipotle, so you have to know eating gluten-free and veg is easy. In fact, everything is gluten-free. EVERYTHING. The only modification I made was to have the green curry sauce left off, since it contains fish sauce. My bowl included organic tofu with Jasmine rice, green papaya slaw, summer squash & Thai basil with chili jam, herb salad & crispy garlic. I was going to tell you this was my favorite food find at Cultivate Festival, but then decided I didn't want to pick just one. I'm traveling soon to the east coast and will be making a detour just to eat again at Shophouse. Unless they decide to build one in my backyard, which would be a good business decision because I would be eating there all the time.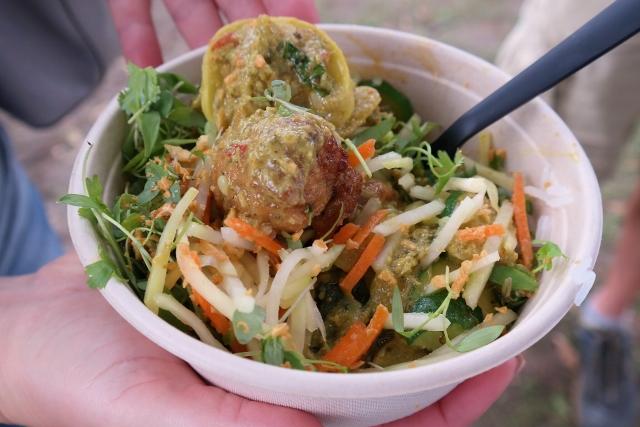 One of my festival friends had the Shophouse bowl with pork and chicken meatballs. She enjoyed it and said she would also eat there if we had one in KC. Dear Shophouse, please come to KC! Just an idea, but with Chipotle and Pizzeria Locale being neighbors, why not go for a hat trick, the culinary Triple Crown?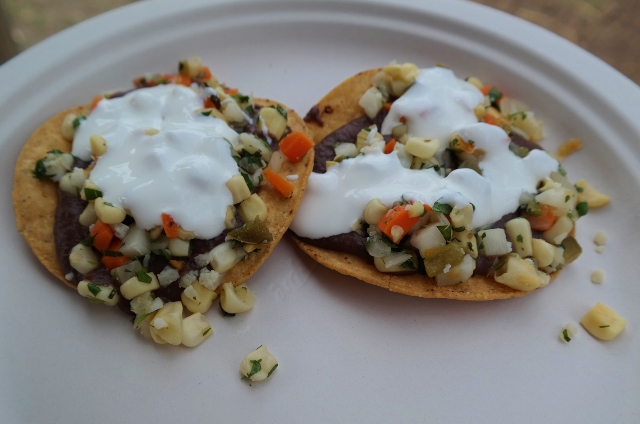 Next up I had tostadas with black beans, corn escabeche and sour cream. There were two tostadas in an order. The plan was to split the order with my favorite fella, but after I bit into the first one I didn't want to share. I ultimately did share, but begrudgingly. The crunch of the tostada shells, the creamy black bean puree, the sweetness of the corn. So good and a nice light flavor for a hot afternoon. I hope we see these added to Chipotle's menu.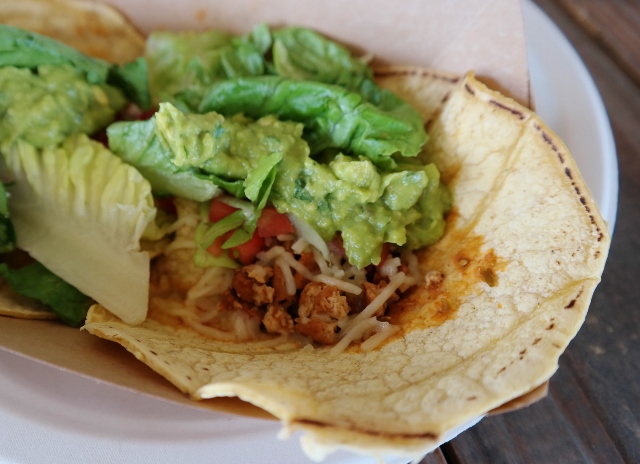 I also split sofritas tacos with my fella. I am a big fan of Chipotle's sofritas, their braised tofu. You've probably heard me mention my love for sofritas before, from way back when it wasn't available in the Midwest. I would dash out of airports on both coasts and head to the nearest Chipotle to get my fix. Now that it is available locally, I still can't get enough of it. We both of agreed the tacos were very filling. One taco made dinner for me.
There were only a couple of offerings I couldn't try because of gluten: a gordita made with grilled flatbread and topped with pork belly or barbacoa with pineapple, cabbage, tomatillo red chili salsa, and cotija and a margherita pizza from Pizzeria Locale. I am excited to try the first of their KC locations soon, where gluten-free crust is offered.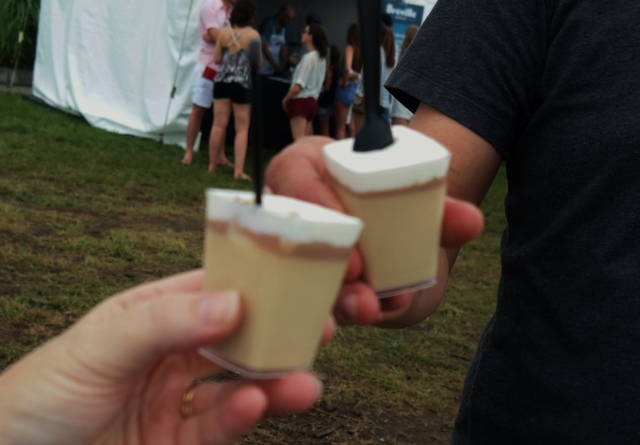 I did try a free sample of the Budino from Pizzeria Locale, a butterscotch pudding with chocolate and caramel topping. I have nothing bad to say about this. How could I? Just look at this!
In addition to the Chipotle-related offerings, there was an Artisans Hall with local offerings. I had an iced coffee or two from Roasterie.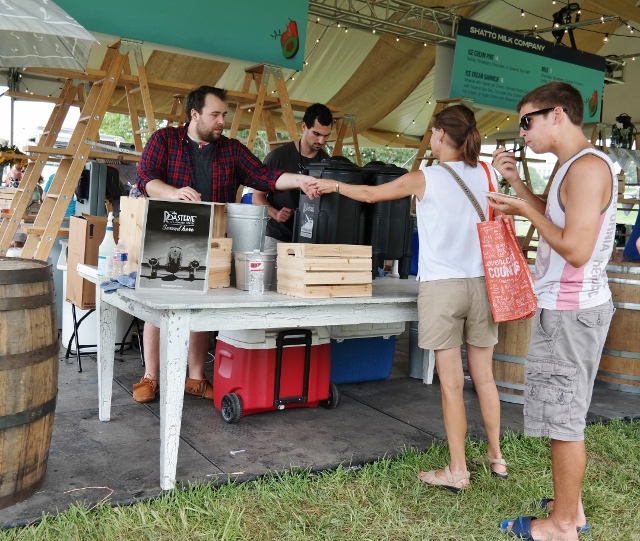 Two of my friends had ice cream and ice cream sandwiches from Shatto Dairy. Another had peach pie from Rye. My favorite fella had "the most peanut-buttery peanut butter cookie ever" from Little Freshie. I ran into a guy who works at my favorite grocery store; he was also grabbing a coffee in Artisans Hall. We chatted for a few minutes about favorite restaurants in Nashville and cooking, not typical for a music festival conversation. I enjoyed this about Cultivate Festival–it was my favorite things, food and music, coming together in the same festival. One of my friends asked if I thought Cultivate Festival was changing how people thought about food or if it attracted people who are already educated about what they are eating. I don't have the answer to that but did run into many like-minded folks.
There was a good selection of local beer and wine in the Tasting Hall area. It was way too hot to indulge in much besides water. My fella had one beer from Martin City Brewing Company and I had wine from Somerset Ridge.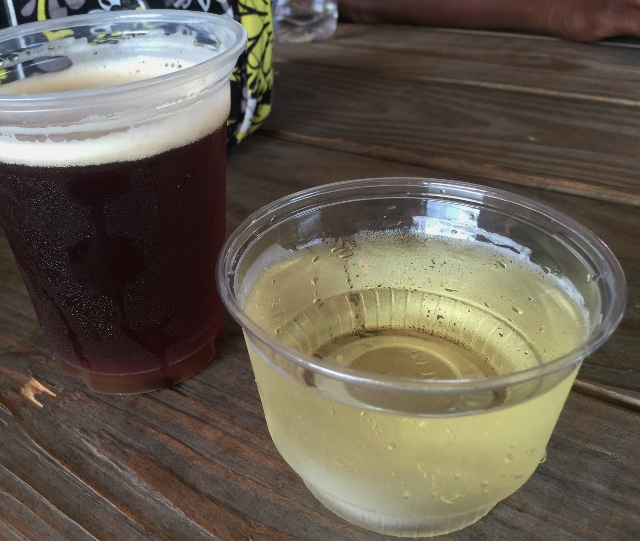 There's one more Cultivate Festival happening later this Summer. If you are in Minneapolis or are down for a roadtrip to a great festival, make sure you put Saturday, August 22 on your calendar. And then tell me all about what you ate, whose music had you dancing, what chef planted a spark for a new dish in your kitchen. But mostly just go and enjoy Chipotle Cultivate Festival. It's a unique gathering and one I'm glad to have attended.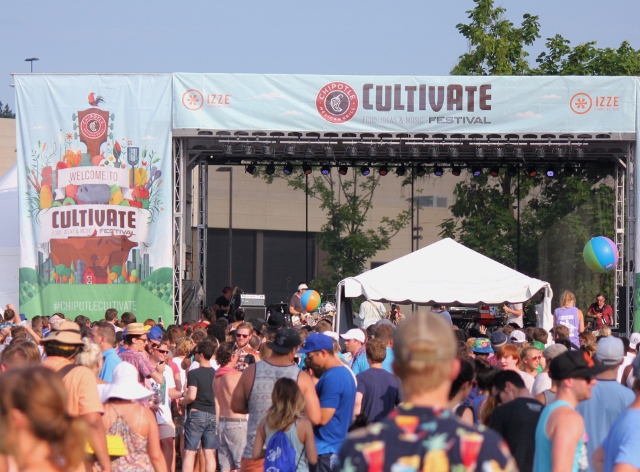 Full Disclosure: I attended Cultivate Festival as a member of the press. I was given one coupon for free food, which I used for a Shophouse bowl. My favorite fella bought a second bowl there later in the day. I paid for all other food and drinks I tried. I took home a coupon for free chips and guacamole plus a few goodies from exhibitors that were offered to all attendees. My fella was gifted some Pizzeria Locale coupons. As always, opinions are my own and I wouldn't tell you about this if I didn't truly enjoy it.