This post contains affiliate links. See my disclosure for more information.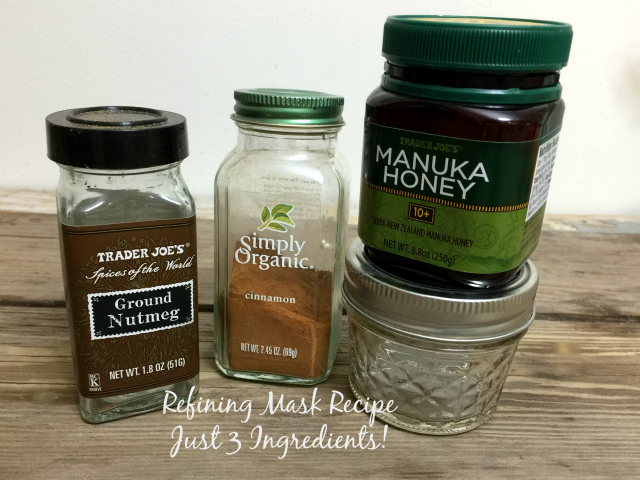 If you are like me, you have an abundance of skin lotions, potions and masks. And if you are also like me, it took one medical diagnosis to start closely inspecting what the ingredients are in all of those tubes, bottles and jars that promise to keep your skin hydrated and youthful. I've found none from the store with as few ingredients as my Skin Refining Mask.
When gluten got kicked to the curb around here, I started looking into my cosmetics. I first looked at lip gloss because I was concerned about gluten entering my digestive system. That led to me paying much more attention to all of the body products I use, which ultimately led to me making more of my own bath products. I had no idea what many of the ingredients were, let alone whether they were safe to use or not.
So this quest to make homemade bath products? It gave me control over the ingredients, and it also saves money. Plus it is fun to make your own body lotions, lip balms, scrubs and masks. And did I mention how giftable they are? Some of my favorite holiday gifts to give AND to receive are homemade bath products.
Today I'm sharing my favorite Skin Refining Mask recipe. It's three ingredients and it is likely you have them in your kitchen cupboard already. Once you start using kitchen ingredients, safe to eat, in your body products, you'll never look back.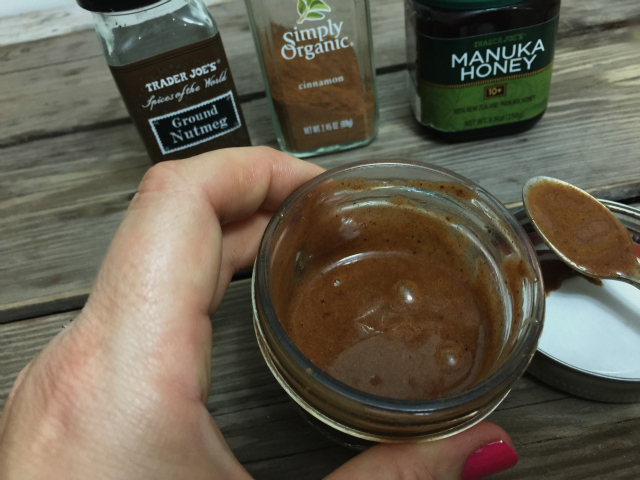 A few words on ingredients:
While you can use any raw honey in this recipe, I use Manuka honey. Manuka honey comes from bees that eat from the Manuka bushes in New Zealand. Manuka honey is reportedly higher in anti-bacterial activity and provides better antioxidant repair for your skin. You'll also find it to be hydrating and helpful in removing any redness and clearing up breakouts. Many prefer Manuka honey in the 12+ range, however I find that can be cost prohibitive. I buy the 10+ variety at Trader Joes.
Cinnamon, like Manuka honey, also has great anti-bacterial qualities. Additionally, cinnamon brings blood to the surface of your skin, which has a gentle plumping effect. You might see a bit of reduction in the tiny fine lines on your pretty face!
Nutmeg is similar in the benefits: antibacterial, can help with a little skin plumping and is also beneficial as an exfoliant. Nutmeg is a bit more coarse than the cinnamon, so just a bit of gentle massaging of the face mask will do the trick.
Here's the recipe and here's to glowing, hydrated skin!
Skin Refining Mask Recipe with Three Ingredients!
Ingredients
1/4

cup

Manuka honey

2

teaspoons

cinnamon

1 1/2

teaspoon

nutmeg
Instructions
Mix all ingredients together. Store in a small jar.

To use: apply to face and neck. Let sit for 15 to 20 minutes.

Remove with warm water and pat dry.
Disclosure: This post contains affiliate links. If you make a purchase after clicking on an affiliate link, I may make a small commission. I use affiliate links to offset the cost of maintaining this website. I appreciate your support!