This post contains affiliate links. See my disclosure for more information.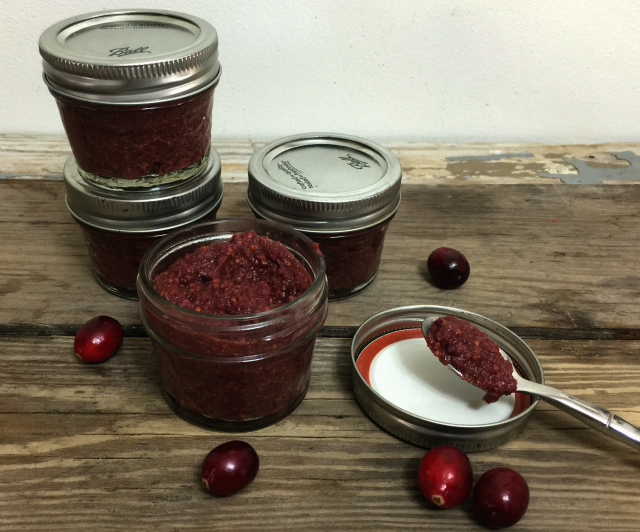 With Thanksgiving just around the corner, grocery stores are overflowing with fresh cranberries. That means you should make Cranberry Mustard!
My sweet friend Mary sent a box packed to the gills with freshly harvested cranberries from a friend's bog in Wisconsin. The wheels immediately started turning. What could I make with pounds and pounds of the prettiest cranberries I've ever seen? Well, mustard immediately came to mind. I had a chef-created cranberry mustard in St. Louis over the summer, served with local cheese and veggie sticks. Then I started thinking about the wraps and crepes we stuff with Thanksgiving leftovers here and what a great addition the mustard would be. And because I couldn't stop thinking about cranberry mustard, I made my favorite Brussels sprouts recipe with the first test batch. So good.
I modified this recipe a bit from a classic Ball Canning recipe. I've switched up ingredients a bit to make it gluten-free and also to use a less-refined sugar than the standard white sugar. If anything, the coconut sugar gives more depth, more richness to the flavor. It works well in mustard. I am excited to hear how you use it!
While canning instructions are included in this recipe, if you are not interested in canning, you can simply place this in the refrigerator and use. I cannot speak for how long it will keep in the refrigerator, but suspect you will eat it all before it would need to be tossed. But if you are a canner, read on…
For those of you who do enjoy canning for gifts, I wanted to share a couple of resources. I use these labels to print my own personalized labels to go on top of the canning flats. After your canning jars have completely cooled, remove the ring, apply the sticker and put the ring back on. Looks super fancy! I like using these jars from Weck for super special gifts, a nice step up from a basic canning jar. If you can a lot, you know about getting canning jars back; it's always a bonus when someone returns them. To date, I've never had a Weck jar returned. And I don't blame those folks at all. Really nice jars.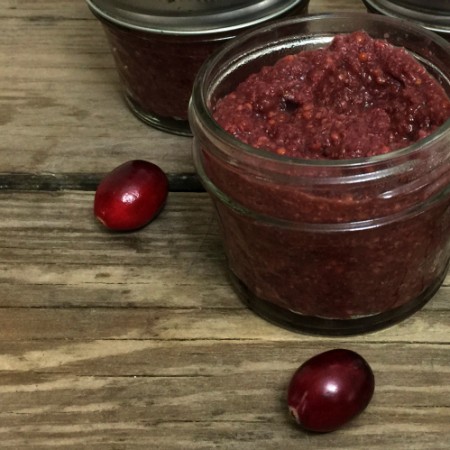 Cranberry Mustard, Perfect for Thanksgiving and Gift-Giving SeasonQ1C
Ingredients
1/2

cup

red wine vinegar

1/3

cup

mustard seeds

3/4

cup

water

1

teaspoon

tamari

, Bragg's aminos or gluten-free soy sauce

1 1/2

cups

(scant) fresh cranberries

1/4

cup

plus 1 Tablespoon coconut sugar

2

Tablespoons

dry mustard

1 1/4

teaspoon

allspice
Instructions
If you are planning to can this recipe, prepare four 4-ounce canning jars for use. Have water ready in your water bath container on the stove, but not yet boiling.

In a small saucepan, boil vinegar. Remove from heat, Add mustard seeds. Allow to sit for a minimum of 1 1/2 hours.

If canning, you should start your water bath now so water is boiling when mustard is ready.

After the 1 1/2 hours, add the mustard seed and vinegar mixture, water and tamari to high speed blender or food processor fitted with "S" blade. Process until well blended. Add cranberries and blend/process until they are well chopped into small pieces.

Return this mixture to a saucepan. Add in coconut sugar, dry mustard and allspice. Over a low/medium simmer, allow to reduce by 1/3, which will take 15-20 minutes.

Divide into 4 jars, leaving 1/4" headroom. Seal and process in your water bath for 10 minutes. Remove from water bath and place on a towel atop your counter. Do not disturb for 24 hours.
Full Disclosure: This post contains affiliate links for items I use in my own kitchen. If you make a purchase after clicking on a link, I may make a small commission. You will still get the same amazing price AND you will be helping me to offset the costs of maintaining this website. I am grateful for your support!