This post contains affiliate links. See my disclosure for more information.


Bacon! Bacon! Bacon! Bacon!
It's everywhere. I live in a city that has a bacon festival. A quick peek at the menu of a new restaurant in my area revealed that 75% of their menu items contain bacon. It's on cupcakes and donuts, in pancakes and fudge. But you know this, bacon is the food trend that just keeps rolling along.
While not to an extreme, we eat a lot of bacon here.
Yep, a couple of vegetarians in the BBQ capital eat bacon. Lots and lots of bacon.
Coconut bacon.
I eat the CLT at Cafe Gratitude, a coconut bacon, lettuce and tomato sandwich. I make my own coconut bacon for devils on horseback. And recently, I've been eating Phoney Baloney's coconut bacon on just about everything. Like oatmeal. And more expected dishes like Brussels sprouts. Order some of this goodness, even if you are a meat eater. It will blow your mind how much it tastes like "real" bacon.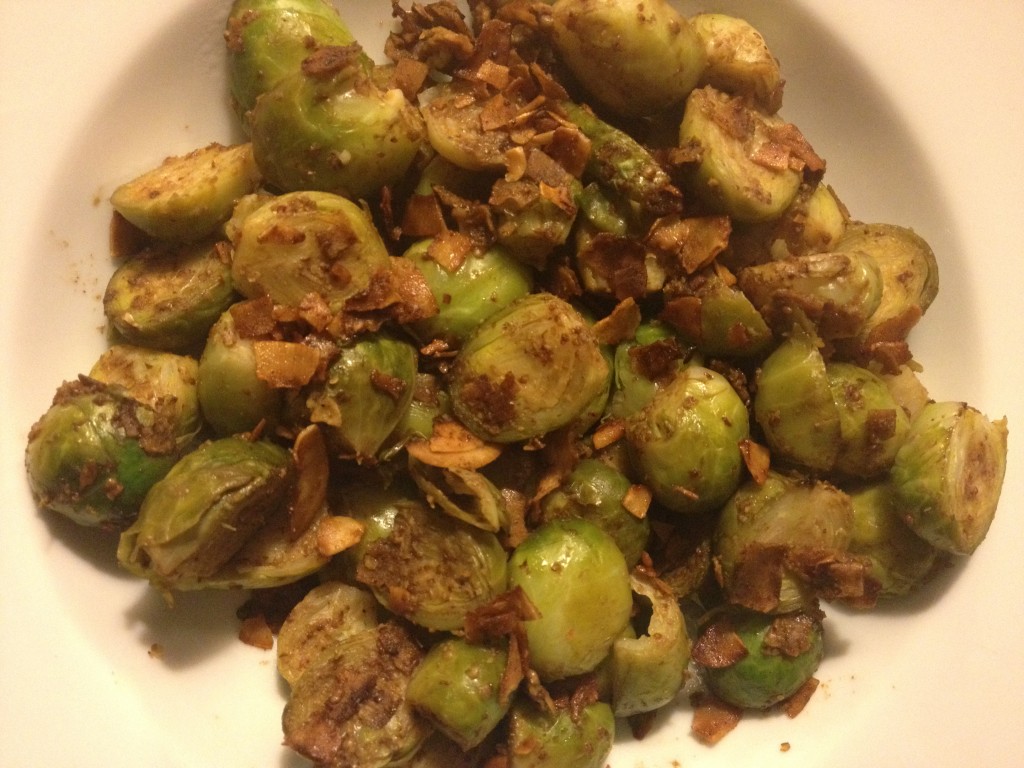 This isn't a fancy recipe by any means. I shared a photo of this dish last week on Instagram and folks asked for the recipe. I made it a few more times so that I had actual measurements and not my typical eyeball measurements used in making my weeknight dinner side dishes. So here you go, my favorite way to make Brussels sprouts. Quick, easy and full of bacon!
Mustard Balsamic Roasted Brussels Sprouts with BACON!
Ingredients
1

pound

Brussels sprouts

2

T

. stone ground mustard

1

T

. balsamic vinegar

2

T

. coconut bacon
Instructions
Preheat oven to 400 degrees.

Steam Brussels sprouts until they are fork tender. This is usually 5 to 6 minutes in a stovetop steamer. If you are a microwave steamer, 3 to 3:30 minutes or so.

In a small bowl, combine mustard and balsamic. Stir to combine.

When Brussels sprouts have been steamed, place them in a baking dish in a single layer. You may choose to slice them in half or leave them whole.

Drizzle the mustard balsamic sauce over the top, toss a bit to coat the sprouts.

Add coconut bacon and toss again.

Roast at 400 degrees for 10-12 minutes.