This post contains affiliate links. See my disclosure for more information.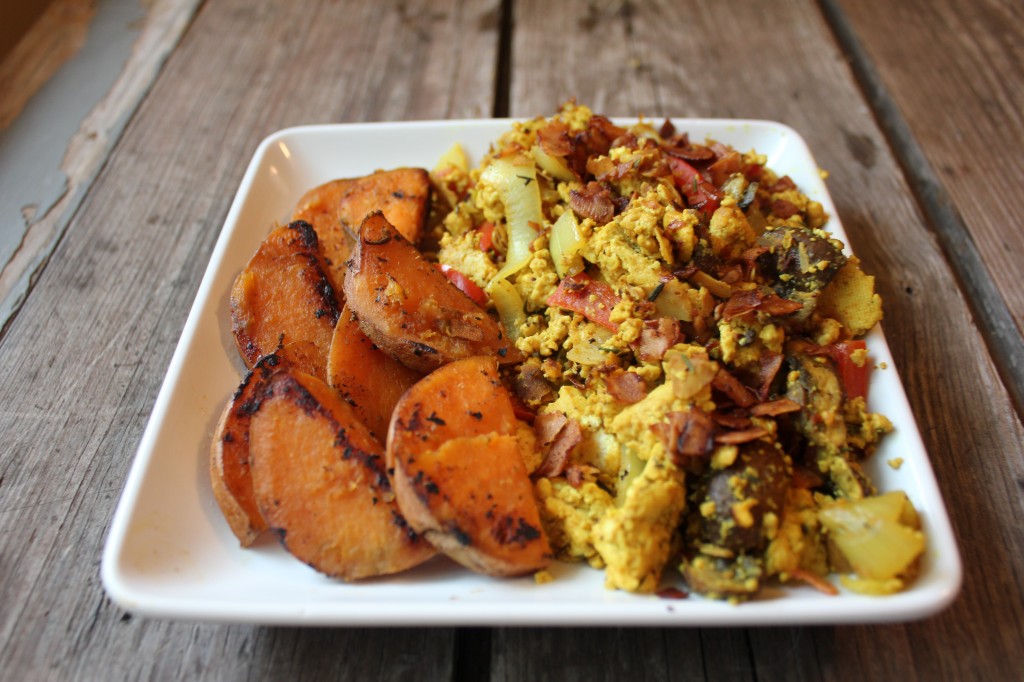 It's not every day you see Bacon and Tofu together in a recipe.
But it happens in my kitchen. Well, it does now that I have Phoney Baloney's coconut bacon on hand. I wish I had some eloquent description of it to share with you. Instead, I'll just say it's very bacon-y, but without the oink. It's made in a gluten-free kitchen and comes packed in zipper bags, so it's easy to keep a couple bags in the cupboard. It's everything I wished for in bacon. I use it on salads, with Brussels sprouts, on sandwiches. It's the first veg-bacon I've been comfortable eating. The ingredients pass muster around here!
And about tofu scrambles…I'm aware they are a stereotypical vegan breakfast dish. I know some of you may have had a bad experience with a tofu scramble. Sometimes they are not very egg-like at all, sometimes they have very limited flavor. If you follow this recipe, that won't be your experience.
I learned a lot about tofu scrambles from Isa Chandra Moskowitz's cookbook, Vegan Brunch: Homestyle Recipes Worth Waking Up For
. I'm a fan of backyard eggs, but don't always have enough eggs from our hens, so tofu scrambles fill in. Sometimes my favorite fella doesn't know if he is having scrambled eggs or a tofu scramble if I don't mention it to him. It's all in the seasoning and cooking technique. And it's EASY!
Couple of quick things about this dish: I've water sauteed the vegetables, as opposed to cooking them in oil. Here's a great video from The Wellness Forum on how to water saute. I'm studying some new-to-me cooking techniques right now and have found that I really enjoy the flavor of vegetables sauteed using this method better than in oil. The second tidbit is about the sweet potatoes shown in the photo. I cut a sweet potato into half moons and water sauteed them as well. There's not really a recipe, but they make a nice accompaniment to a tofu or egg scramble for breakfast.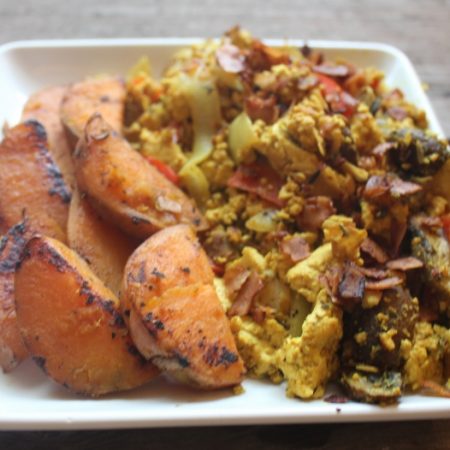 Bacon Tofu Breakfast Scramble
Ingredients
1

block extra-firm tofu

, drained

1

T

. ground cumin

1

t

. dried thyme

1/2

t

. turmeric

3

T

. water

(divided 2 T. and 1 T.)

1

yellow onion

, thinly sliced

1

red bell pepper

, thinly sliced or diced

2

cloves

garlic

, minced

4

oz

. sliced baby bella mushrooms

1/4

cup

nutritional yeast

1/4

cup

Phoney Baloney coconut bacon

, plus additional for a sprinkle on top
Instructions
Drain the block of tofu by placing it in a strainer, place a plate atop the tofu and then something heavy, like two cans of beans. You can do this before going to bed the night before you plan to make this for breakfast.

Have a large skillet ready and warming.

In a small bowl, combine spices and 2 Tablespoons of water. You will use the remaining Tablespoon of water to rinse out the bowl, as it is next to impossible to scrape out all of the spicy goodness when pouring the spice blend into the tofu.

In warm skillet over medium heat, add onion, bell pepper and garlic. Saute until onion is transparent. Add tofu, crumbling with your fingers. You don't want tiny little pieces, think of the size pieces preferred in scrambled eggs. Add mushrooms at this time as well.

Over medium heat, continue stirring this mixture for about 10 minutes. The tofu on the bottom of the skillet will brown, keep scraping this loose from the pan. I love the little browned bits, so flavorful!

After 10 minutes, add in the spice/water blend. Use the remaining tablespoon of water to give a quick rinse of the spice bowl and pour that into the pan, too.

Stir well to combine, then stir in nutritional yeast and coconut bacon. Cook just until mixed through and heated. Serve with a sprinkle of coconut bacon on top and a side of sweet potatoes.