This post contains affiliate links. See my disclosure for more information.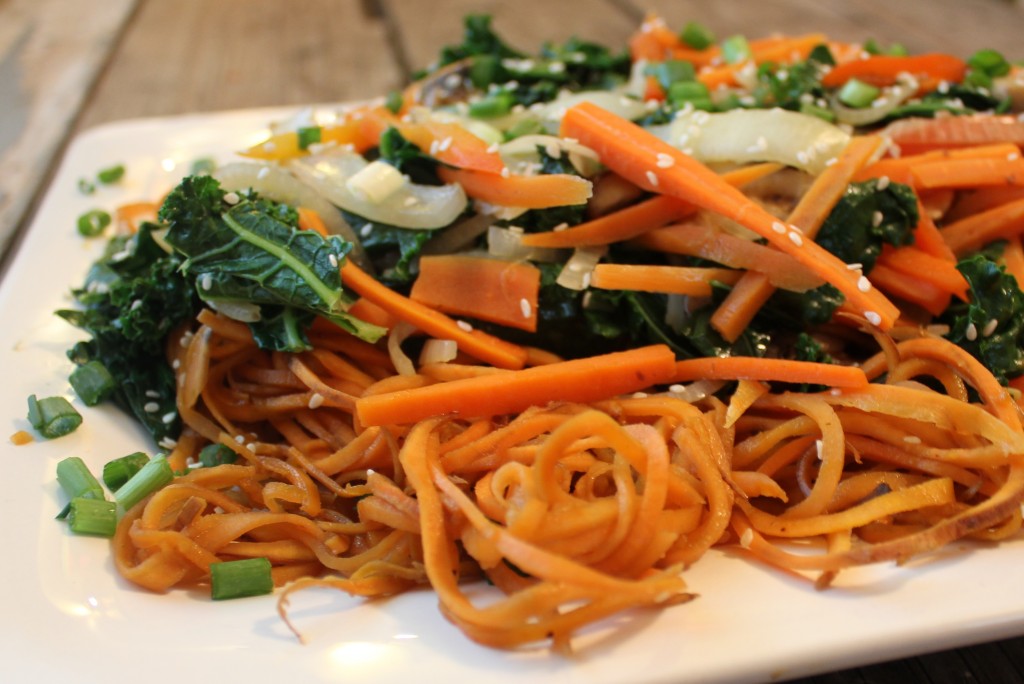 I've been making this unique variation on a traditional Korean dish at least once a week for the past six months . I've taught it in several culinary classes and even created a single-serving version for my recent 21-day healthy eating program. Of all of my recipes, this is the one folks rave about the most. I've seen photos shared on Facebook and Twitter, friends begging the person posting for the recipe. Folks who have tried this dish just can' t get enough of it.
Don't take my word for it, here's what a few of the folks attending my classes have to say about it:
"Loved this! Delicious and beautiful. Who'd a thunk you could do that with sweet potatoes?" –S.H.
"This was ah-freaka-mazing!" –M.B.
"This dish is great. Even my hubs who doesn't normally like sweet potatoes loved it!? –M.V.
"I thought I did not like sweet potatoes but had never eaten them like this. Wow!" –L.A.
"This has become one of our family's favorite dishes." –G.M.
"This sweet potato dish changed my life! We have it on our menu each week and it's a family favorite. And the sauce!! It's incredible. I can't say enough great things about this dish." –R.H.
Are you convinced yet? Ready to try it?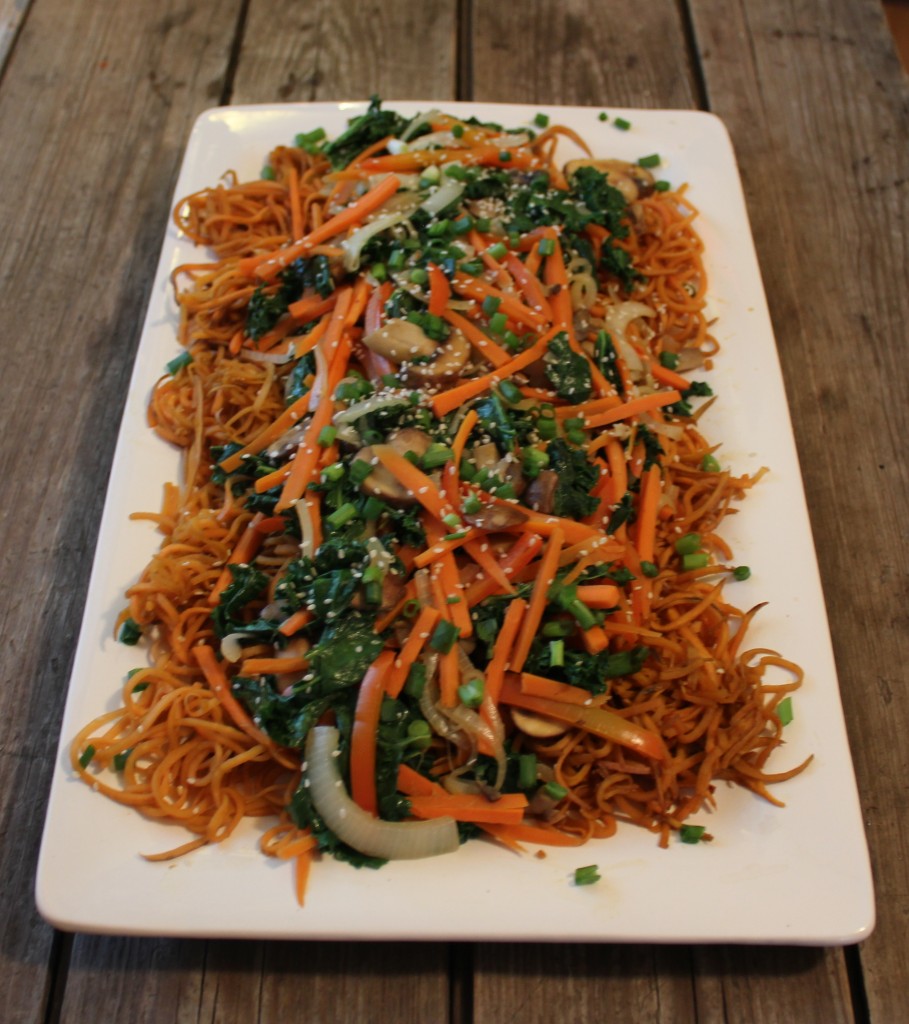 Here's the scoop on Japchae: It's a traditional Korean dish made with sweet potato starch noodles. The noodles used remind me of glass or cellophane noodles. They are a style of pasta and are parboiled before being added to a dish. Japchae includes vegetables stir fried is sesame oil, usually carrots, onion, mushrooms and spinach, and is often topped with beef. The sauce is made with soy sauce and sugar. Japchae is served hot and cold, usually topped with a sprinkle of sesame seeds.
My variation on this dish starts with a change-up in the noodles. Instead of using the traditional pasta-style noodles, I've used actual sweet potatoes. I cut them with a Spiral Slicer, the kitchen gizmo I lovingly refer to as The Noodler.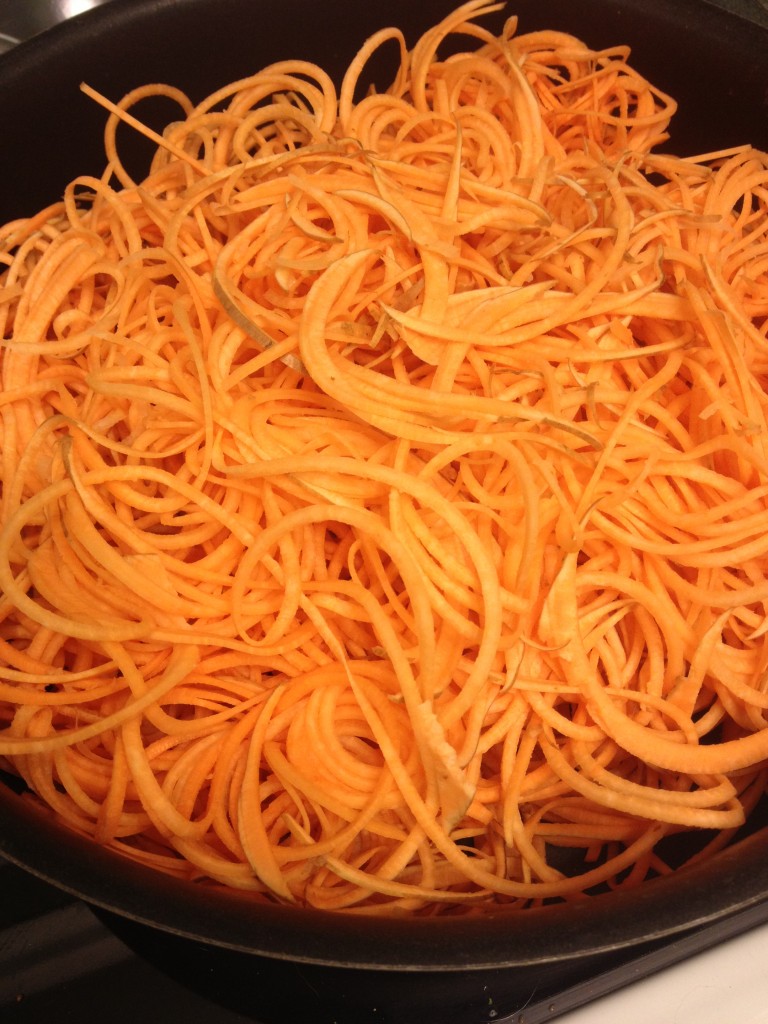 I've stuck with the traditional vegetables, with only one swap, replacing spinach with kale. In the sauce, I have swapped out maple syrup for the sugar . The maple flavor works nicely with the sweet potato noodles.
While traditionally served with beef, this dish looks and tastes great without it. At a recent flexitarian meals class I taught with Katie of Healthnut Foodie, beef from Parker Farms was used to top this dish. If we want to amp up the protein content of this dish in our meatless home, we top it with maple sesame tofu. I'll share the tofu recipe soon. Here's a sneak peek: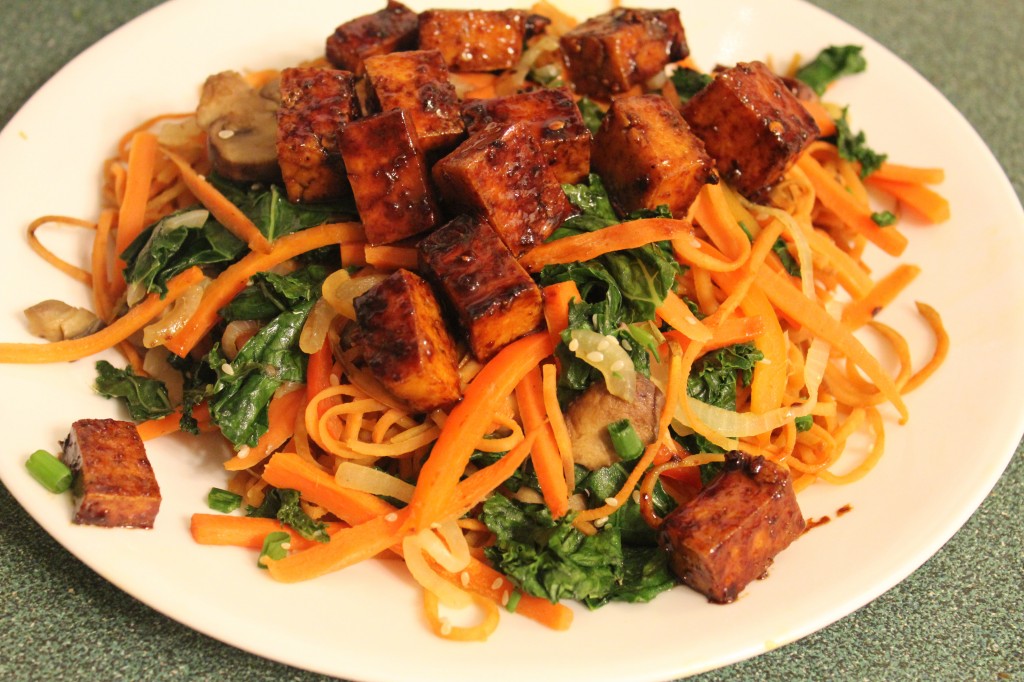 So there you have it, a new twist on Japchae that's packed with nutrients and flavor. I hope you'll try this one and add your name to the growing list of Johnna's Japchae fans!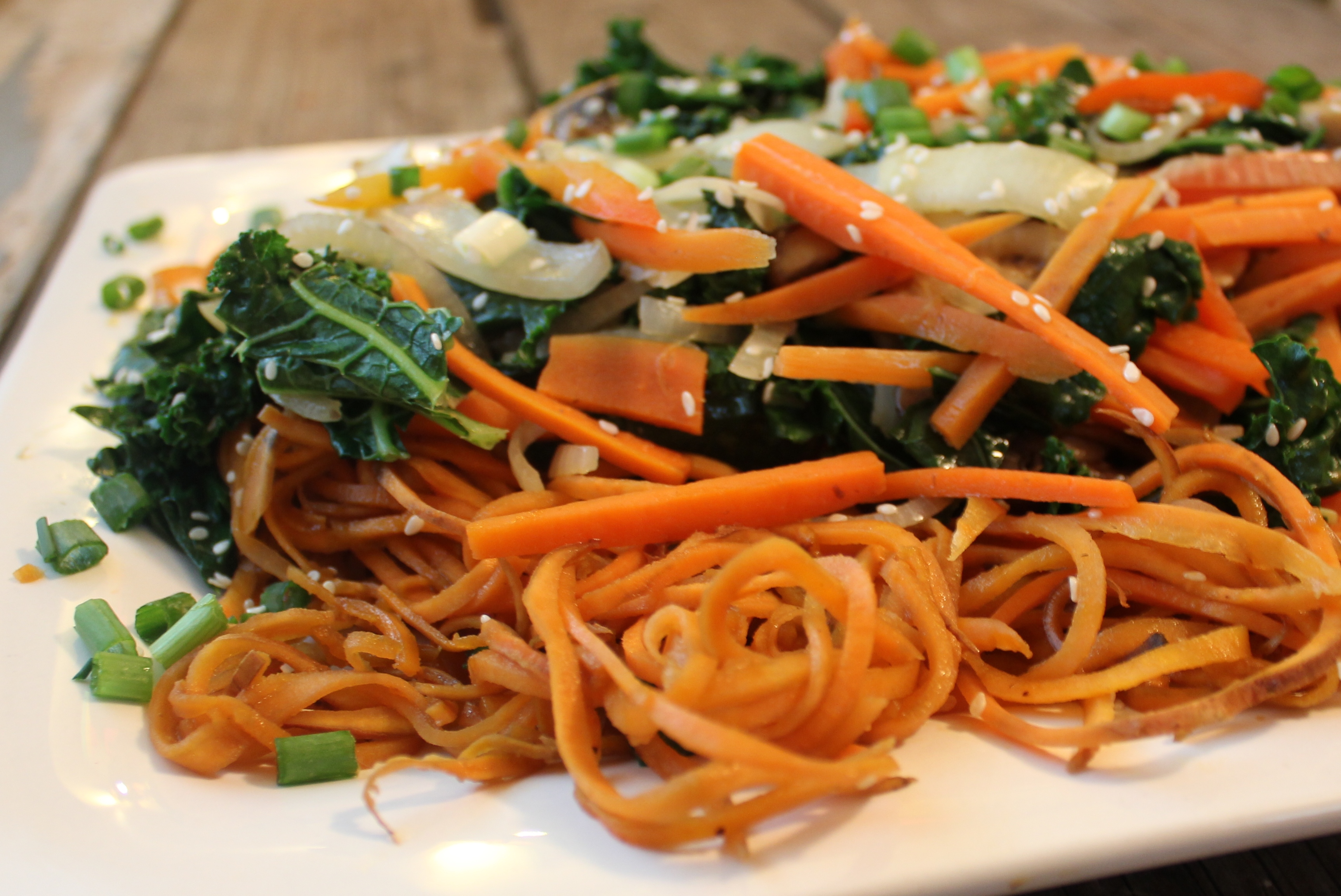 Johnna's Japchae, a new twist on a Korean favorite
Ingredients
2

large sweet potatoes

, sliced with a spiral slicer

2

t

. toasted sesame oil

¼

cup

Gluten-free soy sauce

(Tamari), Braggs Aminos or Coconut Aminos

1

T

. Toasted sesame oil

1

T

. Maple syrup

1

yellow onion

, thinly sliced

2

t

. toasted sesame oil

4

oz

. sliced baby bella mushrooms

3

carrots

, sliced into matchsticks

1

red pepper

, thinly sliced

6

to 8 stems of kale

, remove from stems and chop kale

2

T

. Sesame seeds

1

bunch green onions

, finely chopped
Instructions
In a small bowl, combine soy sauce, sesame oil and maple syrup. Set aside.

In a large deep skillet, toss sweet potato noodles with sesame oil and cook over medium-low heat. Constantly toss, cooking to warm and slightly soften.

Once soft, toss with the soy sauce, sesame oil and maple syrup mixture.

In another pan, stirfry onion with 2 t. sesame oil. Once transparent, add mushrooms, carrots, red pepper and kale. Toss often, greens will relax and reduce a bit in size.

Once vegetables have heated through (cook as you would for stirfry, to heat but not make mushy), plate noodles on serving plates and top with vegetables. Sprinkle with sesame seeds and green onions.