This post contains affiliate links. See my disclosure for more information.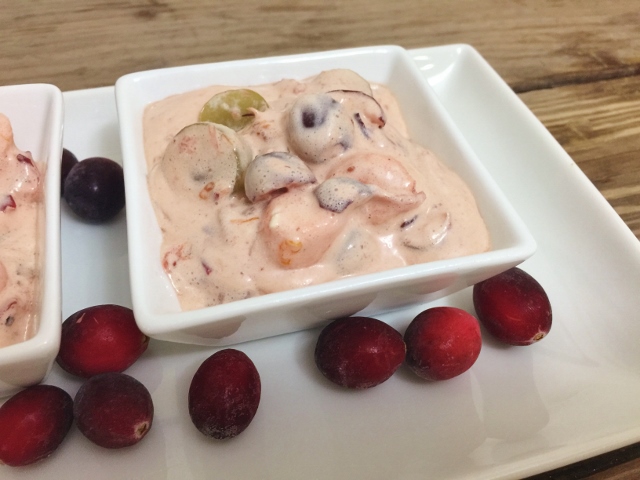 One of the greatest challenges with dietary intolerances or food allergies is holiday dinners, especially the first Thanksgiving after making changes. Have no fear, there are options like my take on the classic Cranberry Fluff. Now you can make it a little more healthy and make it free of dairy!
I'm still working my way through the beautiful box of cranberries my friend Mary mailed to me from her friend Britt's bog in Wisconsin. I could never tire of fresh cranberries. I've been making Cranberry Mustard for holiday gifts and we've been eating my Roasted Brussels Sprouts with the mustard often. And now this salad. Oh my goodness! If you are a fan of Hawaiian or Ambrosia Salad, this is a nice variation on it perfect for Thanksgiving.
The original recipe I modified came from a church cookbook from the 1970s. You know the kind of cookbooks I'm referring to? All of the favorite recipes of the church ladies, perhaps dishes served often for church basement potlucks. Can you smell the church basement mustiness combined with all of the crockpots, pyrex dishes and pie plates full of homemade goodness? I smell that every time I crack open one of these cookbooks. While there are probably many recipes in those books that would be best left in the 1970's, there are some true gems worth modifying a bit to work in today's kitchen.
And that is what I've done. I removed the refined sugar from the original recipe and replaced it with coconut sugar. Don't worry if you are coconut-averse; coconut sugar is made from the blossom of the coconut tree, not the coconut fruit. Therefore there is no coconut flavor. Instead there is a rich, caramel flavor that belongs with cranberries. Because of the coconut sugar, there is a little darker color to the salad. If you want it to be a bit more pink, just add a little beet powder. This won't change the flavor at all, just a natural alternative to food coloring. I've used Dandies marshmallows. Even if you aren't vegan, you've got to try these. They are the best marshmallows ever. Instead of the traditional Cool Whip, I've used So Delicious Coco Whip. Have you tried it? SO good. Light, fluffy, just the right amount of sweetness. Plus there's no dairy so I can share it with my dairy-free friends! I've also changed the proportions of ingredients from the original recipe. I wanted there to be more fruit, less fluff. Sacrilege? Perhaps. But then again, you can eat a larger serving and not feel as bad about it. 😉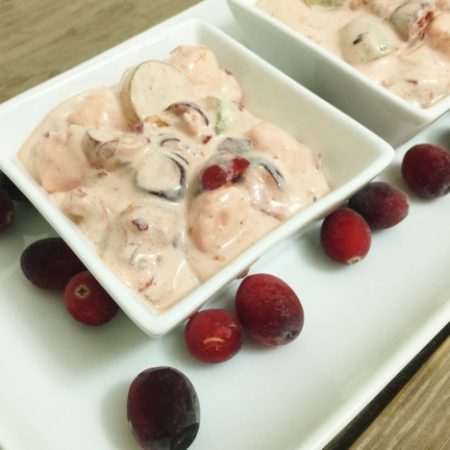 Cranberry Fluff Makeover: gluten-free, dairy-free, vegan
Ingredients
4

cups

fresh cranberries

(about a 12 ounce bag)

3/4

cup

coconut sugar

20

ounce

can of crushed pineapple

, drained

11

ounce

can of mandarin oranges in pear juice

, not in syrup, drained

1

cup

halved green seedless grapes

2

cups

Dandies mini marshmallows

2 9-

ounce

tubs So Delicious Coco Whip

, allowed to thaw in the refrigerator

1/2

cup

chopped pecans

(optional)

2

teaspoons

beet powder

(optional, for coloring purposes)
Instructions
In food processor fitted with the "S" blade, process cranberries until they are chopped into pieces the size of a quarter cranberry or smaller.

In a large bowl, combine the cranberries and coconut sugar. Mix well to combine. Cover and store in refrigerator overnight. (I have done this for less time, however the cranberries will be less tart and more sweet the longer they are allowed to absorb the sweetness of the sugar.)

The next day, add crushed pineapple, mandarin orange, grapes and mini marshmallows. Stir to combine.

Gently fold in one container of the So Delicious Coco Whip. If you would like this to have a more pink color, this is when you would stir in the beet powder.

Return to the refrigerator until ready to serve. When ready to serve, stir in the second contain of Coco Whip. I've found the second container of Coco Whip stays more fluffy when it is added right before serving.
Full Disclosure: This post contains affiliate links for products and ingredients I use in my own kitchen. Should you make a purchase after clicking on a link, I may make a small commission. You will still get the same great price AND you will be helping me offset the costs of maintaining this website. Thank you!