This post contains affiliate links. See my disclosure for more information.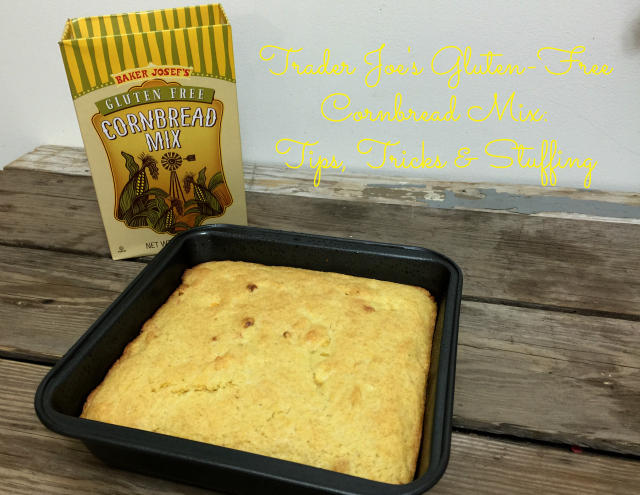 If you are a long-time reader here, you know I rarely use a mix. I really enjoy from-scratch baking. But once in awhile, a mix hits the spot.
When my sweet friend Patricia told me that gluten-free cornbread mix at Trader Joe's was to die for, I gave in. I bought several boxes hoping to use it for Thanksgiving stuffing.
Here's the scoop on this cornbread:
The mix is $3.
The add-ins are water, an egg and milk.
The ingredients in the mix are straightforward, nothing artificial.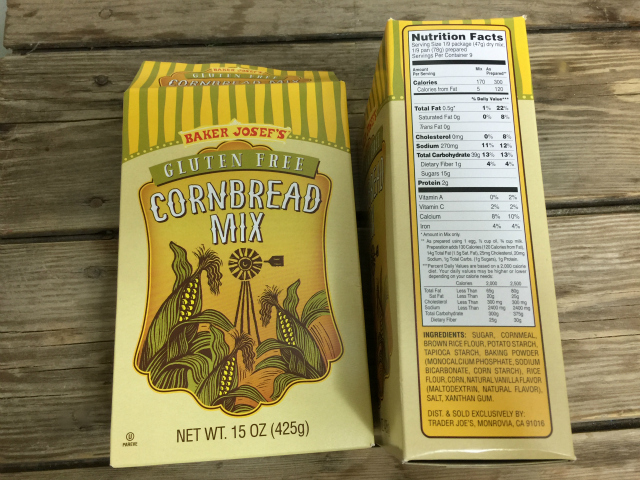 First up, I baked this mix according to the directions. Well, mostly. I did use non-dairy milk because we don't keep dairy milk handy. I used an unsweetened almond/coconut milk blend, grapeseed oil and one extra large egg from our backyard chickens.
When made according to the directions, it is light, fluffy and a bit crumbly.
We enjoyed this with a bowl of chili. There are actual pieces of corn in this mix and a bit of sweetness, which worked well with a very spicy bowl of chili.
While it would work to make cornbread stuffing for Thanksgiving, I would read on and choose one of the alternatives I prepared…
Second up, I used pumpkin instead of oil. The recipe calls for 1/2 cup of oil. If replacing oil with pumpkin in a recipe, I reduce the amount to 75%. In this case, that would be 1/3 cup plus 1 Tablespoon of pumpkin puree. I used the same unsweetened almond/coconut milk and one extra large egg.
When using the pumpkin instead of oil, it is not quite as crumbly as the batch made according to directions. This makes it a potential candidate for stuffing. There is just a hint of pumpkin flavor and a bit of a softer texture, making it more cake-like. If not for the color, I doubt most would know it contained pumpkin.
Third, I made the recipe vegan. No dairy, no eggs. Instead of an egg I made a chia slurry by combining 1 Tablespoon chia seeds with 3 Tablespoons hot water and allowed it to sit until it became thick and gel-like. I used the 1/3 cup plus 1 Tablespoon pumpkin puree substitute for oil and the same dairy-free milk.
The result with a chia "egg" and pumpkin instead of oil: dense, a bit chewy, perfect for stuffing! I'm going to cube this batch and allow it to dry out for a day before turning it into the best cornbread stuffing ever.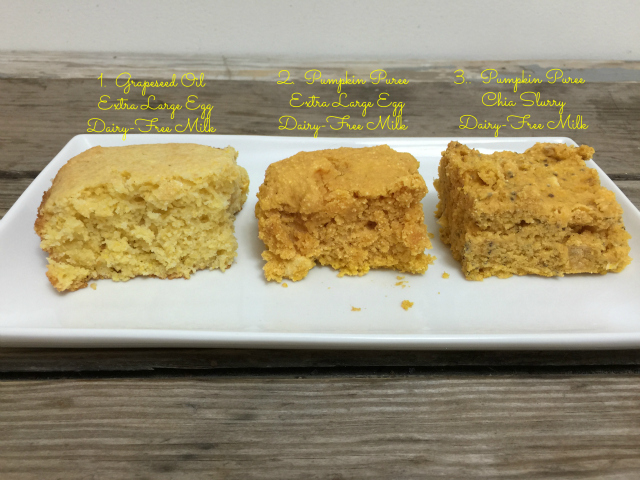 To recap: #1 is great with chili, #2 good enough to be dessert, #3 ideal for stuffing. All were delicious!
So am I forever swayed away from scratch baking? No, not a chance. But for a day that is as busy as Thanksgiving, I'll definitely consider using the Trader Joe's gluten-free cornbread mix. It is three bucks well spent. How about you?