This post contains affiliate links. See my disclosure for more information.


Long-time readers will know donuts were the impetus for my food writing adventure. Way back in the beginning, I was on a quest to visit 52 donut shops in a year, having one donut each week. Mid-way through that year, I had to stop eating gluten per my doctor's advice. But my love for donuts has never dissipated, only the availability of donuts at donut shops to a gluten-free eater proves to be the challenge. Enter Glazed and Confuzed Donuts in Denver…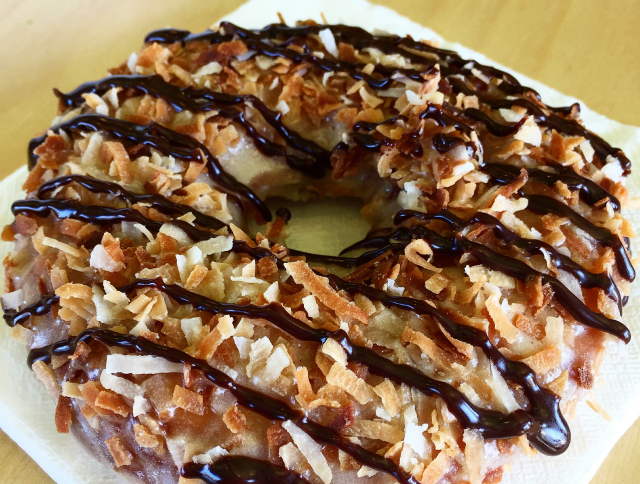 My friend Suzanne, a Denver native who doesn't eat gluten-free, tipped me off to Dazed and Confuzed. It's near her house and she assured me they had gluten-free donuts. But you see, I was at a donut shop in Chicago recently that had "Gluten-Free-ish Donuts" in their bakery case. Seriously, that's how they were marked, gluten-free-ish. Not really gluten-free at all. I worried this was what Suzanne had found, maybe donuts with no gluten ingredients but fried in a shared fryer. Or no attention paid to preparation in a shared kitchen. But no, the gluten-free donuts at Glazed and Confuzed are the real done, gluten-free donuts done right.
Before visiting, I called to ask about their gluten-free donuts. I had questions about preparation, how they avoid cross contamination, if they use a dedicated fryer. I was so impressed with the right answers and then blown away by this: one of the owners told me the day I had called, Friday, was not a gluten-free donut day. It was a vegan donut day. But Saturday would be a gluten-free donut day. This makes perfect sense to me–they offer one "special" or "sensitive diet" donut selection each day so they can focus on doing it right.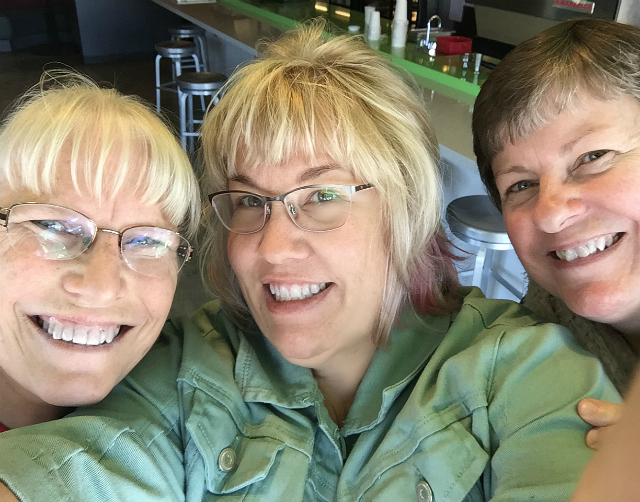 I arranged to meet my friend Suzanne on Saturday morning and my friend Shirley from Gluten-Free Easily also came along. How fun! The gluten-free offering that morning was a Samoa-style donut.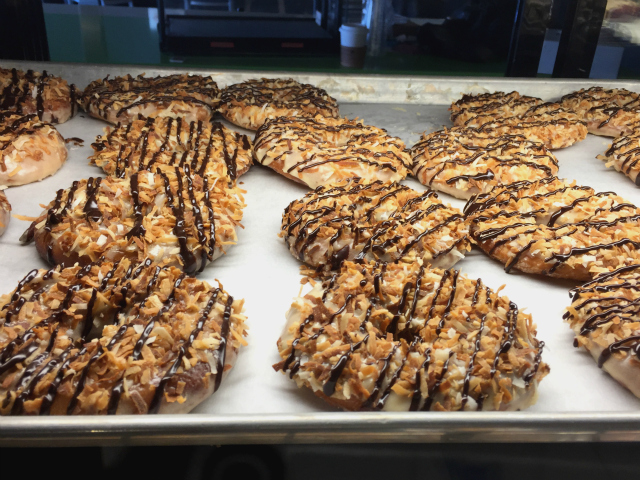 Looking at the donut in the case, it looked pretty flat, not so different from some of my less-than-successful baking attempts. That didn't stop me from ordering a box full of them. They were displayed on the top shelf of the bakery case (no crumbs from above falling into them) and I asked if they could be lifted out with clean tongs. "Of course!" was the answer.
My concerns about how flat the donuts appear was eliminated after I bit into one. These are not cake donuts! Nearly all gluten-free donuts I find at donut shops are caked donuts. Not these, they are a raised donut. Soft on the inside, perfect little bubbles in the dough. They don't have a huge rise on them but they are soft and delicious! Perhaps the best $3 I spent while in Denver was a donut from Glazed and Confuzed.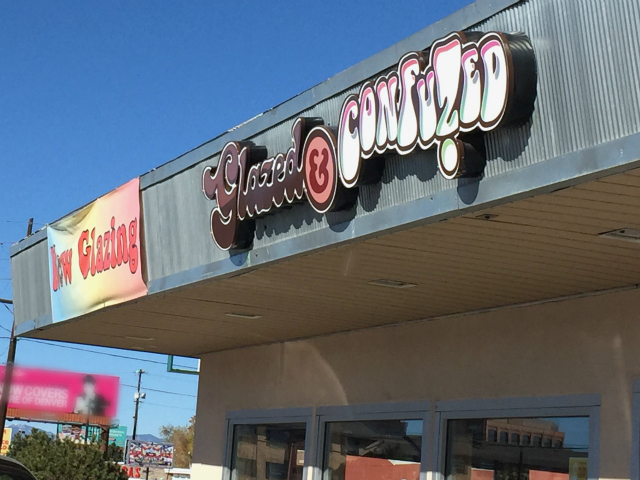 While sitting in this really fun donut shop in a strip mall, I saw families having donuts together. Toddlers checking out the toys, moms guzzling donut shop coffee in an effort to keep up with aforementioned toddlers. The owners greeted their customers warmly and chatted with many of them who are obviously regulars. The warmth, the community of a locally-owned donut shop is something I miss. Glazed and Confuzed has fixed that for gluten-free folks.
The next day, I went back to get donuts to bring home`and found vanilla glazed (with flecks of vanilla bean), chocolate glazed and Samoa. I also got donuts with gluten to bring home to my favorite fella and a neighbor, each individually packaged in a clamshell container, which soothed my cross contamination worries. I got donuts with a sriracha cream cheese filling and peanut butter glaze for them. Even day old by the time they were enjoyed, they got rave reviews. Everything here is made from scratch, donuts to glazes, every single day. No par-baked donuts that arrive frozen, no glazes delivered in a box or bag. Everything is made in house. No wonder everything is so tasty!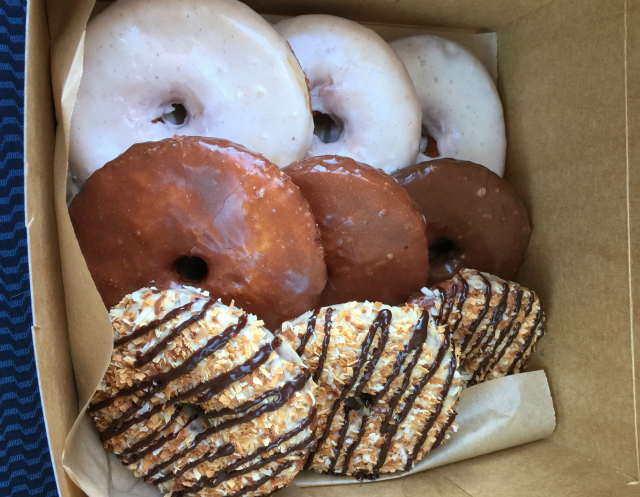 If you plan to visit Glazed and Confuzed for gluten-free donuts, call ahead. Ask what days they offer gluten-free donuts. If you need a large order, you should let them know so they are prepared for you. If a specific flavor appeals, tell them and they will try to make it happen. Nice folks trying hard to make donuts available to those of us who usually don't get to have donuts at a locally-owned donut shop.
Glazed and Confuzed is located at 5301 Leetsdale Drive, Denver, CO, 80245. 303.524.9637. It is in a small strip mall with a bit of parking adjacent. Call to confirm which days are gluten-free days and hours.
The I Ate Here series is not intended as a restaurant review, rather a summary of my experience dining out.* Menu prices, items and ingredients featured were current at the time of writing. Please read the menu carefully and ask for assistance in ordering if you have dietary restrictions. It's a good idea to call ahead and let the restaurant know of your food needs.
*Writing bad reviews doesn't feel good. Only in extreme cases (a total of two in five years) where gluten has been apparent in my food or the handling of my food restrictions was of great concern do I share anything less than a recommendation. I'd rather share a good recommendation with you. I hope that's what you are looking for anyway, recommendations on where to dine and fun places to visits in your travels. Thanks for understanding.