This post contains affiliate links. See my disclosure for more information.


On my recent trip to Denver, I chose to take the earliest flight available simply so I could grab a rental car, pick up a local friend and get to City O' City in time for breakfast. I'm not a morning person, but I will gladly get out of bed at 4 a.m. to catch a flight for some of the best breakfast anywhere.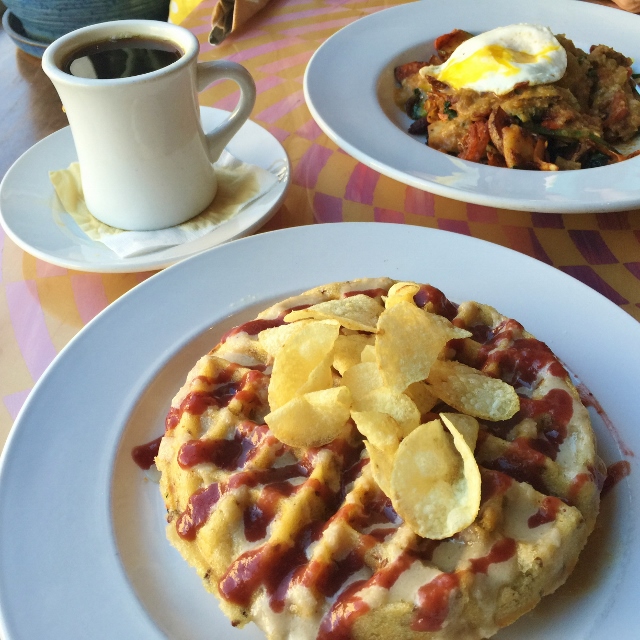 It has been several years since my first visit to City O' City. I knew about it from Watercourse, which had been on my vegetarian restaurant bucket list for many years and has never been disappointing on many visits over the last few years. Until recently, both were owned by the same person, Dan Landes. Now Watercourse is owned by the former manager of City O' City, Lauren Roberts, leaving Dan Landes as the proprietor of City O' City and Watercourse Bakery. Don't be confused, it just means all of the deliciousness will continue in Denver. The only change we may notice: Watercourse will now be Vegan while City O' City continues to be vegetarian. That said, I've eaten at both Watercourse and City O' City with carnivorous friends; nary a complaint about the meatless wonders served up at both places.
So back to that ridiculously early flight. Want to know why it is worth getting up about the time I prefer to go to bed?
Gluten-free waffles.
Made in a dedicated gluten-free waffle maker.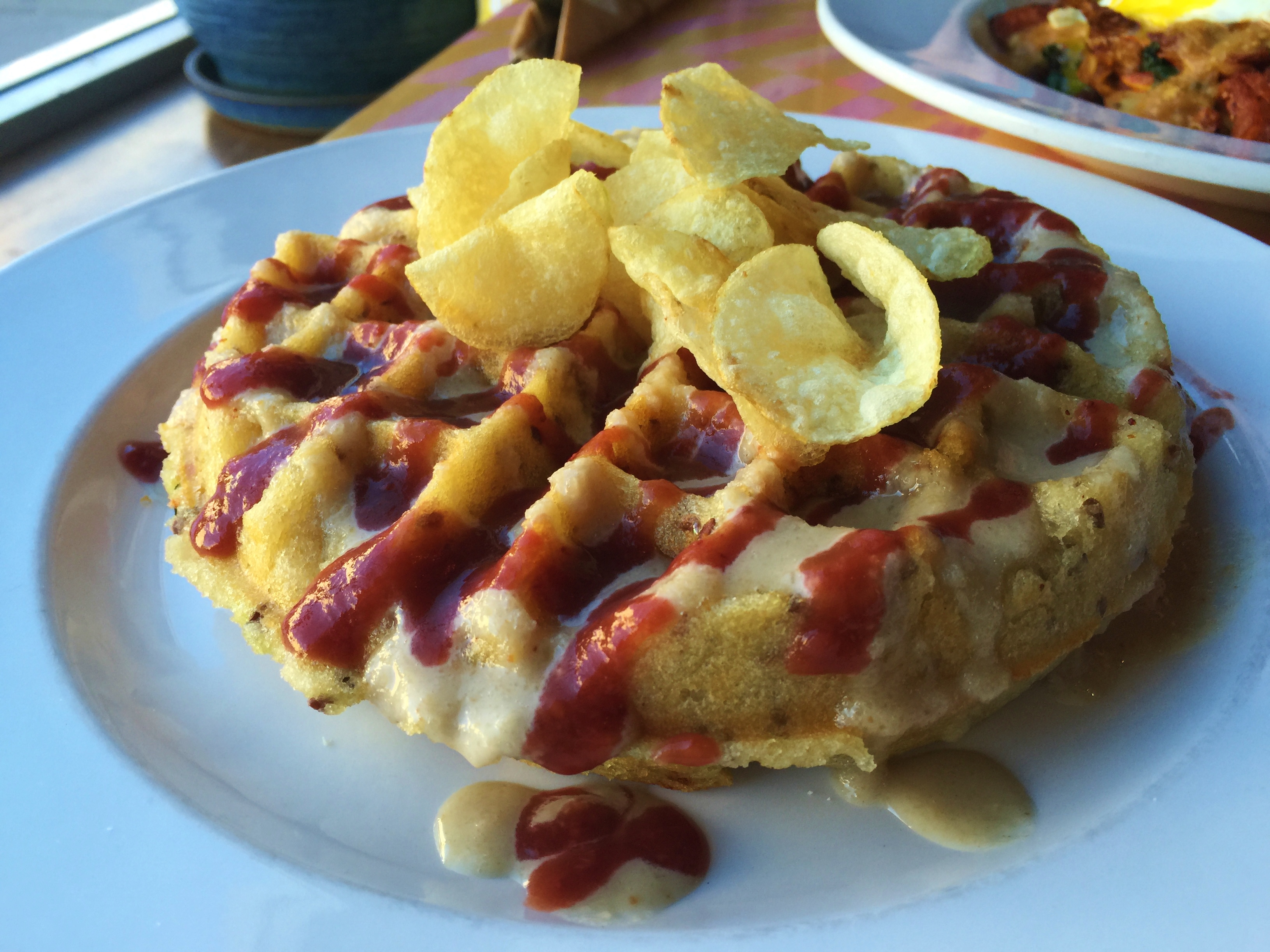 On the morning of my recent visit, my friend and I decided to order two entrees we could split. We started with a banana waffle with peanut butter anglaise, housemade jam and potato chips. Crispy on the outside, light and fluffy on the inside with just the right amount of peanut butter-y richness and the tart sweetness of jam. It pained me that we were too full to finish this waffle.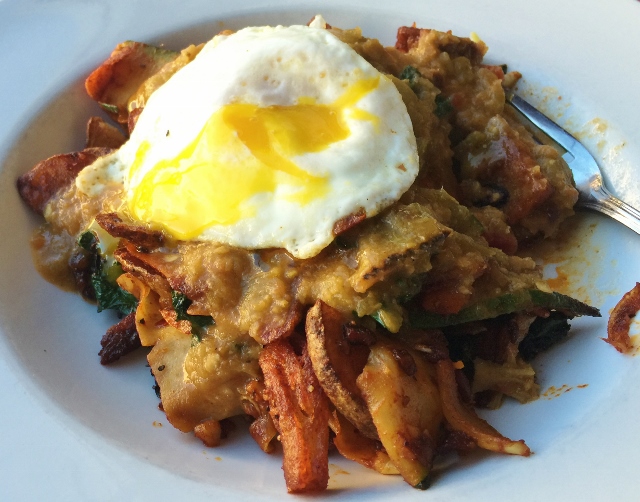 Our other entree was tempeh bacon hash with potatoes and caramelized onions, seasonal vegetables, tempeh bacon and kale, topped with a perfectly runny egg as hash should be. Boy howdy, this was spicy! I love spicy food, my breakfast companion not so much but we made a good dent in it. The tempeh bacon pieces were smoky, slightly crispy, like bacon but without the oink. And kale in hash? Well, I simply love adding a dark, leafy green to breakfast. I would eat this dish anytime of day. Good thing this is one of the breakfast dishes served until 5 PM. It is also available with tofu instead of the egg for those who prefer a vegan or egg-free dish.
Because of that aforementioned early flight, I consumed copious quantities of coffee. My cup was refilled before I needed to ask. On every visit I've made to City O' City, the service has been warm, inviting, helpful. This visit was no different. I shared my gluten-free concerns immediately and was assured everything would be fine. And it was. No eye rolls from the server, no lack of knowledge. Just easy. I mention often that vegetarian restaurants need to be high on the list for those who eat gluten-free even if they are carnivores simply because they tend to be more in tune, have a higher level of dietary knowledge. City O' City is a perfect example of this. (Plus you won't miss eating meat when you dine here.)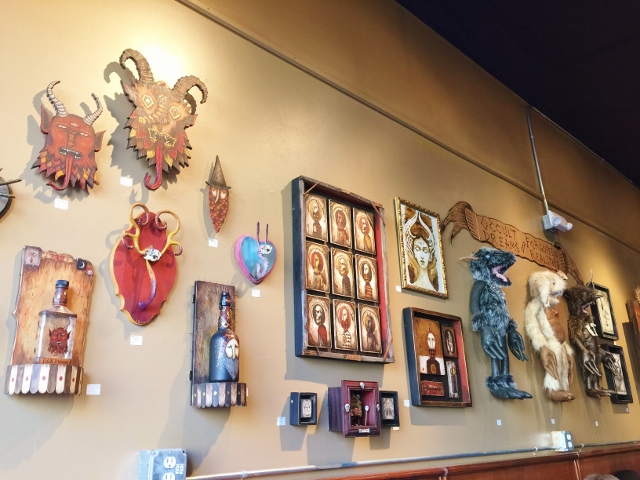 When you visit City O' City, take a few minutes to look around at the art adorning the walls and the general decor of the place. You'll see furniture built from reclaimed automobiles, art from local artists and just general bohemia. It feels cozy, like home, yet is a spacious restaurant with an enormous bar
On the way out, I stopped at the coffee counter, which has a bakery case of goodies from Watercourse Bakery. I had to buy a Scout Cookie (see my knockoff recipe here) and a Ho Ho Cupcake. They were both enjoyed later in the day atop Wilkinson pass over the Continental Divide. Lovely gluten-free bakery snacks for a snowy roadtrip day! (Yes, that's a photo of me, on the Continental Divide, taking a photo of baked goods from Watercourse Bakery. Thanks, Suzanne, for capturing me in the wild. 😉 )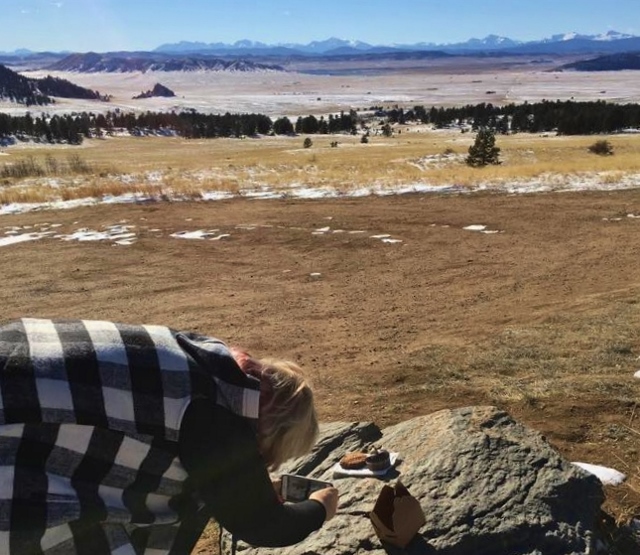 City O' City is located at 206 East 13th Avenue, Denver, Colorado, 80203. They are open most days from 7 a.m. to 2 a.m., perfect for breakfast, lunch, dinner and late night eats. Parking is available on the street. Located in the always-busy Capitol Hill area, I've been able to park in metered street-side parking and never had trouble getting a spot within a block or so.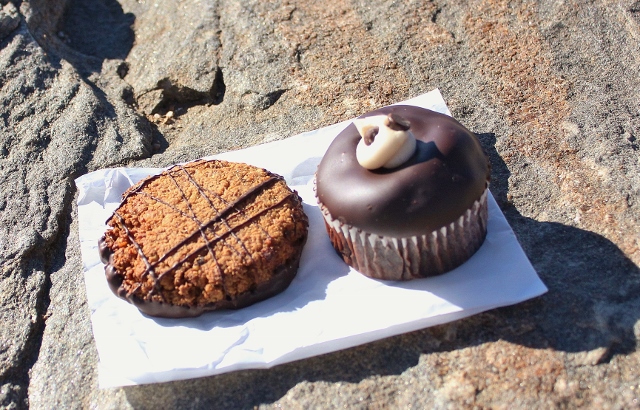 The I Ate Here series is not intended as a restaurant review, rather a summary of my experience dining out.* Menu prices, items and ingredients featured were current at the time of writing. Please read the menu carefully and ask for assistance in ordering if you have dietary restrictions. It's a good idea to call ahead and let the restaurant know of your food needs.
*Writing bad reviews doesn't feel good. Only in extreme cases (a total of two in five years) where gluten has been apparent in my food or the handling of my food restrictions was of great concern do I share anything less than a recommendation. I'd rather share a good recommendation with you. I hope that's what you are looking for anyway, recommendations on where to dine and fun places to visits in your travels. Thanks for understanding.