This post contains affiliate links. See my disclosure for more information.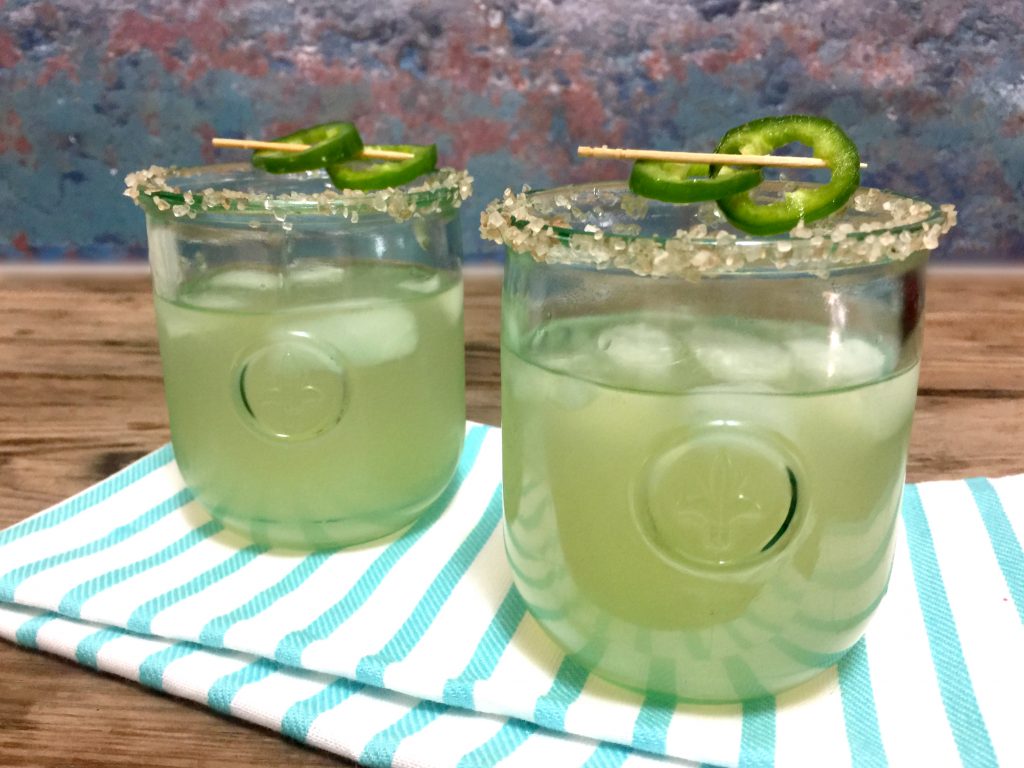 Whew! It's hot outside and margaritas are on my mind. How about you? I'm cooling down with my Jalapeno Mezcal Margarita. Two easy ingredients with a little ice in the cocktail shaker makes summer heat seem a little more tolerable.
Margarita purists will be incredibly miffed at my choice of ingredients: Jalapeno Limeade from Trader Joe's and Crema de Mezcal. The Jalapeno Limeade is very straightforward with the label says: a true limeade with just a hint of jalapeno. It's not super spicy, just a little heat. If you haven't yet enjoyed a hot pepper-infused margarita, this is a great place to start. The Crema de Mezcal is a little more complex and worth a special trip to the liquor store of your choosing…or perhaps a Mexican vacation to really gain an appreciation. Wink, wink, hot summer wink…
Mezcal has a smoky flavor, which is so nice with jalapeno. If you like a tequila margarita and also like a hint of smokiness, you'll enjoy Mezcal. Crema de Mezcal is 90% San Luis del Rio Mezcal and 10% Miel de Maguey, the unfermented syrup of roast agave. It's a single-village produced libation from Oaxaca.
I've garnished my Jalapeno Mezcal Margarita with jalapeno slice and rimmed the glass with smoked sea salt, completely optional. To further offend margarita purists, I even used a bourbon smoked sea salt. It's quite nice with the other ingredients. Give it a whirl and report back…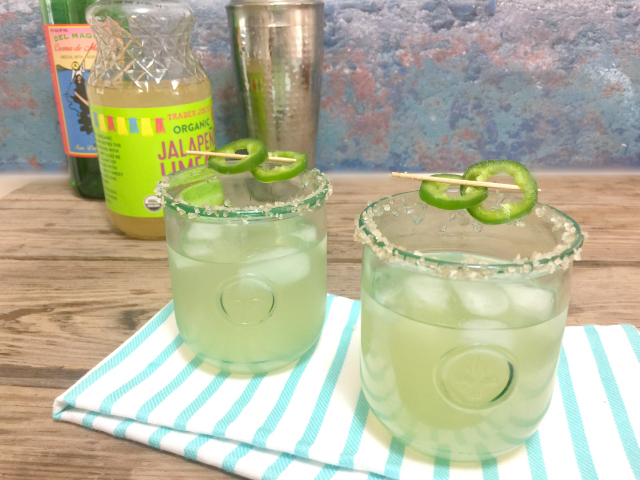 Notes on ingredients: The Jalapeno Limeade was new at Trader Joe's in late Spring 2017. If you cannot find it, a natural limeade with the juice of an jalapeno added would work. You could also muddle part of an jalapeno in your cocktail shaker. I've tested this recipe with both tequila and Mezcal (not the Crema de Mezcal) in the same proportions. Ooooh, the sacrifices I make for you, my sweet readers… All were good, but it truly is worth a special trip to the store for the Crema de Mezcal. The rimming salt I used is Bourbon Smoked Sea Salt from Bourbon Barrel Foods. You could use any smoked salt of your liking, a regular margarita rimming salt or none at all. I'm not always a fan of salt on a margarita but do like the addition of smoked salt on this one.
Alrighty, off to the recipe. Enjoy! (And good grief, don't drink and drive after having one of these. Imbibe like the grownup you pretend to be!)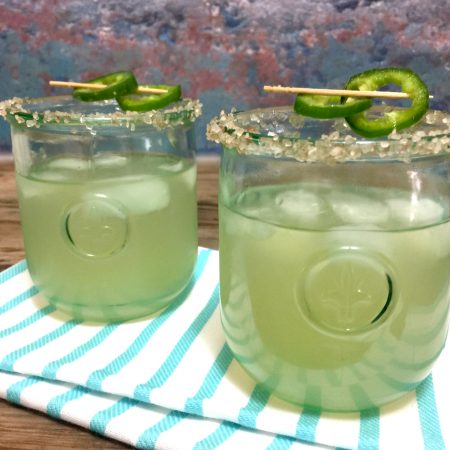 Jalapeno Mezcal Margarita
Just a hint of heat from the jalapeno, a bit of tart from the limeade and a perfect smoky finish from the Mezcal.
Ingredients
4

ounces

Crema de Mezcal

4

ounces

Jalapeno Mezcal

1

jalapeno

for garnish, optional

Smoked Sea Salt

for cocktail rim, optional
Instructions
You'll need two cocktail glasses. Dip each gently in water and then smoked sea salt if you would like salt on the rim

Slice jalapeno and spear on a tootpick for garnish, if you would like.

In a cocktail shaker filled with ice, shake 4 ounces of Crema de Mezcal and 4 ounce of Jalapeno Limeade. Strain into two glasses. Add a few ice cubes if preferred.