This post contains affiliate links. See my disclosure for more information.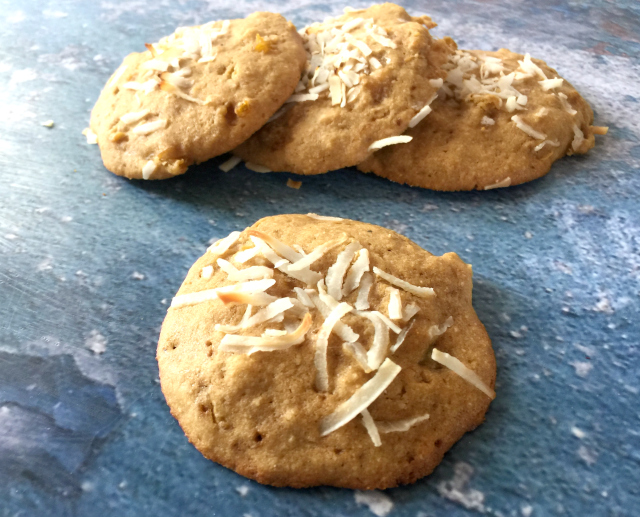 Tipsy Tropical Treats, cookies that make you dream of an island vacation. Or at least a fruity drink with an umbrella.
I've been working on this recipe for awhile, starting first with dried fruits soaked in rum. I never could quite get the texture of the fruits right, the mango insistently leather-y. Fresh fruit was the answer! I know it's a bit unconventional to put fresh fruit in cookies, since we are so accustomed to using dried, but it really makes for a nice cookie. There's a little crunch on the outer edge, yet still soft and a bit cake-y in the center.
I had the darnedest time naming these cookies, y'all! I asked for help and here were the suggestions:
Tiki Crunch (this one was a close second), Caribbean Party, Tropical Crunch, Bahama Oh Mama!, Tropical Delights (this one came up several times!), Rum-ble Fruit Delights, Hula Heavens (also a close contender), Aloha Dreams, Tropical Bliss, Copango Canyon Cookies, friends who enjoy Exotica music were sending me album titles and song names. So hard to pick just one! Now I want to make all of the island-inspired treats so I can use all of your suggestions!
Notes on ingredients:
Much like cooking with bourbon, I used a good rum in these cookies. You'll get just a hint of it when eating them, more on the second cookie than the first as the flavor builds in your mouth. It's just enough rum to make you crave a well-crafted cocktail, specifically a tiki drink. I like Hamilton 86 proof. It's a lovely amber in color and has a molasses/clove/brown sugar flavor about it.
I used fresh pineapple, however you could use canned and drain it very well. I used frozen mango because I can't seem to get my hands on any that are ripe right now. They tease me, sitting in the produce section not yet ripe enough to enjoy. I'm in a hurry over here, there are cookies to make! As for the coconut, I use unsweetened shreds. They toast better on top of the cookie and the cookie is sweet enough without sweetened coconut.
About the macadamias: I use roasted unsalted macadamias when I have to buy locally. My preference is Nuts in the Nude from our friends at Hawaii's Local Buzz. You might remember when my favorite fella and I visited their farm on the Big Island. Super nice people who care so much about their products. Their macadamias are my absolute favorite and are dehydrated for a nice crunch. Order coffee and honey while you are browsing their site.
Alright, let's get on with the recipe. Join me in visualizing a lovely island getaway while enjoying these cookies. I can almost hear the ocean now…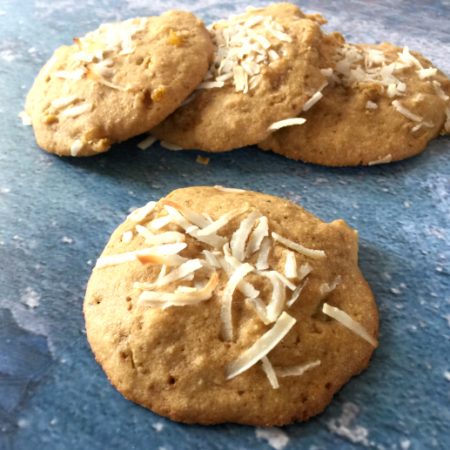 Tipsy Tropical Treats, Cookies with Pineapple, Mango, Macadamias, Coconut & Rum
Ingredients
1 1/3

cup

almond meal

1/2

teaspoon

sea salt

2/3

cup

coconut oil

not liquified

1 1/4

cup

coconut sugar

1

Tablespoon

dark rum

Hamilton 86 is my preference

1

large

egg

from a happy hen

1/2

cup

finely diced fresh pineapple, well drained, juice squeezed out

1/2

cup

finely diced fresh or frozen mango, well drained

1/2

cup

rough chopped macadamias

roasted with no salt or dehydrated

1/2

cup

unsweetened shredded coconut
Instructions
Preheat oven to 325 degrees. Line two large baking sheets with parchment or Silpat mats.

In a large mixing bowl, combine gluten-free flour blend, almond meal and salt. Mix to combine.

In the bowl of electric mixer, mix coconut oil, coconut sugar, egg and rum. Mix on low until well combined.

Add flour mixture to the wet mixture in the electric mixer.

By hand, fold in pineapple, mango and macadamias. DO NOT ADD COCONUT.

Using a cookie scoop or a tablespoon, drop scoops of batter onto parchment or Silpat lined baking sheets. Leave sufficient room as cookies do spread. (Twelve to a half-sheet sized baking sheet works.)

Sprinkle coconut onto the tops of each cookie. Bake for 12 minutes or until lightly browned on the edges. Allow to cool on baking sheet for 4 minutes, then move to cooling rack.