This post contains affiliate links. See my disclosure for more information.


Important Update on Gluten-Free Oats
I'm sharing an important update on the Gluten-Free Oats from GF Harvest, also known as GlutenFreeOats.com. Until further investigation is made into recent laboratory testing showing significant gluten in these oats, please give careful consideration to purchasing and whether or not you should consume oat products you have already purchased.
Yesterday, 8/30/22, Gluten Free Watchdog rescinded her prior recommendation of GF Harvest as a source of purity protocol gluten-free oats. Five bags of gluten-free oat products from GF Harvest were analyzed using the sandwich R5 ELISA laboratory test and found quantifiable gluten. If you are a subscriber to Gluten Free Watchdog, you can view the full test reports on the website, which includes the parts per million from the products tested.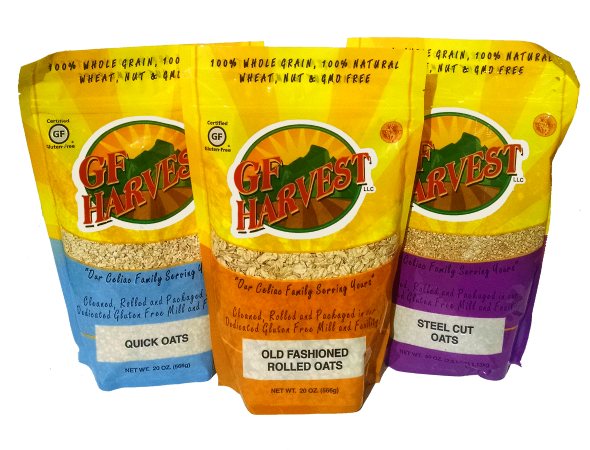 If you believe a GF Harvest oat product made you sick, please contact an FDA Consumer Complaint Coordinator at https://www.fda.gov/safety/report-problem-fda/consumer-complaint-coordinators.
If you've read my guide on knowing what oats to buy as a gluten-free consumer, you will recall that Purity Protocol oats should be the gold standard for oats eaten by people with celiac disease or other medical concerns that require eliminating gluten. Purity Protocol oats from GF Harvest/GFO had been grown in dedicated gluten-free fields, harvested and transported on dedicated gluten-free equipment and milled and packaged in a dedicated gluten-free facility, according to their past statements. Purity Protocol is a step above certification, which nearly always require oats to test at 10 parts per million gluten or less. In the case of GF Harvest oats, they have been sold as a product certified by GFCO.*

Additional Links Related to This Update
GF Harvest was sold to a new owner, Dale Tenhulzen, in 2020. Based in Powell, Wyoming, there have been several local newspaper articles in the last couple of years about the company and its current owner. I'll link to them below, along with a few other relevant bits of information.
March 2020 Owner of GFO, Inc. (GF Harvest) Seeks Consent from City for Hemp Production
May 2020 Gluten Free Oats Proposes to Buy Property From City
July 2020 Public Hearing on the Sale of Property to Gluten Free Oats
August 2020 Dale Tenhulzen Charged with Unlawfully Selling Securities The complaint alleges that during most of Tenhulzen and Live Wealthy's sales, EquiAlt was actually operating a massive Ponzi scheme during which it raised more than $170 million from approximately 1,100 investors in more than 35 states.
December 2020 City of Powell Moves Forward with Sale of Property to Gluten Free Oats, CEO Dale Tenhulzen
January 2021 Powell City Council Grants Extension after sale of property doesn't meet end of year closing deadline
March 2021 Sale of Property to Gluten Free Oats Falls Through
February 8, 2022 Gluten Free Watchdog tweets they are receiving reports of oat products, including trusted purity protocol brands, no longer having a certification mark on packaging.
Also on February 8, 2022, this tweet from someone presumably with GF Harvest saying it was a printer error and they are not required to have the certification seal on packaging.
Also on February 8, 2022, this Twitter thread from Gluten Free Watchdog shares a statement from certifying agency GFCO, which in part says this: "…each product certificate clearly states that the products are "endorsed gluten free only when the certification symbol appears on the label". If you or a consumer asks us about a product without the logo, we will tell them to treat it as though it's un-certified."
*As of today, 8/31/22, in the online listing of certified products on GFCO's website, I could not locate any products listed under the names GF Harvest, Gluten Free Harvest, GFO, or Gluten Free Oats. There is still a statement on the Gluten Free Oats/GF Harvest website that says their products are certified by GFCO.
Oats continue to be an area of great concern for gluten-free consumers. Please continue using caution, reading labels and relying on trusted sources for updates. Thanks to Gluten Free Watchdog for this latest round of testing and information. The gluten-free community is lucky to have a knowledgeable advocate doing testing and looking out for all of us.