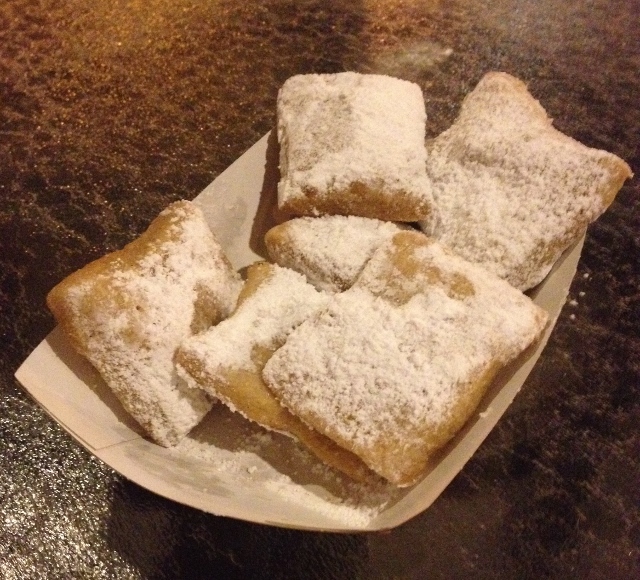 This post shall serve as my Disney redemption tale.  It really doesn't take much to make this girl happy, just a gluten-free donut.  Or beignet, as it was in this case.
I have written a total of two less-than-positive blog posts about dining experiences.  One was about a visit to Walt Disney World.  I traveled there for a marathon with a group of friends and had a really tough time eating there.  I'm partially responsible for this as I wanted to eat at quick service restaurants in the parks, not sit-down restaurants.  I also have more than one food issue: I'm gluten-free and vegetarian.  Disney was quick to provide a list for each of those, but I was on my own to make it work from there.  I just had a bad experience, which was hard for me. I'm a fan of Disney, I even got married at Disney World.  I had read nothing but glowing reviews of how well Disney handles gluten-free dining, how quick the chefs are to come out to talk to you about options, how accommodating they area.  Sadly, that just wasn't my experience three years ago.
While at the Gluten-Free Living Conference, I had the chance to turn my past bad experience around.  I went with Andrea of Rockin' Gluten Free to Sassagoula Floatworks & Food Factory at the Port Orleans French Quarter Resort to get gluten-free beignets.
Beignets are ordered at a counter in what is essentially a food court at the resort.  There is a counter for ordering sweets, ice cream and beignets.  We asked a castmember (Disney employee) for assistance ordering gluten-free beignets and she said she would send the chef out.  (See! There it is, the experience I missed out on last time.)
…
One of my favorite tapas  to share during happy hour at La Bodega is their Judias Verdes, a dish of roasted potatoes and green beans with figs and walnuts.  In my recipe idea file, I had made a note to re-create this dish at home when fresh green beans were harvested from our garden.  My…