This post contains affiliate links. See my disclosure for more information.


In my kitchen, everyone should be able to enjoy Biscuits with the Boss, even if they can't have gluten or dairy. I've got a recipe to share with you today, a slight remodel from the Offical Ted Lasso Biscuits recipe to make it gluten-free and dairy-free. Do you BELIEVE it possible? You should!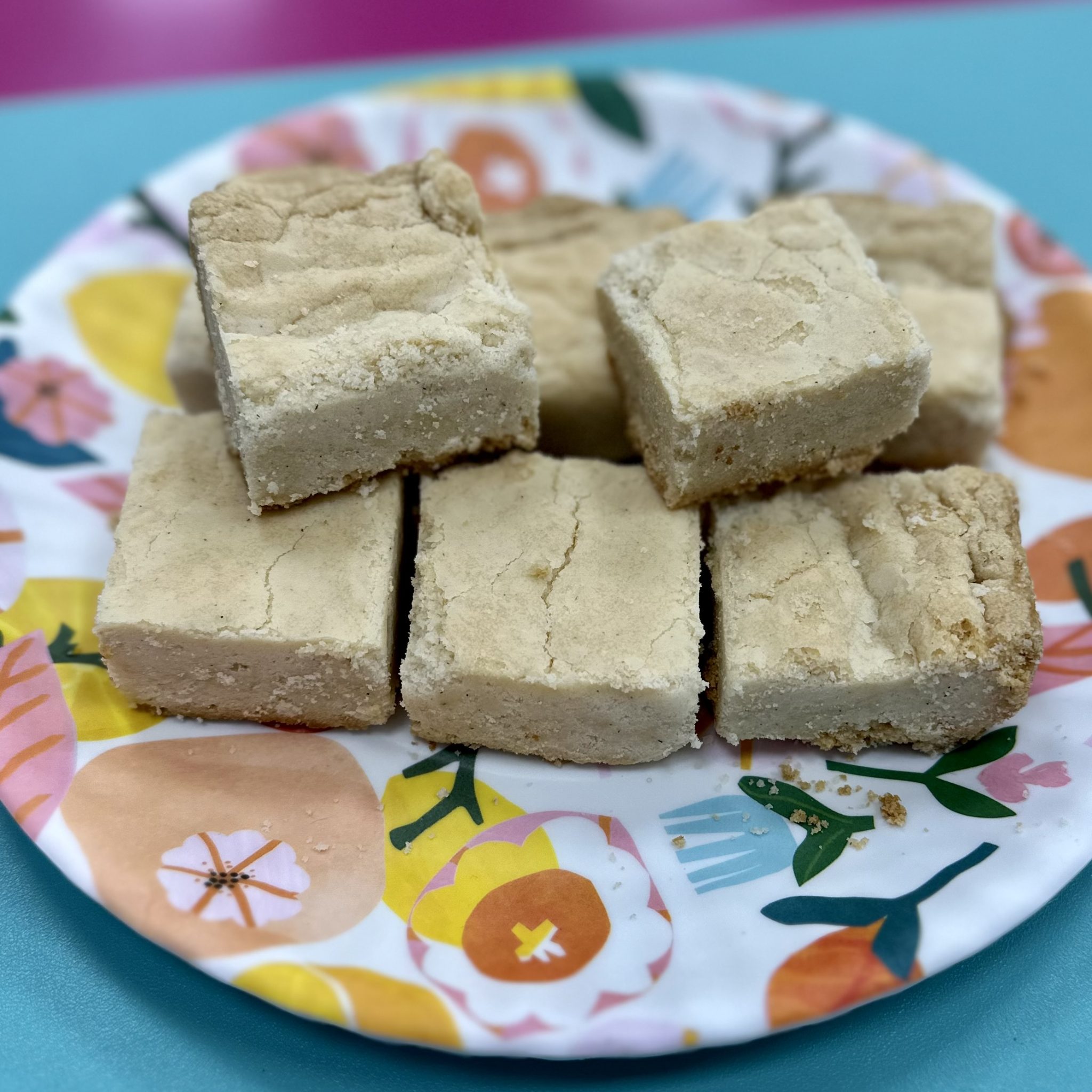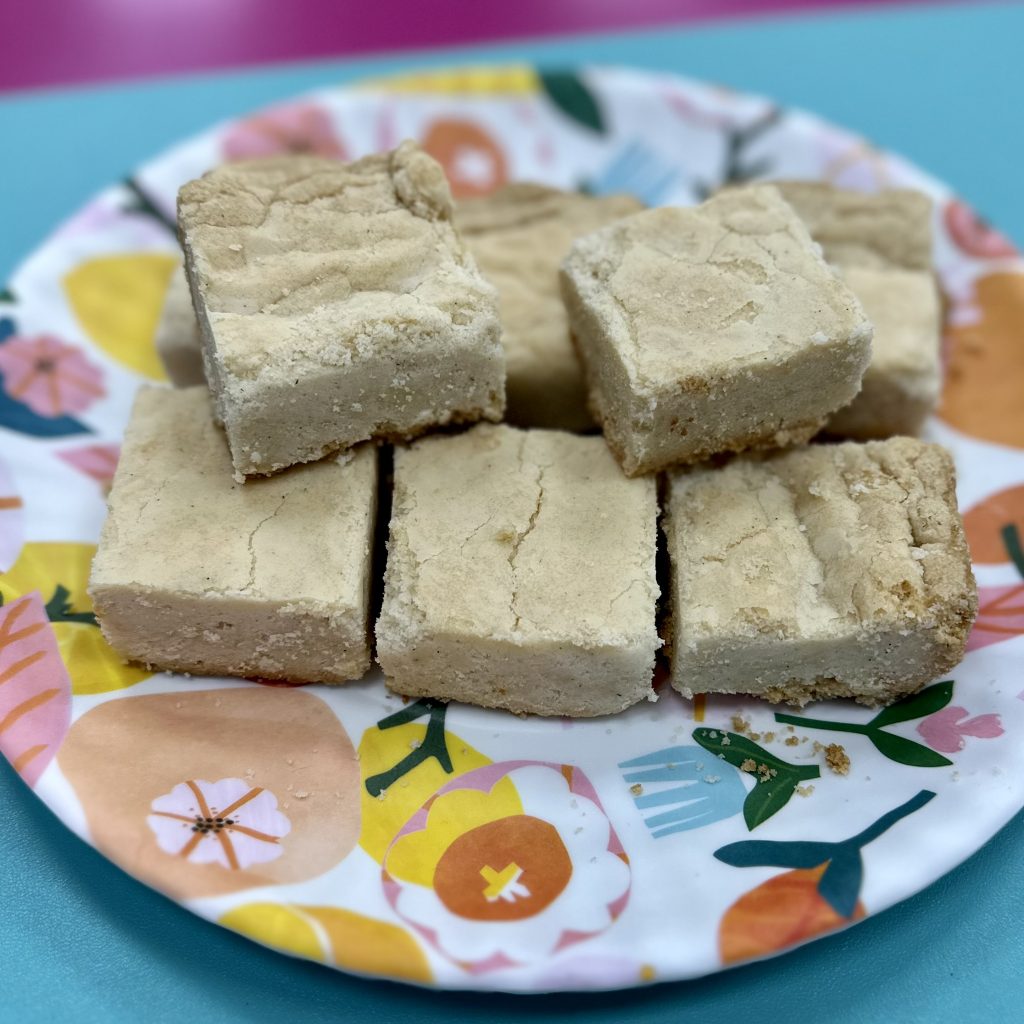 If you follow me on Instagram, you've noticed many iterations of Ted Lasso Biscuits in my stories the last couple of months. I've tried many variations of this recipe, which claims to be the official recipe. I've made it with dairy and without, I've made it with and without xanthan gum, I've topped it with a sprinkle of sea salt, added vanilla bean paste, cooked in a buttered pan and in a parchment lined pan. I don't think I have baked anything but these biscuits since March Muffin Madness over on Gluten Free Easily, where I contributed a recipe for Taste of the Tropics muffins.
Today I'm going to share all of my findings with you and then the easiest recipe for "biscuits," or shortbread as we Americans say.
Official Ted Lasso Biscuits, gluten-free and dairy-free baking tips
Butter (and dairy in general) browns faster than recipes that do not contain dairy. If you can tolerate butter, you'll get a more golden top on your biscuits. If you are dairy-free, I got the best results with Miyoko's butter. Earth Balance worked well, too, it just felt a bit oily in my mouth.
Flour. You've seen me say it before: use the flour the recipe developer used for the best results. Here is my favorite gluten-free flour blend. It is what I used in make these.
To gum or not to gum… I have made this recipe both with and without xanthan gum. If you are gum-averse, you can get away without using it here. I prefer it with, it's a wee bit less crumbly. But it isn't a deal breaker.
Buttered pan versus parchment lined pan: the bottom of the biscuits browns better with a buttered pan. The biscuits cut better and are easier to remove with a parchment lined pan. When using either Earth Balance or butter, I keep the papers from around the sticks of butter and use those to butter my pan instead of using a cooking spray. I also keep these parchment sheets in my kitchen, super handy to grab in a hurry.
8×8 pan versus 9×9 pan: I first made these in an 8×8 and the photos show biscuits that were made in an 8×8 pan. I initially thought they were too thick and tried in a 9×9 pan. If you want your biscuits to look like those Rebecca Welton enjoys, a 9×9 pan is the right size. If you want a solid, buttery biscuit, I prefer the 8×8.
Cooking temperature: I modified both the cooking temperature and time from the inspiration recipe. 325 is just low enough to let them cook nicely through without getting too solid or brown a base. 300 took FOREVER. The time difference between the 8×8 and the 9×9 batches was minimal, start on the low end and keep an eye on them if you are baking in a 9×9.
Pink boxes. Are they really Biscuits with the Boss if they don't come in a pink box? NO! You need THESE.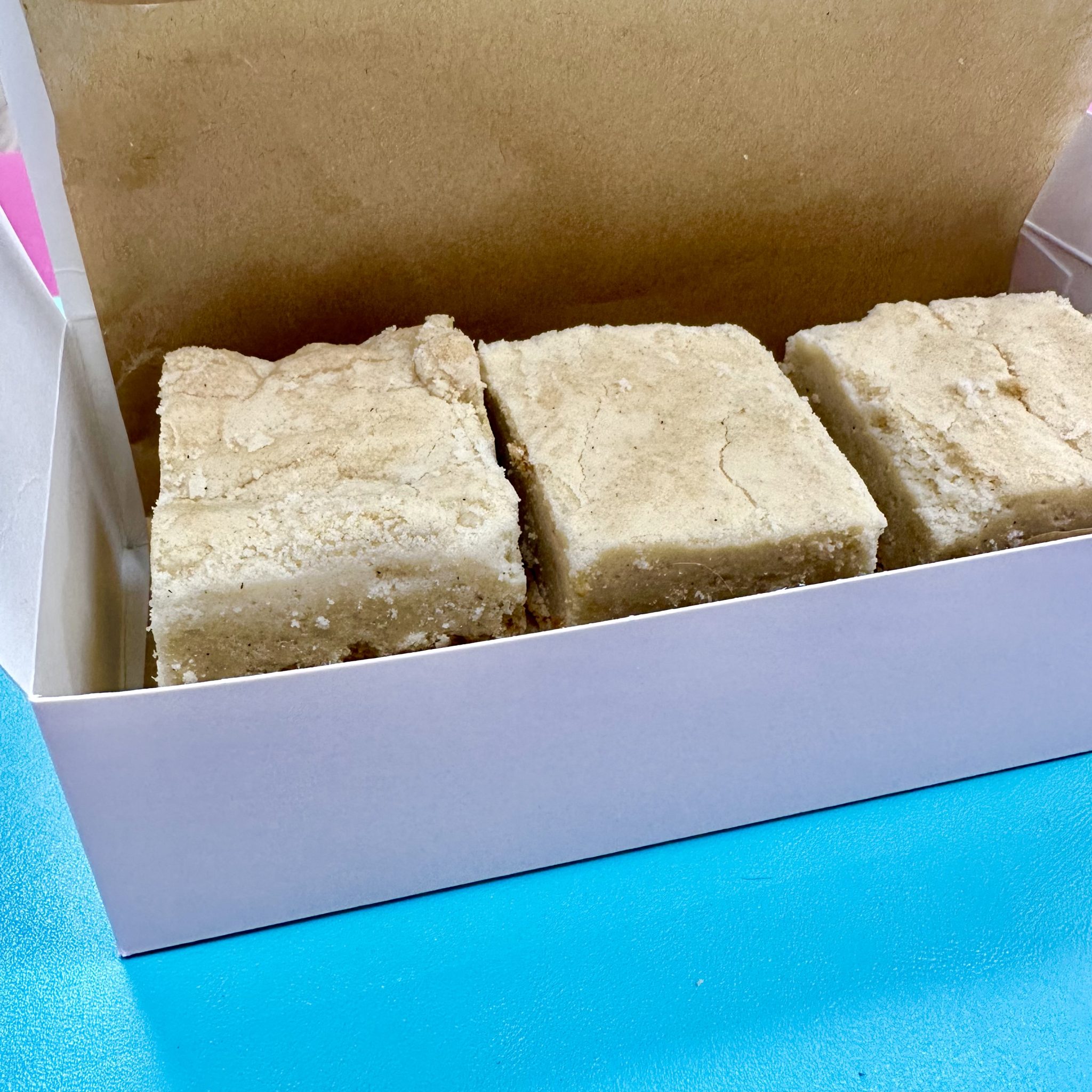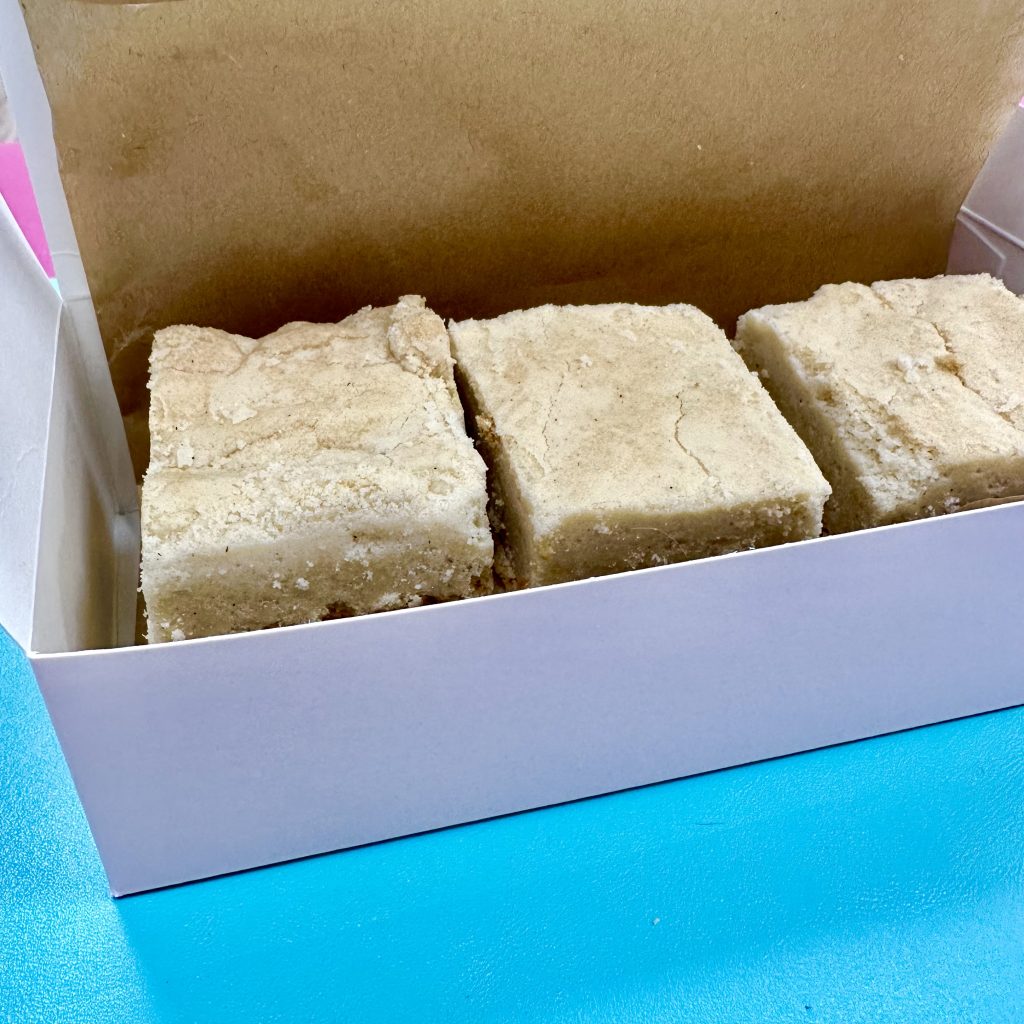 Let's get into it, here's the recipe for The Official Ted Lasso Biscuits, gluten-free and dairy-free: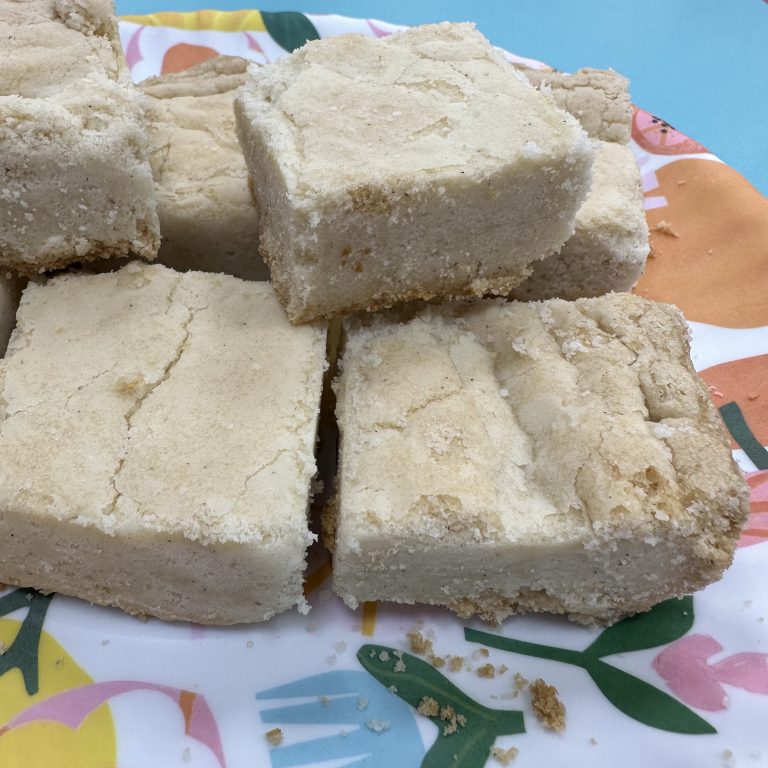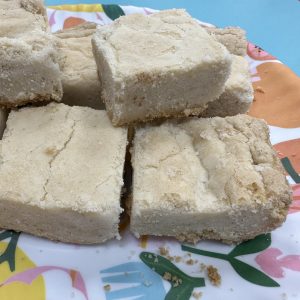 The Official Ted Lasso Biscuits, gluten-free and dairy-free
Enjoy Biscuits with the Boss with this simple recipe for shortbread biscuits
Ingredients
1/2

teaspoon

xanthan gum

1/4

tsp

sea salt

1

cup

unsalted butter, room temperature (two sticks)

1

tsp

vanilla bean paste

3/4

cup

powdered sugar
Instructions
Preheat oven to 325 degrees.

Sift flour, salt and xanthan gum into a mixing bowl and set aside.

Using a hand mixer or stand mixer, mix butter and vanilla bean paste on high speed until fluffy and lighted in color, 2 to 5 minutes.

Gradually mix in powdered sugar a bit at a time. Mix until well combined, light and fluffy.

Add flour, salt and xanthan gum mixture and mix until combined. This will pull together with a sugar cookie dough type texture.

Butter an 8x8 or 9x9 square pan or alternatively line with parchment paper.

Pat dough into pan until it is a uniform thickness.

Refrigerate for 30 minutes before baking.

Before baking, cut into 8 rectangle or 16 square biscuits.

Bake at 325 for 30-37 minutes, until lightly browned on top. Allow to cool before serving.