This post contains affiliate links. See my disclosure for more information.


While this isn't a recipe for food, it's a recipe for how to save valuable time! In the last couple of weeks, two wonderful blogger friends have mentioned a terrific new service, Unroll.Me. After signing up myself (which is free), I was SOLD. I've got to share this with you…
You know how you bought that one thing that one time and you intentionally did not choose to get constant emails from that company promoting their latest greatest gadget but yet your inbox is overflowing? Or maybe like me you've gone on a massive unsubscribe campaign, but days later it still seems like your inbox is all junked up with emails you never open.
Enter Unroll.me! It's a super easy way to unsubscribe from lots of lists all at once. And for those lists that you want to stay part of, you can get all of the messages in one e-mail a day. You even get to choose what time the email arrives!
I have to tell you, this has been the biggest time saver for me. When I check my email now, I get messages from wonderful folks like you, blogs I want to read, essential business communications, but not advertisements that aren't applicable. The ads I do want to receive now arrive in the evening, a time when I can read them without interrupting work.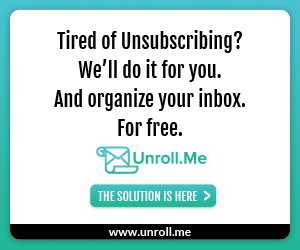 Give it a try…and leave me a comment letting me know what you think. It's BIG for me and I hope it is for you, too!
Full Disclosure: This post contains an affiliate link. Should you click on it and use the service mentioned, I may make a few pennies. Affiliate links allow me to continue providing high quality, original recipes and content to you at no charge. I appreciate your support!