This post contains affiliate links. See my disclosure for more information.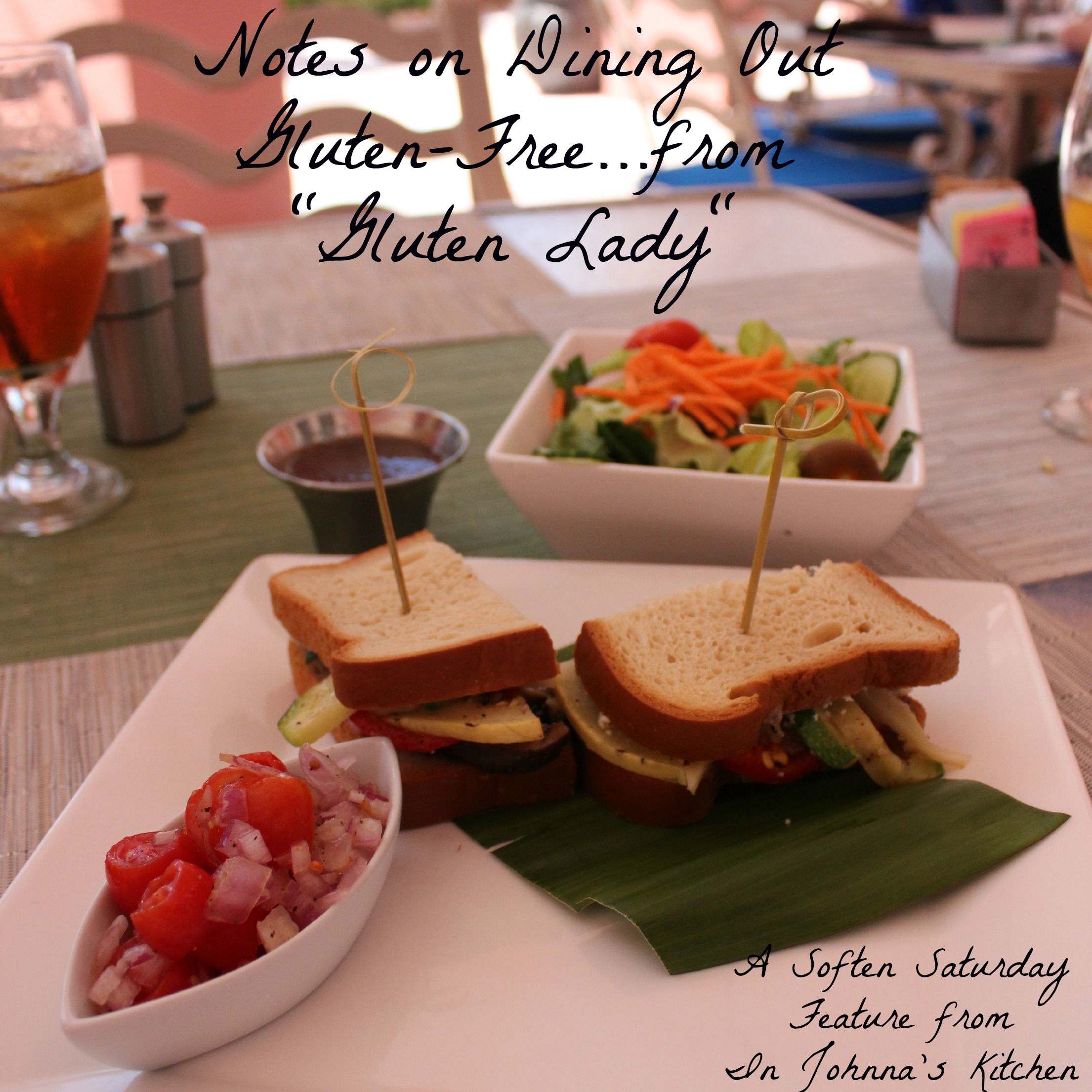 This week's Soften Saturday is a collection of thoughts on a recent dining out experience and how I can be softer. Unlike my usual "I Ate Here" posts where I share a recommendation on a great locally-0wned, non-chain restaurant, this week I'm writing about the challenges of being soft to ourselves when dining out with a dietary intolerance or allergy. While it can be (and often is) easy, there are times when I have trouble being soft to myself, being kind about the whole experience.

I went out with my favorite fella last week to celebrate a friend's birthday at a biergarten. I perused the menu beforehand, scouted out items that might work for me, but left home with trusty snacks in my purse. (God forbid I experience hunger!) While parking the car, I commented that I don't really enjoy dining out with groups of people who don't know about my food intolerances. I don't like being the picky eater at the table or explaining myself. Just when I think I'm completely comfortable with Celiac disease, I get kind of embarrassed about standing up for myself. Perhaps in part due to articles like this and this, I worry people will think I'm whiny, entitled, just on a fad diet or have an eating disorder. My favorite fella reminded me that it's always a great opportunity to educate someone who doesn't know, because sure enough a month later they or someone they know will be diagnosed with a food intolerance or allergy. He's right, every time I eat out I have the opportunity to set a good example. Plus I need to make sure I eat food that keeps me healthy. And our friends surely understand this.
But darn it, sometimes it just sucks. I asked the hostess when we were being seated if they had a gluten-free menu. I was met with a deer-in-the-headlights look, she had no idea what to do! She looked at the menu, looked at me, then told me that I for sure couldn't have any of their sausages, since they contain meat. (Note she didn't mention the spice blend, the processing, just that meat contains gluten.) This is where it got weird–I never mentioned that I don't eat meat. She thought all meat contains gluten. Well, except the chicken vegetable soup which she deemed safe for me to eat. So then she picked through the vegetarian items on the menu and with some very pointed questions from me, I was able to figure out it was best for me to not eat there. But I did locate a good selection of gluten-free ciders available. So I had a couple ciders, and LOTS of great laughs with friends. Oh, and I kicked my favorite fella's butt at Ms. Pac-Man. There's no way he's ever gonna beat me. Ever.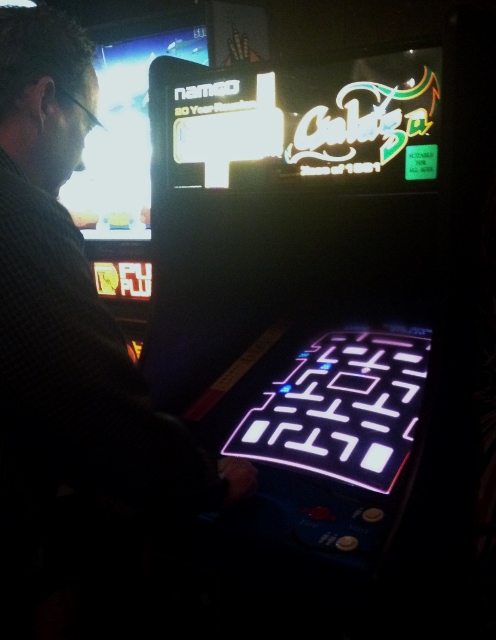 And then the check came. My fella handed it to me and pointed at the top. I had been labeled Gluten Lady by the server. That's how she identified me. Others in our group were identified on their checks by clothing or hair color. Not me, I was identified by my food intolerance. Sigh.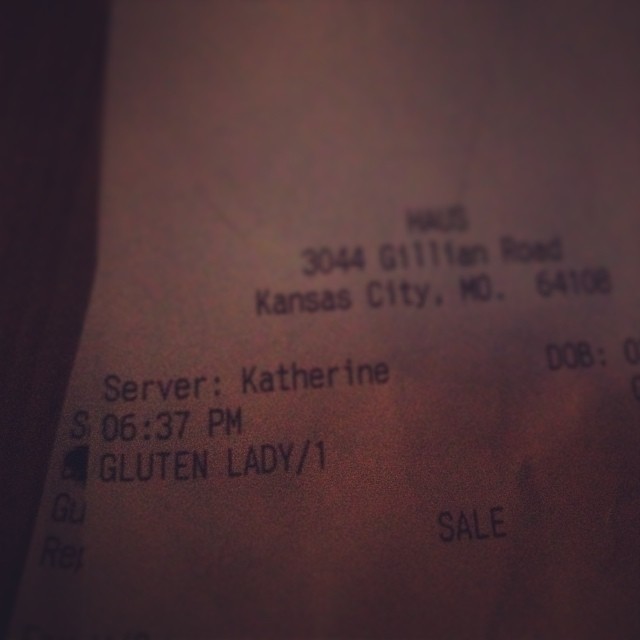 What follows below is my list of basics for dining out gluten-free or other-free. There's so much more to be said on this topic but I'm focusing on ways to be kinder to myself, to be okay with standing in my truth that I cannot have gluten. I'm more focused now than ever on being soft to myself when dining out and want to encourage you to be kind to yourself, too…and not afraid to speak up for yourself.
1. Don't be afraid to ask questions. If the server doesn't know, I will get a manager. If the manager makes you feel less than comfortable about dining there, graciously pass. There is no reason to eat food that may make you sick. (And if you are like me and don't like making a big deal about it, remember that the people who you are dining out with don't want you to be sick either. They don't mind your questions. And if they do, well…)
2. It's perfectly okay to celebrate with friends, to meet friends for dinner, but not eat. I joke often about my liquid meals and probably have a reputation as a bit of a lush, but I'm perfectly fine with not eating and enjoying the company of friends. I don't need food to do that. I often have a glass of bubbly or cider while my friends eat if we are meeting somewhere that doesn't work for me. I'm also going to work harder to let my friends know in a soft way that I'm okay with this. I don't want them to worry about me not eating. It's more important to me that we spend time together and have fun, whether or not I can eat there. When we celebrate my birthday, I pick the restaurant. I'm sure not going to dictate where we go for other people's celebrations. Celebrating doesn't have to be about the food.
3. Eat before going to a questionable restaurant and pack a snack. Friends tease me about what's in my purse because I've usually got about a week's worth of groceries stashed in there. One day I may move beyond this, but for now I find some comfort in knowing I've always got something to eat if we end up someplace that doesn't have food that works for me. On the night I wrote about above, I had a handful of dried fruit and nuts on the ride home. And then I had dinner at home. Not a big deal. I still had a terrific time with friends!
4. I'm going to remember to always be kind to servers. I have an opportunity to help them understand what my needs are. Even if they can't help me today, it may prove beneficial in the future. No reason for me to be rude to them. And speaking of servers, when I hold a spot at one of their tables and don't eat, I tip generously. I'm aware they are expecting seats to be held by people who eat. Between my fella's hearty appetite and my generous tip, I hope we make up for two light eaters who could have occupied our seats.
And now it's your turn….What would you add to this list to make dining out gluten-free or dairy-free or vegetarian or other-free a better experience?