This post contains affiliate links. See my disclosure for more information.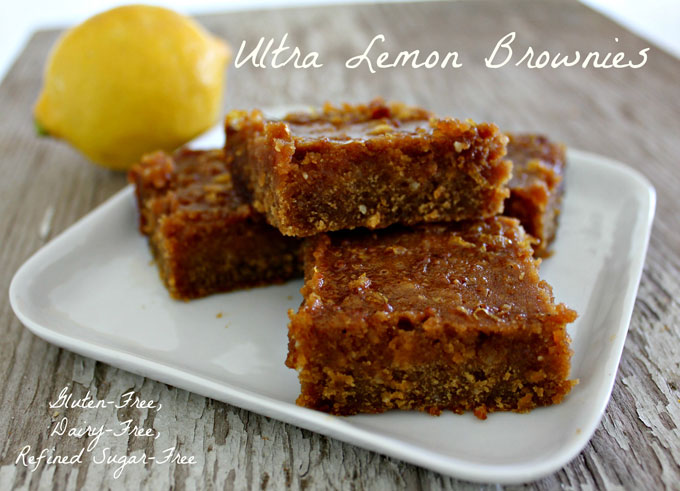 If you like lemon, this post is for you. These Ultra Lemon Brownies are by far the most lemon-y sweet treat I've concocted. And they also happen to be gluten-free, dairy-free and free of refined sugar!
I've got to tell you how this recipe came to be. A friend shared a recipe on Facebook. You know the kind, where the entire recipe is shown in a post? So first, I'm gonna ask that you consider a different way of sharing recipes. Most bloggers and original recipe developers would love it if you would instead share a link to our site, where you can view the entire recipe with instructions. You're more likely to discover more culinary awesomeness when visiting our page. And the odds of the recipe circulating on Facebook being accurate to the original? Pretty slim. Plus it's just nice when folks drop by our pages for a visit. It certainly encourages me to keep creating recipes when you do!
So umm…back to that recipe. My friend asked if it was possible to make that recipe healthy. Because everyone has a different version of what is healthy, I asked what needed to be modified to make it work for her. A great dialogue occurred from there, with her friends chiming in that it would be great if it could be made gluten-free. Done. And then refined sugar-free. Also done. I got this. So my pet peeve about sharing complete recipes on Facebook? It turned into a fabulous new recipe that worked for lots of folks! One day maybe I'll get over this method of sharing, especially if it results in recipes that are healthier or creates options for folks with dietary intolerances and allergies. I get that folks who don't create recipes have a different outlook on this or maybe don't think as much about it as I do. It's a good place for me to be softer.
Then I spent a bit of time trying to track down the originator of the recipe that is circulating on Facebook for Lemon-y Lemon Brownies. Turns out it's a lovely lady, Rita. You can visit her gluten-full blog May Day recipes. She's also on Facebook! If you see her Lemon Brownies recipe circulating around, you might share the link to her page. She's got great step-by-step photos, something you just can't get in someone's Facebook status. Usually you don't get that here either, it's a pretty nice gift when a blogger goes to that much trouble. I'm excited to have found her blog!
A few quick notes about these brownies: The recipe Rita created features beautiful yellow bars topped with a powdered sugar glaze. Nothing brown about them. But my version? Definitely brown because I've used coconut sugar and maple syrup. Don't let that fool you, these have a wonderful lemon flavor that is light and summer-y. The texture is very much like a dense, moist brownie. You'll also notice I've used cashew meal. You could use almond meal, I'm just enjoying the relatively new addition of cashew meal to the shelves at Trader Joe's.
Ok! On with the show. Here's the recipe for you!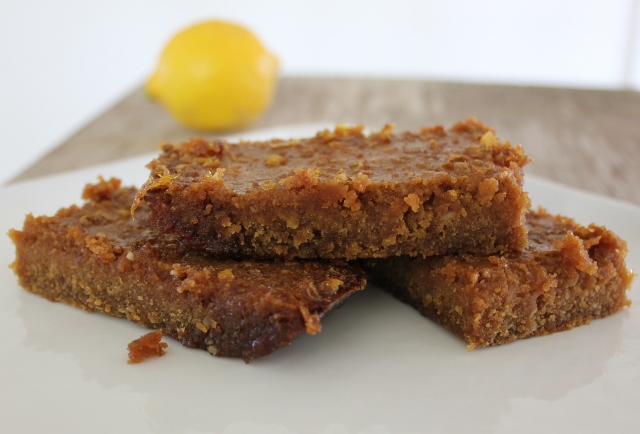 Ultra Lemon Brownies, A Recipe Remodel Challenge
Ingredients
For the Batter:
3/4

Cup

coconut sugar

1/2

Cup

cashew meal or almond meal

1/4

teaspoon

sea salt

1/2

cup

softened non-dairy butter

(I use Earth Balance soy free)

2

eggs

, large, from happy hens

2

Tablespoons

lemon zest

2

Tablespoons

lemon juice
For the Glaze:
1/4

cup

coconut sugar

2

Tablespoons

lemon juice

2

Tablespoons

maple syrup

1

Tablespoon

lemon zest
Instructions
Preheat oven to 350 degrees.

Prepare an 8 x 8 inch baking dish by lightly oiling with coconut or grapeseed oil.

In bowl of stand mixer, combine coconut sugar, cashew meal, Johnna's gluten-free flour blend and salt. Mix just a few seconds to combine.

Add softened non-dairy butter, mixing about 2 minutes to combine well.

In a small bowl, combine eggs, lemon zest and lemon juice. Whisk with a fork until combined.

Add wet ingredients to the dry ingredients in the bowl of the stand mixer. On medium, mix for 2 minutes until all is well combined.

Pour batter into 8 x 8 baking dish. Spread with a spatula.

Bake for 23-25 minutes, until just lightly browned around the edges.

While the brownies are baking, mix all of the glaze ingredients in a small bowl. Set aside.

After 23-25 minutes, remove the brownies from the oven. While still hot, pour the glaze over the top of the brownies. It will soak into the brownies, giving them that dense brownie texture.

Allow to cool, then cut into 16 brownies.