This post contains affiliate links. See my disclosure for more information.


I'm writing all about my adventures in Detroit this week. If you want an introduction to why I'm writing about Detroit, read this. Make sure you follow along all week. Lots of great stories to share and a Made in Detroit giveaway to wrap up the week.
As I often do when visiting an area new to me, I reached out to my friends who live in or near Detroit for restaurant recommendations. In Detroit, this was particularly easy as my friend Carey's husband is gluten-free. Bonus! Carey shared lots of pointers on where to eat and what to see. At the top of her list, Mudgie's Deli.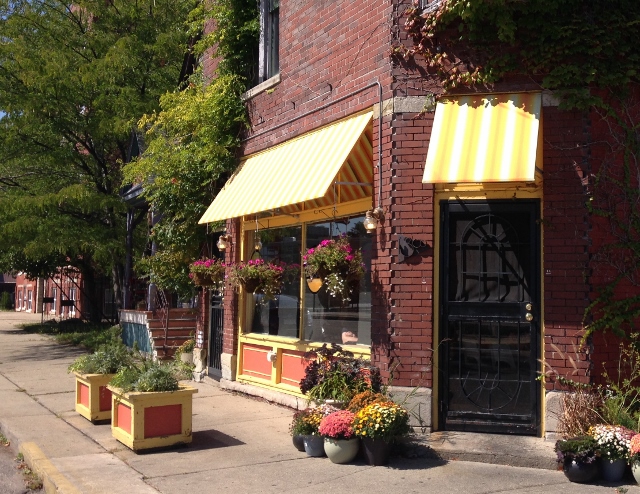 Carey said to me, "You have to go to Mudgie's Deli. They have great sandwiches, everything is fresh, the owner Greg tries very hard to work with local farm fresh companies and you can get sandwiches on gluten-free bread." SOLD! I was in…but then she sweetened the deal by telling me that Mudgie's is owned by the son of a mutual friend of ours. What?!? If I were ever to think I lived in a great big world of unconnectedness, this would disprove my thinking. Carey and I are in the same line of work, but this is a first. Our world is truly small and wonderfully interconnected. (It should also be noted here that Carey recommended a pizza place in Detroit. We chose to go elsewhere and had an amazing pizza BUT last week a list of the nation's best pizza places came out and Carey's recommendation was on that list. Now I have to go back to Detroit and visit every single place on Carey's list!)
So, Mudgie's it was. In fact, Mudgie's was our very first stop in Detroit. We drove through Canada that morning to get to Detroit in time for lunch. What a gorgeous drive.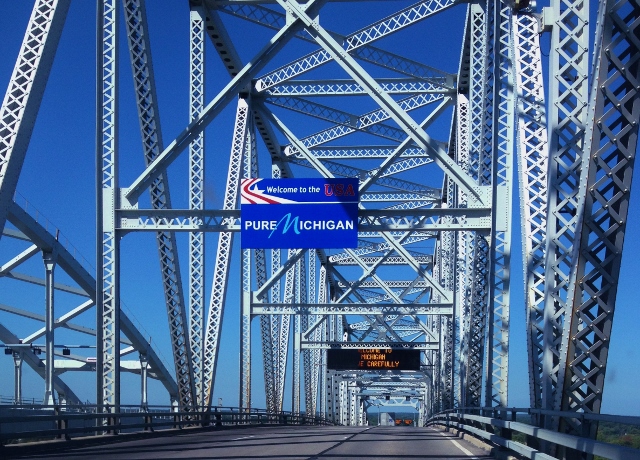 Rolling into Detroit, we braced ourselves for the horrible crime and destruction everyone told us to expect. Doors locked, windows rolled up, eyes forward. Turns out we were entering Detroit's oldest neighborhood, Corktown. Also turns out we felt very safe walking the streets in Corktown. As we parked the car across the street from Mudgie's, there were kiddos from a neighborhood school playing outside. Some of the homes in this neighborhood date back to the 1840s. I stopped to take a photo of this lovely: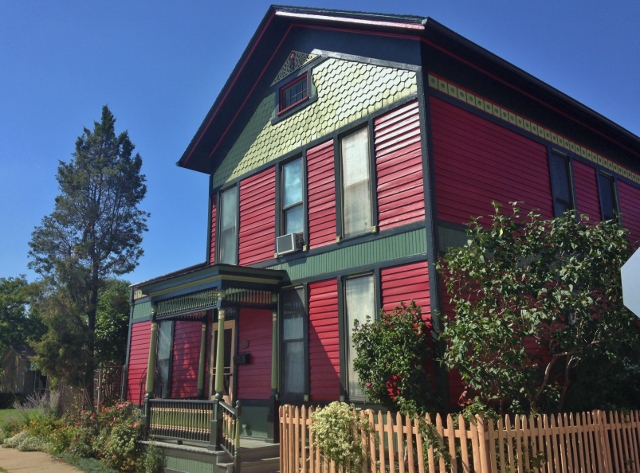 Carey and Jeff had already snagged a table inside during the busy lunch rush and were waiting for us. It's always nice to share a meal with someone who gets your food issues and even better when they have dined at a place before and can share recommendations!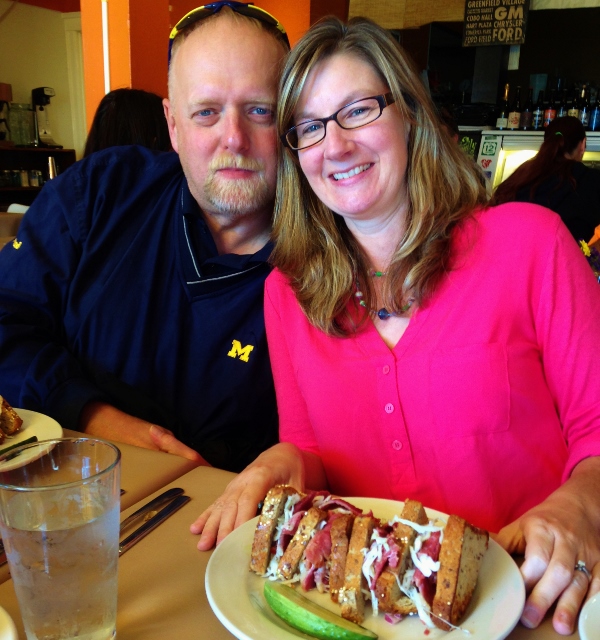 Our server was quick to arrive at our table and helpful in answering my questions. I attempted to order potato salad, but she stopped me, sharing that they use a housemade beer mustard in their potato salad so it isn't gluten free. That's not something many servers would catch. Definitely in the know at Mudgie's! I ordered the Hippie Dippie Sh*t Man sandwich, with avocado, spinach, sunflower sprouts, walnuts, dried cranberries, apples, carrots, cucumbers and a raspberry vinaigrette. It came out on beautifully toasted gluten-free bread.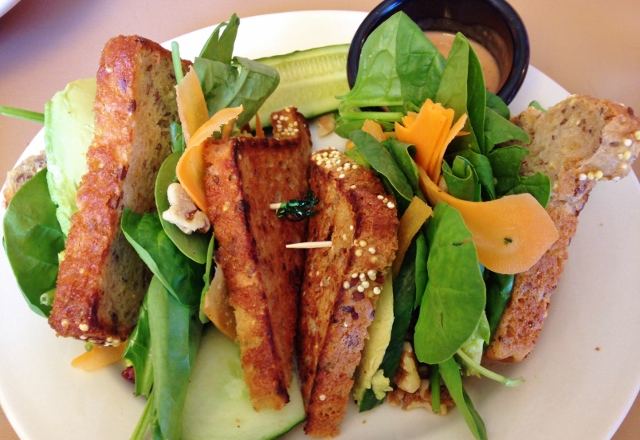 This is where I confess to you that I'm not really a big fan of sandwiches. I have maybe one sandwich a month and that's because there's nothing else to eat. But if I lived within an hour of Mudgie's, they would get tired of seeing me. This sandwich–I would have eaten two right there if it wouldn't have raised a few eyebrows. Seriously, the best sandwich I've ever had.
We inquired about the gluten-free bread used for their sandwiches. It was from French Meadow. I enjoyed eating at their restaurant in Minneapolis and am now on the hunt for their bread closer to home. I can't re-create the sandwich awesomeness coming from Mudgie's, but I'd be more likely to enjoy a sandwich on occasion if it were on this bread.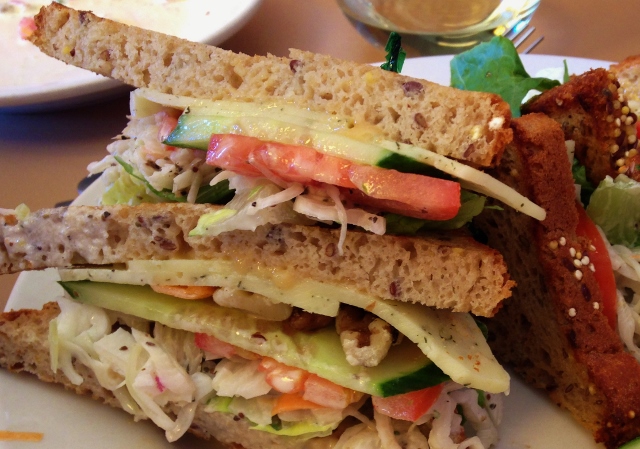 Here is where I'm supposed to tell you what my dining mates ate. I have only a vague recollection. My fella had the Vedgie, shown above. Carey and Jeff both had variations on the classic Reuben. I wish I could tell you more about them, but I was too busy eating my own sandwich. I would sure like another Mudgie's sandwich right now.
Both of the guys ordered chips with their sandwiches. The chips were from Better Made, a Detroit company founded in 1930. The chips are fried in cottonseed oil, as opposed to the canola, corn or soy oil used by many chip companies. They are still, to this day, being made in Detroit. They even make them with Michigan potatoes 8 months out of the year! (Psst! I've got a giveaway coming up on Saturday. You just might see some of these tasty chips there…)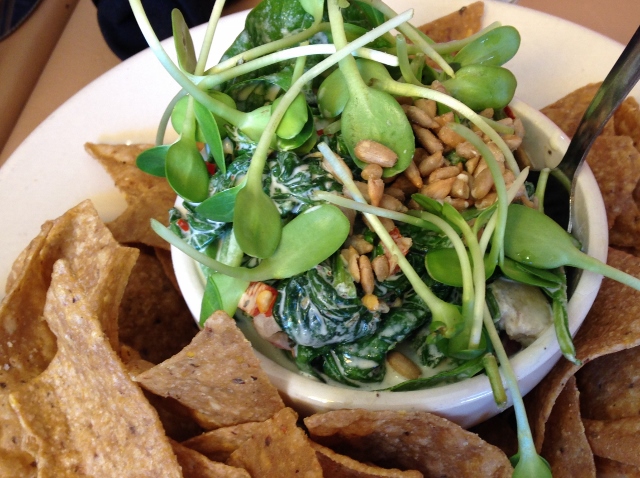 Instead of chips, I ordered the Spinach spread with tortilla chips. It's fresh, chopped spinach blended with garlic, artichokes, red onion and sunflower seeds. Did I mention garlic? It's super garlic-y and the best thing I've had on top of a chip. I might have said aloud I would like this by the gallon. I wasn't kidding. If you are flying from Detroit to KC, please holler at me. I'll pay you to bring this back to me. Also, a sandwich please.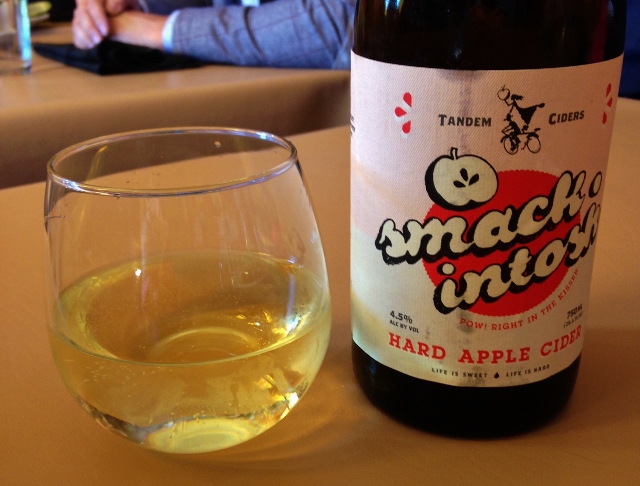 With my lunch, I had a Tandem Cider, a hard cider made in in Michigan. If one is going to drink a fermented apple beverage, might as well be one made in a state known for its apples! There were several varieties of this brand to choose from on the menu. If you aren't gluten free, you'll be impressed with their beer selection. I noticed on Twitter they are offering something like 18 pumpkin beers. The wine and beer list was at least as large as the food menu.
A few more things I want to share about Mudgie's: they make peanut butter in-house. You can get a PB&J with locally made Slow Jams or with Michigan honey. If you don't see a sandwich or salad on the menu that is exactly what you want, you can build your own. (I want to build a peanut butter, sharp cheddar and apple slice sandwich next time I visit.) If you are a meat-eater, you should know they roast their meats right there. They have ice cream made in Michigan and toppings to go with it, also made in Michigan. Salad dressings are all made in-house. This place is just the real deal. I can't believe you've read this far and aren't in your car, headed to Mudgie's Deli. I'm only 751 miles away. I'll meet ya there!
One last tidbit on Mudgie's Deli and Corktown: the new Batman v. Superman: Dawn of Justice movie is currently being filmed in the area. If you happen to share a sandwich with Ben Affleck or a cocktail with Henry Cavill while visiting the area, I want to hear all about it.
EAT WITH: Minimal caution. The staff is super well-informed about dietary concerns and did their best to make sure I ate safely. In addition, Mudgie's was recommended to me by someone who also must eat gluten-free and has eaten there numerous times. That speaks highly for this deli!
Mudgie's Deli is located at 1300 Porter Street, Detroit, Michigan, 48226. 313.961.2000. On-street parking seemed ample during lunch. Brunch, Lunch and Dinner are served.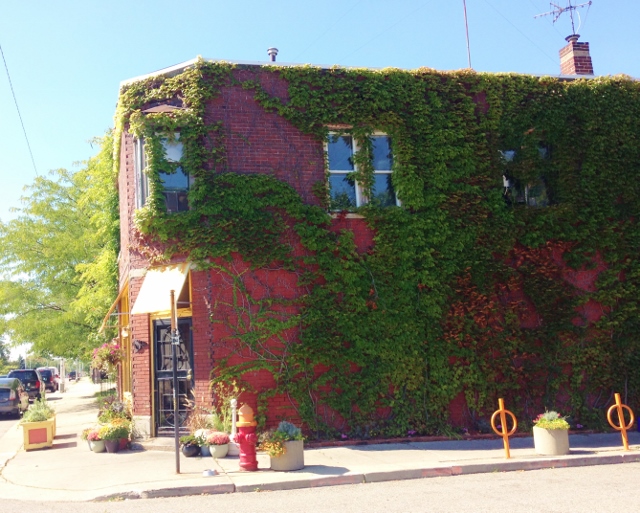 Johnna's I Ate Here series is not intended as a restaurant review, rather a summary of Johnna's experience dining out. You may or may not have a similar experience. Menu prices, items and ingredients featured were current at the time of writing. Please read the menu carefully and ask your server for assistance in ordering if you have dietary restrictions. It's a good idea to call ahead and let the restaurant know of your food needs. If you are eating gluten-free or specific allergen-free, Johnna suggests informing the restaurant staff of this, so they know this isn't a food choice, but a necessity, and consumption will result in illness.