This post contains affiliate links. See my disclosure for more information.


I'm writing all about my adventures in Detroit this week. If you want an introduction to why I'm writing about Detroit, read this. Make sure you follow along all week. Lots of great stories to share and a Made in Detroit giveaway to wrap up the week.
If you follow me on Instagram, you know I am on a never-ending quest to find a gorgeous sunset. The search in Detroit led me to the Renaissance Center, GM's world headquarters. The Renaissance Center is a group of seven interconnected skyscrapers. The central tower, which is also the tallest, houses the Detroit Marriott at the Renaissance Center. It is the third tallest all-hotel skyscraper in the western hemisphere. Atop that tower 72 stories up is a lovely restaurant, Coach Insignia. I plan on dining there in the very near future. But on this trip I was searching for a great happy hour deal and a good waterfront view of the sunset. I found both at Volt.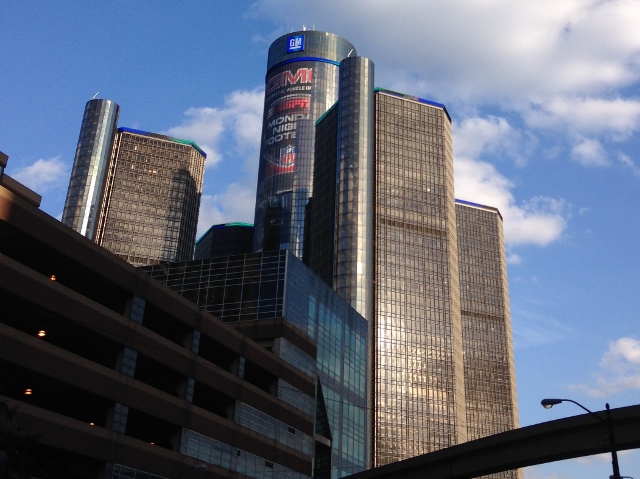 The Renaissance Center is located along the Detroit International Waterfront, also referred to as the Riverwalk. It's 5 1/2 miles of trails, a cruise ship port, a marina, high rise condominiums, restaurants and little pocket parks. We walked along the waterfront from the western edge near the Ambassador bridge and enjoyed seeing many sculptures, including Transcendence.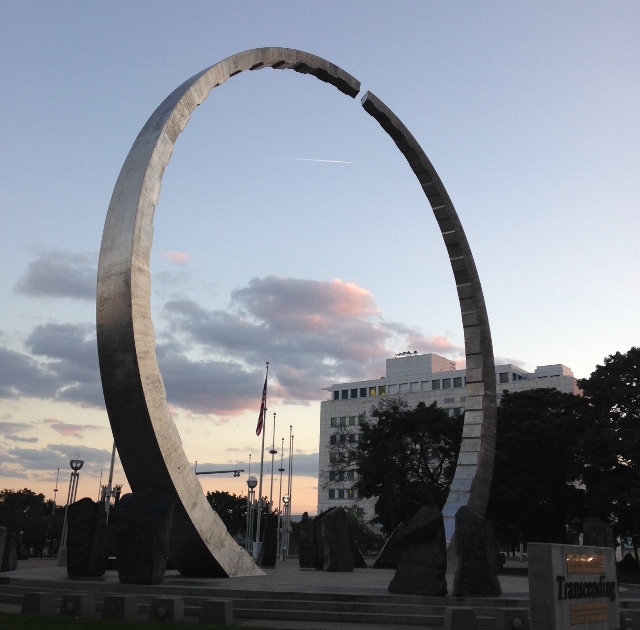 We entered on from the street on Level 1 of the Marriott and took an elevator up to Level 3, super easy to get there once inside even though the complex is huge. You can also reach the Renaissance Center on the People Mover. Volt has a lengthy bar and many tables in a large, open area of the hotel. Floor to ceiling windows frame the skyline and the Detroit river. Looking south across the river, you can see Windsor, Ontario, their skyline and the Caesars casino. I'm pretty sure I've never stood in the U.S. before and looked south into Canada.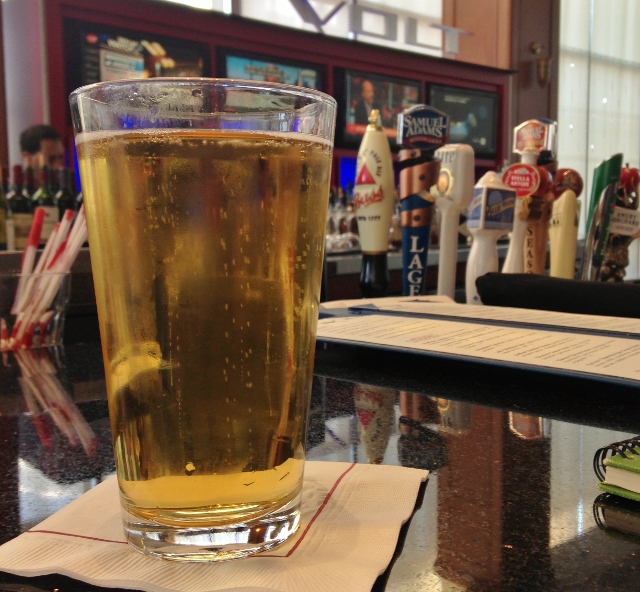 Grabbing seats at the bar, we were quickly greeted by a bartender who offered up their happy hour specials. They had Angry Orchard hard cider on tap and it was included in their happy hour specials! We both ordered a cider and spent a few minutes browsing the menu. We were on the hunt for a light nibble, as we planned to have dinner at a pizza place after the sunset.
The bartender asked what looked good to us. I told him the hummus sounded great, but I couldn't have the pita because of gluten. I asked if I could get veggies instead and get the pita on the side for my gluten-eating husband. He said that was an easy enough fix and let me know that he could help with less-easy fixes, too, if something else grabbed my eye. He said he would also be happy to touch base with the chef. Wow!
From my perch at the bar, I noticed a nice patio area attached to Volt. I asked the bartender if they served there and he told me they don't have servers on the patio but anything we ordered could be taken out to the patio for a better view of the sunset. We still had plenty of time before the sun slipped beneath the horizon, so we decided to stay inside for a bit. I'm glad we did–the bartender would tell of us a restaurant we HAD to visit while in town, scurry off to mix a cocktail, scoot back by and rattle off a couple more recommendations…this went on for quite a bit. I wasn't kidding yesterday when I said I have a list six pages long of places in Detroit recommended to me by locals. Not that I showed up ill-prepared, I had touched base with the Convention & Visitors Bureau, where I obtained another lengthy list. I left home thinking I needed a week to eat my way through Detroit. Now I know a month might not do it…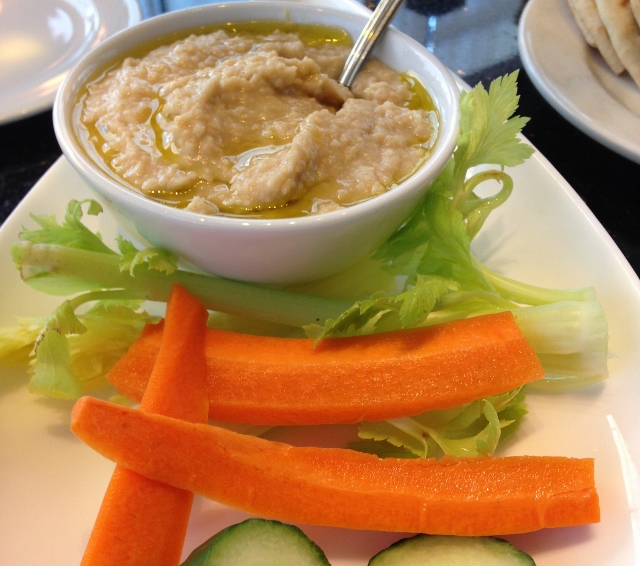 Our hummus arrived quickly. Take a look at that hummus made in house. None of that super smooth stuff that comes from a plastic tub. This was good stuff! The veggies worked out perfectly for me. My fella scooped hummus out onto a separate plate and enjoyed it with locally made pita. With plenty of Greek heritage in Detroit as well as a large Arab population, you're guaranteed a nearby bakery is turning out delicious pita bread. Rarely do I miss gluten, but that pita caught my eye!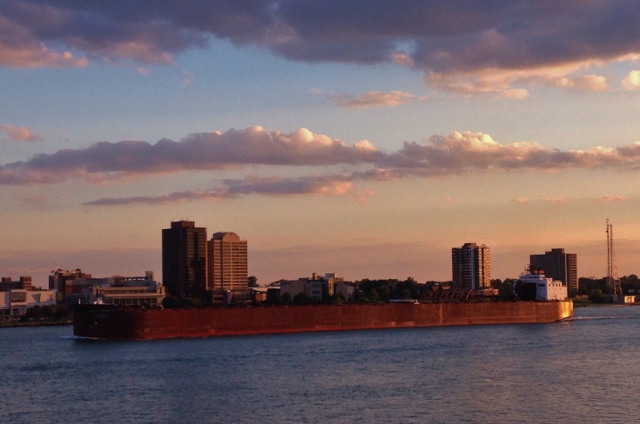 Hummus devoured, we took our drinks out to the patio to get a good look at the river and the sunset. The patio spreads out onto a lovely terrace that wraps along the waterfront side of the Renaissance Center. We had the entire place to ourselves, a lovely spot to take in the sunset. There were plenty of folks three stories down along the Waterfront trail enjoying the evening as well. Perfect spot to take in the sunset, with views of the Ambassador bridge connecting the U.S. and Canada, watch the ships cruising along the river and take in Detroit's skyline.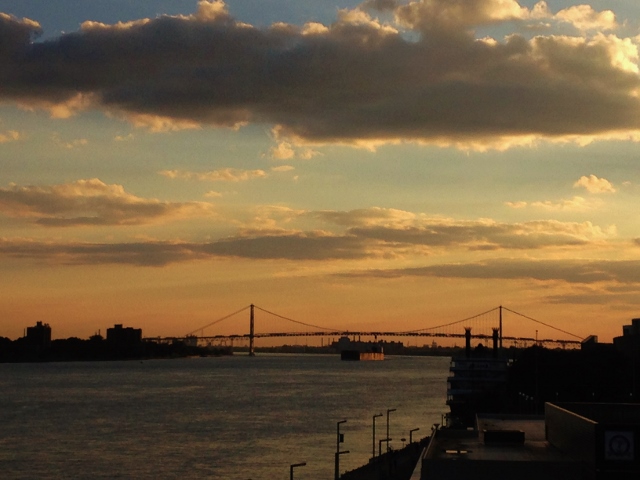 After the sun had set, we decided to walk back across downtown to our hotel (we stayed at the Westin Book Cadillac, more on that soon) and get our car. Detroit style pizza awaited. That's what's up tomorrow, a gluten-free pizza that nearly brought me to tears, in a good way.
Oh, and about that sunset: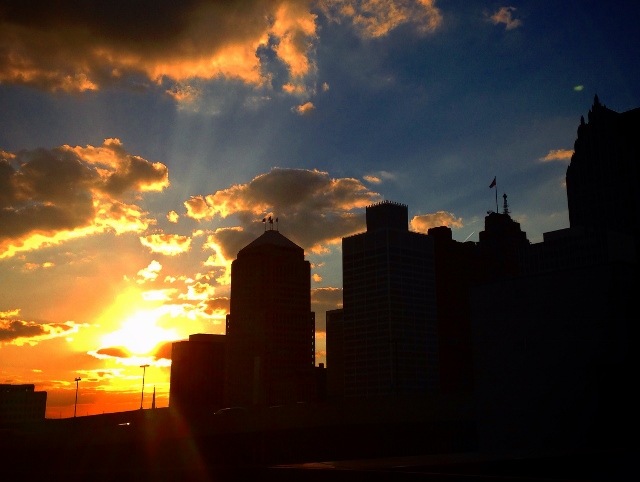 EAT WITH: Minimal caution. The staff was knowledgeable and readily offered to go beyond my request to see if anything else could be modified to meet my dietary restrictions.
Volt is located in the Marriott Tower of the Renaissance Center, Level 3, 400 Renaissance Center, Detroit, MI, 48243. 313.568.8000.


Johnna's I Ate Here series is not intended as a restaurant review, rather a summary of Johnna's experience dining out. You may or may not have a similar experience. Menu prices, items and ingredients featured were current at the time of writing. Please read the menu carefully and ask your server for assistance in ordering if you have dietary restrictions. It's a good idea to call ahead and let the restaurant know of your food needs. If you are eating gluten-free or specific allergen-free, Johnna suggests informing the restaurant staff of this, so they know this isn't a food choice, but a necessity, and consumption will result in illness.