This post contains affiliate links. See my disclosure for more information.


I'm writing all about my adventures in Detroit this week. If you want an introduction to why I'm writing about Detroit, read this. Make sure you follow along all week. Lots of great stories to share and a Made in Detroit giveaway to wrap up the week.
All week I've been telling you about the wonderful food, the fun sightseeing and the friendly people of Detroit. Today I'm going to share with you where I caught a few hours of sleep, indulged in the best room service breakfast yet, found incredible happy hour deals at a celebrity-chef owned restaurant, soaked in the downtown view and marveled at the historic architecture. Friends, meet the Detroit Westin Book Cadillac.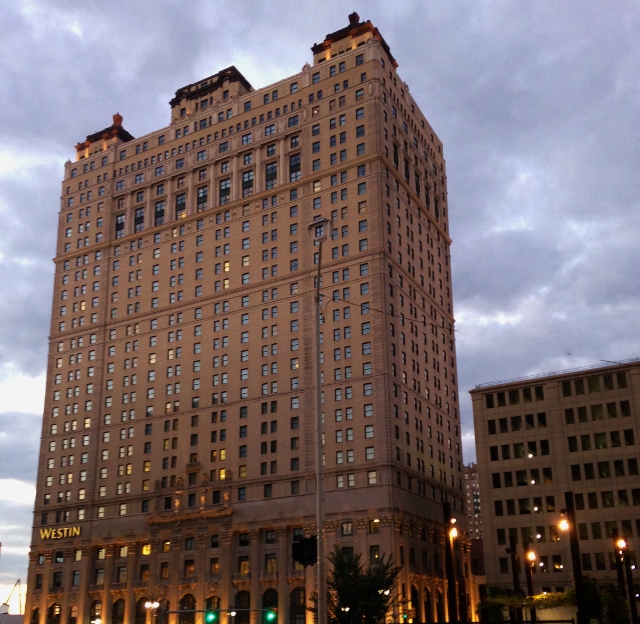 When this 31-story hotel opened in 1924, it was the tallest hotel in the world and the tallest building in Detroit. I was fascinated reading about all of the history that took place in this hotel, one that had to be very special to stay in when high rise hotels were not as common as today. One tidbit about the hotel's history that caught my attention was related to baseball. (In case I forget to tell you later, this hotel is perfectly located, close to Comerica Park. Come visit and catch a Detroit Tigers game!) In the hotel lobby on May 2, 1938, Lou Gehrig, the Yankess first baseman, met with team manager Joe McCarthy. Lou Gehrig told his manager to leave him out of the starting line-up from that day's game. His 2,130 consecutive game streak was broken that day. I can only imagine all of the important and fascinating conversations that have happened within the walls of this historic hotel.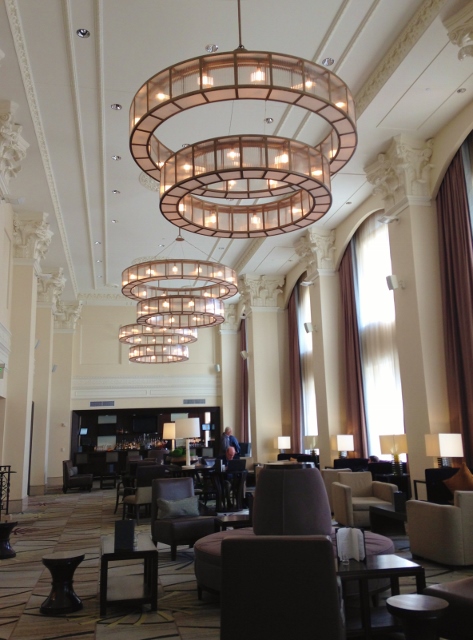 Not all of the hotel's past is picture perfect. In 1986, the hotel was liquidated and shuttered. This grand, beautiful building became the victim of time, no one to maintain it, vandals and urban explorers having their way. But in 2008, restored to perfection, the hotel reopened as the Westin Book Cadillac. I've been so lucky in my travels, staying in many historic hotels. Some are well restored, some lose the history of the building in their attempts to satisfy today's travelers. The Westin Book Cadillac is one of the nicest restorations I've seen, perfectly combining the history of the building with modern furnishings and accoutrements. I mentioned while there that I could stay forever and was told there are actually several condominium residences in the hotel. Hmmm….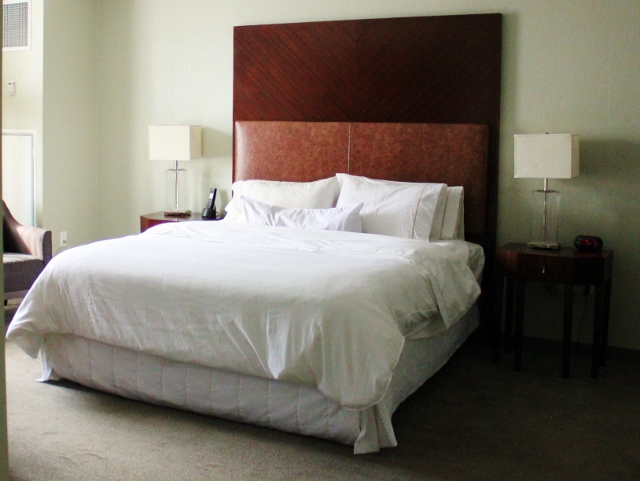 Our room was spacious with a huge work desk, cushy bed (I have a thing for Westin's bed linen collection) and a west-facing view across downtown. While we didn't plan to spend much time in the hotel with so much to see and do in Detroit, we indulged in an afternoon nap and a bit of TV watching. Absolutely divine way to spend the afternoon.
I have to tell you about the bathroom. Beautiful marble tiled floor, made warmer by the slippers awaiting on the back of the bathroom door with a fluffy robe. The granite vanity was immense. I don't share a bathroom at home, so sometimes sharing a small vanity while vacationing causes a bit of grumpiness. Not here. And the showerhead–I want this at home. Perfect for a weary traveler. I stood in this shower for far too long. I feel I should apologize to the hotel for last month's water bill…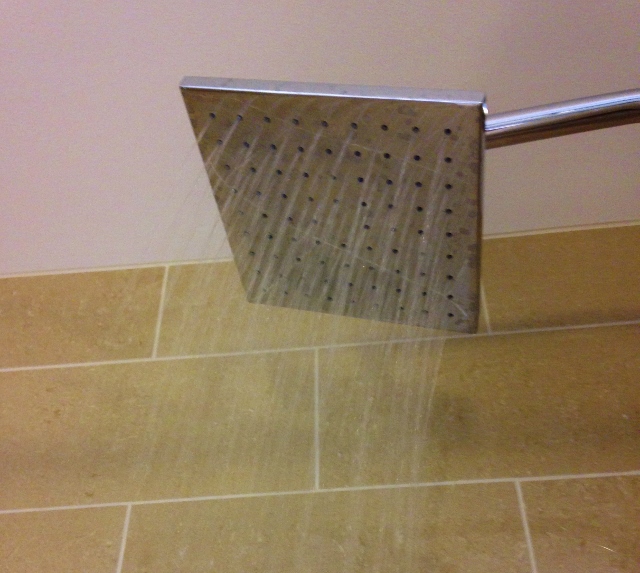 After that indulgent afternoon nap I mentioned before I got wrapped up in telling you about the bathroom, we headed downstairs to Roast, Chef Michael Symon's restaurant located inside the hotel. If ever there were a restaurant to change the way we think of hotel restaurants, this is it. We weren't there to eat, just for cocktails but I have to tell you the happy hour menu was impressive…and inexpensive! Several times during our visit to Detroit bartenders and servers at other establishments asked us if we had been to Roast. Seems happy hour at Roast is legendary because of their happy hour food menu , maybe more so than their drinks. Sliders, creamy mac 'n cheese, fries cooked in beef fat. Everything on the happy hour food menu was between $3 and $4. Monday-Friday, 4:30 to 6:30, don't miss it.
Before I tell you about the drinks we had, I do want to mention something about the food at Roast. I didn't contact them to ask about gluten-free and vegetarian food options before we got there because we didn't plan on eating there. My sweet friend Debi visited Michael Symon's Lola in Cleveland and had an exemplary experience for dining out with food restrictions. I have no doubt I could have eaten well at Roast. The bartender answered my questions about the happy hour menu and I politely said no thanks, nothing really works for me, vegetarian, gluten, something something…just to try to move on and get a cocktail. He could have just moved along, but said to us, "We can figure something out." This immediate gesture of helpfulness, I can't tell you how appreciated it is. I want to believe that folks are in the food business because they want to feed people, even people like me. Lately there's been plenty of press about restauranteurs who don't want to deal with people who can't eat gluten or dairy or whatever it is. When a bartender during busy happy hour at a restaurant owned by a notable meat-centric chef takes a moment to tell me they would figure something out if I wanted to eat, well, it means a lot.
So about those cocktails…a twist on two classics, an Old Fashioned and a Manhattan.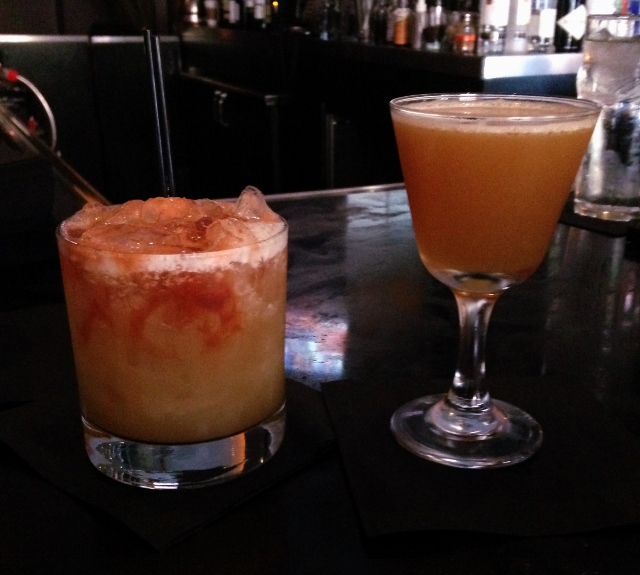 While we had decided quickly what we were going to drink, we had a great time watching the bartenders craft cocktails and thought about staying for a second round since we were walking to dinner. I asked if we could see the cocktail menu and the bartender slid me this iPad, loaded with the cocktail menu, a photo of each drink and a full description if you click on it. I like this. Wouldn't it be great if more places had this, perhaps for food with an ingredient list?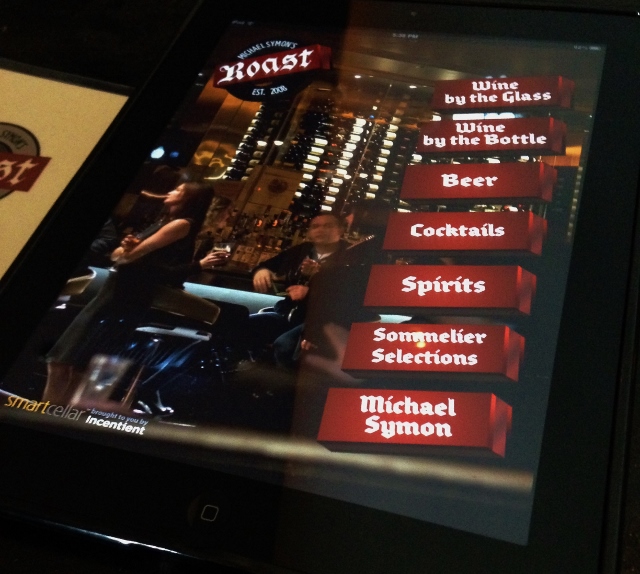 I've got so much more to share with you about the Westin Book Cadillac beyond what I've already shared. Let's see…well, all of that food I've been telling you about? It requires a bit of extra movement, even beyond the many miles of walking we did in Detroit. The fitness centre at the hotel is super nice. As is the indoor pool! If I could have caught it when no one else was there, I would have taken a photo. Seems other travelers have discovered what a gem this hotel is, too. But here's the best part about the fitness centre: if you fly with only carry-on luggage as I most often do, you don't have to worry about packing workout clothes! For $5, you can borrow a complete set of New Balance workout attire, shoes and new socks. And they deliver it to your room! Seriously, no reason to not hit the gym while staying here.
Except for this. This is a really good excuse for not hitting the gym.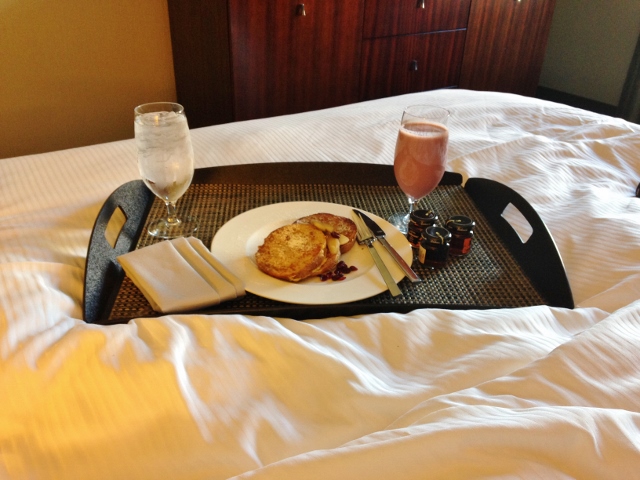 On our last morning in Detroit, I was content to sleep in and order room service. I had gluten-free French toast with maple caramelized apples and cranberries along with an orange, apple and pomegranate smoothie. The room service menu has gluten-free items clearly marked, but really, French toast? Fro me, that has never been a possibility to have gluten-free French toast from room service. After I devoured it, I may have threatened to never go home. I can't even tell you what my favorite fella had for breakfast that morning. I truly have no idea. I was busy with my French toast.
When it was time for us to leave, my fella picked up the phone and called Service Express. As with any need we had during our visit, it took just one call to one number to get anything we needed. This time it was to have our car brought around so we could head home. The best vacations are the ones that end before you are ready to go home. This was one of those vacations.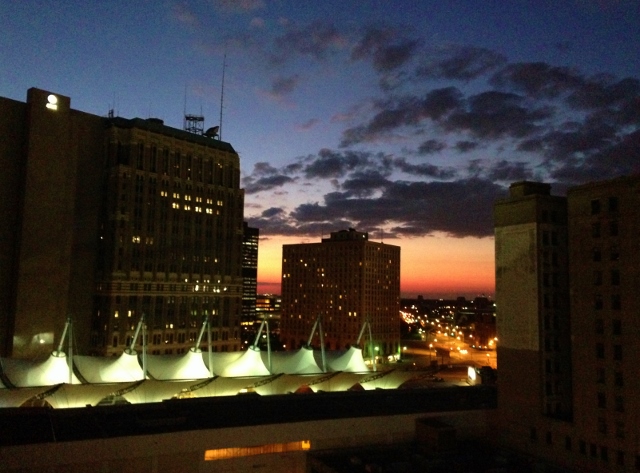 The Westin Book Cadillac is located at 1114 Washington Street, Detroit, MI, 48226. 313.442.1600. The hotel is located in the Washington Boulevard Historic District.
Full Disclosure: My stay at the Westin Book Cadillac was offered to me at a media rate. I paid for all meals. I was not asked nor required to write this post in exchange for the media rate at the hotel. All opinions expressed are my own, as always.