This post contains affiliate links. See my disclosure for more information.


I'm writing all about my adventures in Detroit this week. If you want an introduction to why I'm writing about Detroit, read this. Make sure you follow along all week. Lots of great stories to share and a Made in Detroit giveaway to wrap up the week.
Ever head out to lunch at a new restaurant and discover it's in an adorable, tree-lined, incredibly inviting neighborhood and end up walking around for an hour before lunch? No? Well, you just might have that happen if you dine at Inn Season Cafe. We parked near the cafe, turned our phones off, stowed them deep in our pockets and went on an unplugged stroll in an area that was picturesque, quiet, idyllic. We only headed back toward the cafe when our tummies were growling for food, reminding us we didn't come to Royal Oak for a walk but instead for a meal.
Inn Season Cafe is located in Royal Oak, a suburb about 15 minutes from downtown Detroit. All I knew about Royal Oak before going there was that it was the setting for the TV show Home Improvement. (I did not see Tim the Tool Man Taylor while there, but I did look over a fence or two.) I also knew it is home to the Detroit Zoo and many eateries and boutiques, but we came to Royal Oak because of Inn Season Cafe.
When I hear a vegetarian restaurant has been around since the 80s, I know I need to visit. Not unlike Detroit, I come from a meat-centric part of the country. I've seen more than a handful of vegetarian restaurants come and go. Only one where I live has held on for as long as Inn Season Cafe. I make it a point to visit the oldies-but-goodies in the vegetarian restaurant world and have never been disappointed. There is a reason they have persevered. This theory of mine held up once again; our meal at Inn Season Cafe was delectable.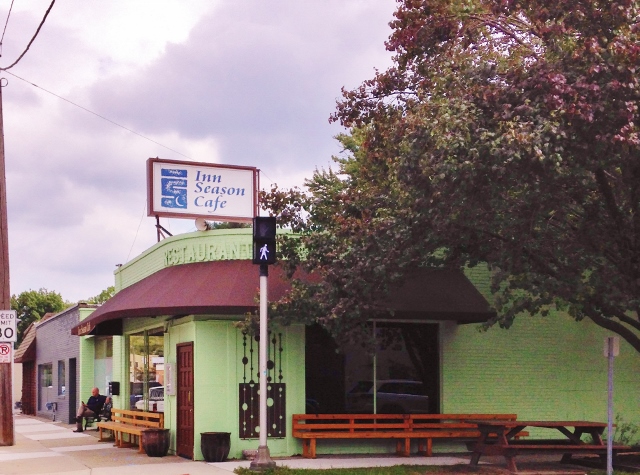 Once inside the little green building, we got only as far as the hostess stand before I noticed all of the bright artwork adorning the walls.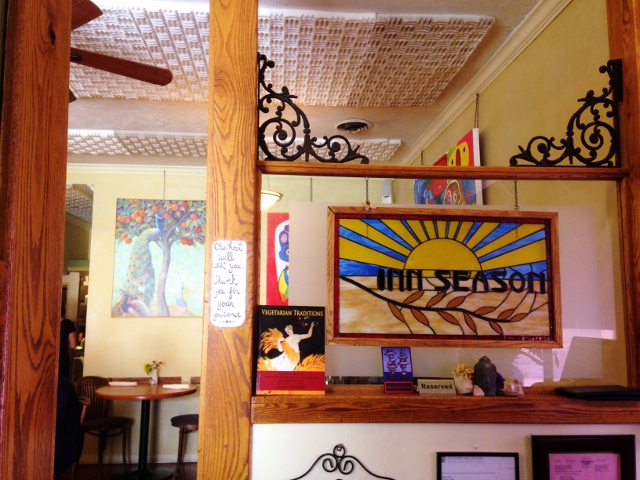 Seating is cozy, lots of tables in a small space. I noticed all sorts of folks having lunch on a weekday, from hipsters to older ladies-who-lunch. If there was a stereotype of what diners at a vegetarian restaurant look like, it's long gone.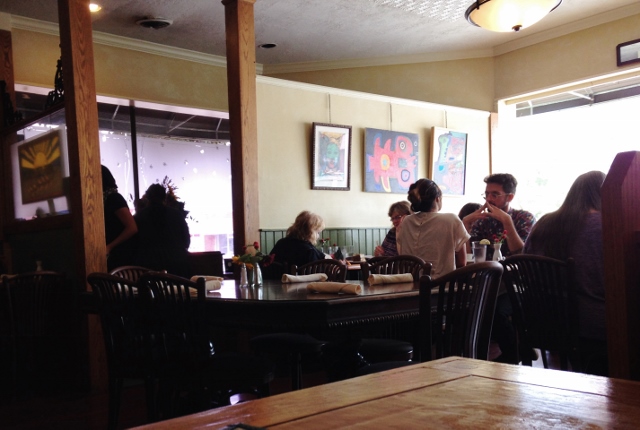 Perusing the menu was overwhelming for me (in a good way). So many options were labeled gluten-free. It's so nice when a restaurant has a menu that is clearly labeled! I also noticed when browsing the extensive menu that they have a lengthy kid's menu. So nice to see good, healthy options in kid-sized portions included on a menu.
I started off with a generous cup of the soup of the day, a creation made with squash and brown rice. Hearty and comforting. This cup of soup and a small salad would make a perfect meal. This would be a cold weather favorite for me!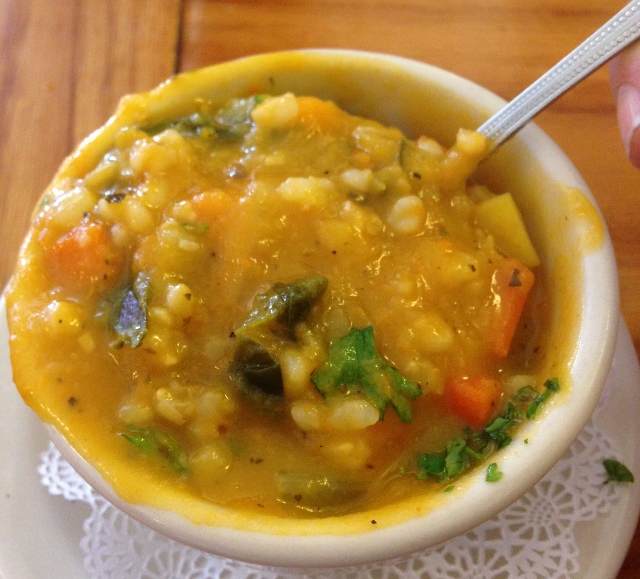 For my entree, I decided to get stir fry. On the menu, the stir fry starts as a basic stir fry with options added from there, such as tofu or sauces. I had a cashew sauce with a little kick and tofu. The serving was HUGE, enough that we could have shared for lunch.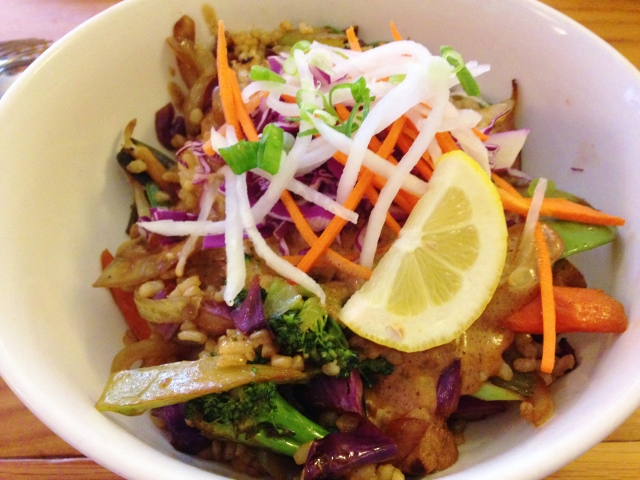 My favorite fella had enchiladas. We eat enchiladas often at home, so I was surprised he ordered these. But, dang, I'm glad he did! Spicy, packed with veggies and the surprising addition of green olives on top. Loved it!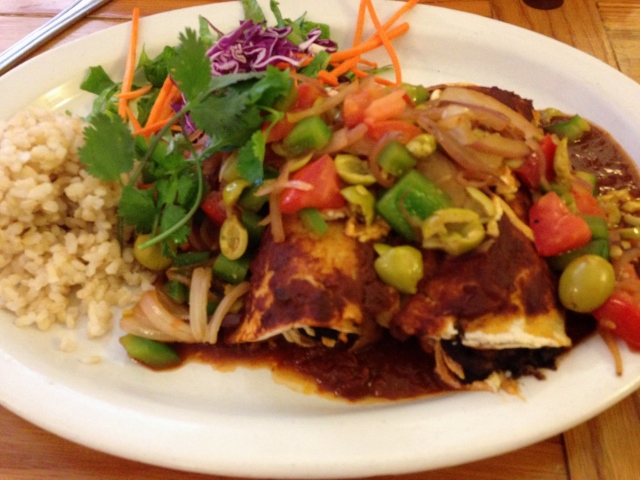 Even though we were absolutely stuffed to the gills, we knew we had to get dessert when we heard about the Plum Blueberry Tart. Fresh Michigan plums and blueberries in a gluten-free crust made with nuts, sweetened with maple syrup. The topping was a maple sweetened cashew puree and raspberry sauce. And it came with a scoop of dairy-free vanilla ice cream!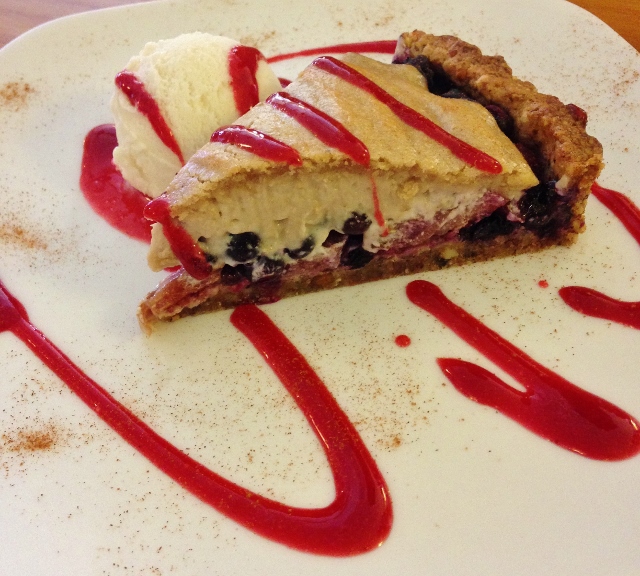 If you are like me and have a list of must-visit vegetarian restaurants across the country, I encourage you to add Inn Season Cafe to the list. What a delightful surprise in the Detroit area. I'll be dining here again on my next visit to Motor City!
Eat With: Minimal caution. The menu is clearly labeled with gluten-free, soy-free, etc….The staff are knowledgeable. I would still confirm your choices fit within your needs when ordering.
Inn Season Cafe is located at 500 East 4th Street, Royal Oak, MI, 48067. 248.547.7916. We parked nearby on the street for free.


Johnna's I Ate Here series is not intended as a restaurant review, rather a summary of Johnna's experience dining out. You may or may not have a similar experience. Menu prices, items and ingredients featured were current at the time of writing. Please read the menu carefully and ask your server for assistance in ordering if you have dietary restrictions. It's a good idea to call ahead and let the restaurant know of your food needs. If you are eating gluten-free or specific allergen-free, Johnna suggests informing the restaurant staff of this, so they know this isn't a food choice, but a necessity, and consumption will result in illness.
.