This post contains affiliate links. See my disclosure for more information.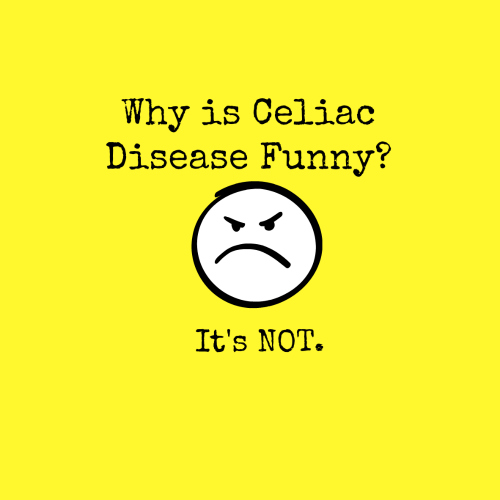 I'm feeling kinda sad today, ready to crawl into a hole and discuss with no one that I have Celiac disease. I put up a good front, but truthfully living with Celiac disease or gluten intolerance is a challenge. And a big part of that challenge is the people who make fun of it. Why is Celiac disease funny?
The media is full of stories right now poking fun at gluten-intolerance and Celiac disease. Restauranteurs are complaining about accommodating food allergies and intolerances. Joy Behar stated on TV today that Celiac disease is baloney and people ordering gluten free in restaurants are irritating. Why is Celiac disease funny? Do you joke about cancer? How about infertility? Do you think that's hysterical? How about chronic, unexplained vomiting? That's a hoot, right? Or what about anemia so severe a blood transfusion is ordered? You're rolling on the floor laughing now, I just know it…. Wait, you're not? Oh, good, I'm not the only one who doesn't find the humor in Celiac disease, who doesn't find anything about Celiac disease to be funny. All of those medical issues I mentioned, those are part of my family's history with Celiac disease. None of them are funny.
I sat at my computer yesterday for over two hours trying to write a blog post featuring my top five picks for dining out gluten-free during Kansas City Restaurant Week. There are so many great options. You know it's my belief Kansas City has many of the best restaurants in the country. I dine well here and the chefs take great care of me. If they complain, it's never been to my face. I need to believe they don't, that the kitchen staff doesn't begrudge me or the genetic disease I inherited. But you know what kept me from writing that post? One waiter in one restaurant.
Last Friday, the first night of KC Restaurant Week, I grabbed a late dinner with friends. I asked our server in a restaurant which has a clearly-marked menu for gluten-free items if he would please let the kitchen know I'm not gluten-free by choice, I have Celiac disease, please be cautious. In what I can only hope was an attempt to be funny, he said, "Oh sure, I'll let them know. They'll cuss and stomp but they will take care of it." I had a great meal at that restaurant, but I just couldn't find it in me to suggest to any of my Celiac readers or those who avoid gluten by medical necessity that they subject themselves to that. It's hard enough to live with an autoimmune disease, it's hard to have to say it every.single.time you eat out. But to get that kind of response? I'd rather stay at home and cook for myself. And that sucks because I love dining out.
To Joy Behar, to the food pundits who question why any of us eat gluten-free, to those who think having a disease is funny, I want you to know it's not funny. I want to be like you, able to eat out with my friends and family. I would love to be able to grab a meal anywhere without planning ahead, without the fearing of becoming ill. I would give anything to have that sense of normalcy in my life. But that is not how life has played out for me and the millions like me who have a disease that can only be managed by strictly eliminating all gluten from our diet.
It's not funny.
Please stop making fun of a disease.