This post contains affiliate links. See my disclosure for more information.


As I've mentioned several times in the past, Crème Brûlée is my very favorite dessert. Even before I was gluten free, I would order Crème Brûlée anytime it was offered at a restaurant. I recently had the opportunity to attend a Crème Brûlée class with an 80 year old chef who may have made the very first Crème Brûlée I ever tasted. From that class, I took home a few tips that helped me in creating today's new recipe: Crème Brûlée, Lightened Up and Dairy Free!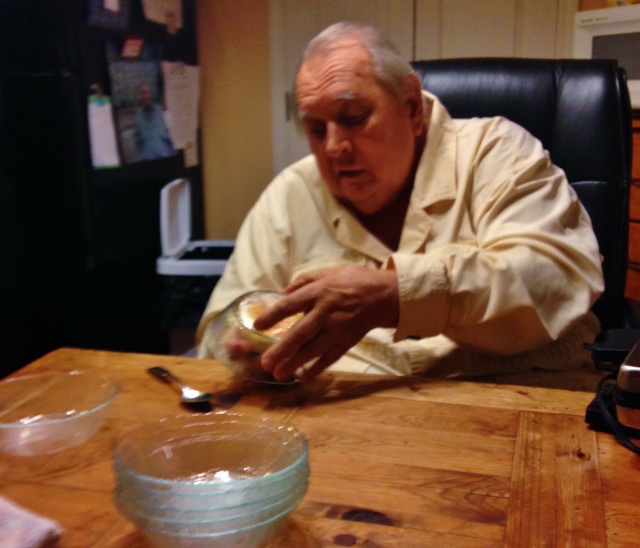 I have to tell you a little bit about Chef David Stalder. When I was a little kid in the 1970's, he owned a restaurant in St. Joseph, Missouri called The Swiss Chalet. They had a legendary buffet lined with savory dishes, what seemed like hundreds of side dishes and salads and oh, the desserts! We would go to The Swiss Chalet for special occasions, every meal memorable. And they had Crème Brûlée.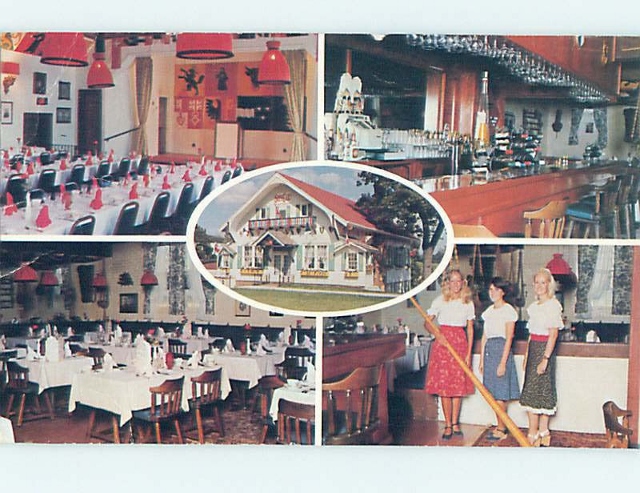 Pictured above is a postcard from The Swiss Chalet. Perhaps it was a bit campy, but I always enjoyed going there, asking every time we drove by if we could please stop to eat. From the exterior architecture to the interior decor to the waitress uniforms, they created a themed restaurant where the food actually tasted great!
Years later, the restaurant long gone, I now live an hour away from where The Swiss Chalet was located. A few years ago, I bought a little British car and joined a club of folks who enjoying driving similar cars. I met my sweet friend Janine in this group of fun people. But it wasn't until I had known Janine for several years that I pieced together it was her dad, her family, who had owned The Swiss Chalet.
Recently Janine invited a group of us to her home, where her father, Chef David Stalder, lives with her, for a Crème Brûlée class. Chef David regaled us with stories of his years as a restauranteur, his youth in Europe during World War II, his travels and bringing his young family to America. He also showed us how to make Crème Brûlée and Crème Caramel, a dish many refer to a flan. We talked about the differences in Crème Brûlée, Crème Caramel and Crème Catalana, three versions of a similar dessert that have their own distinct personalities. While he may be 80, his mind is sharp and his culinary prowess is intact. It was truly an honor to spend an evening with a chef who unknowingly impacted my love of food.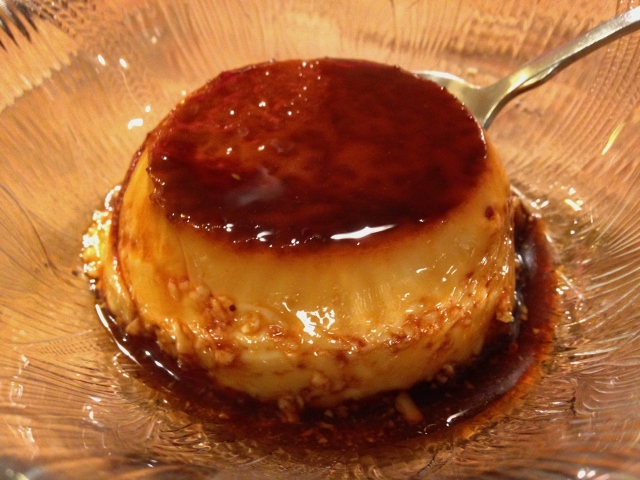 After class concluded and we chatted for hours (and could have chatted for more–so much food to discuss!), I came home and made Crème Brûlée into the wee hours of the morning. I tried milk as opposed to heavy cream, a tip I picked up from Chef David. I tried non-dairy milks. I tried maple syrup instead of refined sugar in the custard. Coconut sugar was swapped in as another sugar alternative. I experimented with every sugar in the cupboard to find one that made the perfect crunchy layer of sugar on top of the custard. With a flashlight in hand, I ventured out to the chicken coop at 2 in the morning hoping to find more eggs. I was on a mission!
My mission has paid off. I've created a lightened up and dairy free version of Crème Brûlée that I would be proud to serve to anyone, even Chef David. Free of dairy, less refined sugar but still very pleasing as a dessert. I still feel like I've had a treat! I've chosen coconut sugar to sweeten the custard, so the color is not as yellow as traditional custard, but the flavor has a touch of caramel to it as a bonus. I think you'll enjoy it immensely.
One last thing before the recipe. My experience is that the best crispy sugar crust atop Crème Brûlée is achieved using a kitchen torch. Don't be intimidated, they are easy to use and inexpensive. I use this model and have for years, including using it for many cooking classes. It's been reliable, refills easily and works perfectly for roasting marshmallows in the kitchen in the middle of winter…or so I've heard. 😉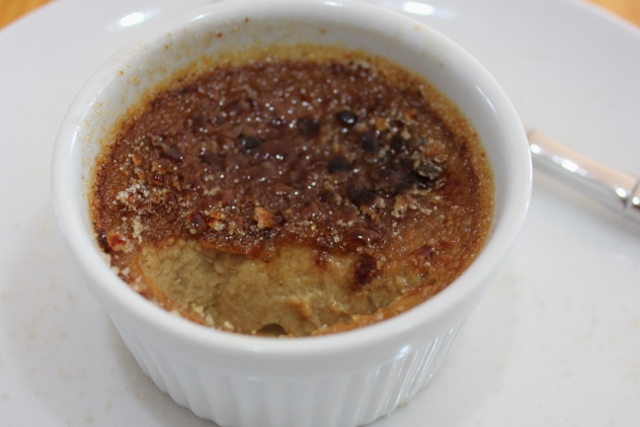 Crème Brûlée, Lightened Up and Dairy Free!
Ingredients
2

cup

unsweetened almond milk

3

large eggs

1

egg yolk

1/3

cup

coconut sugar

1

teaspoon

vanilla bean paste

1/2

cup

sugar of your choice for topping

(raw organic sugar works well, coconut sugar works just ok)
Instructions
Preheat oven to 350 degrees. Place a 9 x 13 baking dish on the counter, along with 6 four-ounce ramekins.

Place the milk in a small saucepan and heat over medium until at a near boil. Once it has reached that point, turn burner off and remove saucepan from heat.

In a medium mixing bowl, whisk together 3 whole eggs plus one egg yolk and coconut sugar. Continue whisking until the mixture starts to lighten in color.

Whisk in vanilla bean paste. (I prefer vanilla bean paste not only because of enhanced vanilla flavor, but because of the visible vanilla bean flecks. Vanilla extract can be used in a pinch.)

Add the milk a bit at a time, continually whisking so the warmth of the milk does not cook the eggs.

At this point, place a tea kettle of water on the stove to heat (or a large sauce pan of water). We will be creating a water bath or bain-marie for the ramekins and you'll want hot water for this.

Place the ramekins into the 9 x 13 baking dish. Fill each of the six ramekins evenly.

Gently place the 9 x 13 baking dish into the oven. Pull the rack back toward you as far as you safely can without the baking dish tilting. Using the tea kettle of hot water, fill the baking dish with water until it is approximately 1/2 way up the sides of the ramekins.

Bake at 300 degrees for 40-45 minutes until custard is set but still has a bit of wiggle in the center. Remove from the oven.

Once cool enough to remove from the baking dish, place the ramekins in the refrigerator for at least two hours before serving.

Remove the creme brulee from the refrigerator 20 to 30 minutes before serving. When ready to serve, top each custard with 1 Tablespoon of sugar and use the kitchen torch to brown the sugar, making a crust on top. Allow to sit 5 minutes before serving.
This post contains affiliate links. If you click on a link in my post and make a purchase, I may make a small commission. I only link to products and ingredients I use in my kitchen. Thanks for your support!