This post contains affiliate links. See my disclosure for more information.


Here are my top five tips for a fun visit to Grinter Farms:
Check the Grinter Farms Facebook page for frequent updates. (2016 update with Rules of Engagement here.) Not only are they super kind in sharing their farm, they will let you know when the flowers are at their peak, when the path is muddy and other tidbits to make your visit enjoyable.
Stop for the bathroom on the way. There are no facilities at Grinter Farms. That means no restrooms, no overpriced concession stand. We stopped at Sonic in Tonganoxie that is right along the route. The restrooms were clean, the iced tea was perfect for a hot afternoon.
Take cash. The Grinters don't charge to see their gorgeous farm. There is one red welded donation tube near the end of the drive on Stilwell road. If you cut a sunflower, leave a buck. If you are selling your photos, seems right to leave them a cut, right? I know of nowhere as beautiful in the area that so graciously invites all of us in for no charge. I left the equivalent of the admission charge at a botanical garden.
Don't stop at the first parking space. Folks tend to park out on Stillwell road, or they grab the first space as you turn into the farm. Keep driving! The road and the adjacent strip of grass for parking is 3/4 mile long. Pass that first big field of sunflowers and keep going toward the trees. You'll see a big hill (yes, in Kansas) to the West. Wear sturdy shoes and hike up to the top. You'll be glad you did. And it's likely the crowds won't follow you. (2016 Rules of Engagement posted on Facebook by The Farmer's Wife are here, with important information on parking.)
Leave nothing but your donation. Pick up after yourself. If you brought it with you, make sure you take it home. Let's keep this place as low-maintenance as possible for the Grinters so they are encouraged to plant again next year.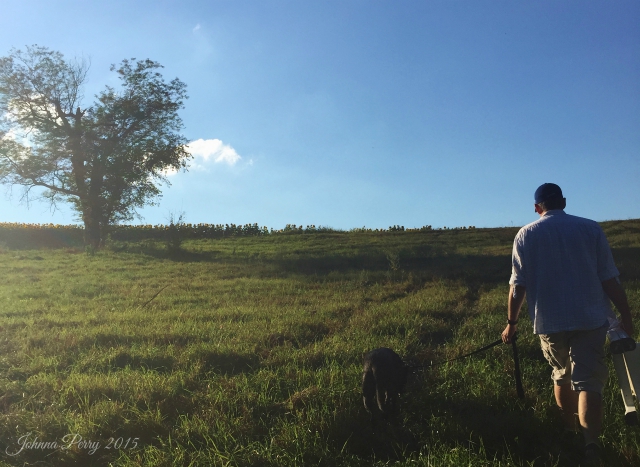 About taking photos: You'll see everything when you visit here. I saw a $3,000 drone with two cameras mounted on it. (There's a really great aerial video of the farm here.) I saw professional photographers, folks with nothing but their cell phone camera and everything in between. As the sun was setting and we were making the tough decision to hike down the hill before we lost all light, we saw a tripod peeking out of the sunflowers about 100 yards further into the field than we had ventured. Everyone is welcome and we met nothing but friendly folks. Don't worry about your camera equipment, just go. Or don't take a camera at all and just soak in all of this goodness.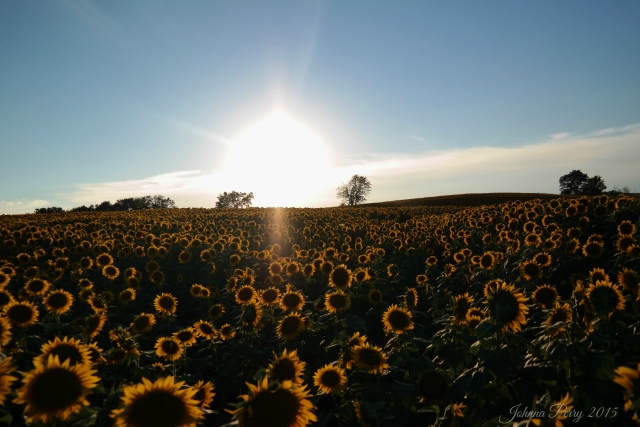 Grinter Farms is located between Oskaloosa and Lawrence, Kansas. The closest address for your GPS is 24154 Stilwell Road, Lawrence, Kansas. Check their Facebook page for updates.
And because you know I love sunsets, here is one last photo. I stopped to take this on the drive out. Sometimes the best color in the sky happens well after sunset. I'm so glad we stuck around for this.