This post contains affiliate links. See my disclosure for more information.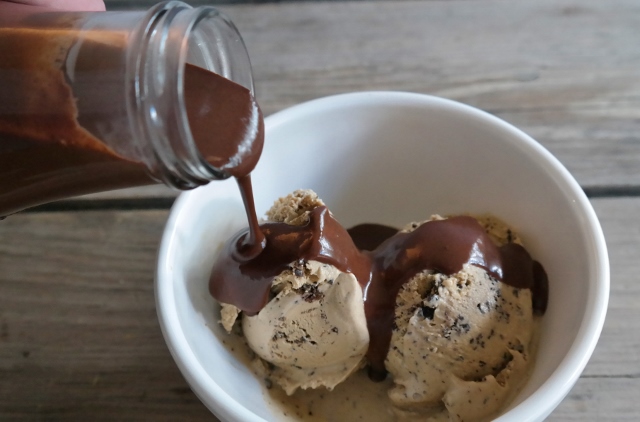 The perfect chocolate sauce, with just a touch of Bourbon.
Well, maybe more than a touch. You know how I like my Bourbon. I'm guessing you do, too.
Here's the scoop on my Chocolate Bourbon Sauce: It's gluten-free. It's also dairy-free. Vegan. Top Eight allergen free. But beyond that, it's just the perfect chocolate sauce with a little kick. Because, really, sometimes a little kick is necessary. Right?
I've been eating this on tiny little servings of ice cream.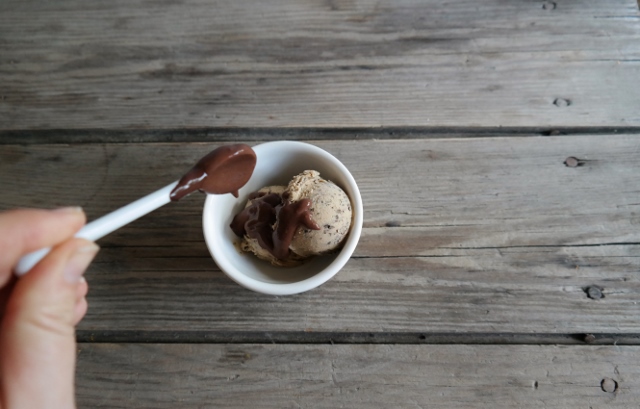 Oh, who am I kidding? The servings aren't always tiny. Sometimes I put just a little chocolate sauce on the ice cream: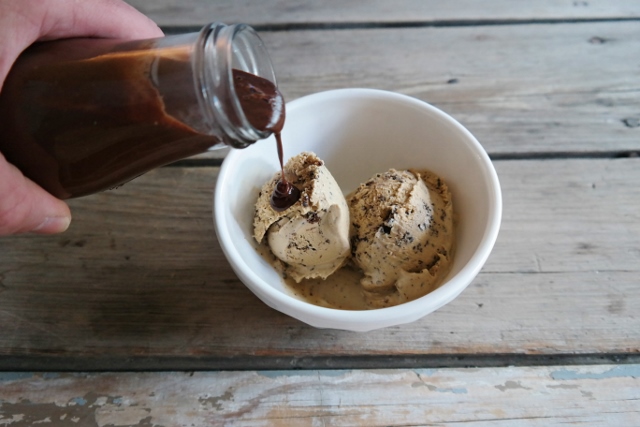 Other times I put a bit more: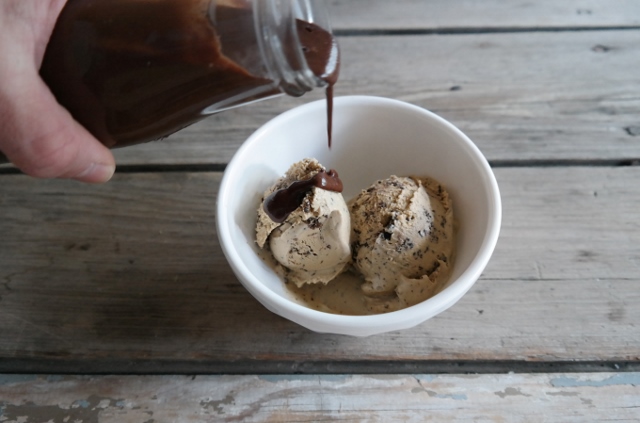 And most of the time, to be honest, it's more sauce and less ice cream: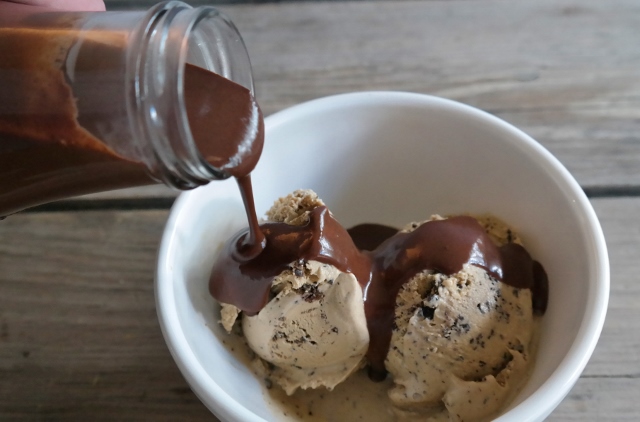 When I run out of ice cream or we have the occasional cool day, I make the best hot cocoa ever. I swear by it, best EVER. Maybe that's the Bourbon talking, but it's really amazing. Just warm up a cup of non-dairy milk of your choice and then spoon in a bit of this sauce. Or more than a bit, it's up to you.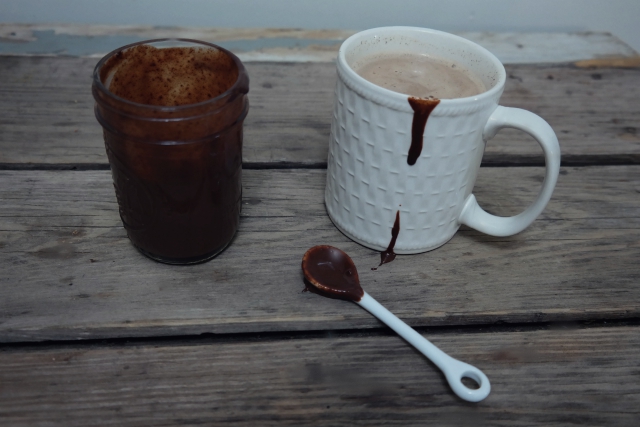 (Insider tip: infuse a quart of almond or cashew milk with the seeds of one vanilla bean. Let it hang out in the fridge for a couple of days and then make hot cocoa with it. No thanks needed, I can hear you swooning all the way over here.)
If you were a really generous sort of person, you could make a few batches of this and put it in mason jars for gifts. You could start off by putting the full batch in a quart jar and then find it so irresistible you end up with only a pint to share. Or maybe just one of those tiny quarter pint jelly jars. It could happen… Ok, it did happen. Gosh, I hope my friends who got the tiny jars of sauce don't read this.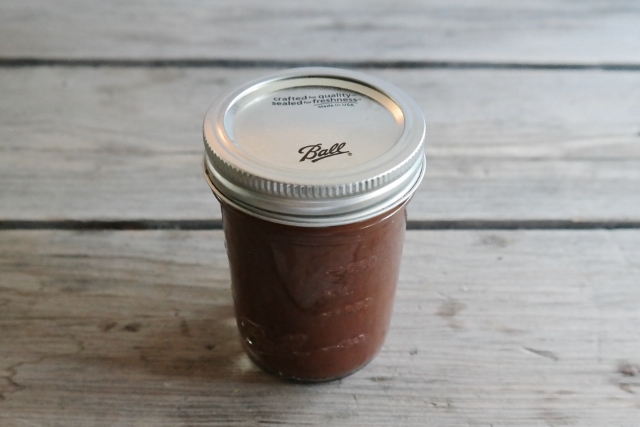 Notes on ingredients: I used Enjoy Life Dark Chocolate Morsels to make this. Use whatever chocolate you desire in the same quantity. I used full fat coconut milk, not the lite stuff. This isn't the place to cut calories or fat, it's a chocolate sauce. Coconut sugar is available at Trader Joe's and probably your local grocery store. It's also available on Amazon. Beyond the fact that it is not a refined sugar, it has a depth of flavor that lends itself well to both chocolate and Bourbon. I prefer vanilla bean paste over vanilla extract. The paste has pretty flecks of vanilla in it and a richer flavor. If you bake often, you should splurge and get yourself a bottle of this. And the really important ingredient information, Bourbon. While I am not a verifiable Bourbon snob, I do have my favorites. My current favorite to pair with chocolate is Blanton's Original Single Barrel Bourbon. If Blanton's isn't in your liquor cabinet, Basil Hayden's or Woodford Reserve would be nice in this sauce.
Alrighty, off to the recipe. Enjoy this one and keep it in mind for holiday gifting!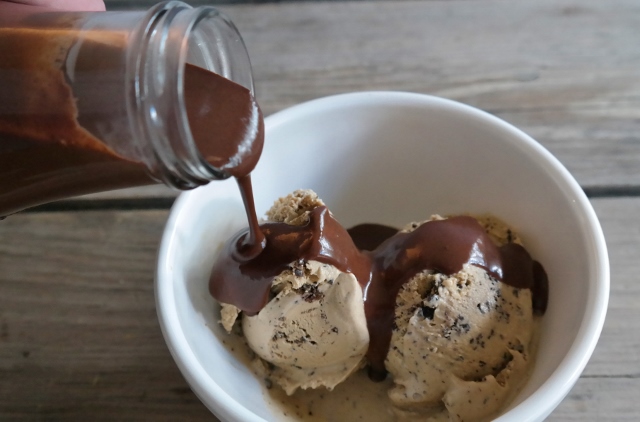 Chocolate Bourbon Sauce, Decadent and Dairy-Free
Ingredients
1 13.66

ounce

can full fat coconut milk

1

package

, 9 ounces, Enjoy Life Dark Chocolate Morsels (or chocolate of your choice)

1/3

cup

coconut sugar

3

Tablespoons

Bourbon

(Blanton's Original Single Barrel preferred)

2

teaspoons

vanilla bean paste
Instructions
In a medium sauce pan, combine coconut milk, chocolate chips and coconut sugar. Over medium low heat, stir often until chocolate and sugar have melted into the coconut milk.

Once chocolate is completely melted, remove from heat. Stir in Bourbon and vanilla bean paste.

Allow to cool before storing in the refrigerator. Sauce will thicken considerably after it is cooled. You may prefer to warm it just a touch before serving.

Makes approximately 1 quart.
Full Disclosure: This post contains affiliate links. Should you make a purchase, I'll make a small commission and you will get the same great price for an item I use in my kitchen. I use affiliate links to offset the cost of maintaining this website and to share original recipes at no charge to you. I'm grateful for your support.