This post contains affiliate links. See my disclosure for more information.


Next up in my tour of summer music festivals, Seven Sense Festival in Louisville, Kentucky. This festival was such an unexpected surprise, not on my list of festivals to visit, nor had I even heard of it. I'm so glad I got the chance to check it out!
When I started writing about food at summer music festivals, I had a pretty concise list of the festivals I would be visiting. I created a travel route, scoped out festivals that I thought would reach a wide audience: a festival in the middle of Kansas, one in the South, a few in the Upper Midwest, wrapping up with a festival relatively close to home. I chose festivals with a wide variety of music, hoping to connect with a wide range of music tastes. I wanted to find a way to share my love of travel and share how it IS possible for those of us who have food challenges to safely eat at festivals. Best laid plans…
The key to adding adventure to my travels has always been flexibility, stopping to take in a surprise along the path, being willing to change course when opportunities arise, listening when a local tells you to check out a festival you've never heard of. Seven Sense Music Festival was one of the latter, a recommendation from a local when we were in Louisville, Kentucky. Even better, we could walk there from our AirBnB rental.
Admission charge to Seven Sense Festival: Zero. Nothing. Free. Can you believe that? While 80/35 Music Festival came close to that, only charging for admission to their main stage area, this is the first completely free music festival of the summer for me. Add to that four stages, forty bands and more food than I could sample in a day. Oh, and Fly Golden Eagle. You should go see those guys live. I saw them open late last year for J. Roddy Walston and The Business and am hooked.
So about the food: the food vendors were accepting tickets only. We visited a booth to buy tickets and found out the festival was a benefit for Boys & Girls Haven. There was also a silent auction table nearby. Good people creating a great time at a festival and it benefits a worthy local cause. I dig that. We bought a bunch of tickets and headed off to check it out.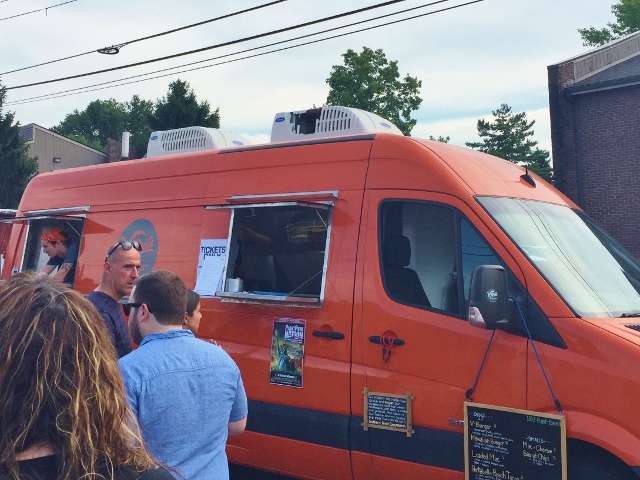 My first tasty nibble: Portabella and Peach Tacos from V-Grits, a vegan food truck. Yep, that's right, a vegan food truck in Louisville, Kentucky. I sent them a quick tweet before the festival to ask what was gluten-free and got a rapid response. Seems they always have a gluten-free menu item. Score!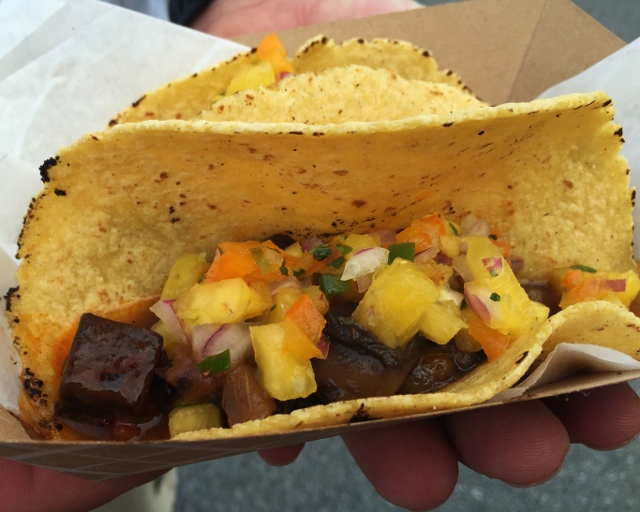 I eat a lot of tacos, since there are often vegetarian and gluten-free options in the taco world. This was one of the best flavor combinations I've had in a taco. V-Grits was busy; the food truck next door hawking meaty things, not so much. That guy grumbled at us a bit while we waited for our tacos, asking us, "How's that whole vegetarian thing working out for ya?" Pretty darned well, especially with V-Grits tacos!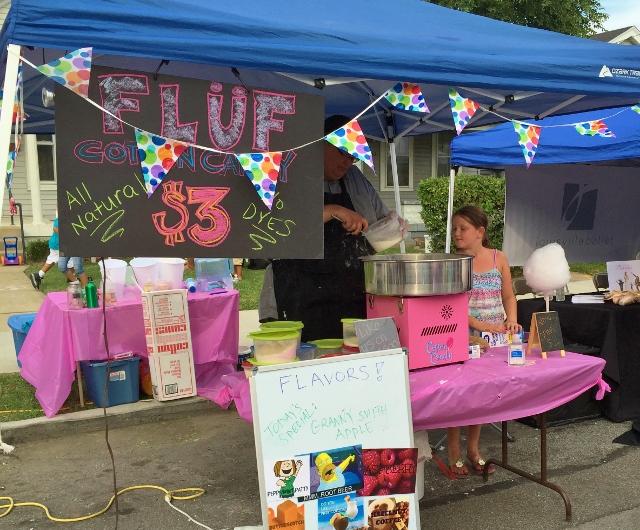 Next up, cotton candy. Cotton Candy is my guilty pleasure. I tell myself things like, "Well, it's only 200 calories, I could have done much worse having a large soda." But then I feel bad about eating something that is only sugar and loads of artificial color. If you share in my guilt about cotton candy, you should check out Fluf. These folks are making cotton candy to order in around a dozen flavors, free of artificial colors and flavors. We had hazelnut coffee cotton candy. (By we, I mean me. I was gonna share but…) It was like a really great coffee and cotton candy all in one bite. Know what else? As much as I like a pretty pink cotton candy, the pretty white spun sugar from Fluf was almost more pretty. And they were super nice folks.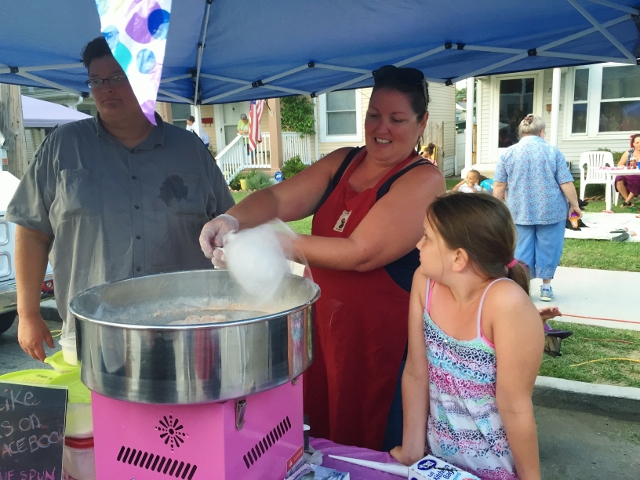 About midway through our time at the festival, we met up with Debi from Hunter's Lyonesse and her fella Chaz. We wasted zero time locating more food. No time to spare, there was even more taco goodness.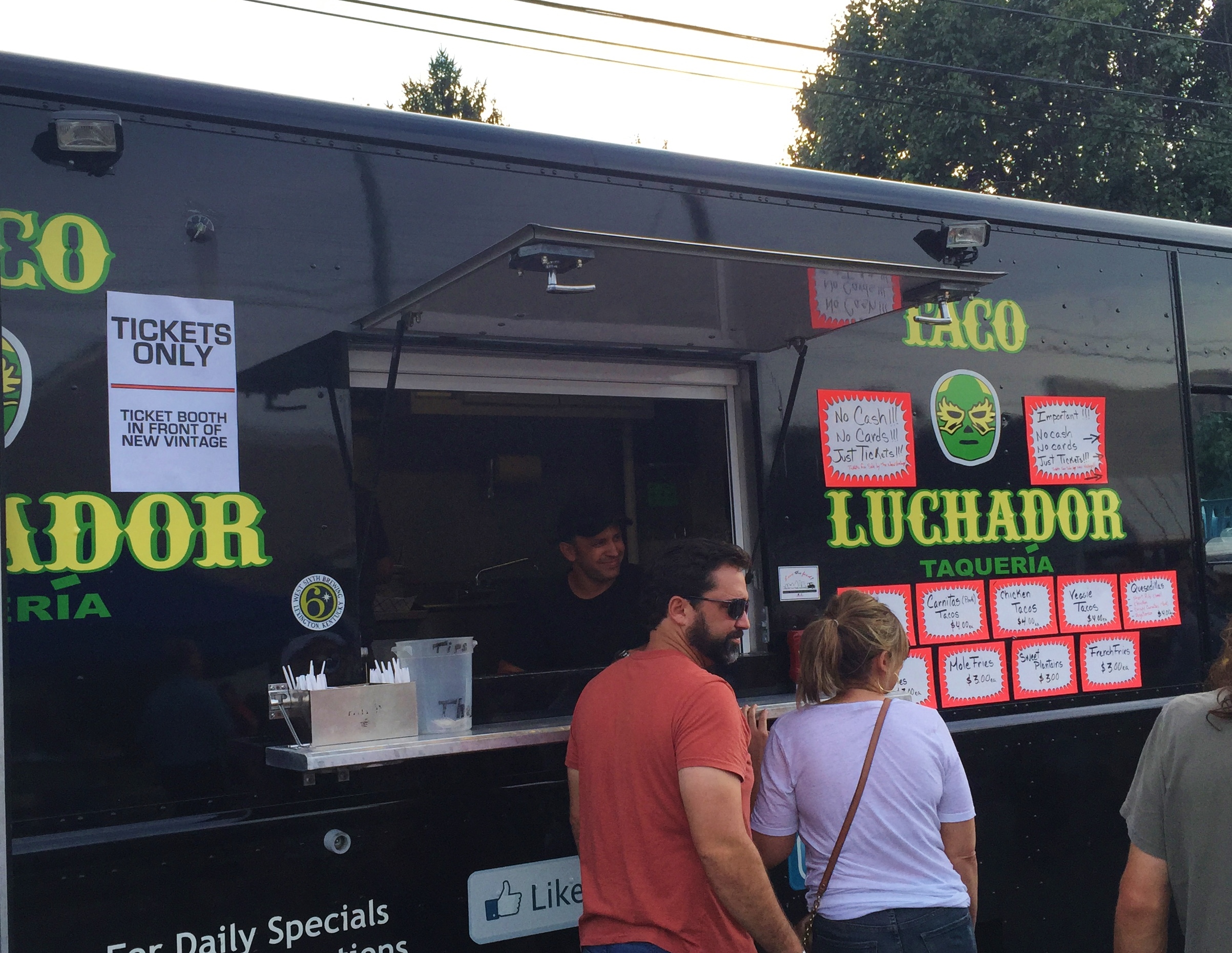 Next up we visited the taco truck from Tacos Luchador. These folks started out as a truck and now have a brick and mortar location as well. I wish you could have seen Debi's face when the fella working the truck told us they fry nothing with gluten in it on their truck and we could have any of the tacos on that day's menu. WHAT?!? You guys, they had French fries. In a gluten-free fryer. While I don't particularly miss fries, when I can safely eat them, I will.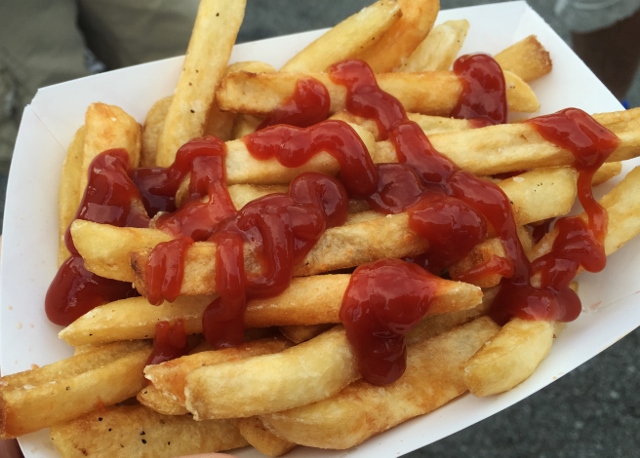 Oh, and I also had the veggie tacos which included sweet plantains (maduros). With the closing of Taco Punk in Louisville, I wasn't sure I would find good tacos on our annual visit. Now I'm not sure I could pick just one place to eat tacos while there. Go on, Kentucky, keep rolling out the tasty tacos…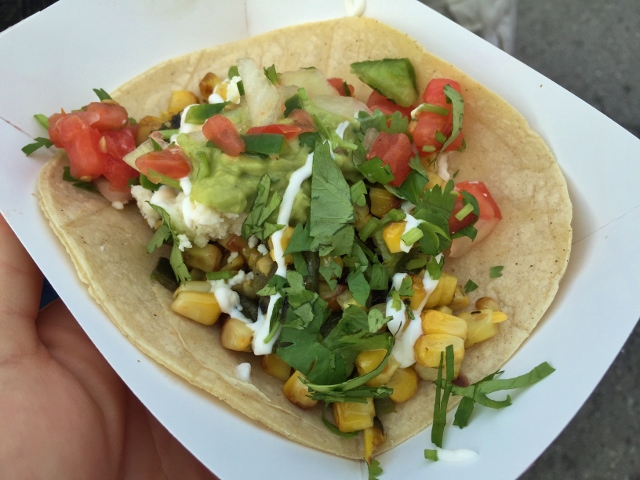 There was so much to do at this festival beyond food. I mentioned forty bands. Two of the stages created bookends of the festival and two more were inside bars. We walked through the neighborhood where our rented abode is located and came right up to one of the stages. Folks could have sat on their front porch and caught several great bands. Truly a neighborhood festival, yet there were people from all over attending.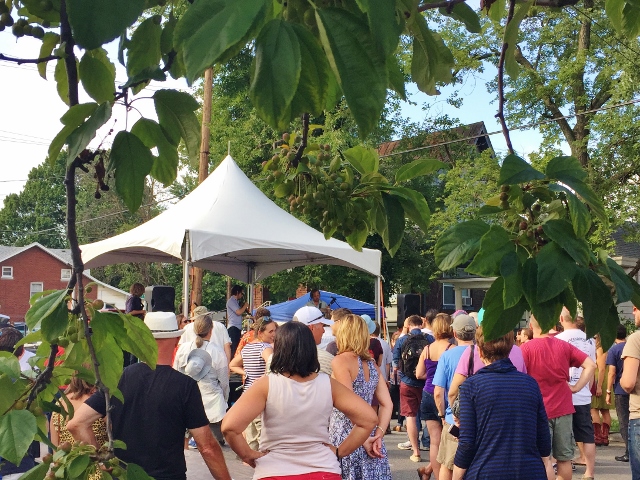 One of my favorite places to shop in Louisville is Artist and Craftsman Supply. They had a fun booth where you could paint your own paper mache figure. I made this pig. He has traveled across the South and back to the Midwest with us. He may become our roadtrip mascot.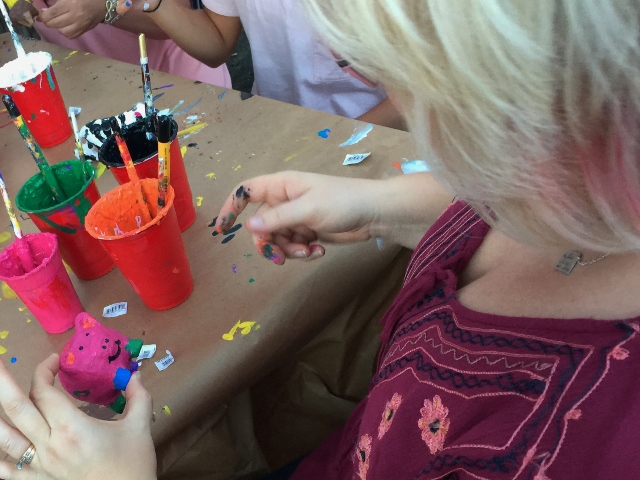 I painted beside mostly kids, but adults were encouraged to join in, too. The cost to do this: Nothing. Zero. Free. This festival had so much free stuff to do that it free'd up our festival funds for food and beverages!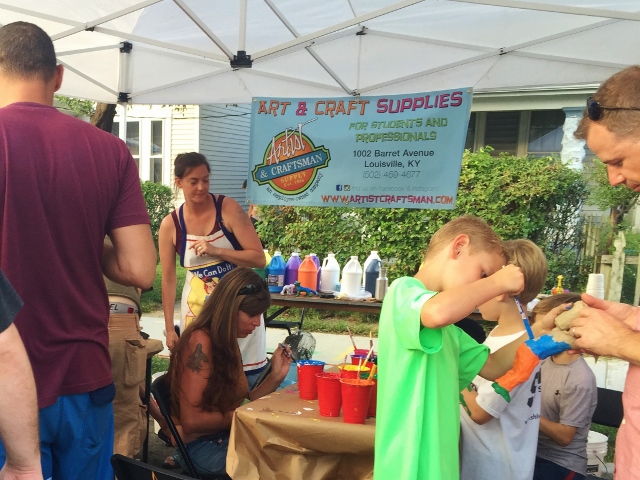 There were several vendors selling art. I bought a cute Little Creeps monster painting from local artist Casie Lewis. The last piece of art I bought in Louisville a few years back is a painting of a robot holding a bouquet of balloons, snagged at an art show hosted by the aforementioned Artist and Craftsman Supply. Louisville has such a great arts community.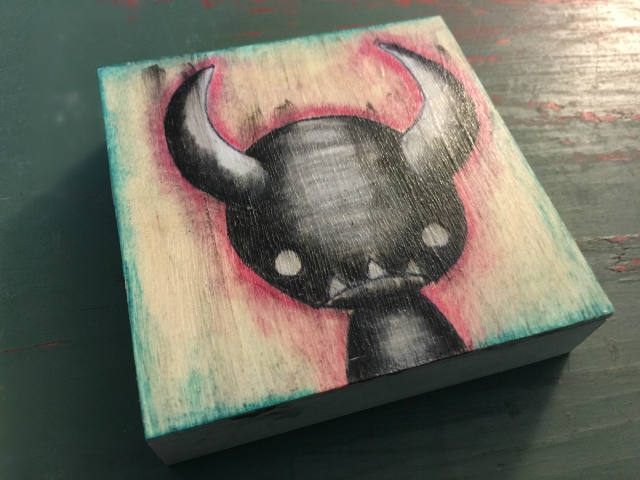 Plenty of other vendors were on site, including several vintage clothing boutiques. We had fun browsing vintage concert tshirts, some that we were familiar with from the first go-round. I refuse to think that makes me old. Plus I didn't wear New Kids on the Block shirts in the 80s anyway. 😉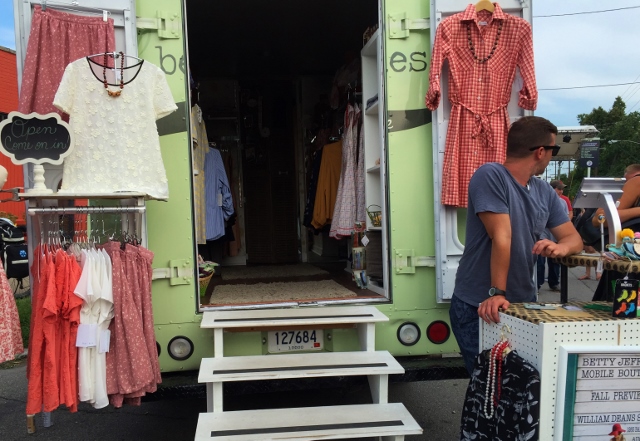 And one last food goodie: Tasty Tuxedo. Do you ever read those "Best Eats Under $5" lists for a city? A friend sent me a link to one for Louisville while we were there and Tasty Tuxedo was on the list. I'm not a huge fan of frozen treats, so didn't plan to seek them out. But you should. One bite of this goodness and I was hooked. And one bite was all I got. My favorite fella ate the rest and in a hurry. Plus check out the motorcycle. The whole thing is simply great.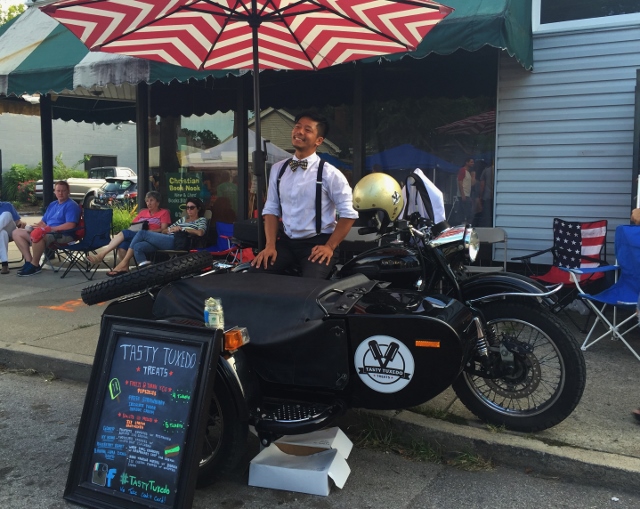 Would you take a look at those ingredients? Simple, straightforward, yet one of the best frozen treats I've ever had.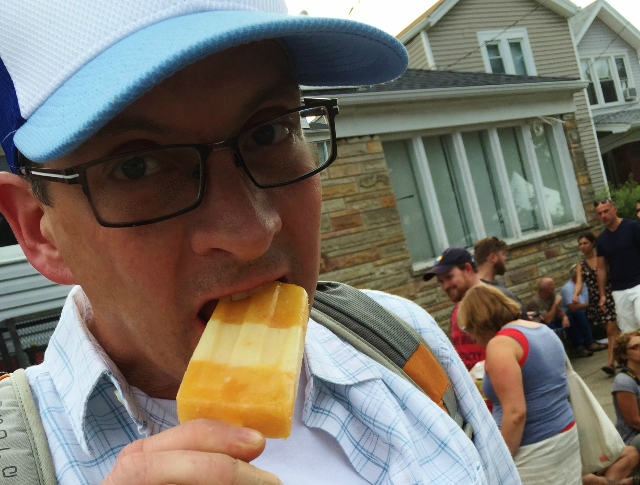 Seven Sense Fest. Add it to your calendar for next summer. It's well worth the visit.
I've got two more music festivals to share with you before wrapping up this crazy journey. Thanks for joining me for the fun and eats. I hope you're finding this series helpful and encouraging!
Disclosure: I attended Seven Sense Fest on a whim. Unlike many of the festivals I've attended this summer, I was not there as a member of the press. As always, I paid for all of my own food, drinks and silliness.