This post contains affiliate links. See my disclosure for more information.


Ever see your friend's photos of food truck eats and feel envious? Where I live, it's challenging to find food truck eats that are safe for me (gluten-free) and also good for a vegetarian. I scored both at El Mero Taco in Memphis, Tennessee.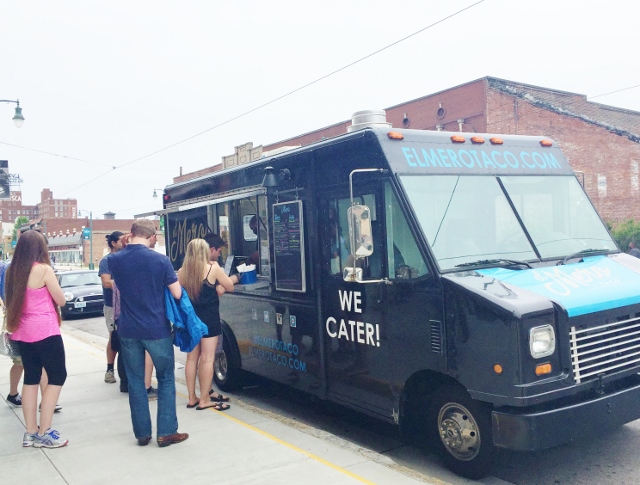 Before I left for Memphis, I received a lengthy list of good recommendations from Bianca of Vegan Crunk. While I'm not vegan, I find that recommendations from vegan folks are the best. You see, restaurants who are in tune with cooking for vegans seem to also be in tune with other dietary restrictions. Whether you eat meatless or not, don't shortchange the vegan restaurants when dining out; they are some of the best at creating gluten-free dishes. Bianca told me about El Mero Taco, so I tracked them down via social media and off we went to find them…
Parked outside of 387 Pantry and Stock & Belle, the El Mero Taco Truck was easy to spot. No other food trucks in the area and a sizable line. We decided to wait the line out and do a little shopping in the stores. 387 Pantry is a gourmet market that I'm sure is handy for those living in the neighborhood or those like me who enjoy discovering a local or regional food find. I brought home Hanna Farms grits and Dr. Beans coffee, both regional products. I also had a great chat with the fella working in the store who told me about many of their products. Really nice shop packed with goodies perfect to eat while in Memphis or bring home. Next door, sharing the same building is Stock & Belle, a clothing, furnishings and home accessories store. I scored a fun letterpress "Bourbon is the soup of the day" print for my kitchen. Great place to shop AND to enjoy your food treat feast. We were invited back inside to enjoy our eats at the wood-topped bar inside the store, which was ideal for more people- and food-watching. Every person who ordered seemed to have something else I wanted to try!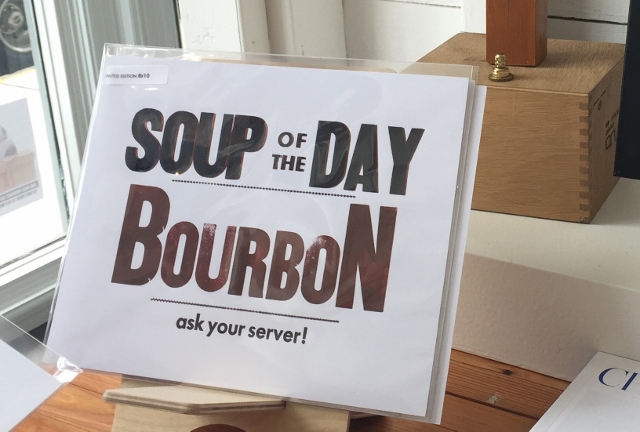 So that crazy idea we had to avoid a long line by shopping for awhile? It WAS crazy! The line only got longer. Word is out about El Mero Taco and we waited for a few minutes to wait. But the impressive part: we waited only a couple of minutes for food after ordering. These folks are speedy.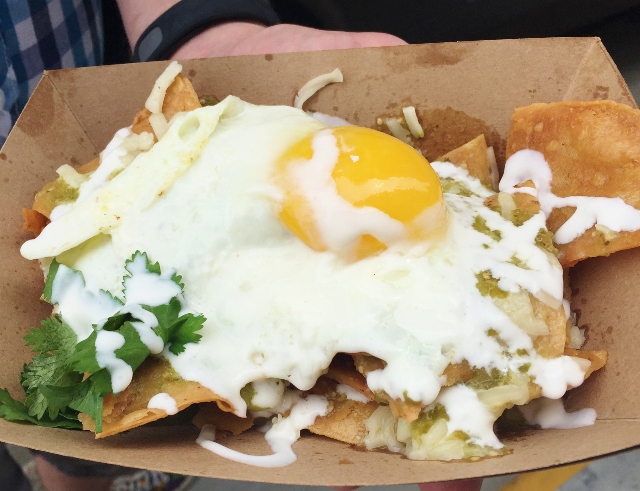 We started with Chilaquiles Verdes, homemade chips topped with tomatillo salsa, cheese, Mexican crema and a local fried egg. Perfectly spicy, egg wonderfully runny. I would eat these for breakfast, lunch or dinner often.
The sweet potato wedges with queso fresco and cilantro and chipotle aioli were also very tasty. There may have been a bit of fork sword fighting to determine who got the last one of these.
See that little dish beside the sweet potatoes? That's for my fellow fans of elotes, Mexican street corn. We both enjoyed the El Mero version: a cup of chilled off-the-cob corn tossed with spicy mayo. This was a different preparation than I have seen and it was oh-so-good. This little cup of goodness is sure to inspire summer recipes around here. Unless they can drive that truck up to Missouri so I don't have to re-create this dish myself.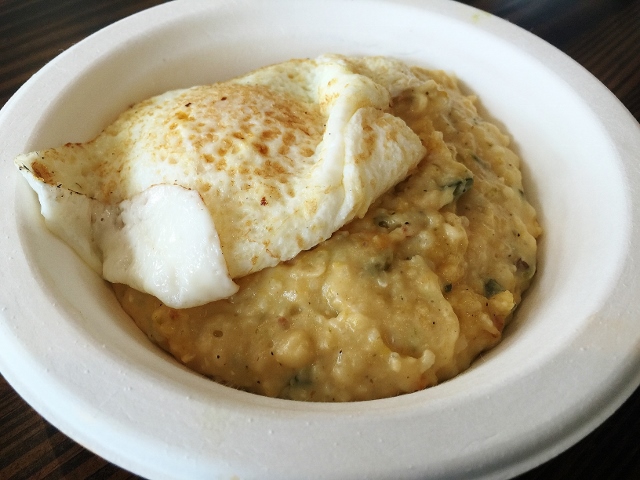 But the star of the show? The grits. Made with Hanna Farms grits from across the river in Arkansas, mixed with roasted poblano peppers and smoked cheddar cheese plus another runny fried egg on top. These are in the running for the best dish I had while in Memphis. Memphians definitely know how to make good grits, Hanna Farms grits grown from heirloom seeds are a solid foundation, and the manner in which these were prepared and seasoned would be hard to beat. I've been on a grits binge since returning home and El Mero Taco is to blame!
About gluten-free at El Mero Taco: I always ask lots of questions, especially when away from home. It's never fun to be sick, but especially bad when away from home. These folks were great to answer my questions and had more than enough options for me to have a great meal.
Want to find El Mero Taco? Because they are a food truck, you should use social media to track them down. Facebook or Twitter will be helpful. When you catch up with them, I want to hear all about what you tried. But don't tell me about the grits. I already know and you'll just make me miss Memphis. 😉
My travel and dining series is not intended as a review, rather a summary of my experience.* Menu prices, items and ingredients featured were current at the time of writing. Please read the menu carefully and ask for assistance in ordering if you have dietary restrictions. It's a good idea to call ahead and let the restaurant know of your food needs.
*Writing bad reviews doesn't feel good. Only in extreme cases (a total of two in six years) where gluten has been apparent in my food or the handling of my food restrictions was of great concern do I share anything less than a recommendation. I'd rather share a good recommendation with you. I hope that's what you are looking for anyway, recommendations on where to dine and fun places to visits in your travels. Thanks for understanding.