This post contains affiliate links. See my disclosure for more information.


Last Summer, while visiting as many music festivals as I could squeeze into my schedule, many people told me I had to check out the Beale Street Music Festival in Memphis. Well, if you insist… 😉
Beale Street Music Festival is part of Memphis in May International Festival, a month long celebration of all that is Memphis. A full month of events including a world championship barbeque contest, a half marathon and 5k, and new this year, the 901 Fest, which features local performers, artists, vendors, food and beverages, along with an airshow and fireworks over the Mississippi river. Memphis in May also produces extensive education, international, and economic programs for the city. A whole month of fun events in a city that is an absolute blast to visit, that's the short story!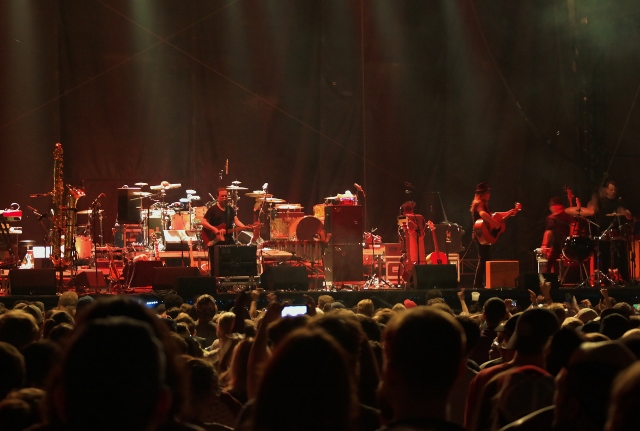 As I do with every music festival, I took a look at the list of food vendors on-line before we got there. I immediately saw some possibilities but bumped into the busiest month ever and didn't have much time to reach out to the vendors to confirm options that are safe for me ahead of time. So off I went with my favorite fella on a wing and prayer, hurtling through Missouri, then Arkansas and finally arriving in Tennessee on Friday evening just as the festival was starting.
We drove through some crazy rain getting to Memphis and had an extended lunch stop to let a severe storm pass over so we weren't driving in baseball-size hail. This was the first festival where the festival essentials kit I've written about looked like it would come in handy. A rain poncho was a great idea, as was a hat and a plastic bag for the fella to protect his camera gear. It looked like we were in for a weekend of rain to accompany the festival eats and music.
So back to food. We arrived to a really warm welcome (Memphis folks are terrific) and got ready to check out all of the eats and bands. But eats first, as always. I was hungry! I pulled open the festival brochure to see this: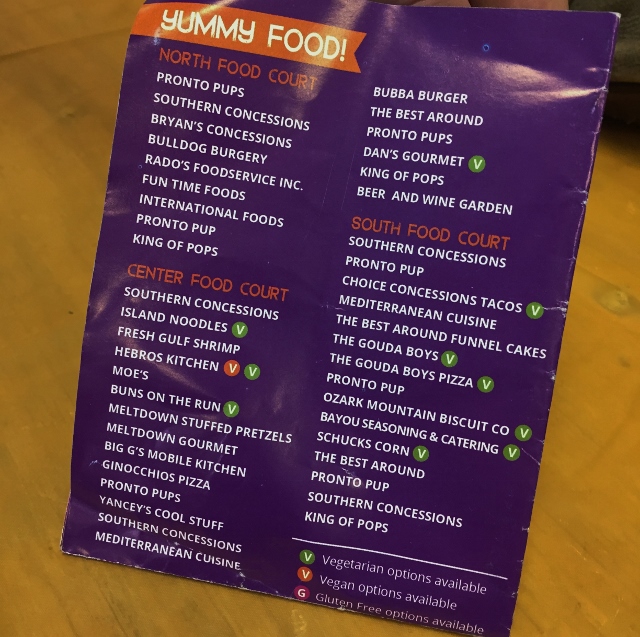 See that "gluten-free" notation? Notice that not a single vendor let the festival know they had gluten-free options! Can you believe that? I know part of this is education, part is being cautious on their end but the three million Americans with celiac disease, plus those with non-celiac gluten sensitivity and the friends/family that travel with us need options. (Dear festival food vendors, call me. Let's talk. I can help. We want to eat, you want to feed us!)
Well, you know me, challenge accepted. I spent the next three days finding safe food options and met some of the nicest food vendors, heard amazing bands, danced in the mud and discovered Memphis is one groovy city. You gotta go visit. But first, let me tell you about my food finds:
French fries are always a challenge, right? Finding someplace that has a dedicated fryer, one that hasn't had gluten-y onion rings or chicken strips in it, makes me downright giddy. The first night of the festival, I had fries from the good guys at Bulldog Burgery. I had a gazillion questions for them and they were very nice in answering all of them. Fresh cut fries cooked up in canola oil. Easy! Oh, and they also had watermelon. I love finding a fresh, healthy option at a festival.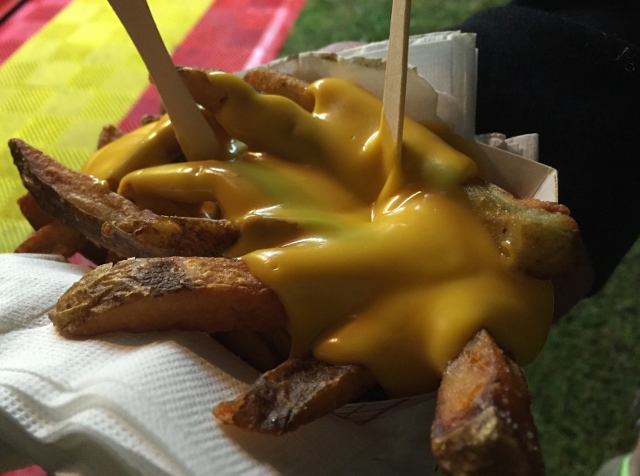 I can often score at a taco spot but thought I had struck out here because every taco place I stopped was using only flour tortillas, no corn. BUT I finally found the right spot, Tacos! Tacos!, and the folks working there knew their stuff. They rattled off what would work and what wouldn't, including which meats had been grilled on the same grill as tortillas were being heated. They really understood. They made a veggie taco bowl for me and it was exceptional. The homemade jalapeno ranch was perfectly spicy, the pico de gallo fresh. It made for a nice meal, more than I could finish.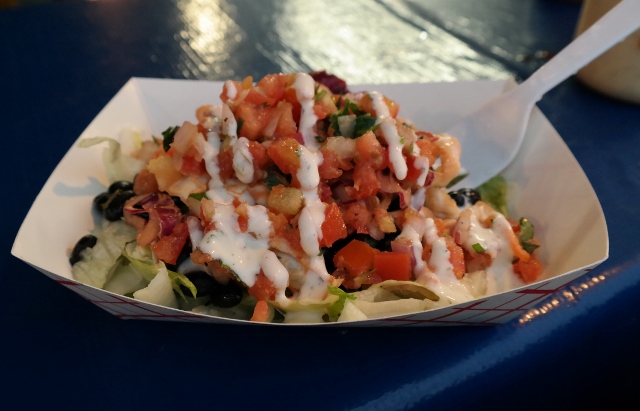 The second day of the festival there was a rain delay. And wind. Holy wow, there was wind. We made the most of the weather delay in Memphis and ventured out in the rain and wind to see the city. I'll share more about that soon, just know that Memphis delivers a good time, weather aside. When the gates did open on the second day, we realized we really should have better footwear. You know all of those festival fashion guides you see that look like a page torn from the Free People catalog? Well, that's rarely what music festivals really look like anywhere. Anywhere. But in Memphis? This is the required festival footwear. While it was muddy, I didn't see that getting in the way of anyone having a good time though. And the festival organizers? Crazy slick in keeping things rolling even though there had been damage to some structures because of the wind storm. By the time the gates opened, you would have never known a storm had rolled through other than the mud, everything repaired and running smoothly.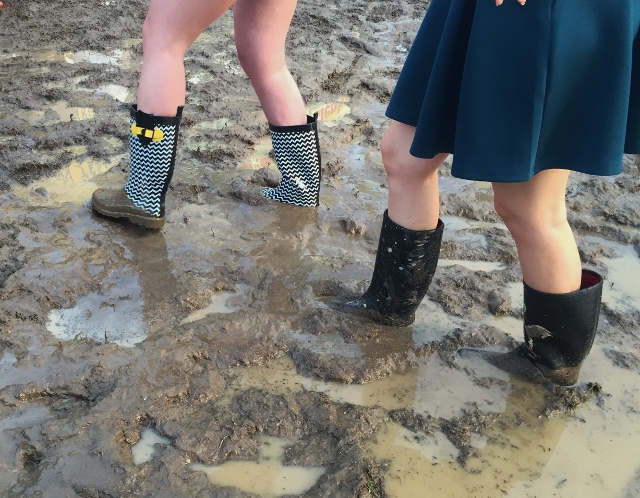 On the second day, I snagged roasted corn on the cob. I know many of you with food intolerances or allergies dislike this because it's often the only food choice. It was far from the only choice at the Beale Street Music Festival and I ate it because I like it. Plus they had a DIY bar for corn toppings, so no worries about what was in their seasoning blends. More nice folks working here. Not that I go looking for cranky vendors, but I rarely find them at music festivals. Only good vibes in Memphis.
The third and final day of the festival brought sunshine. Yay, sunshine! And guess who forget her sunscreen? Yep, this pale girl who authored the Music Festival Essentials Guide. Thankfully there was plenty of shade available. Since it was hot, our first indulgence of the day was at Buns on the Run. Another place with a dedicated fryer for French fries AND incredible smoothies. Not kidding, a little Sailor Jerry rum would be divine in their tropical smoothie. I considered buying rum at the bar tent and going back for a second smoothie, but since we had already had a boozy brunch before the festival…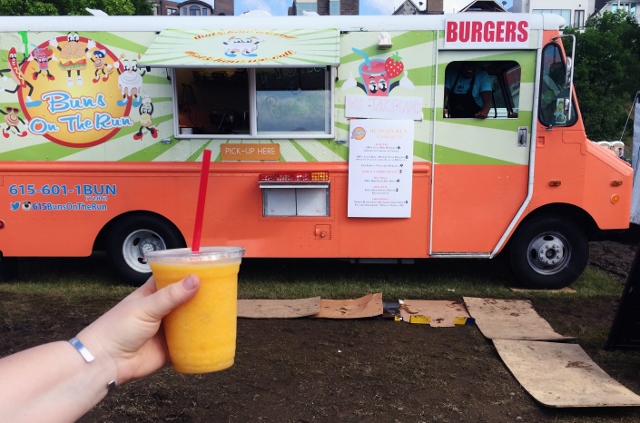 As the day rolled into evening, we grabbed one more icy treat at one of the three stands from King of Pops, the cutest rolling popsicle stands with multi-colored umbrellas overhead. When you see these folks at a festival, just ask to read the labels. Every flavor is individually labeled and both of the folks we talked to working there were knowledgeable about which were safe choices. We each grabbed one. I had the Blackberry Ginger Lemonade and my fella had the Chocolate Sea Salt. A perfect last treat at a festival that was nothing but fun the entire weekend.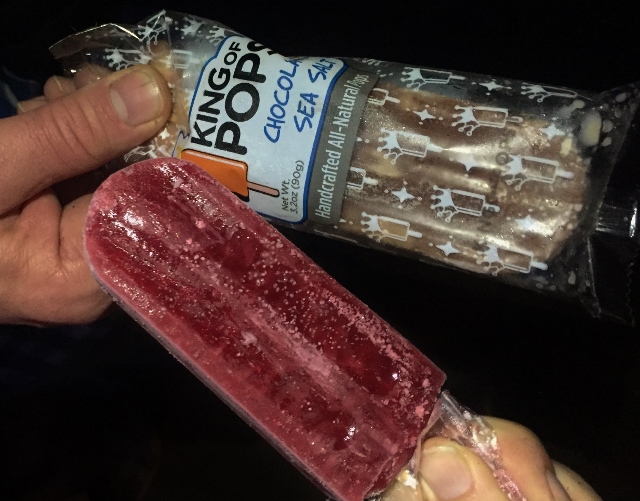 One last note on food: Many of the vendors at music festivals serve up good food at more than one festival. Those mentioned here that will be at other music festivals this year include Bulldog Burgery, King of Pops and Buns on the Run. You might also want to check back through the other music festivals I covered last year for even more options. Find the list of food vendors at the festival you are headed to, follow them on social media (don't be afraid to reach out to ask about food you can safely eat) and check out my posts to see if I've visited any of the options you are considering. I've built a great resource and it's yours to use!
I wanted to share a little more about the festival beyond the food. Last year y'all started asking more about the bands and the overall festival experience so I plan to share more about that this year.
Beale Street Music Festival was held in Tom Lee park, which sits beside the Mississippi River. Amazing sunsets!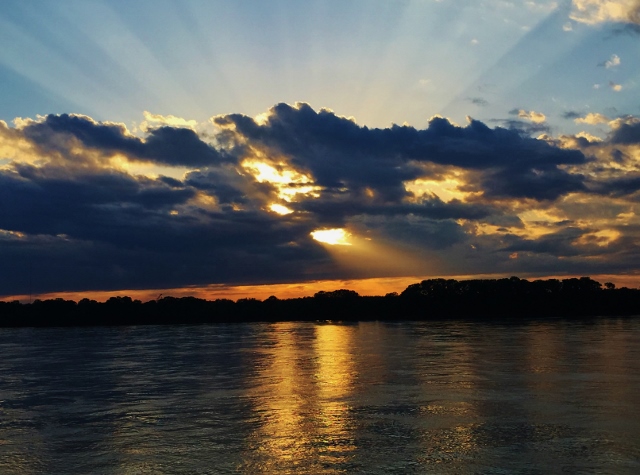 Three huge stages plus a couple of smaller venues kept music happening at all times. I really liked the staggered schedule so you could see a little of all of the bands if you really worked at it. And near each of those stages? Plenty of food and beverage options so you never had to go far.
Here's something I rarely mention, but it's a concern to all of us. The bathroom situation. Every music festival has these huge banks of portapotties. They can be pretty gross. I've even heard people say they intentionally dehydrate themselves so they don't have to use them. Never a good idea. There were plenty of facilities and none were overwhelmingly icky; in fact, most were very clean and well-lighted at night. Each night as we left, we saw this long row of trucks waiting to come in and freshen everything up for the next day. The Beale Street Music Festival organizers were on their game when it came to providing a great festival experience.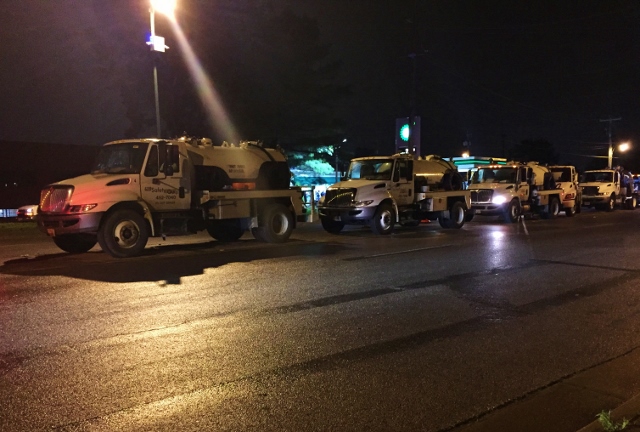 There seemed to be plentiful parking in the area. The most expensive pay lot we saw was $20 and it was directly adjacent to one of the entry gates. The cheapest parking? FREE for bicycles! We got a great insider tip on the first day about parking on the street just a little bit further out and enjoyed walking each day, seeing the new construction in the area. Memphis is on the move with lots of new housing and businesses being built.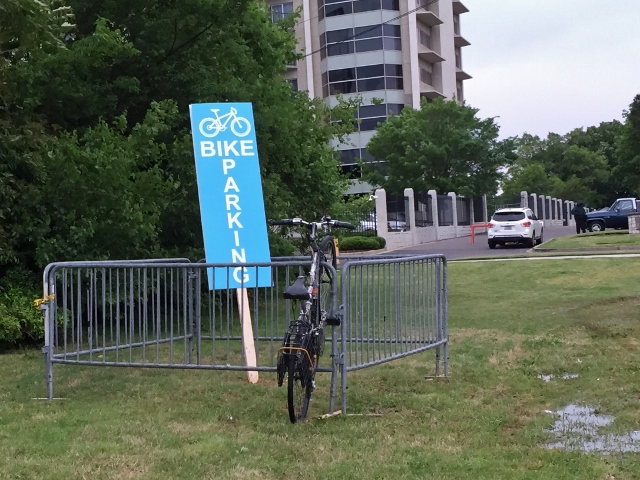 We didn't book a hotel in time to stay within walking distance of the festival but did notice special festival rates were pretty affordable for nice hotels. We stayed about 15 minutes out in a basic chain hotel for a really affordable price, the lowest we've paid at a festival except for when sharing a condo with a group of friends. Memphis is easy to get around in and even though our hotel wasn't in close proximity, it wasn't a long drive and traffic was always manageable.
About the festival goers: this festival rates among the best in my book at having bands that appeal to a wide demographic. That was obvious with the attendees representing a wider age range than I notice at many festivals. (Reminder: You are never too old for a music festival.) There were plenty of people old enough to be our parents who told us all about growing up with Paul Simon and Neil Young and then there were college students with a smattering of parents with young kiddos. This festival did a really great job of lining up music for everyone.
The MUSIC. Here's who I saw at the Beale Street Music Festival. I'll link to YouTube videos other folks posted from the festival where possible.
Beale Street Music Festival certainly lived up to the hype of everyone who told me last Summer that I really needed to check out this festival. An incredible line-up of bands, well organized from every angle and tasty eats everyone can enjoy. Add this one to your list for next year!
Up next, all of the other delicious discoveries we happened upon in Memphis. Stay tuned…
My travel and dining series is not intended as a review, rather a summary of my experience.* Menu prices, items and ingredients featured were current at the time of writing. Please read the menu carefully and ask for assistance in ordering if you have dietary restrictions. It's a good idea to call ahead and let the restaurant know of your food needs.
*Writing bad reviews doesn't feel good. Only in extreme cases (a total of two in six years) where gluten has been apparent in my food or the handling of my food restrictions was of great concern do I share anything less than a recommendation. I'd rather share a good recommendation with you. I hope that's what you are looking for anyway, recommendations on where to dine and fun places to visits in your travels. Thanks for understanding.
Disclosure: I attended the Beale Street Music Festival as a member of the media, along with my favorite fella who had a photographer's pass to the festival. No compensation was received. All food and beverages featured here were purchased at full price with my own funds. Honest opinions, as always.