This post contains affiliate links. See my disclosure for more information.


On my recent trip to Memphis, Tennessee for the Beale Street Music Festival, I needed a bit of healthy nourishment. Raw Girls was perfect for this, serving up cold pressed juices, smoothies, raw foods including gorgeous salads, hot foods and raw desserts. Being from Kansas City which is a big time BBQ town, much like Memphis, I was pleasantly surprised with this discovery. Finding Raw Girls was an unexpected, delicious treat!
My favorite fella joined me on a trek to the Midtown location of Raw Girls. Look at this adorable trailer, perfect for grab-and-go eats:
We had a tough time deciding what to order. If you eat like me, gluten-free and veg, you are used to maybe finding one thing on a menu that works for you. Or nothing and you have to ask for something to be extremely modified. That's not the case at Raw Girls. Everything is gluten-free, everything is vegan. Oh, and you can count on everything being incredibly flavorful and filling.
It's hard for me to walk past a good juice or smoothie. I decided on the Cacoa-Nut Power Crush with hemp seeds, chia, cacao, almonds, maca root, coconut butter, vanilla, sea salt and nectar. Very creamy, rich, better than any chocolate milk I've ever had. (And yep, that's our meal atop our trusty ride; we roadtripped to Memphis.)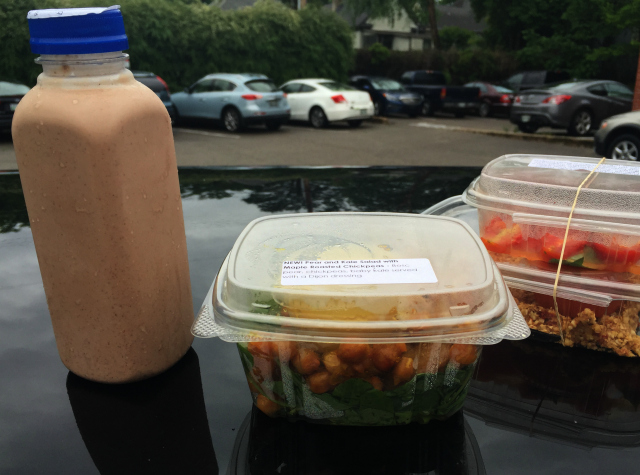 It was just as hard deciding on entrees as a juice or smoothie. Lots of options coming from this little trailer. We decided to split two entrees, because neither of us could decide on just one thing.
The Pear and Kale Salad with Maple Roasted Chickpeas was a good decision. I've been thinking about these maple roasted chickpeas ever since, wishing they could top every salad I've even lately. The Dijon dressing was light, perfect with the maple on the chickpeas. The combination of pears, maple and dijon is one I will explore more at home…until I can find my way back to Memphis.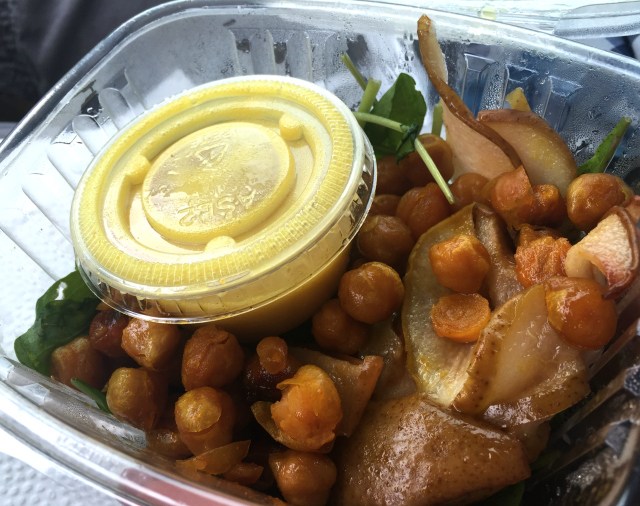 Our other food selection was the Margherita Pizza. The crust was a raw, sundried cauliflower bread that every gluten-free person needs to know about. The pizza was topped with blistered cherry tomatoes, basil, garlic and cracked pepper with a side of homemade vegetable marinara. That crust! I can think of a million ways to eat that goodness.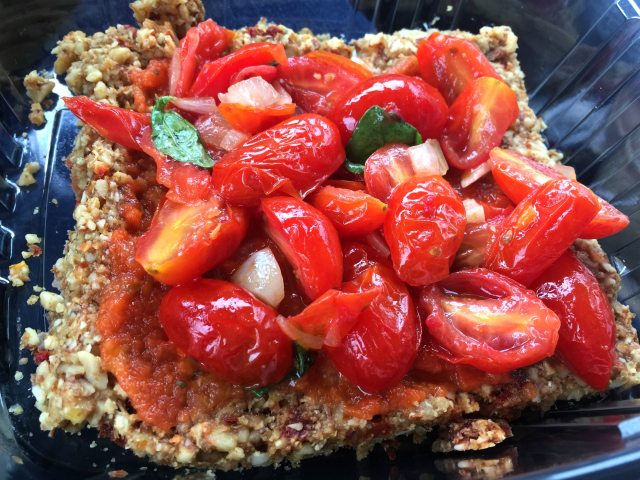 So often I mention that gluten-free folks will be pleasantly surprised if they seek out vegetarian or vegan restaurants when traveling. By their very nature, these restaurants are savvy when it comes to determining if a dish works for someone with special dietary needs. But what I wish I had been told the very day I was diagnosed and told to say goodbye to gluten was to look into Raw Vegan food. Nearly everything is gluten-free! Naturally gluten-free! This is what led me down the path to obtaining my raw chef certification so I could make food like this at home but finding this kind of food when dining out is a treat and one this gluten-free gal truly appreciates. I know you will, too.
Raw Girls has two locations. The location visited in this post is in Midtown at 242 South Cooper, Memphis, Tennessee. The other location is at 5502 Poplar, Memphis, Tennessee. Raw Girls also offers delivery in the Memphis area, as well as nationwide shipping.
My travel and dining series is not intended as a review, rather a summary of my experience.* Menu prices, items and ingredients featured were current at the time of writing. Please read the menu carefully and ask for assistance in ordering if you have dietary restrictions. It's a good idea to call ahead and let the restaurant know of your food needs.
*Writing bad reviews doesn't feel good. Only in extreme cases (a total of two in six years) where gluten has been apparent in my food or the handling of my food restrictions was of great concern do I share anything less than a recommendation. I'd rather share a good recommendation with you. I hope that's what you are looking for anyway, recommendations on where to dine and fun places to visit in your travels. Thanks for understanding.