This post contains affiliate links. See my disclosure for more information.


Dunkin Donuts Gluten-Free Brownie
On July 30th, 2018, Dunkin Donuts debuted a certified gluten-free brownie in their U.S. stores. Priced at $2, each brownie is individually wrapped and in a display box at the cash register.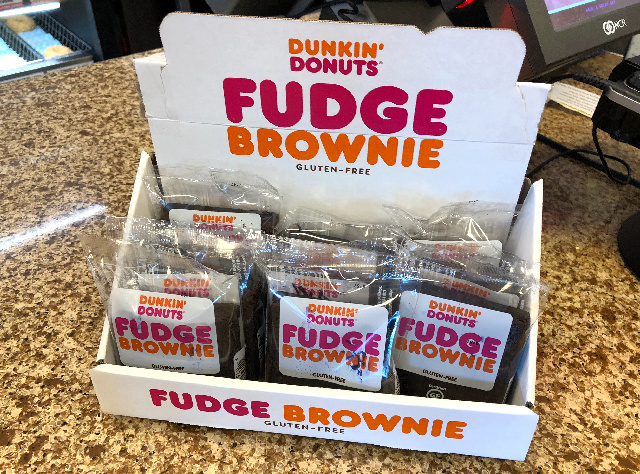 After seeing the brownie mentioned in so many places on-line, I went to check it out for myself. Here are the ingredients: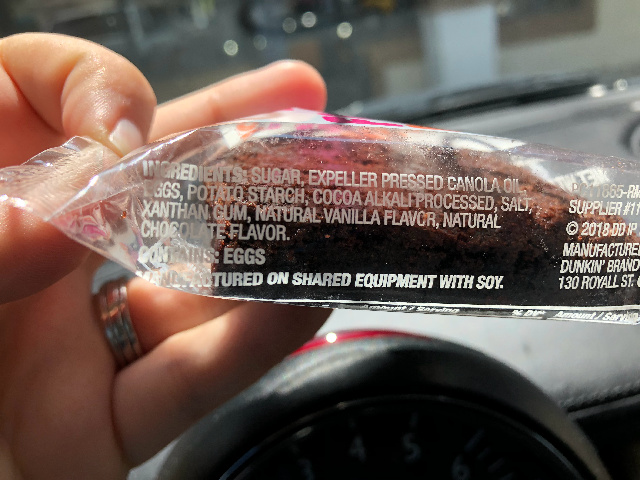 There is no mention if the brownie is made in a dedicated gluten-free facility or not. It is certified gluten-free, but that does not require it being made in a dedicated facility.
The brownie is prominently featured in the scrolling menu board: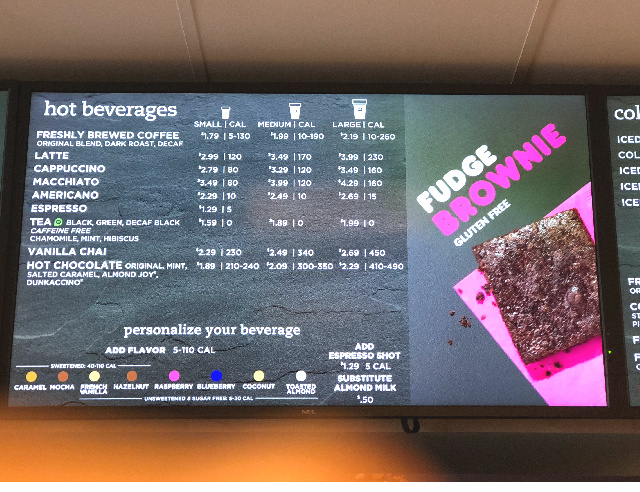 Above are the basics on this new addition. Below is my opinion on the brownie and the online reaction to this new offering. (Unless you are new here, you knew I had an opinion and would share it…)
"It is NOT a donut." I've already seen a multitude of complaints online about why DD bothered to bring in a brownie instead of a donut. My guess: an individually packaged brownie was already available by another manufacturer. (These remind me of a brownie a movie theatre near me used to carry, made by a Minnesota-based company.) Here's the thing about it not being a donut: there is at least an option for you at Dunkin Donuts now. In my many years long journey being gluten-free, I've figured out I can't always expect a 1:1 replacement for things I used to eat. It's kind of nice they have something I could eat if I wanted, even if it isn't a donut. My favorite fella turned mine into a donut. You could do the same I suppose.
"There is ZERO nutritional value. It's filled with evil sugar!"It's a BROWNIE. At a DONUT SHOP.Did you expect it to be made with kale and cricket flour? Nutritionally, it's very similar to the gluten-full brownie Starbucks sells. It's about three times the calories as a plain donut. It's dense and fudge-y, tastes like chocolate sugar. I had two bites, less than a quarter of it, and was done. The bitterness of black coffee was necessary to offset the intense sweetness. But I kind of expected that. The full nutrition profile can be found here.
The staff at my local Dunks were clueless about the brownie. The very sweet cashier at my local shop didn't know what celiac disease entails, wanted me to explain to her why the brownies are different than anything else they have there. She was truly interested, but it's obvious there has been no training on this new offering. It's a good thing it's individually packaged.
Here's a closer shot to show the texture. If you give this a try, I would enjoy hearing your thoughts. And if it's not your cup of tea (or bad DD coffee), that's fine, too.