This post contains affiliate links. See my disclosure for more information.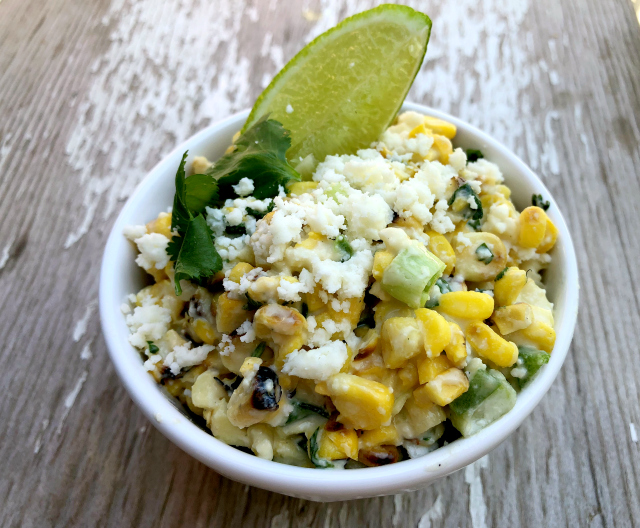 Mexican Street Corn Salad, Esquites, Elotes…
A twist on Mexican Street Corn with the flavors of sweet corn, a spicy jalapeno kick, the brightness of lime juice and cilantro with a touch of the saltiness of cojita cheese, all combined with a creamy dressing. Serve this with chips at your next backyard BBQ and everyone will want your recipe!
I'm a big fan of Mexican Street Corn, whether its served on the cob, with the husks peeled back to be smeared with seasoned mayo then sprinkled with cheese and chili powder or served off of the cob as a salad. What to call this when served as a salad remains up in the air: one of my favorite restaurants serves it off of the cob and still refers to it as Elotes, while yet another favorite restaurant calls it Esquites, both restaurants owned by chefs dedicated to the study of Mexican food with an affinity for Oaxacan cuisine. I'm not certain which is the proper term, I keep asking friends in the know and each tells me something different, then they ooooooh and aaaaaah with a mouthful of this delicious salad.
Notes on ingredients:
This is best with fresh, local sweet corn, however that limits when it can be enjoyed. I've made this with fresh or frozen corn with great success.
Cojita cheese is my preference in this recipe. You could use feta or Chihuahua cheese or any of these in combination with parmesan.
Fresh lime juice is essential to the flavor of the dressing. It really does make a difference!
For the dressing, I use Just Mayo. I've also replaced mayo with Greek yogurt, sour cream and Crema Mexicana, but always come back to mayo. Choose what you like best, it's fun to try it with what you have on hand.
This can be served as a salad or as a dip with chips. A friend has been known to order it at a restaurant with warm corn tortillas to make tacos with the addition of a little salsa and avocado.Alright, let's get to the recipe. Esquites, Elotes or Mexican Corn Salad.


Mexican Street Corn Salad (Esquites or Elotes

Ingredients

6

cups

grilled corn, removed from cob

(about 8 to 10 ears)

6

ounces

cotija cheese, crumbled and divided

1

cup

finely sliced green onions

1

cup

fresh cilantro, chopped

1 to 2

jalapenos, seeded and finely diced

2 to 3

cloves

fresh garlic, minced

1/3

cup

mayonnaise

2

Tablespoons

fresh squeezed lime juice

1

teaspoon

cumin powder

1 to 2

teaspoons

chili powder

(optional)

Instructions

Grill corn on the cob until it has a bit of color. I grill corn by removing the shucks and as many of the silks as I can. I do not soak in water or oil the corn, I put it on the grill naked. Any remaining tiny silks will burn off.

After corn is grilled, allow it to cool until it can be handled and corn can be removed with a knife from the cob. Place in large mixing bowl.

Add 5 ounces of cotija cheese to the bowl, reserving 1 ounce for garnish.

Add all other ingredients and stir to combine.

Garnish with remaining cheese and lime slices if you'd like. Serve with tortilla chips or as a salad. Refrigerate until ready to serve.