This post contains affiliate links. See my disclosure for more information.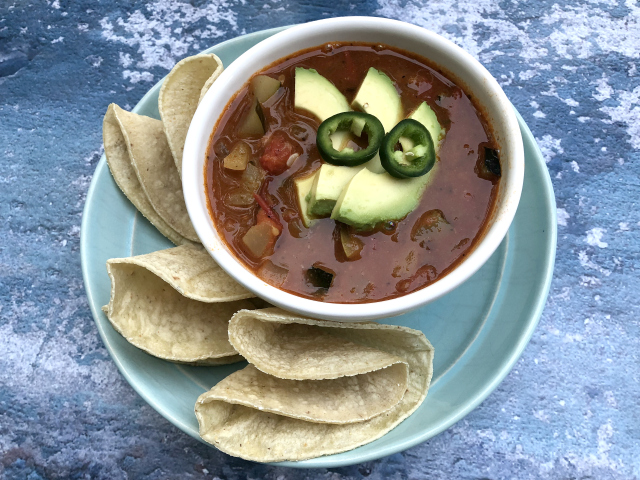 Summer Vegetable Pozole, a lighter version of the traditional Mexican soup or stew, packed with vegetables from the Summer garden, seasoned with traditional rojo Pozole spices. While warm soups and stews don't often make the summer menu in my kitchen, this one is on frequent rotation as long as the abundance of produce from a dear friend's garden magically appears at our house.
When I think of traditional Pozole, I think of a hominy-rich soup or stew. While the rojo (red) version is my favorite, there are also white and green versions. Pozole is often made with meat, pork or chicken most often. In our vegetarian household, we use beans instead of meat and add a variety of vegetables for flavor and color. While the vegetables play an important role, it is the blend of garlic, cinnamon, oregano, chiles, cumin and coriander that form the layers of flavor sure to dazzle your tastebuds.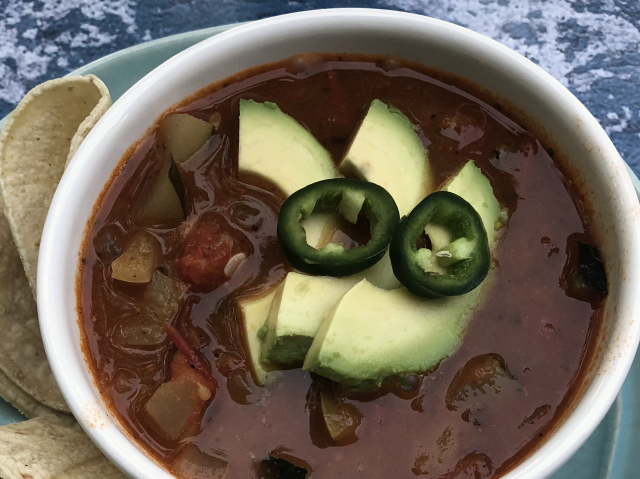 A warning about Summer Vegetable Pozole: it smells so good while cooking that visitors to your home will smell it cooking well before arriving at your front door. My dear friend who has given me the produce used in the Pozole shown here dropped by while this was simmering and could smell it in our driveway. It's a good thing it makes a plentiful pot of soup, as this may draw friends and neighbors to your door!
One last quick tidbit: we enjoy Pozole with warm corn tortillas. If you are in the Kansas City area, please check out Yoli tortillas. They are the best tortillas I've had! You can find them at the Overland Park Farmers Market, Local Pig and (my favorite) Shatto Home Delivery. I love having fresh tortillas delivered right to our doorstep!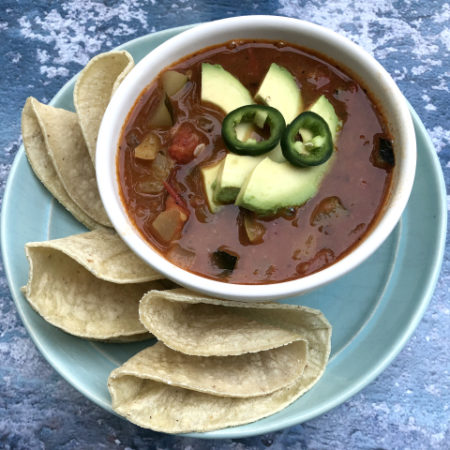 Summer Vegetable Pozole (gluten-free, dairy-free, vegan)
A lighter take on traditional Pozole, packed with summer vegetables and rich with spices
Servings
8
people or more
Ingredients
3

Tablespoons

olive oil

divided, 2 Tablespoons and 1 Tablespoon

1

large

yellow onion, diced (approximately 2 cups)

3

poblano or gypsy peppers, diced

1

large zucchini, diced (about 4 or 5 cups)

3

cloves

garlic, minced

1

Tablespoon

Chili Powder

I prefer Penzey's Chili 9000

2

teaspoons

dried oregano

2

teaspoons

cumin

1

teaspoon

cinnamon

1

teaspoon

coriander

4

cups

fresh tomatoes, rough chopped

1

15-ounce can

hominy, drained and rinsed

2

15-ounce can

beans of your choice, drained and rinsed

(I prefer pinto or kidney beans)

4

cups

vegetable broth

1

15-ounce can

tomato sauce

3

Tablespoons

fresh lime juice

1

avocado (optional)

1

fresh jalapeno, sliced (optional)

corn tortillas
Instructions
In a large soup pan, warm two tablespoons of olive oil over medium heat.

Add the diced onion, pepper, zucchini and garlic. Cook until onion is transparent.

Add the remaining tablespoon of olive oil and sprinkle with spices. Stir to combine and cook over medium for 1 to 2 more minutes until spices are well distributed.

Add fresh tomatoes to the pan, stirring to combine. Next stir in broth, tomato sauce, hominy and beans. Bring to a boil, then reduce to low heat and simmer for a minimum of 20 minutes. Tomatoes will break down, spices will meld together, your house will smell wonderful!

Served garnished with avocado and fresh jalapeno. In our home, we like to eat Pozole with warm corn tortillas.